Family members of the woman who opened fire at YouTube's headquarters this week were stunned by news of the attack in San Bruno, California, but said they warned police ahead of the shooting.
Nasim Najafi Aghdam was upset with some of YouTube's policies, according to San Bruno police Chief Ed Barberini, motivating her to shoot and wound three people before killing herself.
Aghdam used YouTube to post videos about her views on animal rights and her vegan lifestyle, among other topics.
"Our family is in absolute shock and can't make sense of what has happened (Tuesday)," Aghdam's father said in a statement to CNN affiliate KTLA. "Although no words can describe our deep pain for this tragedy, our family would like to express their utmost regret, sorrow for what has happened to innocent victims."
But police in Mountain View, California, where Aghdam was found early Tuesday hours before the attack dispute the family's characterization of phone calls with authorities.
Aghdam had been reported missing Saturday in San Diego County. Mountain View police said they let her go after she indicated she had left home due to "family issues" and was living out of her car and looking for work. Police said they then contacted her family to let them know she had been found.
"The father confirmed to us that the family had been having issues at home, but did not act in any way concerned about why his daughter had left," it said.
Two of the shooting victims in the San Bruno attack have been released from the hospital. On Thursday, the remaining patient's condition was upgraded from serious to fair condition, according to Brent Andrews, a spokesman for Zuckerberg San Francisco General Hospital.
Aghdam held grudge against YouTube, relative says
The violence in San Bruno clashed with relatives' perception of a woman they believed to be a peace-loving vegan. Her brother told CNN affiliate KGTV that "she never hurt any creature" before Tuesday.
A woman who claimed to be the shooter's aunt but would not share her name said Aghdam's father told police his daughter was "angry" at YouTube, and police should be careful.
"And police said, 'We are going to watch her,' but they didn't watch her," she told CNN's Miguel Marquez outside the family home Wednesday in Menifee, California. Aghdam had harbored a grudge for a year, the woman added, after the video-sharing site put what she called a "filter" on her videos.
Aghdam's central grievances appear to have been focused on censorship and revenue.
Police are investigating a site that appears to show the same woman lambasting YouTube for restricting her videos, though authorities have not confirmed the site belonged to Aghdam.
One post on the site claims, "Youtube filtered my channels to keep them from getting views!" Another says "close-minded" YouTube employees put age restrictions on her videos; the post claims the move was aimed at reducing views and discouraging the woman from making new videos.
'She might do something'
Just hours before Tuesday's shooting, police in Mountain View discovered Aghdam asleep in her vehicle, hundreds of miles from home and about 30 miles southeast of YouTube's headquarters in San Bruno. A quick check of her license plate revealed the owner had been reported missing from the San Diego area.
Police called Aghdam's father and brother to let them know she'd been found.
"At no point during our roughly 20 minute interaction with her did she mention anything about YouTube, if she was upset with them, or that she had planned to harm herself or others … she was calm and cooperative," Mountain View police said.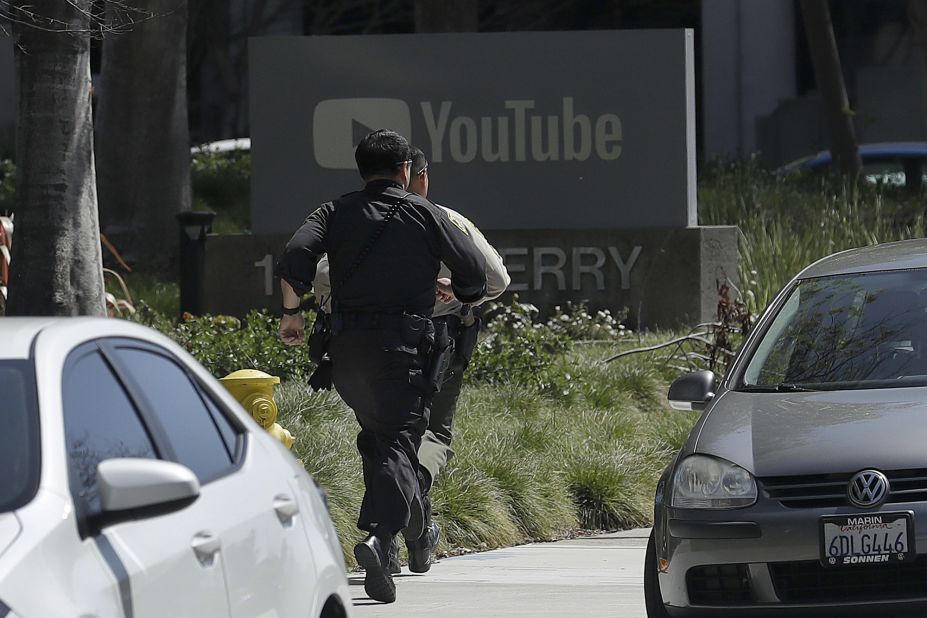 Shooting at YouTube headquarters
But Aghdam's brother, who also did not want to be identified, searched "Mountain View" on Google and found it was close YouTube's headquarters, he told KGTV.
Knowing his sister had a problem with YouTube, he said he warned police that "she went all the way from San Diego, so she might do something."
But Mountain View police said they received no indication from Aghdam's father or brother that she had a propensity for violence.
"Roughly one hour after our phone call to Aghdam's family, her father called us back to let us know that she made a series of vegan videos for her channel on YouTube and that the company had recently done something to her videos that had caused her to become upset," Mountain View police said.
But "at no point did her father or brother mention anything about potential acts of violence or a possibility of Aghdam lashing out as a result of her issues with her (YouTube) videos."
CNN's Holly Yan, Faith Karimi and Cheri Mossburg contributed to this report.