Editor's Note: Alan Dymock is the Features Editor for Rugby World magazine. This feature was first published in April 2018.

Story highlights
Hong Kong Sevens take place April 5-7
It's been much-loved by fans since the 70s
In 2015, high over the North Stand of Hong Kong Stadium, above the commentators and scorers booths, comedian Al Murray sipped from a bottle of water. It had been a pleasantly grueling few days at the Hong Kong Sevens.
Asked about the key to enjoying the tournament, he said: "You just have to hand yourself over and not worry about what time of day or night it might be."
Two days later, high-spirited commentator Sean Maloney tweeted of the Hong Kong Sevens: "It's like fighting Mike Tyson and Muhammad Ali on alternating nights for an entire week [sic]."
You know he typed this out with a big grin on his face.
Thousands of fans love Hong Kong, and players do, too. But how has this trading hub on the southern cusp of China become the go-to destination to watch – and revel in – sevens rugby?
READ: The Haka – what it means and how it's performed
History
The idea of the Hong Kong Sevens was hashed out over drinks in 1976.
It was a simpler time back when Ian Gow, an executive from Rothmans Tobacco, and 'Tokkie' Smith of the Hong Kong union decided to push through the inaugural Hong Kong Sevens.
Kiwi outfit Cantabrians bested 11 other southern hemisphere sides to be crowned the first ever kings of Hong Kong.
World Rugby Sevens Series 2018-19: The story of the season
The very next day, an editorial from the South China Morning Post proclaimed that the spectacle showed the "glorious uncertainty that makes seven-a-side rugby arguably the fastest and best ball game in sport."
From such humble beginnings this present-day monster of an event set forth. But only a year later, something magnificent happened – the Fijians joined the party.
In 1977 Fiji won its first title and the people of Hong Kong fell head over heals in love – an affinity that endures to this day (as you will see from the enclave of never-budging Fiji fans in the North Stand).
Former captain Osea Kolinisau said of the event: "It's kind of a rite of passage for us Fijians, we grew up watching legends of the game playing here."
There have certainly been plenty of them. Fiji has triumphed in Hong Kong 19 times in total. New Zealand has won 11 titles, Australia has five, England four, Samoa three and the Barbarians and Cantabrians have one win each.
As well as growing into the "one to win" for so many sevens sides, the tournament is also the base for new beginnings.
With 28 teams in total at the ground this year, it is now where teams from outside of the men's and women's Sevens World Series fight it out in competitions running concurrently to the series event, hoping to qualify as a core team for next season's circuits.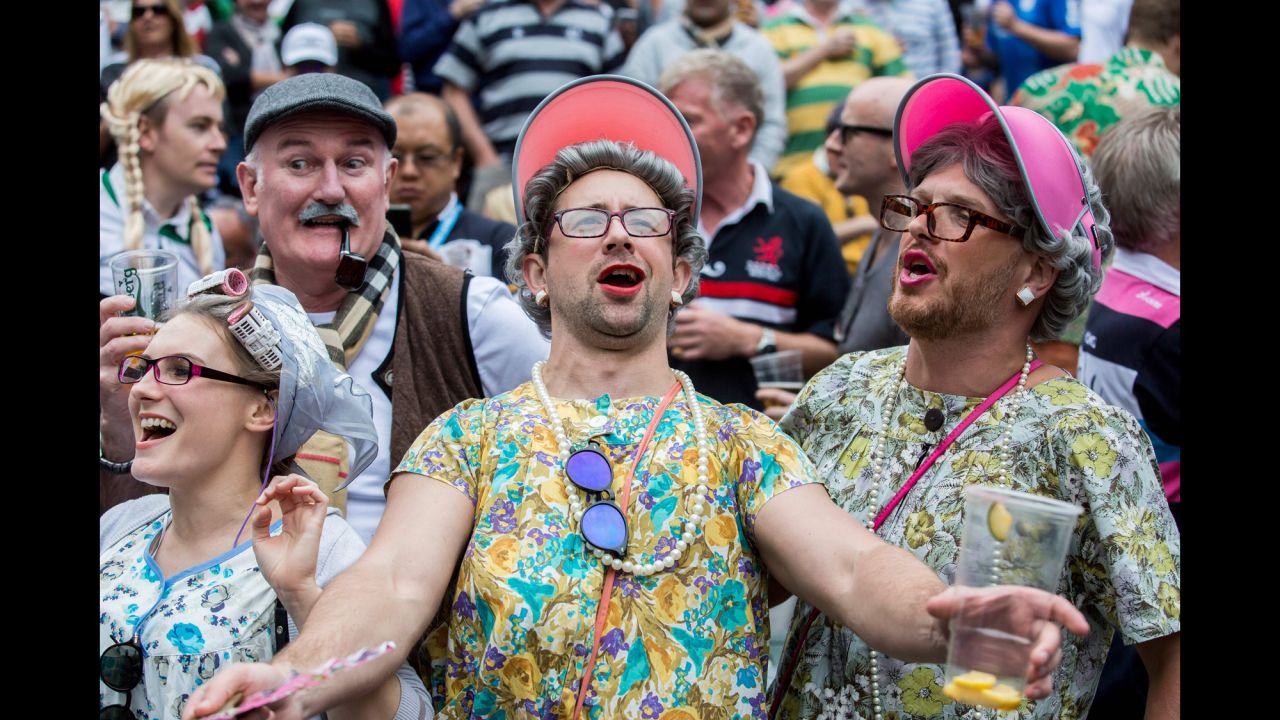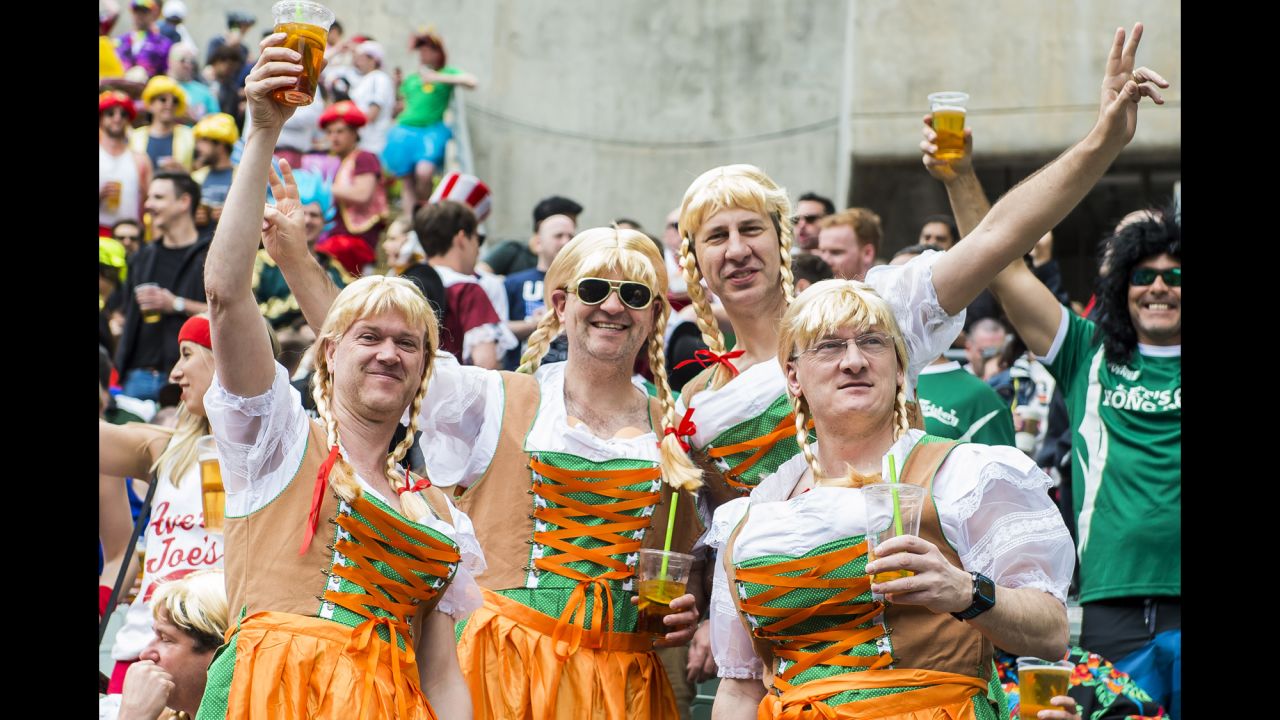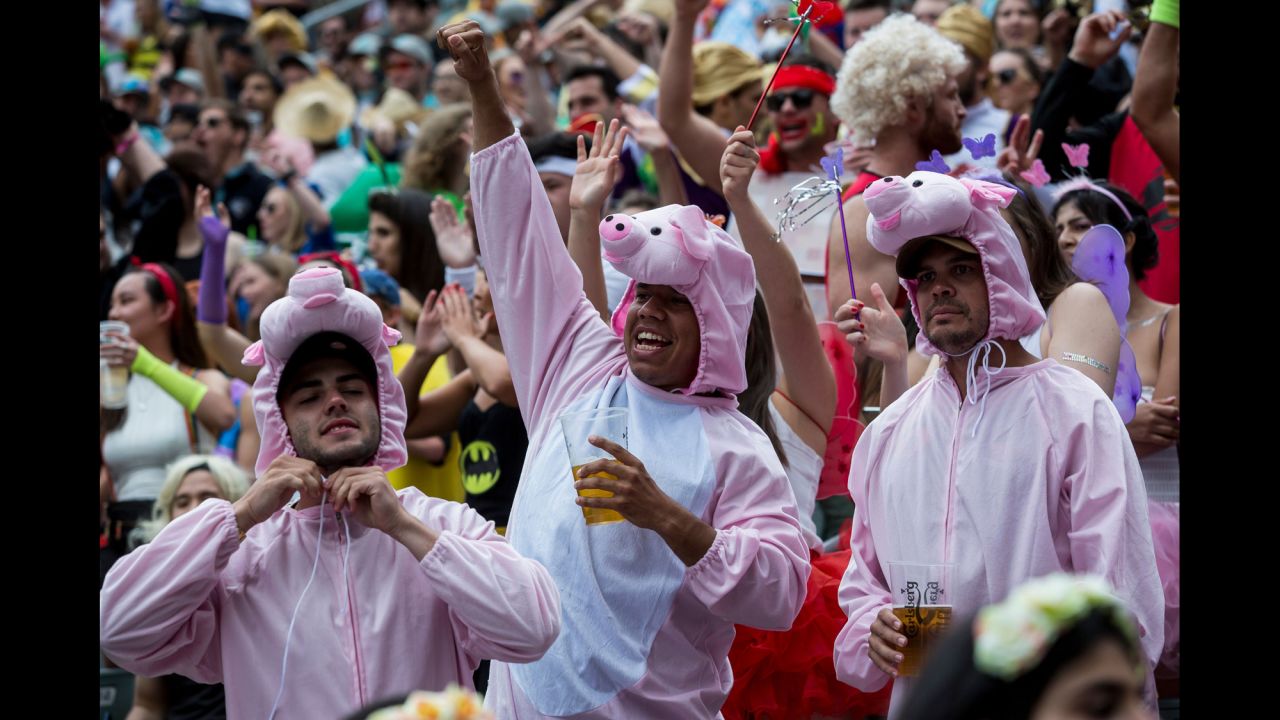 Hong Kong Sevens: Fans get all dressed up for rugby party
Vivid play
READ: The 20,000km cycle to the Rugby World Cup
"What is incredibly special is that the city shuts down for it," says England sevens veteran James Rodwell, who first played in the showstopper in 2009.
Hong Kong is a three-day event, unlike many others on the series. Rodwell explains that Friday playing days elsewhere can be unheralded affairs. But not at the modern Hong Kong Sevens.
"With England we usually play the game quite late in the afternoon," he says. "You wait all day for 14 minutes of rugby, which is quite strange. But you can run out for your game and there are supporters there."
He describes the sight of rugby-hungry fans, especially expat England fans, in the stadium for three whole days as "humbling."
But supporters have definitely been treated by the players over the years.
The great Jonah Lomu dominated as New Zealand won in 1994, 1995 (before that famous World Cup) and 1996.
That same year, Kiwi great Christian Cullen set a record for points scored in a single tournament (136). The most famous name in sevens, Waisale Serevi, won the Leslie Williams Trophy for outstanding player four times; he also won the tournament seven times.
Australia's David Campese is still talked about by regulars as a true entertainer while the recent iterations of Fiji have played loose-limbed, swashbuckling stuff.
Not that Hong Kong only caters for flat-track flyers. The conditions can be tough. Sure, there is constant humidity, but it can be blaringly sunny just before the heavens open up.
Hong Kong Rugby 7s: Superstars and 120,000 fans
READ: Super Rugby teams make poignant tribute to Christchurch victims
One of the most iconic images of the tournament came in 2014, when New Zealand celebrated a punishing 26-7 win over England by doing a topless Haka in the rain.
Rodwell, who was on the losing side in that final, insists that as pretty as it all was, the match would have had to be abandoned had it gone on a few minutes longer. Rainwater was puddling deeply on the playing surface as the Kiwis did their dance.
Atmosphere
There is a saying in Hong Kong: "If you ever get bored of the sevens, you can turn around and watch the rugby."
Chances are, that saying is aimed directly at the South Stand. World famous for the atmosphere it generates, the South Stand does not stop jumping all weekend. Queues for it start early in the morning and before play begins on the Saturday and Sunday; it will revert to a strict "one out, one in" policy.
Las Vegas Sevens: 72-hour party people
Everyone in there is in fancy dress, too.
READ: Jason Momoa on why he 'bleeds' All Blacks at Vancouver
Back in 2015, comedian Murray explained that the tournament is at its brightest when fans commit to fancy dress.
He went further: "One of my highlights this year was the guy who got dressed as Kim Jung-un, with loads of bodyguards. He even had Dennis Rodman with him. That's really funny. Apparently they were moving people out of the Dear Leader's way – that's just awesome!"
Laughing about the party atmosphere, Rodwell says: "When I met her, my wife had never seen rugby before, but she had heard of the Hong Kong Sevens!"
He goes on to say that, despite playing there many times, a trip to the South Stand is "on my bucket list."
Visit cnn.com/rugby for more news and videos
There are many other sights, sounds and snacking delights to be found in Hong Kong. It is an assault on the senses.
When it is in full sway, though, little in Hong Kong can carry you off as much as the sevens can.