He's got two Olympic and two World Championship golds and is second only to Usain Bolt as the fastest sprinter in athletics history, but that impressive pedigree proved no use for Yohan Blake in the 100-meter Commonwealth Games final on Monday.
Instead the comparatively unknown South African sprinter Akani Simbine stunned the field to take gold.
Jamaican Blake was slow out of the blocks leaving the path clear for the 24-year-old Simbine to claim the biggest title of his career to date in 10.03 seconds.
Blake, who has a personal best of 9.69 seconds for the distance, had to settle for bronze, behind another South African, Henricho Bruintjies, who took silver.
While athletics has firmly entered the post-Bolt era, the eight-time Olympic champion was still keeping a keen eye on things, tweeting his congratulations to Simbine, adding a message of support to former teammate Blake: "Keep putting in the work. You know your journey."
In a sporting discipline so heavily reliant on confidence, Simbine said he never doubted his ability to win the 100m.
"I came here wanting to be on the podium. I believed in myself, that I could get the gold medal.
"The 100m is an event of who's got the biggest ego and who can handle the ego the best. I didn't focus on what they were all talking about. I just focused on myself."
Blake pointed to his poor start as the reason behind his failure to live up to his reputation as favorite.
"I've been feeling great but I was stumbling and I just couldn't recover from it. I got up running but I couldn't catch them. I'm a bit disappointed. I was supposed to take this very easily. It was never meant to be I guess."
After clocking the fastest 100m semifinal time, Blake had installed himself as favorite to take gold, but he must now turn his attention to the 200m final, which takes place on Thursday.
In the women's 100m final, Michelle-Lee Ahye claimed Trinidad and Tobago's first ever Commonwealth Games gold, finishing ahead of Jamaica's Christania Williams and Gayon Evans in silver and bronze respectively.
Usain Bolt goes to Borussia Dortmund training
Tiny Pacific island claims historic medal
Around 1,400 kilometers off Australia's Gold Coast, sits Norfolk Island – 34 square kilometers of land in the middle of the Pacific Ocean, with a population of just 1,700 people.
Better known for its pine trees than its international athletes, the Australian territory had only won one Commonwealth medal in its history, but the Norfolk Islanders now have another medal to treasure after a trio of lawn bowlers sprung shock defeats against England and Canada to take a historic bronze.
The team members make for quite a combination – a 55-year-old farmer, a 39-year-old musician and a a 62-year-old taxi driver – all coming together at the island's only bowls club.
The trio came from behind late in the bronze medal match to defeat Canada – a comparative sporting giant – 19-16 to claim the island's first medal in 24 years and match compatriot Carmen Anderson's feat of bronze in the lawn bowls at the 1994 Games.
One team member, Haydn 'Teddy' Evans, told The Telegraph how much the victory would mean to the islanders: "So many people don't know anything about Norfolk Island so this is just one little way of helping," he said.
"We owe it to those people for supporting us so well. We're a family on Norfolk Island."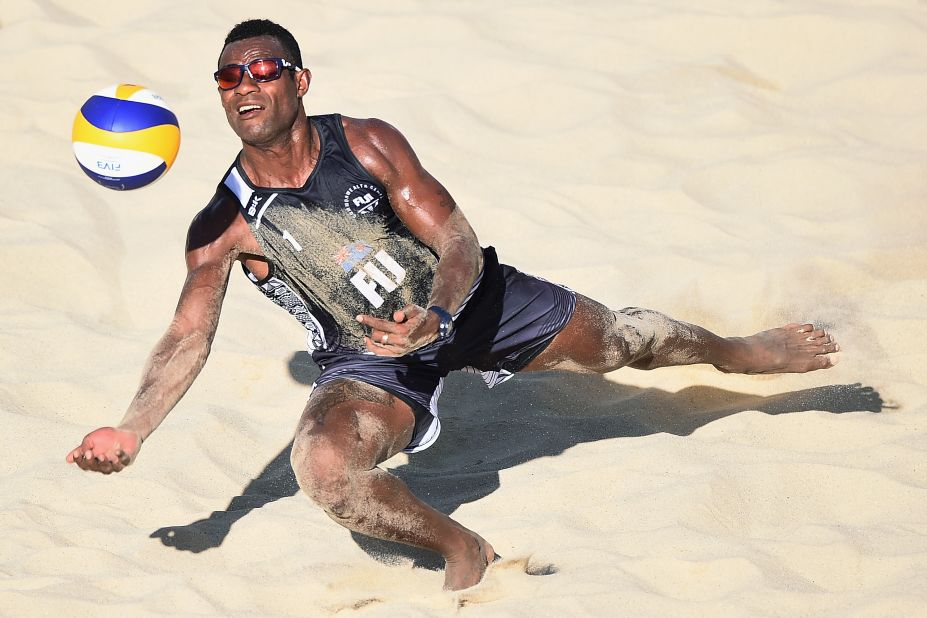 Commonwealth Games: Beach volleyball highlights
The team is sure to receive a heroes welcome on their return to the island's capital Kingston, though it's unclear just how many would have been able to even watch the tense medal-winning match.
"Back on the island the television we get is actually from Central Australia, so it's around Alice Springs. A lot of people trying to watch today's game would have been hoping it was televised. A few people found some live streams online," explained Evans.
In the gold medal match Scotland defeated hosts Australia to claim their sixth gold of the Games, moving up to fifth in the leaderboard.
Athletes take the CNN Commonwealth Games Quiz
Transgender weightlifter withdraws through injury
New Zealand weightlifter Laurel Hubbard was the overwhelming favorite to take gold in the women's 90kg-plus finals, but an arm injury in a failed third attempt to lift an ambitious 132kg saw her withdraw from the competition.
Hubbard had been at the center of controversy in the lead-up to the event, as several rival teams – including eventual gold medalist Feagaiga Stowers, from Samoa – publicly criticized the decision to let the Kiwi compete as a woman, four years after transitioning from a man.
The 40-year-old Hubbard had previously competed in international competition as a man, leading to some critics to claim she had an "unfair advantage", although no formal complaint has been lodged with the Commonwealth Games Committee or Weightlifting Federation.
READ: Transgender weightlifter's historic golden bid derailed by injury
READ: Netball idol defies cultural norms
Nigeria earn first medal of the Games
There were scenes of ecstasy in the Oxenford film and television studios – home to the table tennis at the Games – as Nigeria earned their first medal on the Gold Coast in the men's team event.
Bode Abiodun secured the African team's place in the final with a shock victory over England's Samuel Walker, before the team fell to defeat against India, settling for silver medal.
India stormed to a 3-0 victory in the gold medal clash, earning their ninth gold of the Games, behind Australia and England in the overall medal table.
Which country will end up top of the medal table? Can anyone catch the hosts? Have your say on CNN Sport's Facebook page
Visit CNN.com/sport for more news and features
Cypriot gold rush
It may not be quite as small as Norfolk Island, but with a population of little over a million people, Cyprus is not used to being near the top of any international medal tables.
But with back-to-back golds on Monday, the island nation moved inside the top 10 on the leaderboard, with four golds and two bronze medals.
Gymnast Marios Georgiou led the gold rush with his third medal on the Gold Coast – in the men's parallel bars – while Georgios Achilleos came out on top in the men's skeet shooting final to continue the nation's push for a record-breaking Games.