Story highlights
Nico Rosberg reveals Formula E shareholder role
Former F1 world champion 'very interested' in e-mobility
German set to drive new Gen2 car at Berlin E-Prix
It's never easy making the transition to everyday life after you've been at the very top of your sport and constantly in the glare of the media.
Even more so when you've been subjected to the enormous adrenaline and speed rushes an F1 driver is likely to experience.
Now, over a year on from his shock retirement, former F1 world champion Nico Rosberg is using his considerable knowledge of motorsport by dipping his toes into a new business venture – he's joining the all-electric racing series Fomula E as an investor and shareholder.
He says part of his motivation to get involved is for environmental reasons.
"Since my retirement, I've become very interested in the e-mobility movement and its potential to positively impact our society and our planet," said Rosberg, who bowed out from F1 after pipping teammate Lewis Hamilton to the title.
"I've therefore also long believed in the potential of Formula E and came on board as an investor some time ago."
Founder and CEO of Formula E Alejandro Agag called it a "special moment" for the series.
"He's such an incredible ambassador for world motorsport and a champion," said Agag. "So it's also another fantastic endorsement for the ABB FIA Formula E Championship to have Nico as an investor and shareholder of Formula E."
READ: Sebastian Vettel wins Bahrain Grand Prix after mechanic hit by Ferrari car
'Let's see if I still have it in me!'
Formula E fans are also in for a treat next month.
Rosberg is to get behind the wheel of the striking new Gen2 model ahead of May's Berlin E-Prix, giving fans a first public demonstration of the car described as "the future of racing."
Boasting an ultramodern design and aggressive aesthetic, the second generation racer offers almost twice as much energy storage capacity and double the range as the previous vehicle.
Formula E and tech giant ABB seal partnership
That means drivers will no longer have make a mid-race car swap, as they have since the sport first took to race tracks in 2014.
"I'm really excited to get behind the wheel of the Gen2 car," said Rosberg. "It will be great to experience this high-performance e-mobility car and let's see if I still have it in me!
"It makes it even more special that I'm able to do this at the Berlin E-Prix, as I've always loved racing in my home country, Germany."
The Gen2: Formula E's F22-inspired race car
00:55
- Source: FIA Formula E
The FIA brought together a number of leading designers and engineers from around the world to work on the concept – the first time motorsport's governing body has directly overseen the creation of a car for competition.
And already the new design has caused quite a stir, with many comparing the second generation racer to the Batmobile.
"It's a very special moment to see a new car running for the first time in public and it requires an equally special name to have that honor," said Agag.
"To see a name like Rosberg taking the wheel of the Gen2 car in front of the German fans in Berlin is a great moment for the series."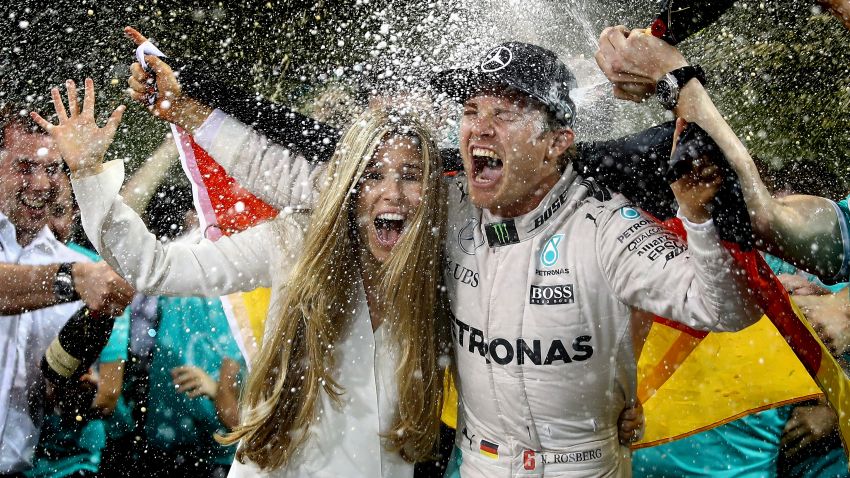 F1: Nico Rosberg on rivalries, relief & retirement
A month after announcing his shock retirement from racing in December 2016, Rosberg told CNN he felt "fulfilled."
"My family helped me so much," he reflected. "They all put racing as the number one priority, everything else was secondary."
The German went on to say he envisaged remaining involved in competitive motorsport "in some way," but quashed speculation he might get back behind the wheel in another category.
Will Nico Rosberg ever race again? Have your say on CNN Sport's Facebook page
Visit CNN.com/motorsport for more news and features
The next leg of the 2018 Formula E World Championship takes place on the streets of Rome on April 14 – the first time all-electric single-seater racing has come to the Italian capital.