Two US Navy destroyers armed with Tomahawk cruise missiles are in position and ready to be called into action, among other assets including jets and submarines should President Donald Trump make good on his threat to order a military strike on targets in Syria.
Trump caught most of his aides and the Pentagon off-guard on Wednesday by declaring on Twitter that "nice and new and 'smart'" missiles would soon be fired toward Syria – an announcement that came before an agreement had been reached between key US allies, multiple American and Western officials said.
Top military officials were at the White House on Wednesday afternoon to discuss options for Syria, according to senior aides, and a decision on how to respond to the weekend's chemical attack had not yet been made when Trump took to Twitter, people familiar with the discussions said.
White House press secretary Sarah Sanders insisted Wednesday that a missile strike remains one of the many options on the table and said the President's tweet does not complicate the planning of a US response.
Defense Secretary James Mattis said Wednesday that the US is "still assessing the intelligence" on the recent chemical attack but noted that the US military is on standby should Trump give the order for a strike.
"We stand ready to provide military options if they are appropriate as the President determined," he said.
Mattis also ignored a question about whether he was concerned about telegraphing US military moves in Syria, a question appearing to refer to Trump's earlier tweet on Wednesday.
Did Trump tip his hand?
Trump's tweet could force military leaders to modify their analysis related to "targets, timing and teamwork," according to CNN military analyst John Kirby.
Satellites and other US intelligence aircraft are watching closely for signs that Syrian leader Bashar al-Assad, as well as Russian units – are using the advance notice to move aircraft, weapons and personnel out of the way of a potential attack.
However, warning of an imminent strike could force US military officials to modify their list of potential targets – which could range from airfields or chemical storage sites to locations in Assad's backyard of Damascus depending on the intended message.
"It is possible that strike packages and potential targets should be adjusted based on what you see on the ground," Kirby said, noting that both the Russians and Syrian regime have been given plenty of indicators as to the type of strike the US may be considering.
Targeting air defense systems or locations closer to Damascus would send a stronger message but would risk more casualties as well as increase the chances of escalating the conflict, he added.
Russia and Syria quickly responded to Trump's threat on Wednesday. Syria's Foreign Ministry said it was not surprised by the US' "reckless escalation" via Trump's tweets, the state-run news agency SANA reported, while Russian Foreign Ministry spokeswoman Maria Zakharova said in a Facebook post that "smart missiles should fly toward terrorists, not the legal government that has been fighting international terrorism for several years on its territory."
Kremlin spokesman Dmitry Peskov said Wednesday that Russia hopes all parties involved in Syria will avoid any steps that could "significantly destabilize" an already "fragile situation."
Peskov added there were no plans for Putin to call Trump, French President Emmanuel Macron or UK Prime Minister Theresa May amid the crisis.
The US did provide Russia with advance warning via military channels shortly prior to the April 2017 missile strike on the Syrian air base believed responsible for a previous chemical weapons attack. That warning was made to avoid casualties among Russian military advisers in Syria. Despite the advance notice, Russia made no effort to shoot down the American missiles.
What firepower is available?
In addition to having two destroyers nearby, it is possible the US also has unacknowledged submarines positioned off the coast of Syria ready to fire satellite-guided, highly precise Tomahawk cruise missiles – the very type of smart missiles the President tweeted about.
"Don't discount the possibility of Tomahawk-capable submarines in the region," Kirby said. "It is not unusual for them to be in the Mediterranean, and they have been used to hit targets in North Africa in the past."
The US also has stealth F-22 fighter jets stationed in Qatar which could be used to evade the Syrian regime's Russian-made air defense systems, but the use of piloted aircraft comes with a substantial risk as those systems are considered very capable, Kirby said.
"Especially given deterrent threats from Russian officials, the United States will be hesitant to risk American pilots in these strikes and will most likely opt for long-range strikes from submarines or aircraft," according to Adam Mount, Senior Fellow and Director of the Defense Posture Project at the Federation of American Scientists and a former senior fellow at the Center for American Progress.
"New, stealthy JASSM missiles could be delivered by B-1B and B-52 (and now likely F-15E and F-16)," Mount said.
"JASSMs do target recognition and terminal guidance with infrared sensors, making them both 'new' and 'smart,' he added. "The United States has developed a new generation of electronic warfare munitions and decoys designed to help US strikes reach their targets, which could also see action."
However, the US does hope French and British aircraft as well as ships will be part of the strikes as both nations continue to weigh the possibility of a joint response.
CNN has previously reported that Trump discussed possible options on Syria with both French President Emmanuel Macron and UK Prime Minister Theresa May.
Macron has said that any French strikes against the Syrian regime would target chemical facilities, and a British government official told CNN on Wednesday that preparations are being made by the United Kingdom for possible action but cautioned the political decision has not yet been made.
The Daily Telegraph in London reported Wednesday that May has ordered British submarines to move within missile range of Syria in readiness for strikes against the Assad regime that could begin as early as Thursday night.
May will host a Cabinet meeting on Thursday "to discuss the response to Syria," a Downing Street spokesperson confirmed to CNN.
Speaking in the British city of Birmingham on Wednesday, May said "all the indications" are that the Syrian regime was responsible for a chemical weapons attack in Douma, adding that the use of such weapons "cannot go unchallenged."
May has not confirmed whether the UK government is considering military action.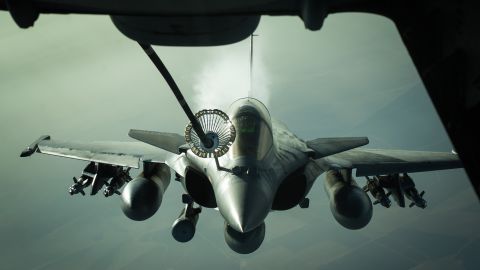 France has 10 Rafale fighter jets stationed in Jordan and the United Arab Emirates which could be armed with "storm shadow" missiles that can fly for more than 155 miles, according to the French Ministry of Defense and retired general Dominique Trinquand.
This means jets could strike without having to fly over Syria and avoid Russia's anti-aircraft defenses, they told CNN.
France could also launch strikes from the frigate Aquitaine, a warship equipped with 16 cruise missiles and 16 surface-to-air missiles or send Rafale jets from its national territory and organize refueling flights to get them to the area.
This article has been updated.
CNN's Barbara Starr, Michelle Kosinski, Ryan Browne, Kevin Liptak, Saskya Vandoorne and Sebastian Shukla contributed to this report.