Story highlights
The Sydney government has announced plans to split the city into three
The divide will help to ease pressures of overpopulation of the harbor region, and a lack of infrastructure
Sydney's population is set to double in the next 40 years
Sydney has an ambitious plan. The most populous city in Australia has announced that it wants to split into three cities – in as little as 20 years' time.
The radical "Greater Sydney Region Plan: a Metropolis of Three Cities" plan was released last month by the Greater Sydney Commission, a government agency responsible for land use.
The divide aims to tackle problems such as major population growth, sky-high housing prices and increasingly congested commutes. Splitting one city into three, the commission says, will give residents better access to housing, jobs and services across the board.
"We want quality of life for all Sydneysiders," a spokesman from the commission tells CNN.
The Sydney triplets would be called the Eastern Harbour City, Central River City and Western Parkland City. But how do you split a city of millions of people into three?
A tale of three cities
Sydney's population is set to double over the next 40 years, from 4.8 million in 2016 to eight million by 2056. With almost half of that population residing in the Eastern Harbour district, home to world famous landmarks such as Bondi Beach and the Sydney Opera House, as well as key amenities including Sydney Airport and the Central Business District, Sydney faces a huge problem of overcrowding in a concentrated area.
Read: The urban farms greening Paris
By creating three cities out of one, officials are hoping to persuade residents to live in a more diverse range of locations.
The cornerstone of this strategy is creating "30-minute cities:" those where all residents will live within a half-an-hour commute of the nearest metropolitan center. Different modes of transport will be introduced to make this happen, including new motorways and train lines.
Furthermore, each of Sydney's three cities would be connected with each other through new transport links, turning Sydney into "three unique but connected cities."
It's not going to be a quick fix, however.
"I think the railways and motorways are going to take a long time to get off the ground, because the railways need subsidies for a start," says Glen Searle, an associate professor in planning at the University of Sydney and the University of Queensland, who formerly worked in planning policy for the New South Wales government.
But that work needs to be done most people can agree.
"Sydney is a city that has never really invested deeply in a cohesive plan for being congruent – at least until now," says Amadou Doumbia, a New Yorker who moved to Sydney eight months ago. "You look at the city center and it's towering with soaring corporate buildings or incredible colonial era buildings. But the minute you leave these areas, you're faced with a 'city' that feels half metropolis and half suburban."
The government has not yet said how much will be invested in creating new transport or where it will come from.
Read: Is this the world's worst city for traffic?
Sydney as we know it
Currently, there is a "high preference" for living in the Eastern Harbour City, which is home to iconic landmarks such as the Sydney Opera House, says Searle.
"Greater density gives you greater vibrancy around the central area," he says. "Also, the climate in eastern Sydney is much better than the climate in western Sydney. Eastern Sydney has a sea breeze in the summer heat."
But with that popularity comes high housing prices in eastern Sydney, he adds. "It's partly because of access to jobs and cultural facilities."
The median price of a house in Sydney is $914,000, while the national median price is $630,000, as of December 2017.
Under the new plan, the Eastern Harbour City will build on its "recognized economic strength" – but also support the other two cities to ensure growth isn't concentrated in this region.
A new CBD?
In the Central River City, about 30 kilometers from Sydney's current Central Business District sits the suburbian town of Parramatta. With a population of about 25,800, Parramatta is widely seen as Sydney's second central business district.
"If you can really build up Parramatta … a lot of people in western Sydney would probably commute to Parramatta rather than to our current Central Business District," says Peter Phibbs, a professor of urban and regional planning and policy at the University of Sydney.
Read: Could gentrification save some cities?
Under the proposal, an economic corridor will be formed that runs through Parramatta focusing on "world-class health, education and research institutions as well as finance, business services and administration." New rail links will improve growth prospects of the area.
An 'aerotropolis'
But perhaps the most important – an interesting – part of the plan is to transform western Sydney into an aerotropolis – a metropolitan sub-region where the layout, infrastructure, and economy are centered on an airport.
Western Sydney is traditionally associated with the underprivileged and high rates of crime. But with Western Sydney Airport due to open there in 2026, an estimated 28,000 jobs are set to be created in the area. The three cities in total will create 817,000 jobs, the report says.
The world's worst cities for rush hour traffic
"Western Sydney has a negative image … it lacks jobs, it lacks cultural facilities, it has a lot of public housing," says Searle. "(The commission) is trying to do something about that."
Under the plan, the area's population will grow from 740,000 in 2016 to 1.5 million by 2056. Land release will allow for more housing to be built in this area, which will be connected by a vertical train link.
Read: Moving Sweden's arctic 'milipede' town
Three's a crowd?
Splitting Sydney into three would address overcrowding, and unequal economic and social opportunities around the eastern side of the city.
But is such an plan really viable?
"I think it's a good idea because a lack of housing affordability has forced people out of the 'city' – even people on decent wages," says Renee Griffin, who has lived in Sydney for six years. "So you either rent, or you have a long commute – both of which aren't great if you've got a family."
Griffin adds that things are "easy" for her because she lives in the eastern part of town. "If you want to participate in Sydney life in general, you have to be around this area, which means a lot of travel for anyone in the west."
Read: What you need to know about your commute
Searle is not buying the 30-minute city idea, though. "There will be a lot of commuting coming from western to eastern Sydney," he says. "The (targets for the) population and job growth around 'airport city' and the surrounding economic corridor are really way too high."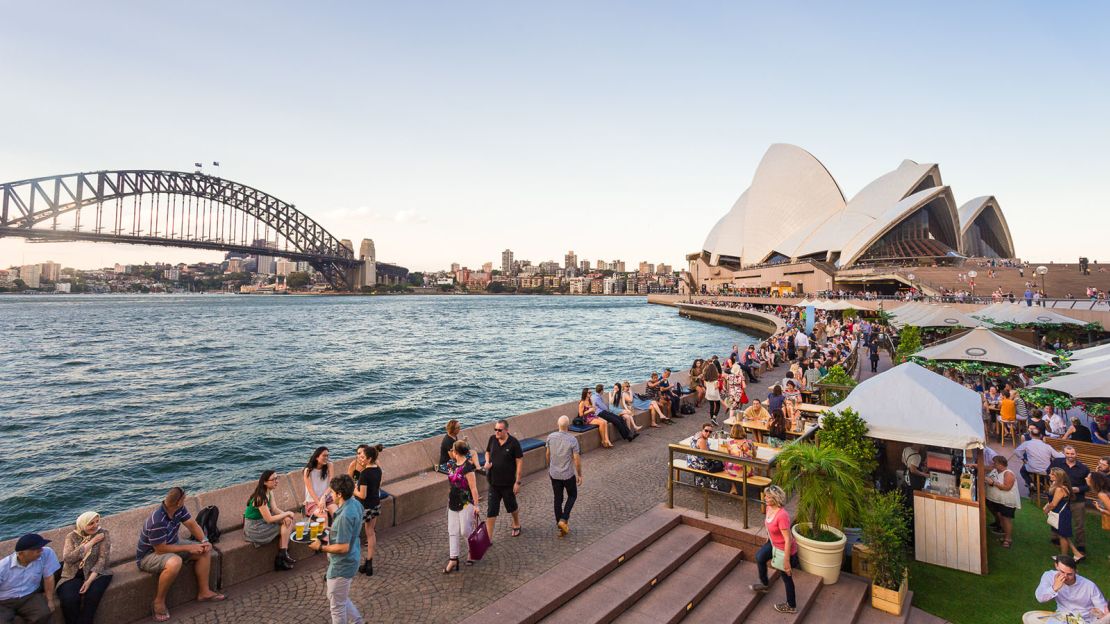 That's not the only thing Searle feels skeptical about. "There is an increase in concentration of jobs in the central part of Sydney, which are knowledge-based jobs – and the trend around the world is for knowledge-based jobs to become more central," he explains.
In Silicon Valley, for example – the Californian tech mecca that was once an out-of-town hub – workers there are increasingly moving towards the center of nearby San Francisco. Workers say wanting to live and socialize in the heart of the city is one of the reasons.
"The idea that you can reverse the job centralization process by suggesting adding two new cities … then (saying) it will happen, is somewhat fanciful, I think," says Searle.
Read: Why do Hong Kong's buildings have holes in them?
Still, a spokesperson for the Greater Sydney Commission tells CNN it is "committed to ensuring its plans don't sit on a shelf."
And many Sydneysiders welcome the plan.
"I think what the government is doing is incredibly admirable," says Doumbia. "But they also have the challenge of changing the local psychology of what 'Sydney' means, what living in a city means, and how long commutes shouldn't be a daily way of life before these plans can be embraced."