The head of Delhi's Commission for Women (DCW) is staging an indefinite hunger strike to push for stricter laws for rape in India, including the death penalty, after a series of horrific attacks on young girls.
Swati Maliwal, chairwoman of the DCW, has been refusing food since April 13, as protests flared nationwide over the separate alleged rapes of two girls ages 16 and 8.
Lying on an outdoor stage in temperatures reaching 100 degrees Fahrenheit (37 degrees Celsius) in northeast Delhi, Maliwal is surrounded by minders who offer her sips of water to provide relief.
Maliwal is staging her strike at Rajghat, a memorial for Mahatma Gandhi, leader of India's independence movement. Gandhi, considered the father of the nation by Indians, was renowned for his nonviolent protests against British colonial rule.
Activists have rallied hundreds of supporters and are speaking on her behalf, calling for stricter laws and equal rights for women. Holding signs saying "Stop Rape," they chant the same message to passersby and others attracted by the crowds milling around the stage.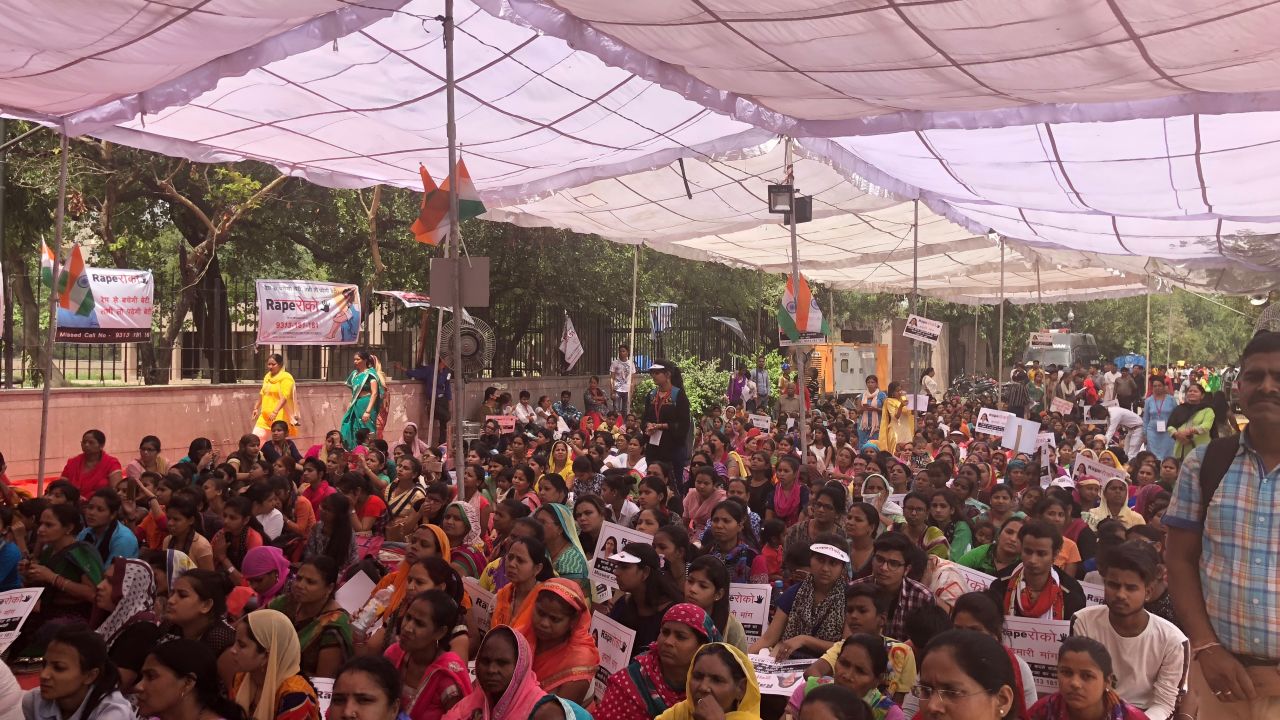 Despite reforms, sexual assault survivors face systemic barriers in India
Davinder Kaur, a member of the "Rape Roko" ("Stop Rape") campaign, said Maliwal's demands would change India for the better.
"Women in India, I won't say that they are safe in any way," the 27-year-old said. "I myself feel unsafe when I go outside home after 9:30 p.m. I do feel unsafe when I travel by bus, when I talk to strange people. Rape, acid attack, these are the cases which are increasing. So there should be stringent laws for that."
Kaur said she also supports Maliwal's call for more police across the country and a fast-track judicial process for alleged rapists.
Death penalty for rapists?
Maliwal began her hunger strike one day after publishing an open letter to Indian Prime Minister Narendra Modi, in which she called on rape to be punishable by death.
"We should have a system in this country where anyone who rapes a young girl should be hanged within six months," she wrote.
Following outcry over the gang rape and death of 23-year-old physiotherapy student Jyoti Singh in 2012, the central government passed numerous legislative reforms, commonly known as the Nirbhaya Act. The act saw increased penalties for sexual violence, including extending the length of prison sentences and introducing the death penalty in certain cases.
Maliwal is pushing for the death penalty to be handed out in all cases.
Protests break out over rapes in India
Citing outcry over the two recent cases, Maliwal wrote, "I feel upset that the leader of our country doesn't say anything – let alone do anything about it."
One day after her comments were published – and after a chorus of voices called for the Prime Minister to speak out – Modi finally broke his silence on the issue during a speech in Delhi, promising justice for "our daughters."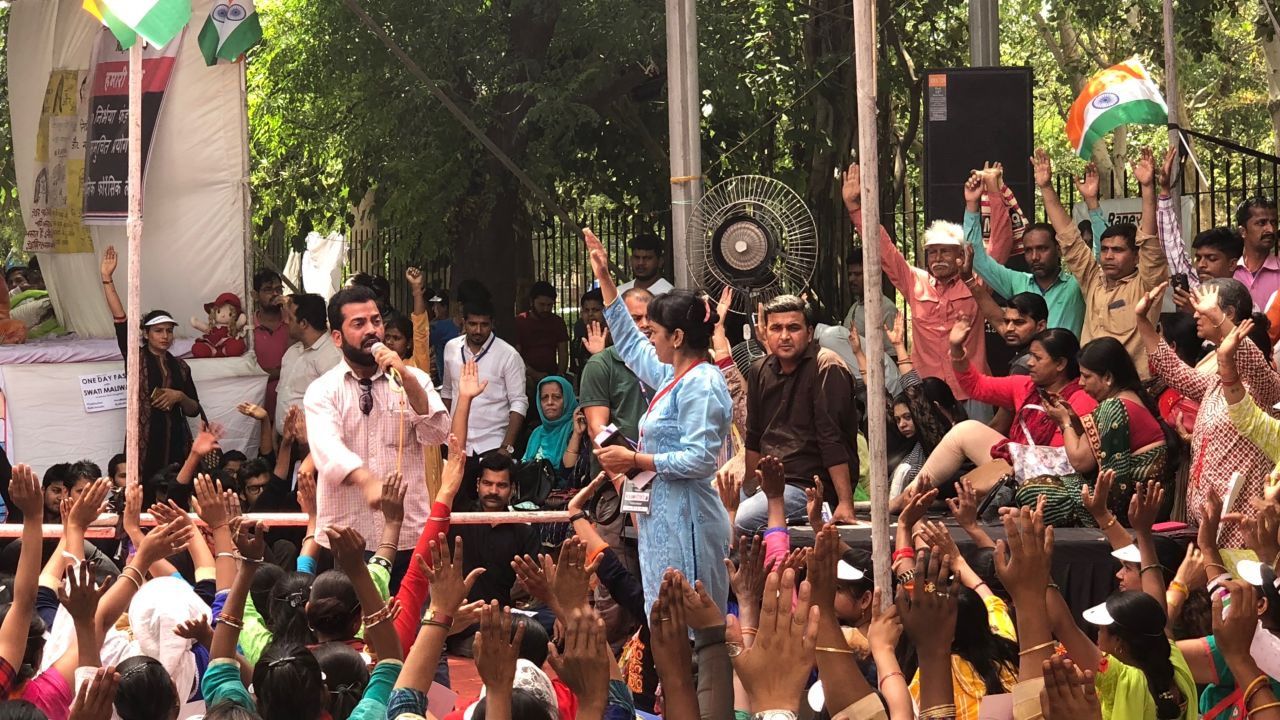 Bharatiya Janata Party under fire
In the last week, thousands of protesters have marched in several cities demanding change in a country where a staggering number of alleged rapes are reported each day.
The latest data from India's National Crime Record Bureau show around 100 alleged attacks are reported to police each day, or nearly 39,000 in 2016 – a 12% increase from the previous year.
The two cases that sparked recent protests involved political and religious dimensions. Kuldeep Singh Sengar, an elected BJP member of the Uttar Pradesh state legislative assembly, was arrested last week while police investigate claims he raped a 16-year-old girl in June 2017.
A week after the attack, the girl was allegedly abducted and repeatedly raped by others allegedly known to Sengar, who has denied allegations.
Prior to his arrest, Sengar told CNN affiliate CNN News 18: "I have done nothing wrong. I will be proved innocent after the investigation. The rape allegations are false and baseless."
The alleged involvement of a BJP member has amplified calls for action from Modi.
"If a prime minister is to be held accountable for basic security and exercise of right to life and liberty for half the population of this country, then it should be a problem for Modi," Vrinda Grover, a lawyer and women's rights activist, told CNN.
"In my mind this should be the single most important agenda of the government."
Grover says that the defense of an accused rapist is symptomatic of "polarization and hate ideology" in the country's political system.
"A sitting legislator is yet to be removed by the party. There is therefore some kind of overt or covert political patronage. The signal from the top is that there is impunity for sexual violence," she said.
The case of the gang rape and murder of an 8-year-old girl in Jammu and Kashmir state was originally reported in January.
But it wasn't until last week, when a group of lawyers and right-wing Hindu activists attempted to forcibly block investigators from filing charges against the men accused, that the case began to gain nationwide attention.
Police say the young girl, who belonged to a Muslim nomadic community known as the Bakarwals, was abducted while grazing horses in a meadow in the isolated Himalayan district of Kathua on January 12.
From there, it is alleged she was taken to a Hindu temple, where she was drugged, held captive and repeatedly raped for five days by different men.
Police have arrested eight men in connection with the death of the girl, all of whom are Hindu. Seven of the eight have pleaded not guilty (the eighth will be tried separately as a minor).
Maliwal has vowed to maintain her hunger strike until the government introduces measures to ensure all accused attackers are brought to justice.
She wrote in her letter to Modi that she'll be there "until he comes up with a concrete plan to combat rising sexual crimes against women and children in the country."
CNN's Sugam Pokharel in New Delhi contributed to this report.