Things looked grim aboard the Southwest Airlines flight, but you wouldn't have guessed it hearing the air of calm from the former Navy fighter pilot guiding the plane to safety.
About 20 minutes after the flight departed from New York, passengers say they heard what sounded like explosions. Debris from an engine failure broke open a plane window. A female passenger was sucked into the hole where the window had been.
With oxygen masks dangling and passengers screaming as they struggled to save the woman, the pilot's voice conveyed none of the panic aboard Southwest Flight 1380.
For her composure under fire, Tammie Jo Shults was invited to the White House on Tuesday, along with first officer Darren Ellisor, the three members of the flight crew and a few of the passengers who donned virtual capes after the plane lost an engine.
"You drew from years of training and safety, and you knew how to land that plane. We salute you and every member of this crew. Thank you very much," President Donald Trump said before shaking Shults' and Ellisor's hands.
The way Shults handled the April 17 emergency has been applauded by passengers, but in a joint statement with Ellisor, the captain shrugged off praise for their actions.
"We all feel we were simply doing our jobs," they said in a statement posted on the airline's social media pages. "Our hearts are heavy. On behalf of the entire crew, we appreciate the outpouring of support from the public and our coworkers as we all reflect on one family's profound loss."
The pilots said they had been interviewed by investigators and would not be doing any media interviews.
She cut teeth in Navy
Shults' swift response won't likely surprise those who served with her when she joined the Navy in 1985, two years after earning her bachelor's degree in biology and agribusiness from MidAmerica Nazarene University in Olathe, Kansas.
As one of the Navy's first female fighter pilots, she served in VAQ-34, a tactical electronic warfare squadron out of Point Mugu, California, that helped train ship crews to respond to Soviet missile threats, according to Navy records.
Shults was among the "first cohort of women pilots to transition to tactical aircraft," said Lt. Christina Helenaleka Sears, a Navy spokeswoman.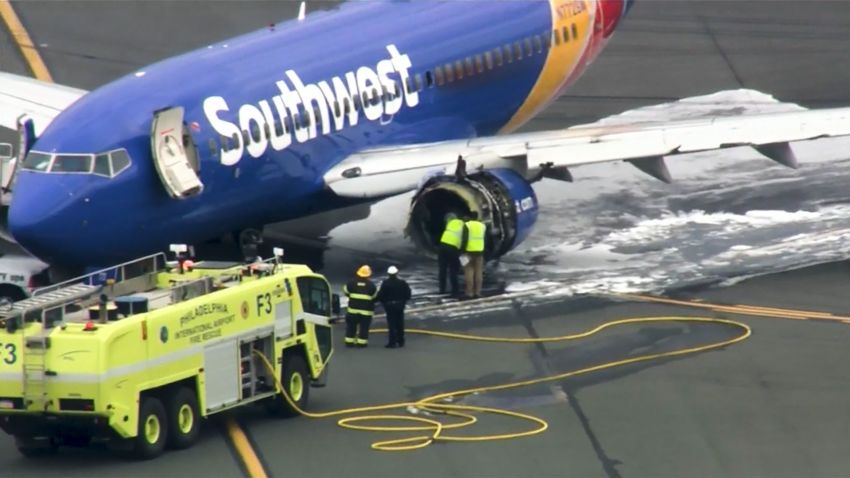 Southwest plane makes emergency landing
She later was an instructor for the EA-6B Prowler, an electronic warfare plane that counts jamming radar systems and gathering radio intelligence among its responsibilities, and for the F/A-18, a carrier-capable combat jet, the records show.
After transferring to the reserves from 1993 to 2001, she retired as a lieutenant commander with two Navy Marine Corps Achievement Medals and a National Defense Service Medal. She also was a pistol marksman, according to records.
Linda Maloney, a retired Navy flight officer who served with Shults, said that her former colleague was always passionate about flying and that her efforts Tuesday showed how Navy training prepared her well.
"I was just glad she was the pilot in command that day," Maloney said, adding that Shults' measured tone as she brought the plane down is typical of who she is. "It just didn't surprise me. That was just classic Tammie Jo."
'It's not on fire … but part of it is missing'
In air traffic control audio, Shults spoke calmly and slowly, describing the emergency unfolding more than 30,000 feet in the air – all the while trying to land a plane with engine failure.
"We have a part of the aircraft missing," she told air traffic control.
Speaking briefly about the emergency landing the plane would have to make in Philadelphia, she asked matter-of-factly: "Could you have the medical meet us there on the runway as well? We've got injured passengers."
Air traffic control responded: "Injured passengers, OK. And is your airplane physically on fire?"
"No, it's not on fire," she replied. "But part of it is missing. They said there's a hole and that someone went out."
The controller responded: "Um, I'm sorry. You said there was a hole and somebody went out? Southwest 1380 it doesn't matter we will work it out there."
The plane went from an altitude of 31,684 feet to about 10,000 feet in a little more than five minutes, according to data from Flightradar24.com.
The plane descended precipitously, passenger Kristopher Johnson said, but the pilot "regained control" and informed passengers the flight was headed to Philadelphia.
Rough but safe landing
Another passenger, Marty Martinez, heard, "Brace for landing. Brace for landing."
It was a rough landing, he said, and things were so chaotic he wasn't sure if the plane was going to crash.
"It was just all incredibly traumatic, and finally when we … came to a halt, of course, the entire crowd was (in) tears and people crying and we were just thankful to be alive," Martinez said.
Passenger Kathy Farnan said crew members knew what they were doing and kept everyone calm.
"The pilot was a veteran of the Navy," Farnan told CNN. "She was very good."
When it was all over, the pilot came out of the cabin and hugged everyone, telling them, "You all did a great job. You did a very good job," passenger Amy Serafini said.
'That lady, I applaud her'
They not only praised her technical skills but her professionalism as well.
Passengers told CNN affiliate WPVI that the pilot walked through the aisle and talked with them to make sure they were all right.
Passenger Alfred Tumlinson told WPVI: "She has nerves of steel. That lady, I applaud her. I'm going to send her a Christmas card, I'm going to tell you that, with a gift certificate for getting me on the ground. She was awesome."
Johnson posted a picture of the shredded engine and thanked crew members, calling them #angelsinthesky.
He also tweeted a photo of the crew. "We lost an engine mid-flight and they guided back to Philly."
Jennifer Riordan, the female passenger whom witnesses said was pulled back in from the broken plane window, died at a Philadelphia hospital, authorities said. Seven others were treated for minor injuries.
The plane had departed from New York, bound for Dallas.
CNN's Eliott C. McLaughlin, Barbara Starr, Brian Todd, Carma Hassan, Marilia Brocchetto, Paul P. Murphy and Faith Karimi contributed to this report.