A high-ranking Japanese political figure has resigned in the wake of sex harassment allegations, a further blow to a government beset by scandal.
Junichi Fukuda, administrative vice minister for the Ministry of Finance, said Wednesday that he was leaving his post following the release of recordings containing what a female TV reporter said were sexually harassing remarks he made to her.
The resignation came as Ryuichi Yoneyama, governor of Niigata prefecture, also announced he was stepping down in the wake of accusations he paid students for sex.
Sexual harassment claims
The journalist, who works for the TV Asahi network, recorded a conversation between her and Fukuda following what she alleges was a campaign of harassment by the finance official for a year and a half.
The allegations were published in the weekly magazine Shukan Shincho.
The embattled minister said that he believed the facts as reported were inaccurate and that he "would like to probe (the accusation) through the court."
In parts of the tape made public, a male voice asks: "Can I touch your breasts?" The voice also asks if he can "kiss" the subject and if he can "tie (her) hands." The recording doesn't feature the voice of the reporter making the harassment allegations.
On Wednesday Fukuda said he could not definitively say if it was his voice on the tape and said that he often held meetings with small groups of reporters, or sometimes individuals. The ministry has appointed a lawyer to investigate, but growing public anger has led to demands from opposition politicians for the resignation of Fukuda and his boss, Finance Minister Taro Aso.
Aso had earlier said he had accepted Fukuda's resignation. Since Fukuda is a civil servant, his resignation needs to be approved by Prime Minister Shinzo Abe's Cabinet – a move that won't take place until early next week when Aso returns from a G20 meeting in Buenos Aires.
"Vice Minister Fukuda tendered the resignation as he said that he would like to continue probing his innocence over the allegation," Aso said before leaving for Argentina.
"(As) it is difficult to fulfill his responsibility as vice minister in the current environment started from the news report, I will accept this resignation. The decision will be issued after the approval by the Cabinet."
Network to lodge official complaint
The director of TV Asahi's news department, Hiroshi Shinozuka, said that the reporter had asked the network to go public with her allegations, but her bosses had dissuaded her, saying they were concerned the accusations would damage her reputation.
Shinozuka apologized that the media outlet handled the employee claim improperly and said that it would submit an official protest against the Finance Ministry.
"Mr. Fukuda announced his resignation as vice minister, but he denied the allegation of sexual harassment," Shinozuka said at a press conference.
"But we believe that the sexual harassment against our employee is true."
Niigata governor resigns over sex scandal
Fukuda's announcement comes on the heels of the Niigata governor's resignation.
In a press conference Wednesday, Yoneyama, the governor, told reporters he had paid female college students in hopes of gaining their affection.
"I gave (them) gifts and money," said Yoneyama, who came to office on the back of anti-nuclear sentiment over the reopening of a nuclear facility. "The actions caused a misunderstanding. … I had romantic feelings."
The resignation was sparked when another publication, Shukan Bunshun, reported that the prefectural governor had paid the students 30,000 yen each ($279) several times for sex.
Yoneyama, who is unmarried, said he had met the students on an online dating service and admitted that the payments might be construed as illegal.
He called himself "a middle-aged man who lost his mind."
Yoneyama is not a member of the ruling Liberal Democratic Party, led by Abe.
Abe looks to keep head above water
The scandals come at a particularly low point for the Prime Minister, who faces declining public approval ratings.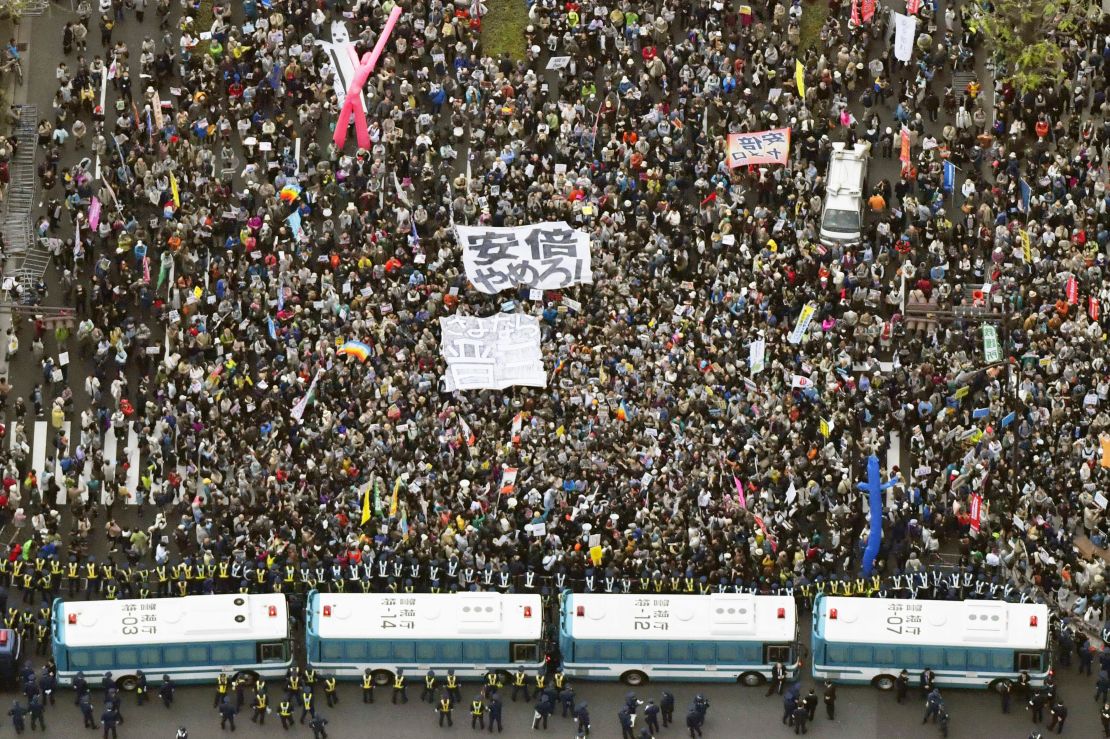 Ahead of Abe's trip to meet President Donald Trump in Florida, protesters turned out last weekend in front of Japan's parliament in Tokyo, calling the Prime Minister a liar and demanding his resignation over a corruption scandal that has dogged his premiership for months.
Abe has denied intervening in land sales to ensure preferential treatment for schools close to him and his wife, Akie.
CNN's Yoko Wakatsuki reported from Tokyo, and Euan McKirdy wrote and reported from Hong Kong.