Story highlights
Liverpool 5-2 Roma
Mo Salah has hand in four goals
Liverpool led 5-0 before Roma pulled two late goals back
Mohamed Salah put in a magical performance against former club Roma, as two goals and two assists helped Liverpool to a commanding first-leg Champions League semifinal lead.
The Egyptian led the rout from the first whistle as Liverpool found themselves 5-0 up with just 10 minutes of the game left to play.
However, a late Roma rally as Liverpool's defence went to sleep saw Edin Dzeko and Diego Perotti scored two late goals to give the Italians a glimmer of hope going into the second leg.
The two sides will meet again at the Stadio Olimpico in eight days' time.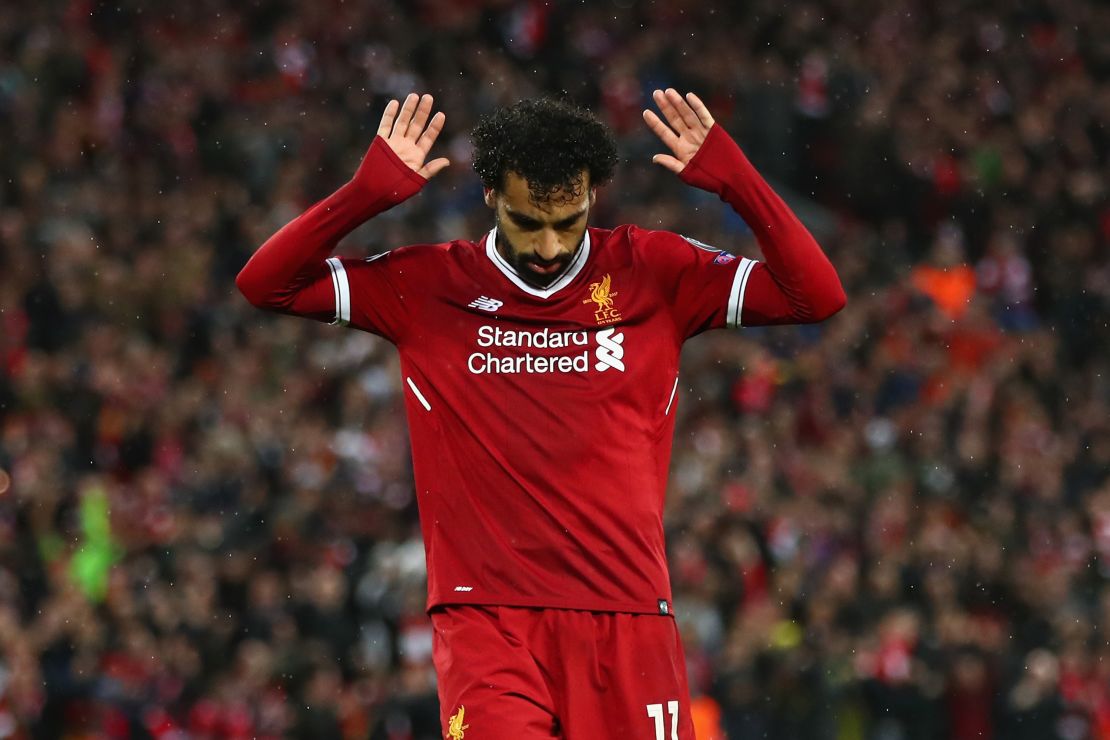 When Salah signed for Liverpool in June of 2017, Roma supporters were understandably sorry to see him go.
Thanks to individual moments of magic and no shortage of goals, the Egyptian became a firm fan favorite during his time in the Italian capital.
Fast forward to Anfield, little less than a year later, Roma were catching a glimpse of their former star for the first time and, now, they truly were sorry he ever left.
READ: A day in the life of Mo Salah, Liverpool's 'Egyptian King'
READ: Mo Salah faces emotional return to Roma
It felt scripted – Salah scoring two and providing two of Liverpool's five-goal blitz – though, in reality, his recent scintillating form meant this was very much predictable.
Many of these Roma players had trained and played with Salah during his two years at the club, but in truth the 25-year-old never hit these kinds of heights in Italy.
If they had heard tales of Salah's exploits since his move to England, tonight they were experiencing them first hand.
Liverpool had not tasted a first-leg Champions League semifinal win in their previous three attempts, while Roma have one of the worst away records in the competition.
Mohamed Salah: I love the Egyptian King chant
After a closely contested opening 35 minutes, it was a case of who would blink first.
Following a brief interlude after not one, but two linesman's flags had fallen apart and had to be repaired, Roberto Firmino got in behind Roma's defence for the first time and flashed a low shot across the face of goal.
The Brazilian forward looked to have been inches offside, not that the linesman had a working flag to make the decision.
Jurgen Klopp's plans were then dealt an early blow as the industrious Alex Oxlade-Chamberlain was forced off with a knee injury sustained in a tackle with Aleksandar Kolorov.
READ: Mo Salah gets suited and booted ahead of PFA Player of the Year awards
READ: Salah – 'There's something very special about playing for Liverpool'
Georginio Wijnaldum came on in his place and perhaps the substitution unsettled the home side as Roma almost took a surprise lead.
Cengiz Ünder's outswinging corner narrowly missed Džeko's head, before the ball fell to Kolorov on the edge of the box.
The former Manchester City left back, renowned for his powerful left foot during his time in England, fired a shot at goal which goalkeeper Loris Karius fumbled fortuitously onto the underside of the crossbar.
Karius, who has spent much of his Liverpool career playing second fiddle to Simon Mignolet, has regularly given his own teammates and fans similarly heart-stopping moments.
Mo Salah and Becky Anderson go to the Docks
As the clocked ticked towards half an hour, Sadio Mane had two gilt-edged chances in the space of 49 seconds to give Liverpool the lead.
First, Firmino's clever flick and pass was latched onto by Mane, whose exceptional first touch allowed him to get away from Federico Fazio, but the Senegalese blazed his finish high over Alisson's crossbar.
Moments later, Roma's high defensive line was again exposed, this time as Firmino got in down the right to square the ball for Mane, but again his shot went high into the stands.
It wasn't long before Mane did finally have the ball in the net, prodding home Andy Robertson's low cross, though this time he was met with the sight of the linesman's, now fully functioning, flag.
That first Mane chance, though it wasn't taken, felt like the watershed moment in the first half.
Wave after wave of red shirts began descending on Roma's back line; every lunge increasingly desperate, every tackle increasingly last ditch.
It wasn't long before Liverpool's star man, Salah, got in on the act, cutting inside and curling a shot which was palmed away by Alisson at full stretch.
Roma naively didn't heed that warning, again allowing Salah to cut inside onto that magical left foot.
Mo Salah: We can win the Champions League
This time it was inch perfect, the ball kissing the underside of the crossbar as the scrambling Alisson looked helplessly upwards.
There was a brief intake of breath, a split second of silence as the 54,000 watching fans heard the noise of ball against woodwork, before Anfield – which up to this point had been simmering nicely – exploded into life.
Salah, facing his former employers for the first time since his summer transfer to Merseyside, immediately turned to where the away fans were congregated and put his hands together, asking for forgiveness.
Bar the small pocket of Roma fans in the corner of the crowd, Anfield was delirious and the Liverpool players responded to a crowd which now was baying for more Roma blood.
Again they came forward, this time Firmino crashed through a weak tackle from Kostas Manolas – Roma's hero from their second-leg quarterfinal comeback against Barcelona – and threaded a pass through to Salah.
With his first touch, the Egyptian dragged the ball into his path; with his second, he nonchalantly clipped it over the onrushing Alisson.
For a moment it looked as though the backtracking Juan Jesus might be able to save Roma, but the wet turf quickly coaxed the ball over the line.
Roma made a substitution at the start of the second half, Patrik Schick replacing Under, in what proved to be a futile attempt to stem the tide.
COPA90: Mo Salah, Liverpool's Egyptian King
With less than 10 minutes on the clock, Salah turned provider, putting a pass on a plate for Mane to divert the ball into the far corner.
Roma spent Monday night in Liverpool's Titanic Hotel, and the Italians were now sinking much faster.
With Liverpool toying with their opponents and with one foot in the final in Kiev, Salah again burst down the right and this time played a pass across the face of goal which Firmino tapped into an empty net.
Despite two goals and two assists to his name, Salah was still being allowed to roam free down the right flank with barely a Roma defender in sight.
Liverpool then looked to hammer the final nail into Roma's coffin, as Firmino headed home his second goal of the game from James Milner's corner.
Based on the mood around the ground and the swagger with which the Liverpool players were strutting around the pitch, you got the sense this tie was over.
Perhaps it was that complacency, then, that allowed Roma to inexplicably breathe life into this semifinal.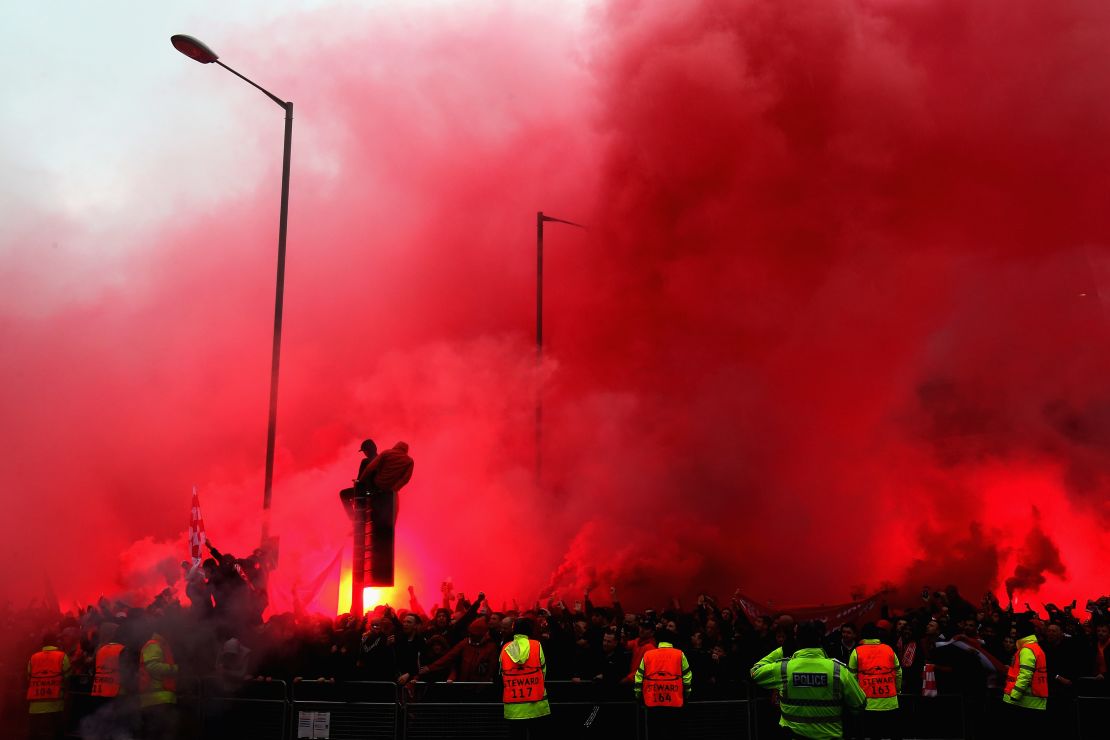 With barely a shot to their name in the entire match, two goals in the space of four minutes – the first a tidy finish from Dzeko, the second Perotti's penalty – put a spring in the step of those Roma fans who had looked utterly dejected up until this point.
The mood inside Anfield had now shifted completely. Barely minutes ago, the place had been rocking. Now there were nerves as Liverpool's much-maligned leaky defence again began to show its fragility.
Klopp's final change, defender Ragnar Klavan for two-goal Firmino, mirrored the growing anxiety around the ground.
When the final whistle blew, it wasn't met with the same euphoria had it been blown just 10 minutes earlier, but Liverpool can still certainly be pleased with their night's work.
Though Roma's two late goals slightly soured an otherwise incredible Champions League night at Anfield, it will take a monumental effort if the Italians are to overturn a second consecutive three-goal deficit – in particular with Salah in the opposition line up.
But they did it against Lionel Messi and Barcelona. Who is to say they can't do it again?