Protests were held across Spain after five men were convicted of sexual abuse but cleared of the gang rape of a teenage girl during the Running of the Bulls festival in Pamplona two years ago.
Large crowds marched in cities, including Madrid, Barcelona, Valencia, Pamplona and Alicante, after a court decision Thursday afternoon in Pamplona.
Many protesters held placards declaring: "It is not abuse, it is rape." Some added the hashtag "patriarchal justice."
The court in northern Spain's Navarre region said the five men had been sentenced to nine years for "a continued crime of sexual abuse," a lesser offense under Spanish law than the gang rape of which they were accused.
Amid the furor, the official spokesman for Spain's government said Friday that it would "revise whether the law regarding these crimes (sexual crimes) needs to be updated."
Prosecutors had sought 22 years for each defendant on the more serious charge, according to Spain's El Mundo newspaper. The case became known as "la manada," or "the wolf pack," after the name of a WhatsApp group on which the defendants and other friends chatted.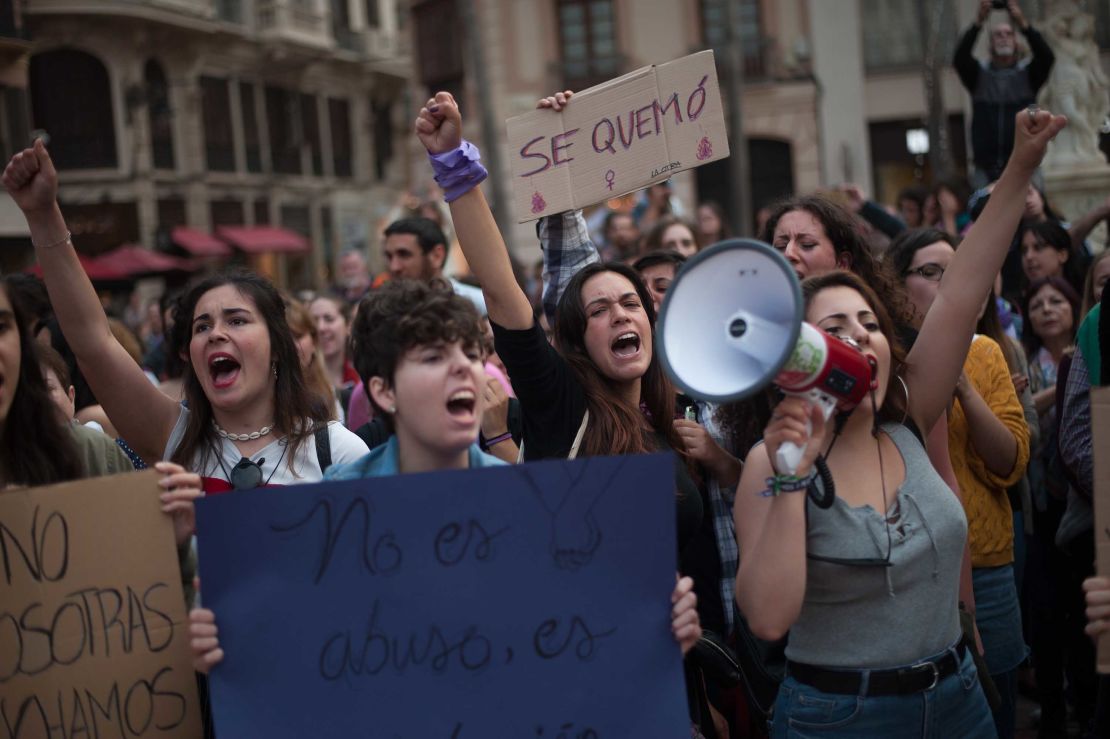 The men – José Ángel Prenda, Antonio Manuel Guerrero, Ángel Boza, Alfonso Jesús Cabezuelo and Jesús Escudero – recorded cell phone video of their encounter in July 2016 with the girl, then 18, during Pamplona's famous San Fermín festival.
According to court documents, WhatsApp messages circulated to the group by one of the defendants included "us five are ****ing one girl," "there is more than what I'm telling you," "a ***ing amazing trip" and "there is video."
The court heard that the men, who denied wrongdoing, "pushed" the girl into a deserted hallway and told her to "shut up" before all engaging in sexual activity with her. She "adopted a passive, submissive stance" because she felt trapped and afraid, according to the sentencing document. One of the men took her phone from her bag before they left her there.
The case has shone a spotlight on Spanish law, under which the lesser offense of sexual abuse differs from rape in that it does not involve violence or intimidation.
Navarre's state prosecutor said Thursday's ruling by a three-judge panel would be appealed. Defense attorney Agustin Martinez Becerra, who represents four of the accused, said Friday they would also appeal the sentence.
The verdict has outraged many in Spain.
Announcing that authorities would look again at the country's laws on sexual crimes, spokesman Inigo Mendez de Vigo insisted that "the government has been, is and always will be with the victims."
Defense Minister Maria Dolores de Cospedal earlier said she thought the sentence was "too little" and that legislation in this area "might have to be looked at."
"As a person, as a citizen, as a woman, it's hard to come to terms with the content of the sentencing. What happened at the San Fermín was barbaric and a situation no woman is comfortable in," she said.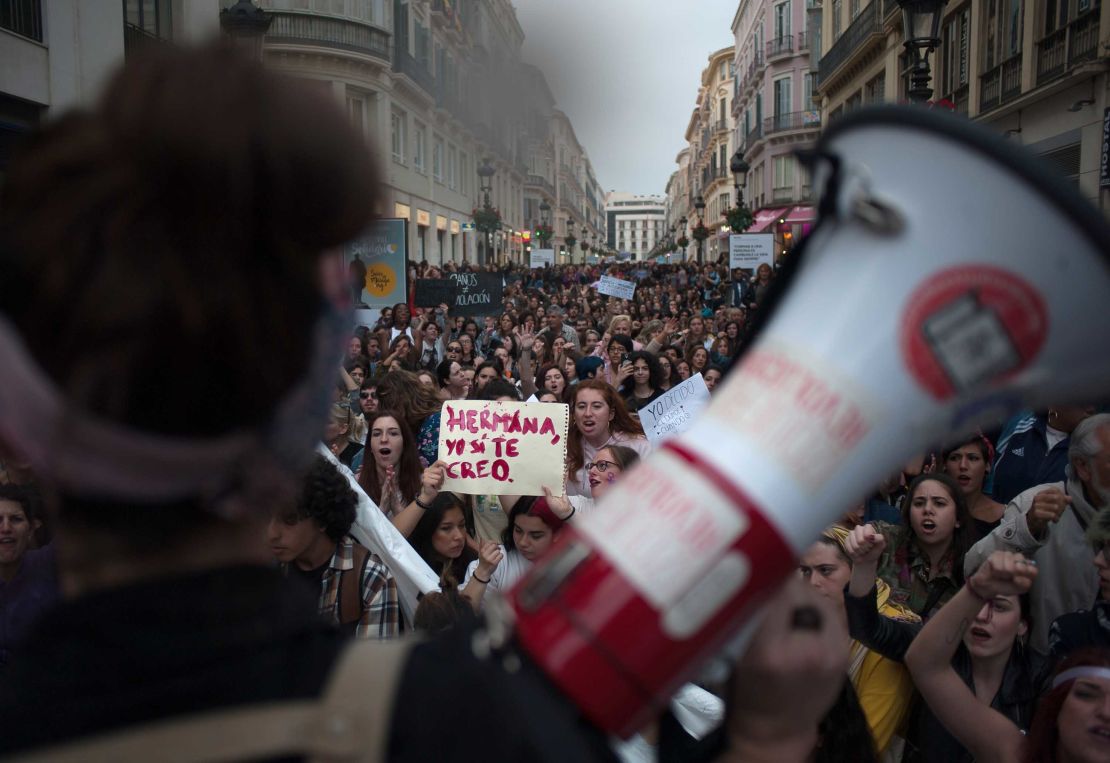 Susana Díaz, Andalusia's regional president, tweeted: "I always respect judicial sentences but this is one I neither understand nor agree with. We must have zero tolerance for sexual violence throughout society."
Pedro Sánchez, leader of the Spanish Socialist Workers' Party, tweeted: "She said NO. We believed you then and we still believe you. If what the 'wolf pack' did wasn't group violence against a defenseless woman, then what do we understand by rape?"
Iria Grandal, 27, was one of those who protested in Madrid. "I was inspired to join the protest by the injustice of an absurd sentence," she told CNN. "Five men pushing you inside the entrance of a house is enough intimidation to be considered rape and not sexual abuse."
She said the crowd gathered in front of the Ministry of Justice in Madrid and then marched to Spain's Congress, where there was a sit-in. Another sit-in was held in front of the Ministry of Equality. Everything finished around 11 p.m. Thursday when the crowd held a moment of silence, she said.
In the videos that Grandal shared on social media, the crowd could be heard shouting, "Yo te creo" – "I believe you" – in reference to the victim of the assault.
"In Spain, there is still a lot of machismo and misogyny. In jobs, salaries, and including young people," Grandal said. "But I think things are changing now. You could see it in the massive demonstration on March 8 – for International Women's Day – and you could see it now. Women will no longer remain silent, and the youngest among us are also taking to the streets to protest.
"We want to stop feeling afraid when going out, and we want to be treated for what we are: people."
José Antonio Martín Acosta, who belongs to the Gafas Moradas (Purple Glasses) feminist group fighting for gender equality, joined protests in the city of Bilbao.
"The 'manada' sentence made us hit the streets because the judges had sentenced it as an abuse, while it's nothing else but rape," he told CNN. The group demonstrated, he said, "to fight the patriarchy and against an obsolete justice in which many people are still linked to the rules of (the) Franco regime."
CNN's Katie Polglase and journalist Elena Gyldenkerne contributed to this report.