Slowly but steadily, caravan migrants who trekked across Mexico are pleading their cases to US authorities on why they should be granted asylum.
More than half of them have now been accepted to begin processing by US authorities at the border with Mexico, Alex Mensing – whose group, Pueblo Sin Fronteras, organized the caravan – said Wednesday.
Caravan organizers said 63 Central American migrants began asylum processing on Wednesday, bringing the total of those accepted for processing to 88.
On Tuesday, 17 Central American migrants were taken in by US Customs and Border Protection (CPB) for asylum processing, said Viridiana Vidal with Pueblo Sin Fronteras.
The group was predominately made up of mothers and their children.
However, CPB says it processed 28 between Monday and Tuesday.
They are now in a detention center known as the "hielera," or "cooler. They could be held for days, or even a week, as asylum officers question them and assess them for "credible fear."
The first eight migrants were selected by their peers to apply for asylum first. They included Gabriela Hernandez, a pregnant mother of two who fled Honduras. She and her two sons, ages 6 and 2, have battled hunger, exhaustion and chronic illness throughout the journey.
But dozens of the migrants who traveled with the caravan keep waiting. It's not clear when or on what day officials will see them.
Some sit by the turnstiles of the processing center between Tijuana and San Diego, just feet away from US soil. Most are huddled together in tents on the Mexican side of the border, waiting their turn to apply for asylum.
One organizer said the caravan would remain at the immigration processing center until "every last one is admitted into the United States."
What these migrants are fleeing from
Hernandez left her husband after suffering domestic abuse, but then gang members found her one day, demanding to know where her ex was. They gave her 12 hours to give him up or said they would kill her 6-year-old.
She left that night, with her sons.
Her plan was to present herself to US officials to claim asylum given the danger to her life and her children in Honduras. She just doesn't have the energy to think what would be next if she is not granted asylum.
"I don't know what I'm going to do," she said. "I cannot go back to my country."
Tesla Rich, 19, and her 9-month-old daughter, Valentina, are also in the first group of eight selected to start their asylum claims.
She's leaving the rampant violence in Honduras – her uncle and sister were killed in recent years. Rich is looking for work, something she said is nearly impossible to find in her country.
Her dream, if she gets to stay in the United States, is to bring her other daughter, whom she had to leave behind.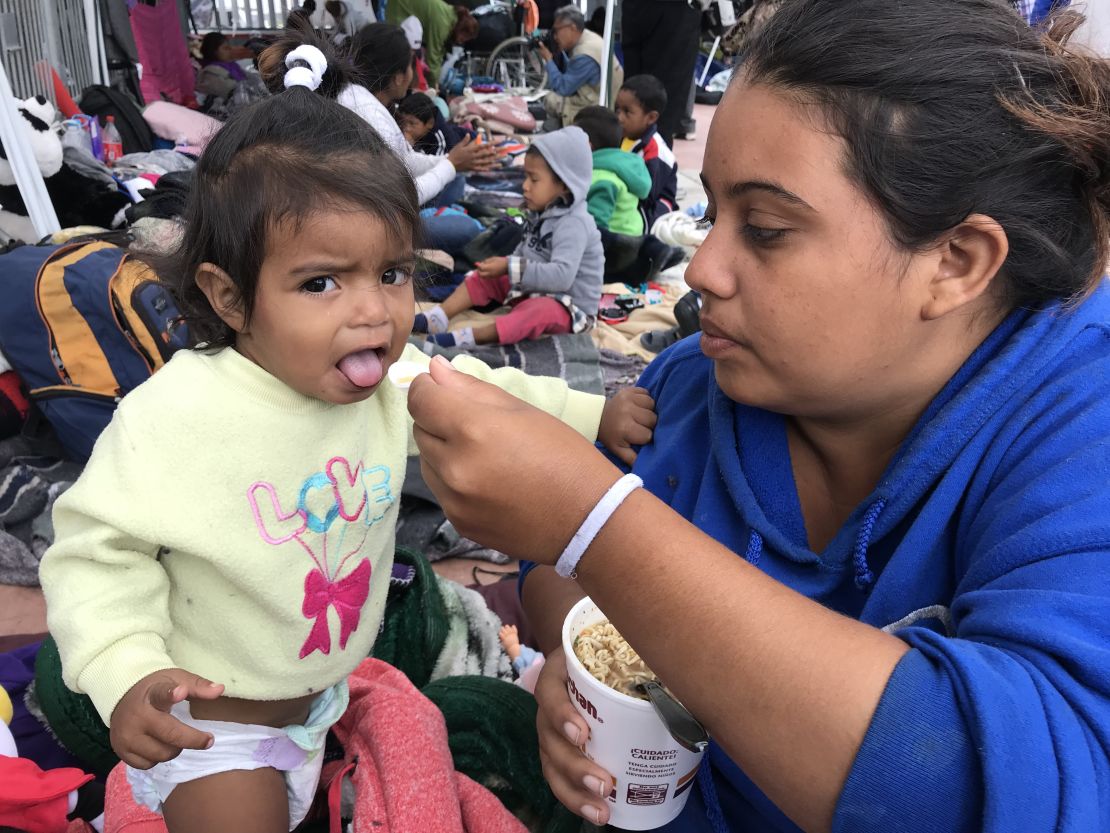 Catherine Enamorado fled Honduras with her 12-month-old daughter, Ashly, after MS-13 gang members tried to recruit Catherine's boyfriend, who is Ashly's father.
He said no, and gang members showed up later at her house, saying they would rape her and the baby if she didn't convince him to join, Catherine said.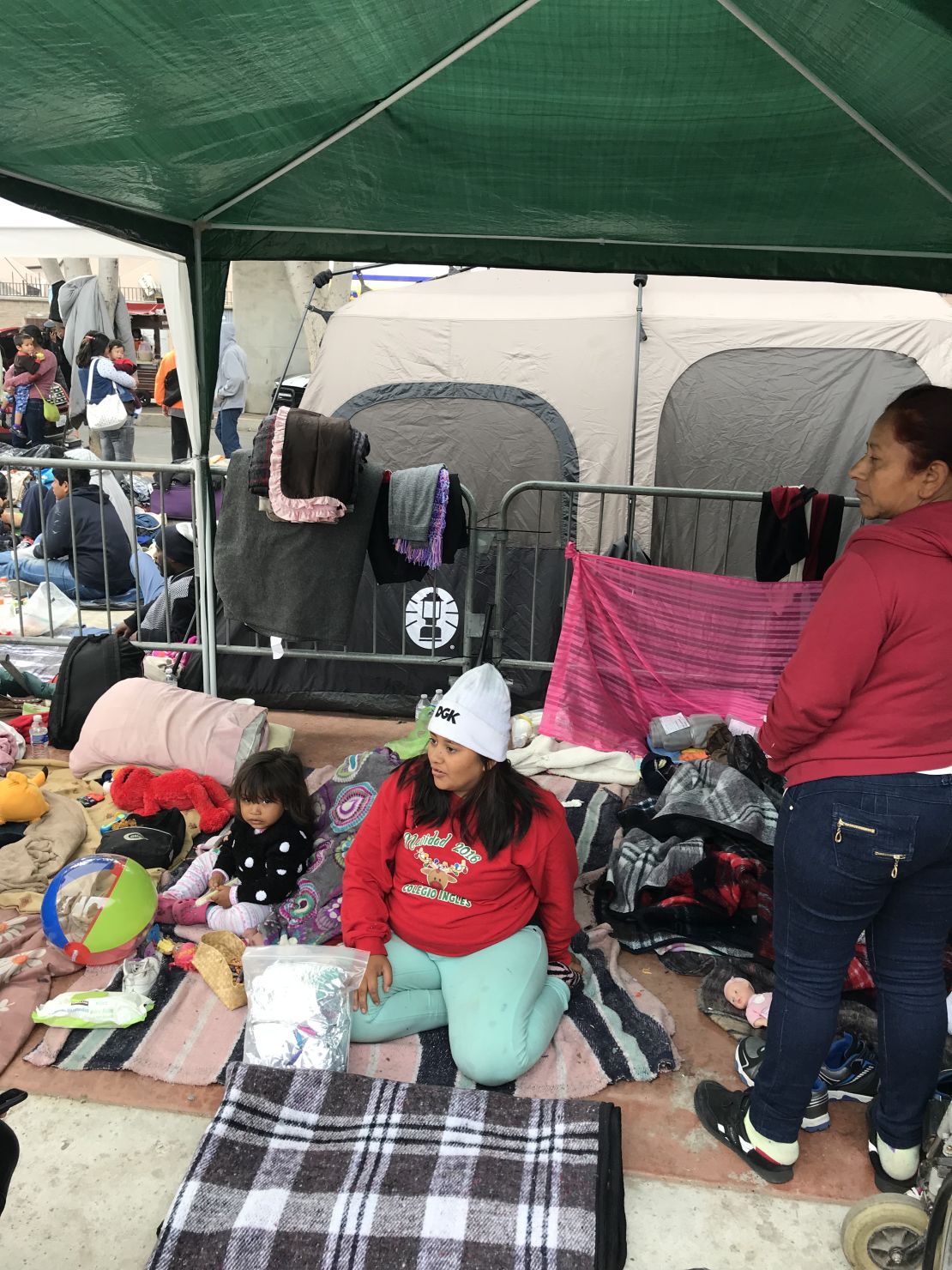 Catherine said she left behind her 4- and 5-year-old sons with her father.
Sarae Carrillo, 24, feared gang violence in El Salvador, so she left with her daughter, Daryelen, 2.
They have extended family in the United States they hope to see soon.
"We walked a lot," Sarae said. "We got on the train called 'La Bestia.' We're tired of waiting, but we have nowhere else to go."
Trump says no to these migrants
President Donald Trump has tweeted that these migrants shouldn't be allowed into the country. Vice President Mike Pence called the caravan "a deliberate attempt to undermine the laws of this country and the sovereignty of the United States."
But migrants from this caravan are at a port of entry and asking for asylum. And under international law, the United States and other countries must consider asylum claims.
Trump has decried the practice of letting immigrants with pending cases leave detention in some cases – and vowed his administration will put an end to the policy, which he calls "catch and release."
But if history is an indicator, the odds of these migrants getting asylum are slim.
More than 75% of applicants from Honduras, Guatemala and El Salvador between 2011 and 2016 were rejected, according to Syracuse University's Transactional Records Access Clearinghouse.
But parents in this caravan said they're willing to take their chances.
"I don't have an option," one 38-year-old woman told CNN. "If I stay in El Salvador, I'm going to be killed."
Khushbu Shah reported from Tijuana; Holly Yan reported and wrote from Atlanta; and Madison Park reported and wrote from San Francisco. CNN's Kyung Lah, Eric Levenson and Catherine E. Shoichet contributed to this report.