The leaders of South Korea, China and Japan will meet on May 9 for the first trilateral talks between the three countries since 2015.
The talks, scheduled to take place in Tokyo, come amid a period of intense period of diplomatic activity in the region, as leaders of North East Asia's major powers look to shore up relations following last week's historic Inter-Korean summit.
At the meeting, Japanese Prime Minister Shinzo Abe will host South Korean President Moon Jae-in and Chinese Prime Minister Li Keqiang, for a series of talks intended to strengthen cooperation between the three countries, according to a statement released by the South Korean President's Office Tuesday.
Few details have emerged of the summit so far. On Tuesday night, the South Korean government said topics to be discussed include the recent Moon-Kim summit, as well as relations between the neighboring powers.
The talks mark the first visit by a sitting South Korean President to Japan in six and a half years, according to Moon's office.
Separately from the summit, China's Prime Minister will also conduct a full diplomatic visit to Japan from May 8-11, during which he will meet the Emperor of Japan.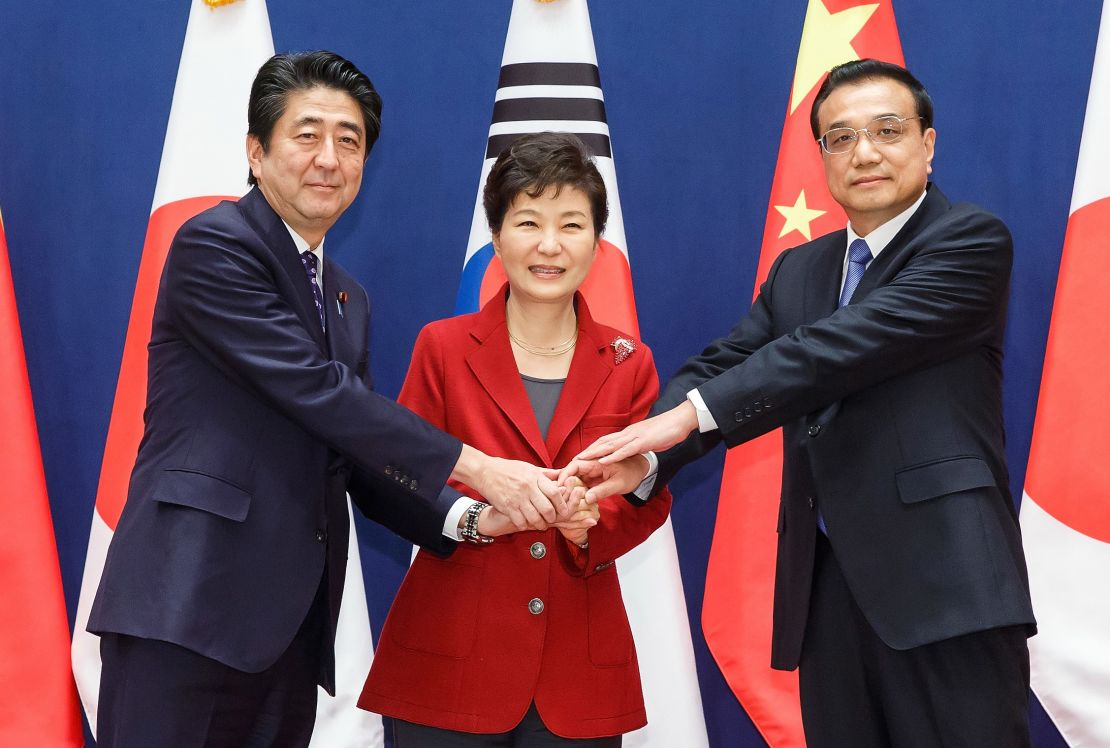 Strained ties
The last trilateral talks took place in Seoul in 2015 between Abe, Li and then-South Korean President Park Geun-hye. The event had been held twice before in Japan, twice in China and twice in South Korea.
The talks are the latest attempt by China and Japan to repair years of damaged diplomatic ties ahead of the 40th anniversary this August of the Treaty of Peace and Friendship, which established diplomatic relations between the two countries in 1978.
Analysts have also linked the talks – and any suggestion of a possible rapprochement – to uncertainty caused by US President Donald Trump, who is threatening both countries with a range of punitive trade measures.
"I think also Trump's trade policies are giving China and Japan more of a reason to speak to each other because they're both targets – not just China, but Japan," Richard McGregor, author of "Asia's Reckoning", told CNN.
The three leaders will also meet less than a month before a proposed meeting between North Korean leader Kim Jong Un and Trump, who is seeking a guarantee from Pyongyang it will dismantle its nuclear weapons.
McGregor said so far both Japan and China have been largely cut out of North Korea's negotiations with the United States and South Korea, leaving them to watch from the sidelines.
According to the South Korean President's office, Moon will brief Li and Abe on the outcome of the inter-Korean summit held on April 27.
"(We will) discuss ways to further strengthen cooperation between Korea, Japan and China for the denuclearization of the Korean peninsula and the establishment of a permanent peace," the Blue House spokesperson said.
China, Japan relations warm
Relations between Tokyo and Beijing have been at a low point since 2012 over both countries' claims to a mostly uninhabited island chain in the East China Sea.
When Japan nationalized the islands in 2012, to ward off a planned sale to Tokyo's then-governor, it sparked furious anti-Japanese protests in China.
The situation wasn't helped by Beijing announcing a formal Air Defense Identification Zone over the East China Sea, including the islands, in 2013.
With diplomatic ties in a deep chill under the nationalist governments of Abe in Tokyo and President Xi Jinping in Beijing, high-level diplomatic meetings between the countries have been few and far between.
But in 2018, the two countries appeared to be moving towards strengthening bilateral relations.
"China-Japan relations are not only of great significance to both countries, but also to the region and the world," Chinese Prime Minister Li said in January during a Beijing visit by Japanese Foreign Minister Taro Kono, according to Xinhua.
In April, Chinese State Councilor Wang Yi visited Japan to hold high-level economic talks with the foreign minister. Abe has spoken publicly saying he would be willing to pay a visit to China and wanted Xi to pay a visit to Japan in turn.
"We'll probably get a summit this year between Abe and Xi. There's a pattern, there's a summit in 1998, there's a summit in 2008 so we'll probably get a summit in 2018," McGregor said.
"But if the best the two most important countries in Asia can do is have a summit every 10 years, one shouldn't be shouting from the rooftops."
CNN's Yoko Wakatsuki contributed to this article.