A parliamentary bloc led by Saudi-backed Prime Minister Saad Hariri has lost more than a third of its seats in Sunday's parliamentary elections, the premier said in a live televised address on Monday.
His main opponent, Hezbollah and its political allies, as well as rival Sunni parties have made gains, according to unofficial results.
If confirmed, the results further solidify Hezbollah's power in Lebanon's national government. After years of fighting in Syria's civil war, the Iranian-backed Shia group group drew on its popular bases across the country to boost its political might.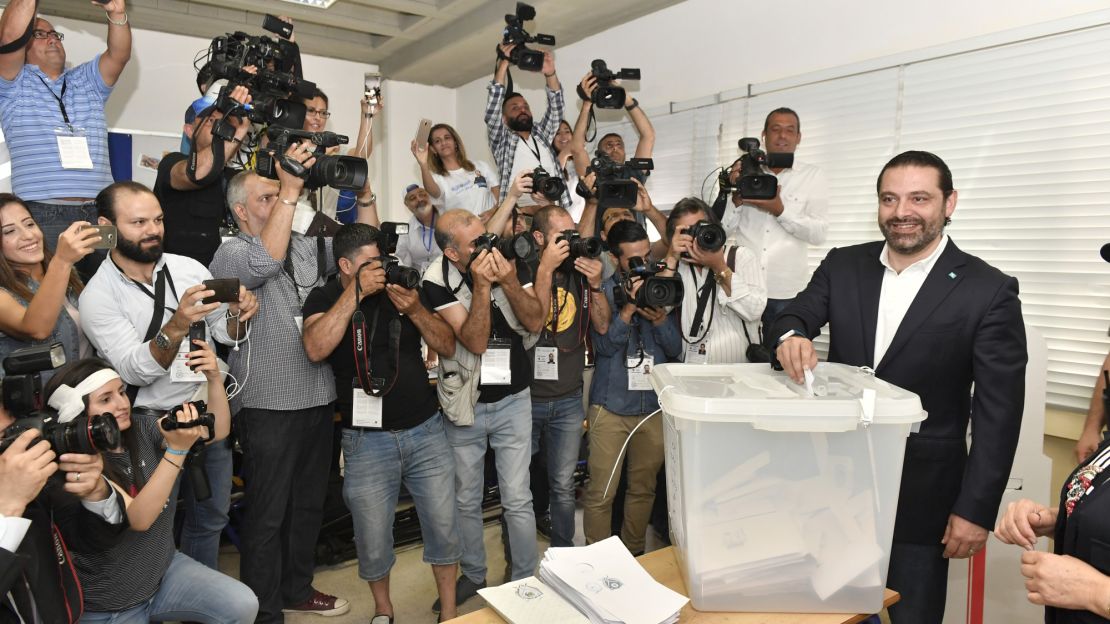 In a televised speech, Hezbollah chief Hassan Nasrallah said the elections produced a Parliament that could protect the group's "strategic choices," an apparent reference to the party's fighting force.
"Today I can say that our goals have been achieved," said Nasrallah, calling the results a "great moral and political victory."
Hariri's Future bloc won 21 seats, a drop from the 31 seats that it held before the election, which made it the country's largest parliamentary bloc.
The Future bloc still remains the largest among Sunni parties. In Lebanon's power-sharing system, this allows Hariri to remain the top contender for prime minister in the next government.
Hezbollah's assent
Hezbollah-backed electoral lists went virtually unchallenged, sweeping the group and its allies to power in nearly every district they contested, according to preliminary results.
Hariri has come under public criticism by his Saudi political patrons for sharing a government with Hezbollah – the United States and Gulf countries consider the militant group a terrorist organization.
But the improved standing of the Hezbollah bloc in Parliament may lead to greater participation in the next government.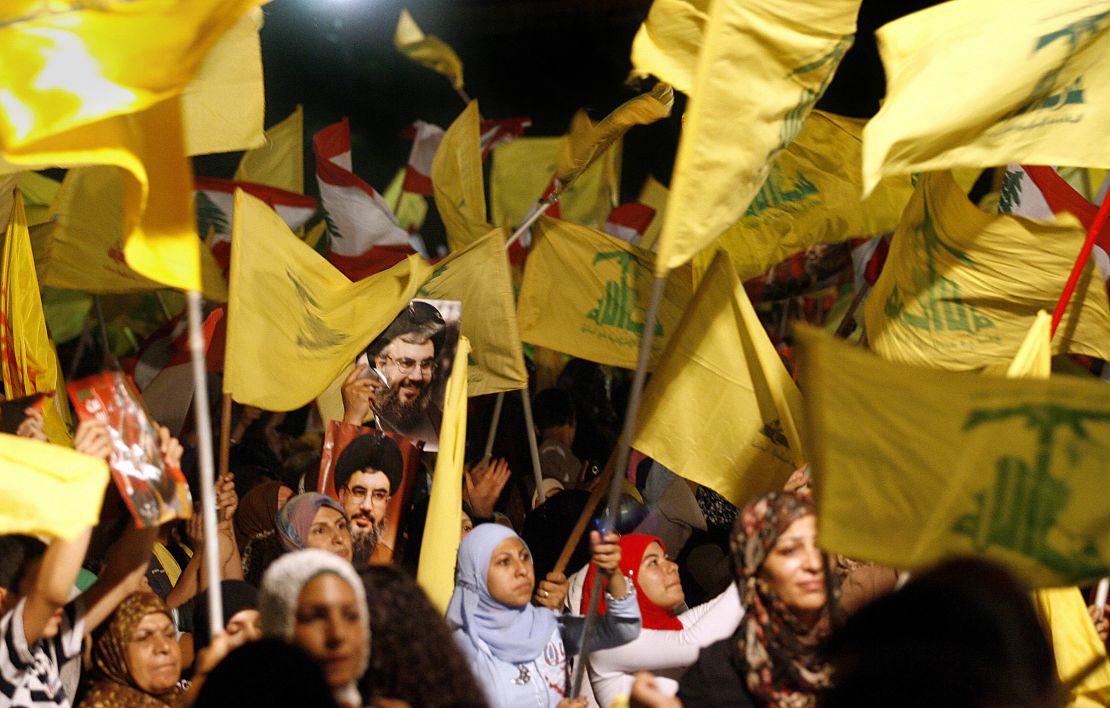 "We're in front of a new phase and the challenges are large, and I, as the head of the Future Movement, will continue to lead with all these challenges on an economic, social and developmental level," said Hariri at a news briefing Monday.
The Prime Minister chalked the results up to a new proportional election law, which he credited for allowing new parties to "penetrate" the system, but posed a challenge to his party's position.
"It's purely because of the law," Hariri said in response to a question about his party's poorer standing.
Shortly after preliminary results began to emerge showing Hezbollah's gains, Israeli Education Minister Naftali Bennett tweeted that Hezbollah and Lebanon were one and the same.
"Hezbollah = Lebanon," Bennett wrote. "The State of Israel will not differentiate between the sovereign State of Lebanon and Hezbollah, and will view Lebanon as responsible for any action from within its territory."
Responding to Bennett's statement, Hariri said: "I think Israel is looking for any reason to choke us. Lebanon is Lebanon's government."
Sunday's vote was the first parliamentary election in nine years, but less than half of registered voters turned up to cast their ballots, according to Interior Minister Nohad Machnouk.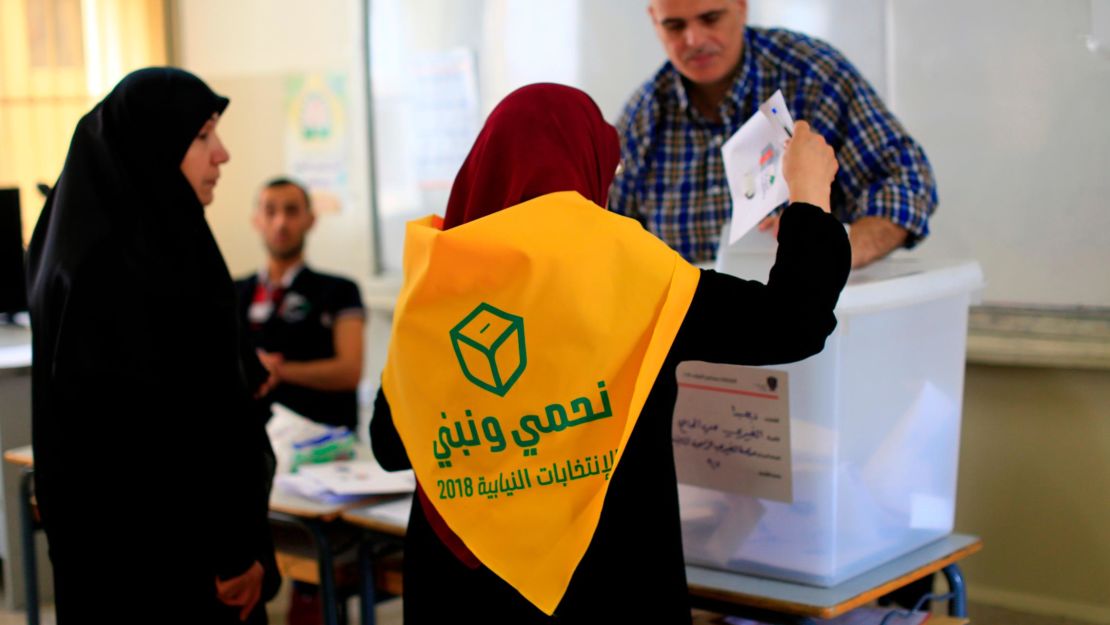 The low turnout appeared to be linked to a growing contingent of disenchanted voters. Nearly every Lebanese citizen CNN spoke to complained that the government was doing little to address bread-and-butter issues. They point to rising debt, decaying infrastructure, poor public services and perennially high unemployment.
Hezbollah's political assent poses significant challenges to Hariri's premiership.
"Definitely (Hezbollah) are the biggest winners of this election," said visiting lecturer at Royal Holloway University Ibrahim Halawi.
"The biggest loser is Hariri because he has to compromise to both his allies and his foes, and Hezbollah can now expect compromises from everyone."
CNN's Ben Wedeman and Ghazi Balkiz in Lebanon and Jonny Hallam in Atlanta contributed to this report.