Beijing and Tokyo marked a new high point in their diplomatic relations Wednesday as Chinese Premier Li Keqiang began a three-day state visit in Japan, the first by a top Chinese leader in eight years.
The longstanding rivals have found more reason to engage with each other and the region amid fears of being left out of the whirlwind diplomacy on the Korean Peninsula and regional tremors caused by President Donald Trump's economic isolationism.
"Both China and Japan are suffering from what the young people call FOMO (fear of missing out)," said Rana Mitter, a history professor at the University of Oxford and director of its China Center.
"There is a danger of a new arrangement in their region in which both Japan and China have an interest without their full participation."
Japan fears that any deal struck with North Korea will ignore its concerns, while China is working hard to make sure that North Korean leader Kim Jong Un doesn't move out of its sphere of influence.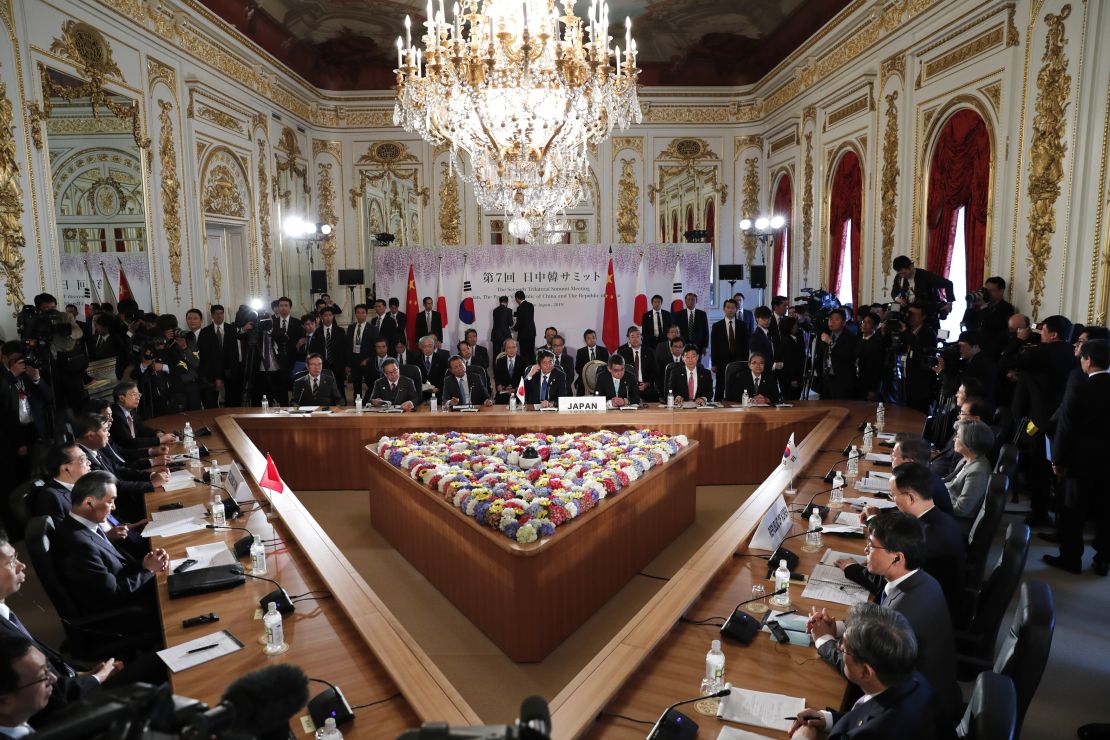 Bitter territorial disputes over East China Sea islands and long-running grievances dating back to World War II have led to regular outbreaks of hostilities between China and Japan. At one point, ties became so bad that they resorted to invoking Voldemort, the villain in the "Harry Potter" books, in their verbal barbs about each other.
But the past year has seen something of a rapprochement between the two, including the first phone call between Japanese Prime Minister Shinzo Abe and Chinese President Xi Jinping this month.
Trilateral meeting
Before the state visit, Li took part in a trilateral meeting Wednesday morning with Abe and South Korean President Moon Jae-in to discuss the outcome of April's historic Korean summit with the North Korean leader.
Japan and South Korea have also been on frosty terms over ongoing disputes and recriminations around the Japanese military's actions in World War II.
Moon, Abe and Li held their discussions at the State Guest House in Tokyo before the South Korean leader departed Wednesday afternoon.
"The whole world is closely looking at the Korean Peninsula and Northeast Asia. I'm sure that a close cooperation among three countries will create peace and prosperity in the region," Moon said after the meeting, which was the first trilateral talks since a 2015 summit in South Korea.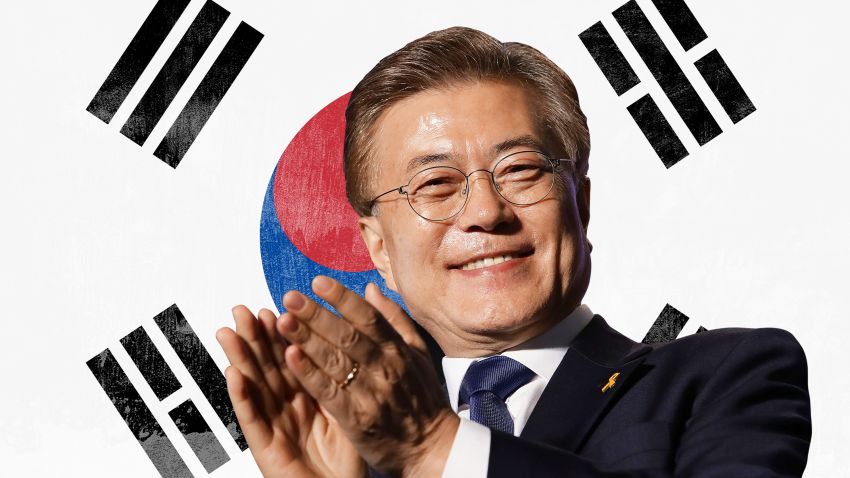 Moon: The masterful dealmaker
The Chinese leader will spend another two days in Japan during which time he will meet with Emperor Akihito and attend a state banquet hosted by Abe.
On Wednesday afternoon, Abe and Li announced in a joint press conference the two countries had agreed to set up a direct line to avoid military confrontations in the East China Sea.
"We will make the East China Sea as the sea of peace, cooperation and friendship by easing tension and nurturing mutual trust," the Japanese Prime Minister said.
Li's meeting with Akihito will be the first time one of China's top leaders has met with the 84-year-old Japanese emperor since Xi, then vice president, saw him in Tokyo in 2009.
The meeting is significant due to Akihito's plans to step down from his official role in April 2019, according to Heigo Sato, vice president at the Institute of World Studies at Takushoku University.
"It will Li Keqiang's last chance to meet this emperor so in that the Japanese government has made a special treatment to the Chinese premier," he told CNN.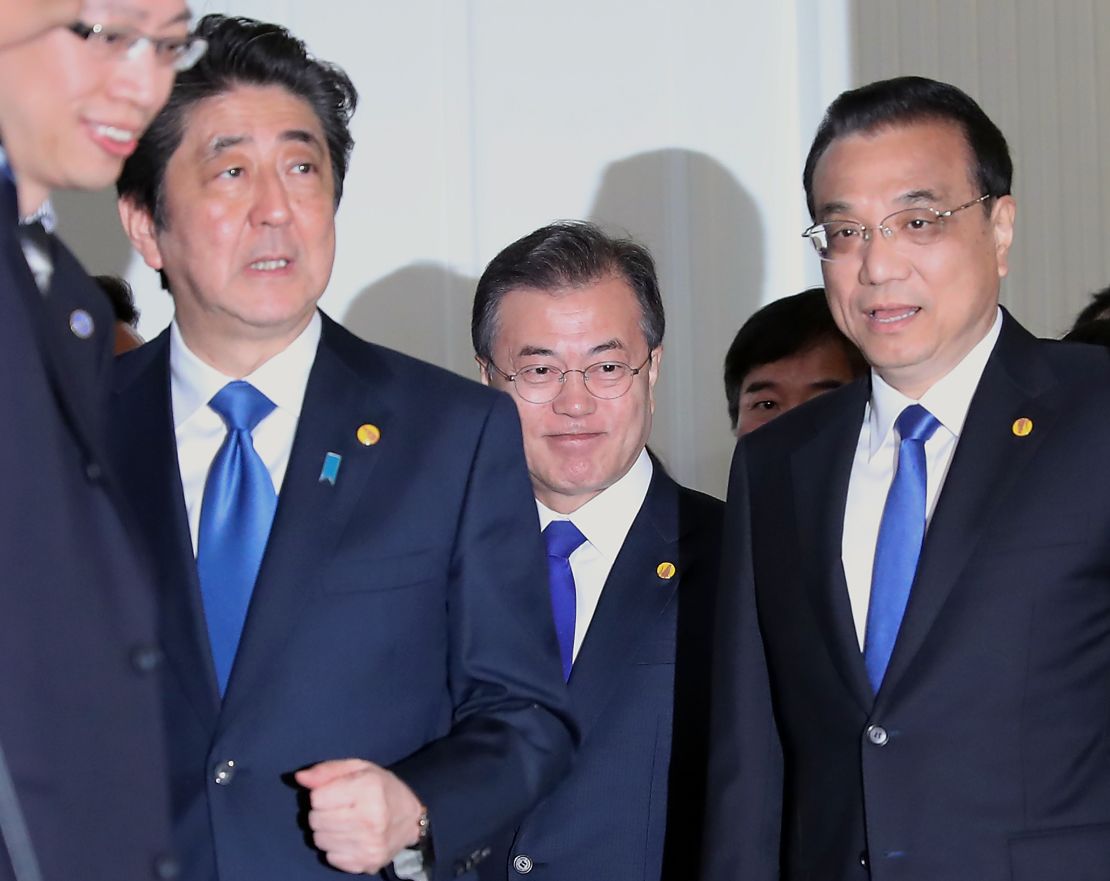 Meeting with emperor
The growing warmth between China and Japan was, in part, kicked off by Abe in September 2017 when he became the first Japanese leader in 15 years to attend the Chinese Embassy's annual National Day celebrations.
Since then, Abe and Xi have met at an international summit, while both countries have praised the other's efforts to improve relations.
The prospect of a formal visit by Abe to China and a reciprocal Xi visit to Japan have been teased in recent months by the two countries.
Oxford University's Mitter warned significant differences remained between Tokyo and Beijing, putting at risk any real chance of a warmer diplomatic relationship.
"The overall strategic points haven't really changed. China is still spending a lot on the (People's Liberation Army) Navy; Japan continues to have an abiding concern that the primary purpose of the Chinese expansion is to change the rules of the regional order," he told CNN.
East Asian tensions
China and Japan have had a rocky relationship, often driven by lingering resentment over Japan's atrocities during World War II.
Relations in recent times last peaked at the end of the 2000s when the leaders of both East Asian powers made highly publicized tours to each other.
President Hu Jintao visited Japan in 2008 and met with both Akihito and then-Prime Minister Yasuo Fukuda, whose successor, Taro Aso, then toured China in 2009.
But in 2012, Tokyo and Beijing clashed again over a territorial dispute in the East China Sea, sparking anti-Japanese protests in China.
There is no doubt relations between the two powers have warmed, Mitter said, but many questions remain over how long the goodwill will last.
"I think the relationship between the two will sort of warm and cool over time, year by year, but it's unlikely to move outside a spectrum of mutual wariness," Mitter said.