Li Yingxia was resting quietly at home in the afternoon of May 12, 2008, when the ground began to heave and people shouted "run!"
Ten years after the devastating 7.9 magnitude Sichuan earthquake which killed almost 90,000 people in western China, Li remembers how it only took a few seconds for her life to be changed forever.
"I didn't know what was going on because I had never experienced this before. My ex-husband suddenly dragged my hands and we began to run, and the next minute I was buried," she told CNN.
Her home was in Dujiangyan, one of the cities closest to the epicenter of the quake, which was so strong it thrust the ground up by almost 30 feet (nine meters) in some places and caused tremors 925 miles (1,500 kilometers) away in the Chinese capital Beijing.
After being trapped in the rubble for more than 10 hours, Li lost both her legs.
The years since haven't been kind to her. Now walking with prosthetic limbs, Li said her husband left her due to her disability and she thought about ending her life.
But she said the work of Chinese volunteers and her family had helped her. Now she works as a singer for tourists, assisted by a pension from the Chinese government. "It's my life-altering point," she said.
Like Li, Chinese media coverage of the anniversary has focused on the positive – articles commending the rebuilding or discussing how the disaster helped spark a flood of volunteerism. And Wenchuan County, the area hardest hit by the quake, has named the anniversary date as "Thanksgiving Day," according to state news agency Xinhua.
But critics say the coverage masks the deep scars the earthquake left on the region and its people. Photos from the site of the earthquake show not all the damage has been repaired 10 years later.
The day the earth shook
The earthquake struck in a mountainous, relatively isolated region in western Sichuan, with many of the worst affected areas hours drive from the capital Chengdu.
While Li was in her home when the tremors began, many of the areas's youngest residents were still in afternoon classes at schools.
The student death toll stunned the country. Among those killed or missing were at least 5,000 students, according to the Chinese government, many of them crushed when their school buildings collapsed on them.
According to UNICEF, about 12,000 schools across Sichuan were damaged by the earthquake, or one in seven.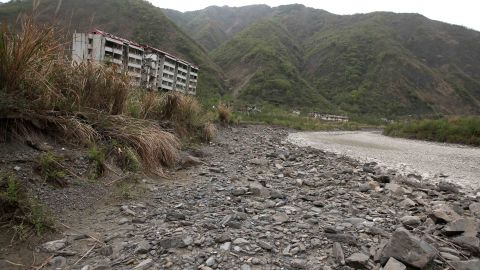 It came at a significant moment for China, just weeks before the Beijing Olympics which were intended to showcase the country's grand stepping out on the world stage.
At the time, the Chinese government's management of the disaster itself was considered a success. "It was a sort of moment when civil society groups and emergency aid groups sort of worked harmoniously together," Kerry Brown, director of the Lau China Institute at King's College London, told CNN.
The usually restrictive government even allowed in foreign aid workers to assist with the cleanup, a move Brown said may have had something to do with the upcoming Olympics. "If they hadn't addressed this it would have been a terrible advertisement for what was about to happen," he said.
Crackdown
But as questions were raised around the quality of construction at the Sichuan schools and the accuracy of the student death toll, the Chinese government cracked down harshly, provoking outrage.
Many of the student deaths were blamed on the poor construction of buildings, thrown together at low cost in the heat of China's economic boom in the 2000s.
Activists who worked to help earthquake victims were jailed and complaints about the quality of building materials were silenced. No court cases were allowed to be brought.
At a press conference in March 2009, then-Vice Governor of Sichuan Wei Hong said in answer to questions about building quality that government investigations had found "the magnitude and intensity of the earthquake was the most important cause to structural damage."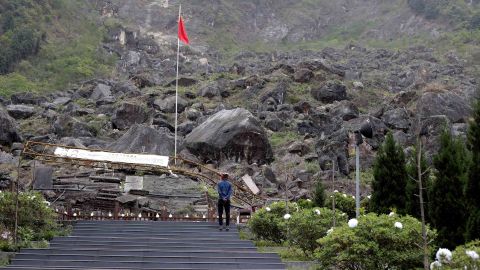 Wei added the government understood the angry reaction of parents who had lost children in the earthquake.
An examination by UNICEF in the months after the earthquake of all the school buildings in Sichuan found that thousands would have to be rebuilt or retrofitted.
"(It) was symptomatic of an era when everyone was going going crazy for growth. Buildings were going up left, right and center, it was a pretty free for all environment," Brown said.
A report by Amnesty International in 2009 said parents of students who had died in the earthquake were detained when they tried to get answers about their children's deaths.
When Chinese artist and dissident Ai Weiwei attempted to draw attention to the students' deaths through art installations, including one of thousands of children's backpacks. In 2009, he claims he was beaten up by police offers while preparing to testify in the trial of an earthquake activist.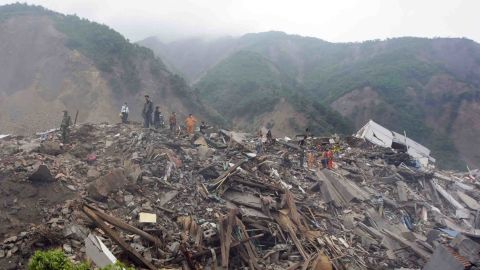 'You can never forget'
Ten years later, Brown said the Chinese government appears to have learned some lessons from the Sichuan earthquake.
Building regulations were tightened and revised in the wake of the earthquake, to alleviate concerns over poor construction standards.
When he took power in 2012, President Xi Jinping vowed to crack down on corruption, which had been blamed for poor building standards and low quality public facilities.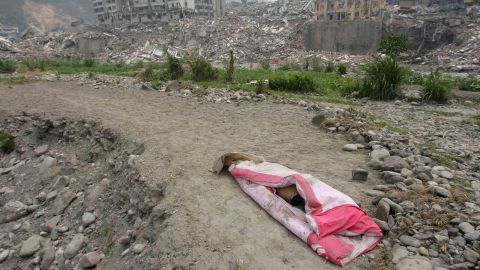 According to Brown, while there was no doubt unsafe buildings were still being constructed in China, regulations were now being enforced more strictly.
"I think the government was aware this was a potentially dangerous moment," he said. "I think they did think this is the kind of thing that could have become very, very unmanageable and I think since then they haven't been so complacent."
On China's heavily censored and policed internet it is difficult to tell exactly how much public anger or gratitude surrounds the government's handling of the Sichuan earthquake.
But for Li Yingxia the earthquake and its consequences are still very real for her. She just finished her last surgery on her legs and still has three steel pins in her face.
"The earthquake is something you can never forget," she said. "I grew a lot from it. I'm content that I'm alive."
Looking back at that period, Li says just one question remains: "Although I can understand why my husband left me because of my disability, I can never understand why he didn't visit me when I was in hospital."
CNN's Steven Jiang and Sarah Tilotta contributed to this article.