Israeli singer Netta Barzilai won the 2018 Eurovision Song Contest, the annual international singing competition that involves countries from Europe to Australia, on a night disrupted by an unexpected stage protest.
Barzilai, 25, won on Saturday with a quirky electronic dance entry inspired by the called "Toy," written and produced by Doron Medalie and Stav Beger. She won 529 points through a combination of votes from viewers and national judging panels.
It was the fourth time Israel has won the contest, now in its 63rd year. The winning nation must host the following year's contest, so Barzilai's victory means that Eurovision 2019 will be in Israel.
Barzilai thanked her fans Saturday in a video on Eurovision's Twitter account.
"Thank you for choosing me. Thank you for choosing different. Thank you for choosing daring. I love you, keep that going. Do good to others, be good to yourselves," she said with a smile. "That's about it, let's party!"
Barzilai has an "extensive background in music," according to Eurovision's website. She studied music in high school and at Israel's Rimon School of Music.
This year's contest, featuring singers from 43 countries, was broadcast from Lisbon – Portugal which won the 2017 event.
Cyprus, which was one of the other early favorites, took home second place and Austria was third.
But perhaps the biggest talking point of the evening was the protester who charged the stage during British singer SuRie's performance of "Storm."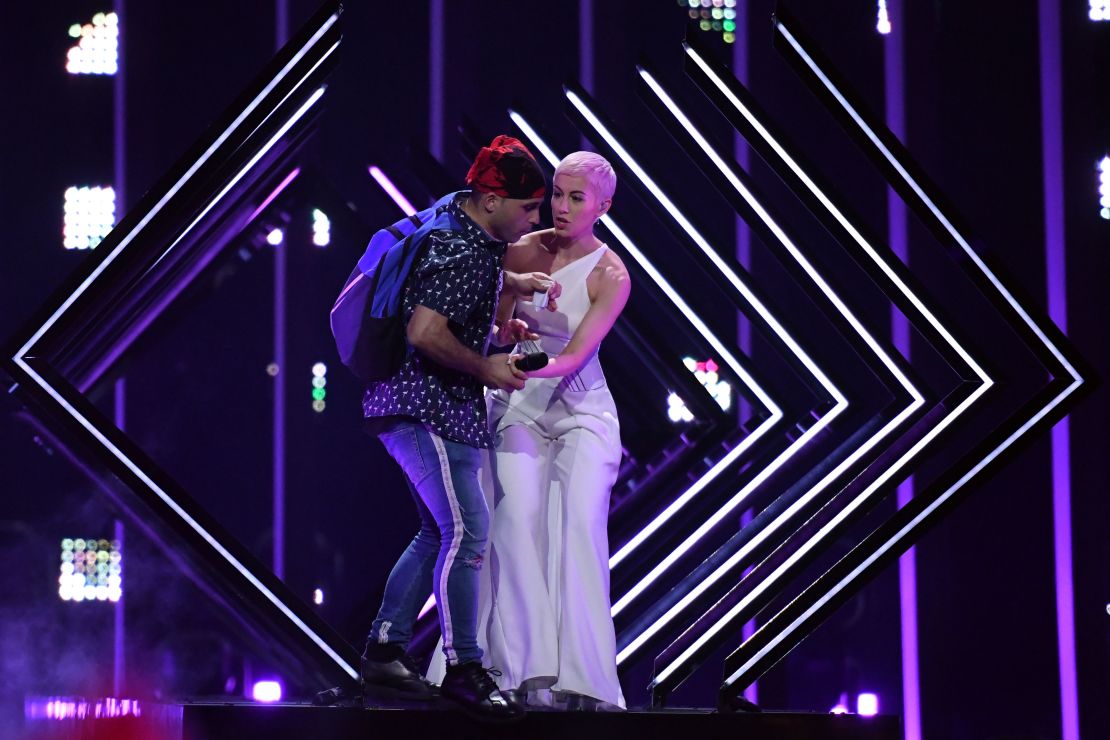 Wearing a bandana and a backpack, the man apparently shouted "Nazis of the UK media, we demand freedom," after grabbing the microphone from the singer. He was quickly dragged offstage by a security agent, and SuRie was handed another microphone while barely a missing a beat.
Her team was offered the chance of repeating the song, but declined, saying they had been proud of the original performance.
"Well, I've always said anything can happen at Eurovision," tweeted the performer afterward. She finished 24th out of 26 countries.
Eurovision is staged by public broadcasters who are part of the European Broadcasting Union, an organization with members from western Europe to Russia and the Middle East.
CNN's Sheena McKenzie contributed to this report