"I looked up at the birds in the sky, flying through the trees on both sides of the barbed wire fence without being stopped. What is simpler than this? The birds decide to fly so they fly."
On a dirt berm overlooking the Gaza-Israel border, Ahmad Abu Artema reads a poem he penned and used to inspire a popular uprising. "Why do we complicate simple matters?" reads Abu Artema.
A rattle of Israeli gunfire in the distance punctuates his verses.
"Is it not the right of people to move freely like birds as they wish?"
The 33-year-old writer, activist and self-described dreamer has mobilized tens of thousands of Gazans with a simple idea for this region – nonviolent resistance.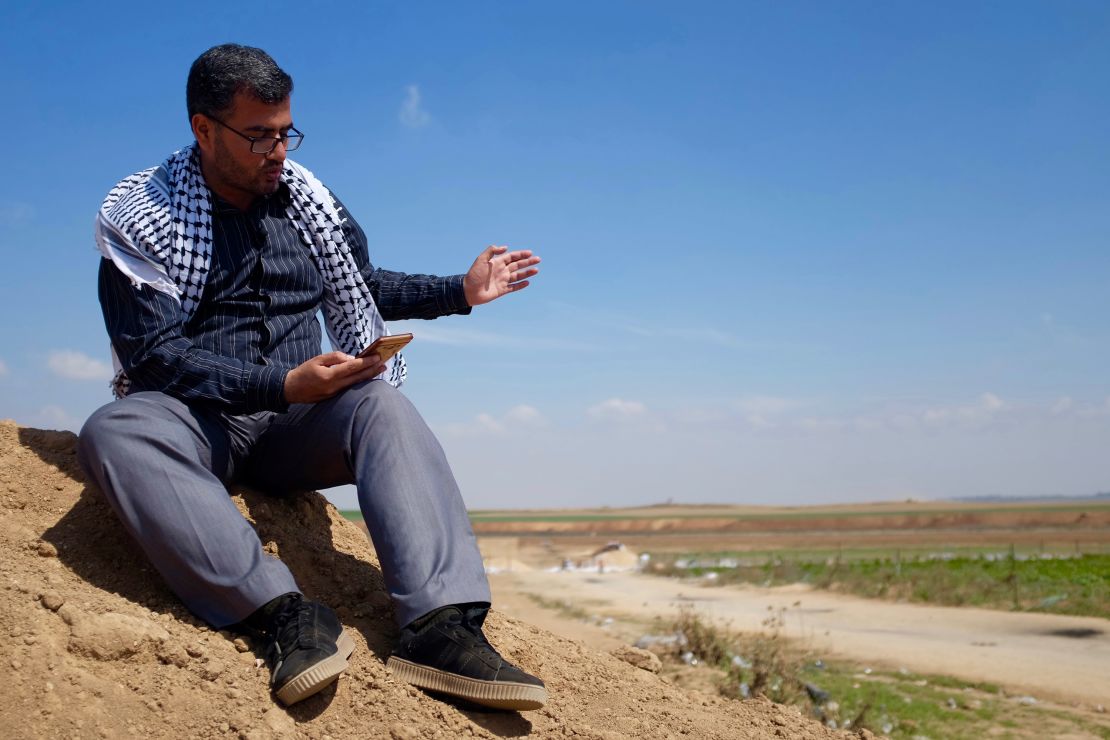 "I refuse outright the principle that walls and fences should separate people from each other. I believe people of different cultures and backgrounds should live together peacefully, without borders," he said.
Abu Artema is the organizer of the "Great March of Return" movement, whose declared aim is to highlight the Palestinian right to return to homes and villages lost by their ancestors in the 1948-49 Arab-Israeli war.
Every Friday since March 30, Palestinians have amassed at the Gaza border fence to demonstrate. At least 100 have died during the protests, according to a CNN count based on Palestinian Health Ministry figures.
Dozens of Palestinian were killed in Gaza on Monday during protests called to mark the official unveiling Monday of the new US Embassy in Jerusalem.
President Donald Trump's decision to relocate the embassy from Tel Aviv to the contested city has upended decades of US foreign policy in the region, enraging the Palestinians and many Arab countries.
Hamas, the militant group that controls Gaza, and other Islamist factions have backed the movement. Hamas leader Yahya al-Sinwar has spoken at one of the protests, applauding protesters who have faced "the enemy who besieges us."
Abu Artema says he holds no political affiliations and denies the movement has any ties to Hamas, a group considered a terrorist organization by Israel, the United States, and the European Union.
Israel insists this protest movement is orchestrated by Hamas. It has described the attacks on the fence as terrorism, and says children are deliberately being placed in harm's way.
"They (protests) are designed to bring about the destruction of Israel," Michael Oren, a former Israeli ambassador to the US, told CNN. "They are designed to break through the fence and kill Israelis and we have to proceed with that assumption. Our soldiers have prevented it, so [in] that way it's a success."
The weekly march to the border culminates on Tuesday – Palestinian Nakba Day, or "Day of Catastrophe," which commemorates the more than 700,000 Palestinians who were either were expelled from or fled their homes during Israel's creation. Thousands are expected to attend Tuesday's demonstration.
"I have always believed in non-violence, and I am happy to see this change, to see people in Gaza accepting this more than before," Abu Artema said. "Many here now believe that their goals can be fulfilled by this method more than by violent resistance," he adds.
A more than decade-long air, land, and sea blockade imposed by Israel and Egypt has deteriorated basic services, contributed to high unemployment, and placed huge restrictions on Gazans' freedom to leave the small coastal enclave.
Israel says the blockade is needed to pressure Hamas into stopping rocket attacks into Israel.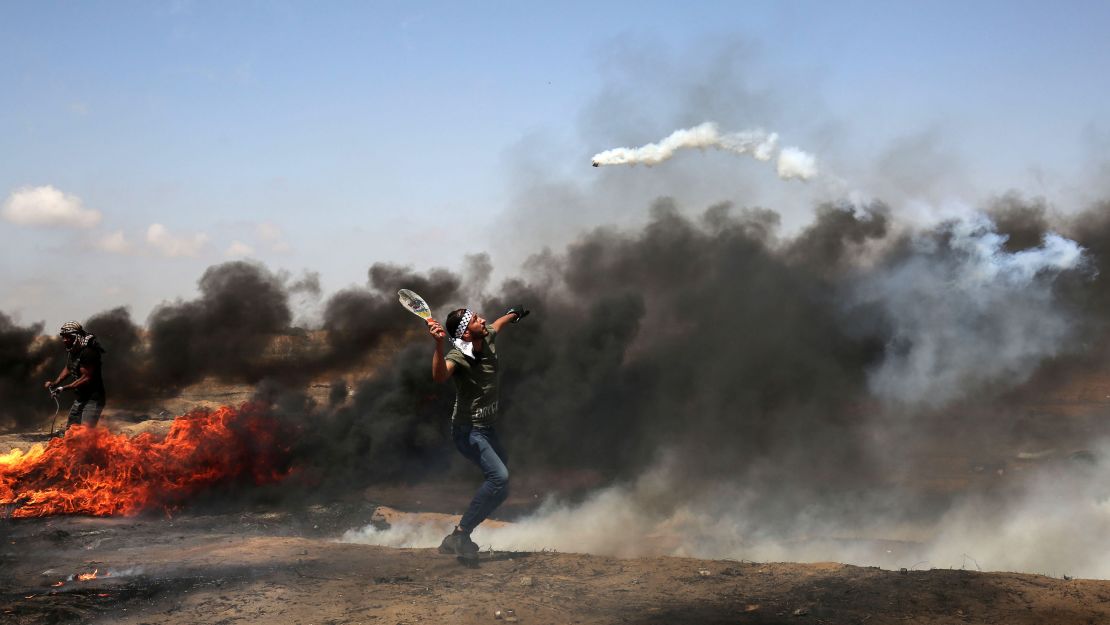 The United Nations has said the narrow coastal strip will be "unlivable" by 2020 if conditions continue to decline at the current rate.
"Our hardships induced this scream for life. The March of Return is a scream for life so that we may leave the walls of our prison," Abu Artema said. "Why would we die here in silence? We want our message to reach the world. We want to say to the world 'here there is a people. A people searching for a life of dignity, human rights and freedom.'"
On March 30, Abu Artema saw his dreams realized, as thousands of Palestinians staged a sit-in along the border barrier, the largest such gathering in years. Organizers wanted to create a festival-like atmosphere setting up canopies, portable bathrooms and free-wifi to attract families.
But promises of pacifism quickly deteriorated into a familiar pattern of violence: Israeli troops traded live fire and rubber bullets with Molotov cocktails and stones, leaving 17 Palestinians dead and 1,400 wounded that day, according to the Palestinian Health Ministry.
There has been strong international condemnation of Israel's use of live ammunition, but the Israeli army insists it is firing in accordance with the rules of engagement.
The bloodshed has not deterred participation in the now seven-week long demonstration that has seen dozens of Palestinians lose their lives to Israeli gunfire. No Israelis have been killed or injured in the confrontations.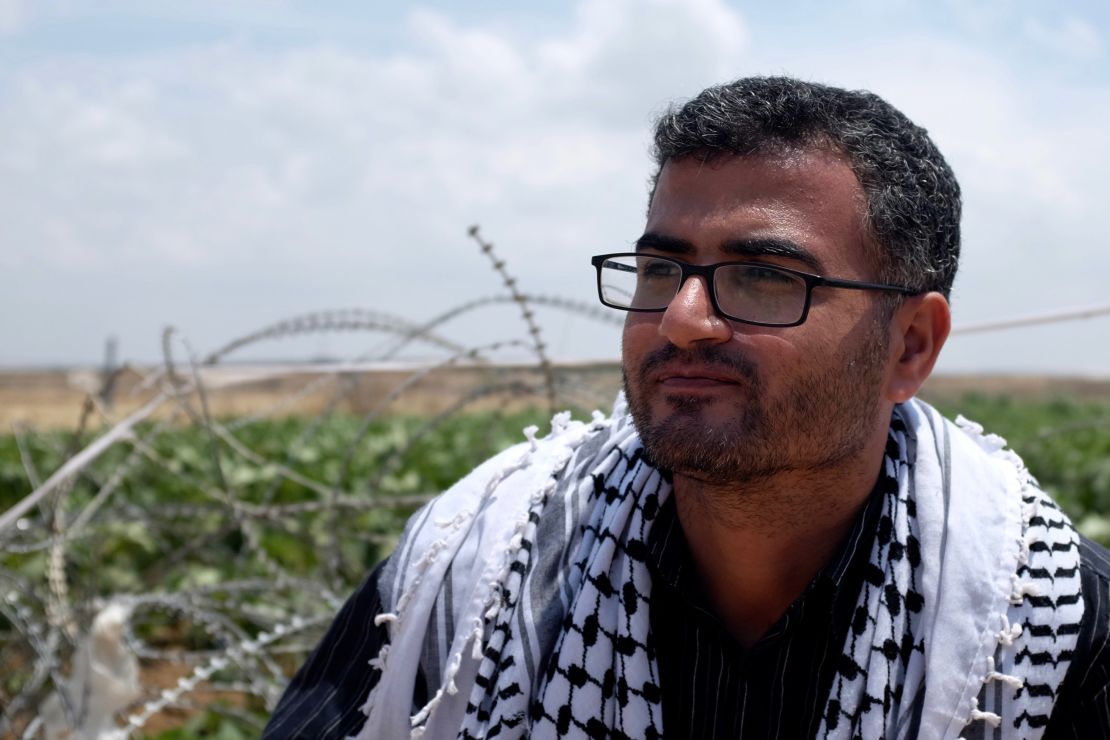 "These borders for us here in Gaza symbolize chokehold and oppression," Abu Artema said. "Youth in Gaza are saying enough to this slow death and they want to break downs these walls and barriers. I hope Israel and the world will consider our call with an open mind."
At a protest camp near the border, where teenagers practiced slingshot and prepared tires to burn as smoke screens on Sunday, the unlikely leader seemed out of place. Abu Artema says he has never thrown a rock at an Israeli soldier, and still feels more comfortable in a library than in a crowd.
Still many gather around the soft-spoken, bespectacled intellectual and update him on their plans to challenge Israeli border security, which varies from small barbed wire fences to 20-foot concrete walls along the 32-mile frontier.
"How is your morale?" he asked a man in crutches who was wounded during the first March of Return protest.
"It is good, I thank God," the protester responded. "Tomorrow I will break the barbed wire fence and cross. Nothing will stop me. Not even an F-16."
Abu Artema's disdain for borders began in childhood after his parents separated and his mother was forced to the Egyptian side of the Rafah crossing.
"I was on the Palestinian side of Rafah and even though my mom's house was just 150 meters away I couldn't cross to her," he recalled. "It bore in me the question: why these fences that keep people from normal human connections? Today in Gaza it is the same problem, the fence represents oppression."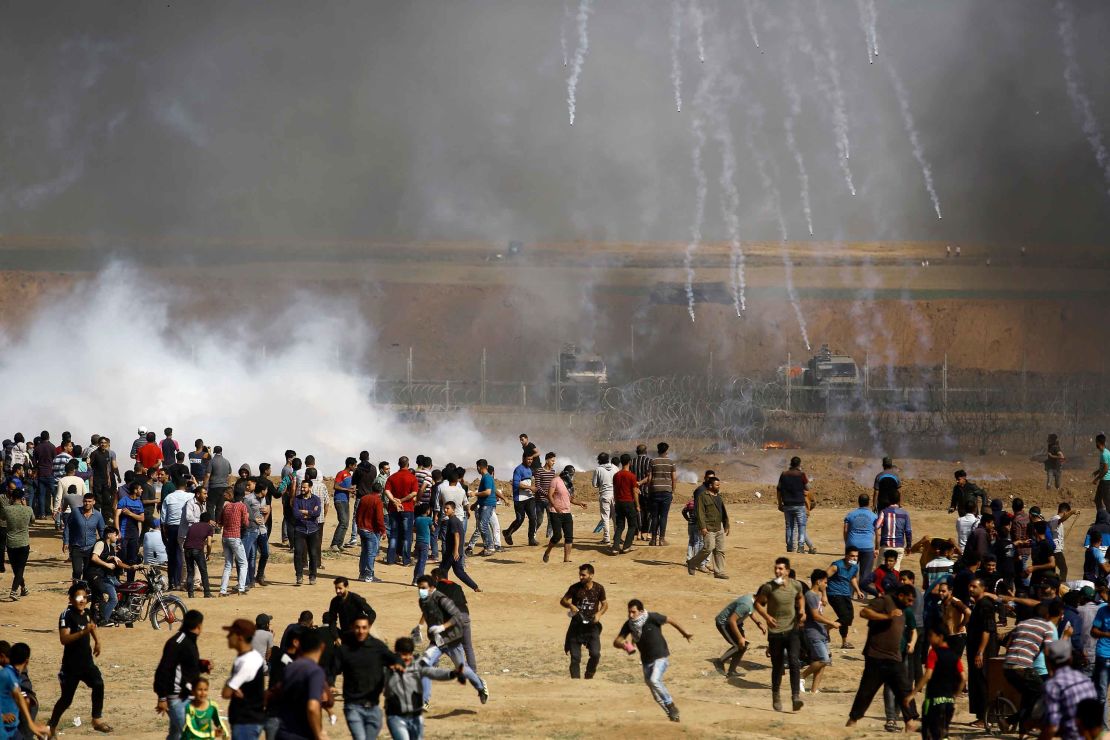 Abu Artema says he spent his youth studying the principles of nonviolent resistance to draw parallels between the Israeli-Palestinian conflict and the civil rights movement in America, apartheid in South Africa and the fight against British rule in India.
"I was inspired by Gandhi. He was a main educator for me. I like the way he fought by peace. I think what is right is stronger than weapons, so I like the method of Gandhi, I like the method of Martin Luther King," Abu Artema said.
Like his idol, Martin Luther King Jr., Abu Artema has a dream. He hopes that one day Israelis and Palestinians can live in one nation where they will not be judged by their background or faith.
"I think we can live together," Abu Artema said. "We have the seeds to live together but without occupation, without apartheid, with equality, with human rights, in one democratic state."