Thousands of Palestinians gathered Tuesday for the grim task of burying the 60 protesters killed by Israeli troops at the Gaza border, as Israel faced international condemnation over the deaths.
Funerals took place across Gaza on Tuesday, a day after Israeli troops fired on Palestinians gathered at the border to protest the controversial relocation of the US Embassy from Tel Aviv to Jerusalem. The Palestinian Health Ministry said 60 people were killed on Monday and another two died in clashes on Tuesday.
United Nations Secretary-General António Guterres was "profoundly alarmed" by Israel's actions on Monday, a spokesman said. The British government called for an independent inquiry, expressing concern about the volume of live fire used by Israeli forces.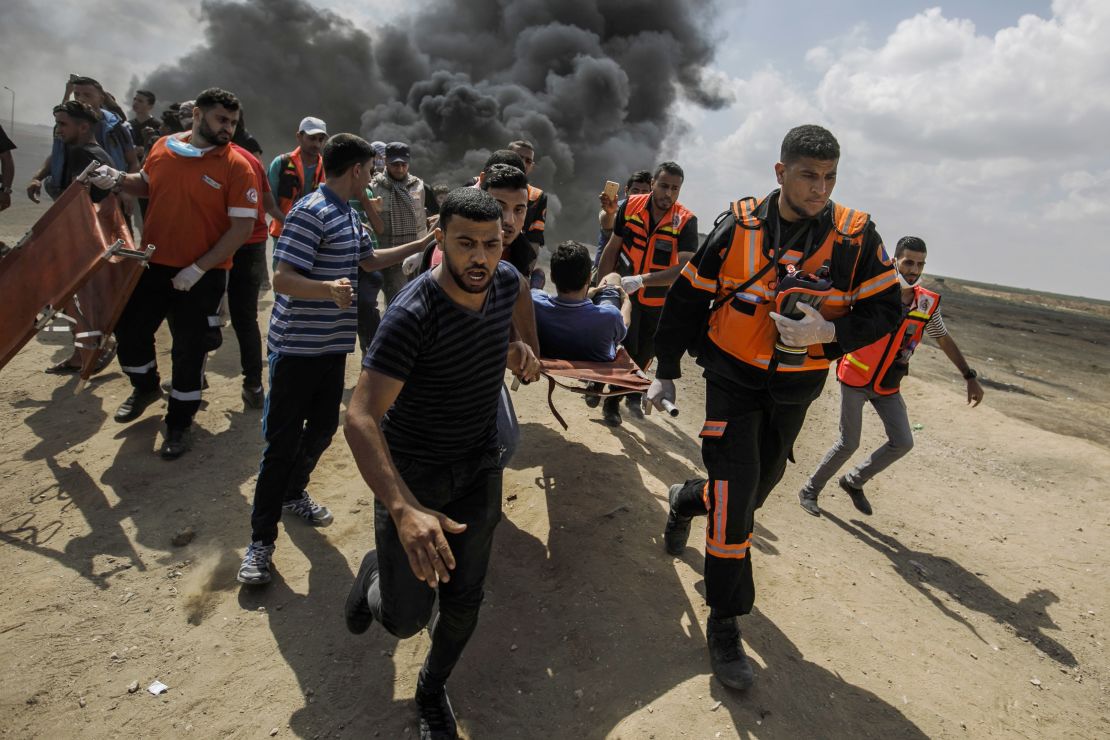 But the United States expressed strong backing for Israel, blaming the deaths on Hamas, the Islamist group that controls Gaza and which encouraged the protests. "Make no mistake, Hamas is pleased with the results from yesterday," said Nikki Haley, the US ambassador to the United Nations.
"I ask my colleagues here in the Security Council, who among us would accept this type of activity on your border?" Haley said at a UN Security Council meeting on Tuesday. She praised Israel for its "restraint" and accused Hamas of stoking violence "long before" the controversial decision to move the US Embassy from Tel Aviv to Jerusalem.
The crackdown on protests in Gaza took place as 50 miles away in Jerusalem, a glossy ceremony marked the relocation of the US Embassy from Tel Aviv.
Most of the dead were killed by Israeli fire, after troops used tear gas and live rounds to try to disperse several crowds, totaling about 35,000, as Palestinians gathered at the border. 
More than 2,700 Palestinians suffered injuries in the clashes, nearly half of them due to live fire, according to the Palestinian Health Ministry, which said Monday was the deadliest day in Gaza since the 2014 war.
In separate phone calls Tuesday night, Israeli Prime Minister Benjamin Netanyahu emphasized Israel's right to defend its sovereignty in response to concerns expressed by the leaders of France and Germany.
"Israel will protect its security interests," Netanyahu told French President Emmanuel Macron on Tuesday, according to a readout of the statement from the Israeli Prime Minister's Office. "No country is prepared to allow threats against its sovereignty."
Disputes over tenor of protests
The Israeli Defence Forces, or IDF, said protesters were trying to storm the border fence between Israel and Gaza. It accused Hamas of "leading a terrorist operation" and inciting the protesters to conduct what Israel described as terror attacks.
The IDF said some protesters threw rocks and Molotov cocktails, and burned tires. It also said it foiled an attack by three armed Palestinians near Rafah, close to the border with Egypt, during "a particularly violent demonstration."
Netanyahu said in Monday's confrontations, "The determined action of the IDF and the security forces prevented a breach into Israel's borders."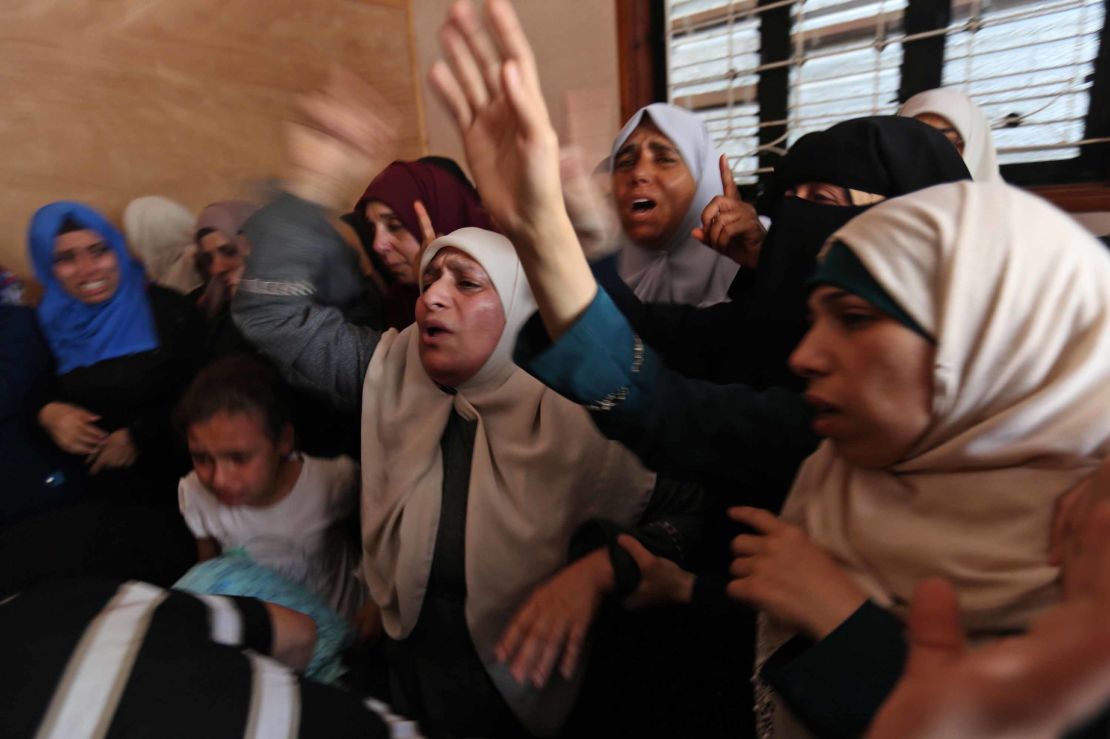 Palestinian leaders said the protests were peaceful and the use of force was wholly disproportionate to the threat.
"What we see in Palestine is like the rise of new Intifada, a new popular uprising that is peaceful and nonviolent, but faced with the very criminal attitude of the Israeli army which is using all kinds of lethal weapons against peaceful demonstrators," the head of the Palestinian National Initiative and Palestinian parliamentary member, Mustafa Barghouti, told CNN.
The former head of the Hamas Political Bureau, Khaled Meshaal, called for Arab and international solidarity.
"Our people, who are [rising] up in Gaza and the West Bank, call on our Arab and Islamic nation, its people, its leaders, scientists and friends in the world to stand with us at this historic moment," he said in a statement on Tuesday.
Funerals across Gaza
Among the dead were eight children, including 8-month-old Laila Anwar Ghandour. At her funeral, her mother and father cradled her body, wrapped in a white shroud, before her father walked to the graveyard to bury her. Relatives said Laila was sitting in her mother's lap when the infant inhaled tear gas.
"They were sitting on the side. (Israeli troops) fired tear gas haphazardly. The baby girl couldn't take it and she died," said the girl's father, Anwar Ghandour.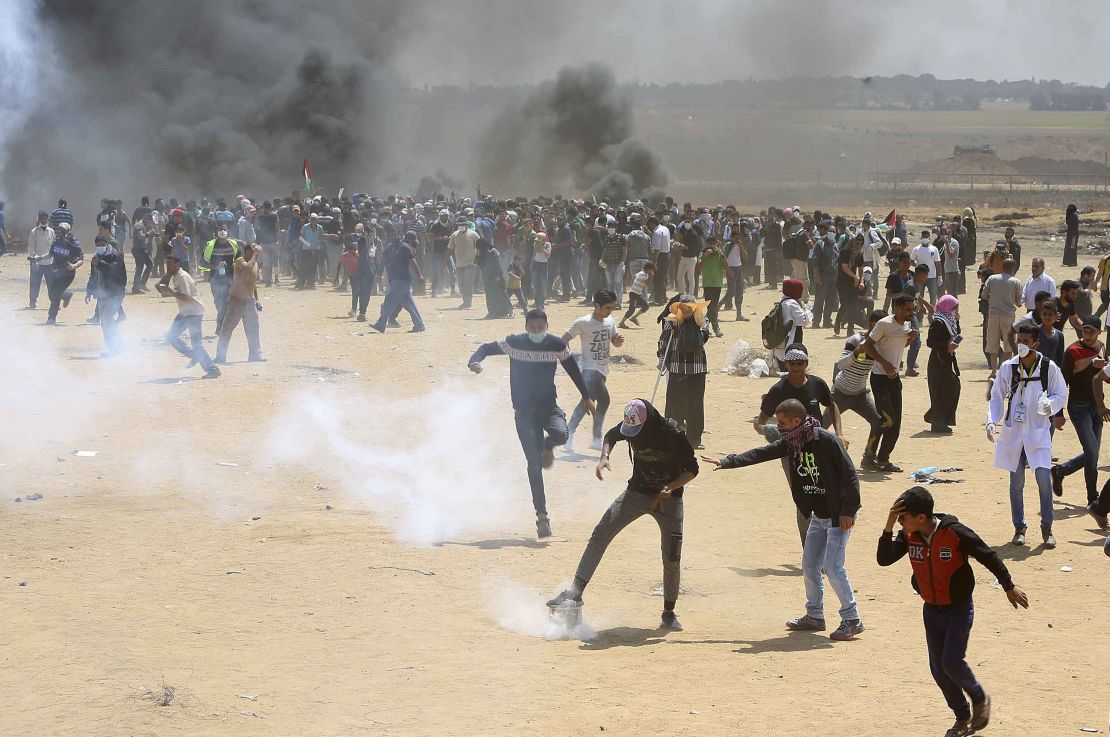 "We're nearly done with our lives, but these poor kids have their whole lives ahead of them. What have they done wrong?" said Um Khalid al Ashram, a middle-aged Palestinian woman who was near the funeral procession.
The funerals came on a day Palestinians call "The Catastrophe" or "Nakba," in memory of the more than 700,000 Palestinians who were driven from or left their homes during the 1948-1949 Arab-Israeli war.
Shops in Gaza were closed and people could be heard talking about the dead. Images of the dead and short eulogies flooded Palestinian social media. CNN journalists on the ground said it appeared that nearly every neighborhood in Gaza had lost someone in Monday's demonstrations.
An amputee named Fadi Abu Salameh, also known as Fadi Abu Salah, was killed near the border fence in Khan Younis on Monday, the Palestinian Health Ministry told CNN.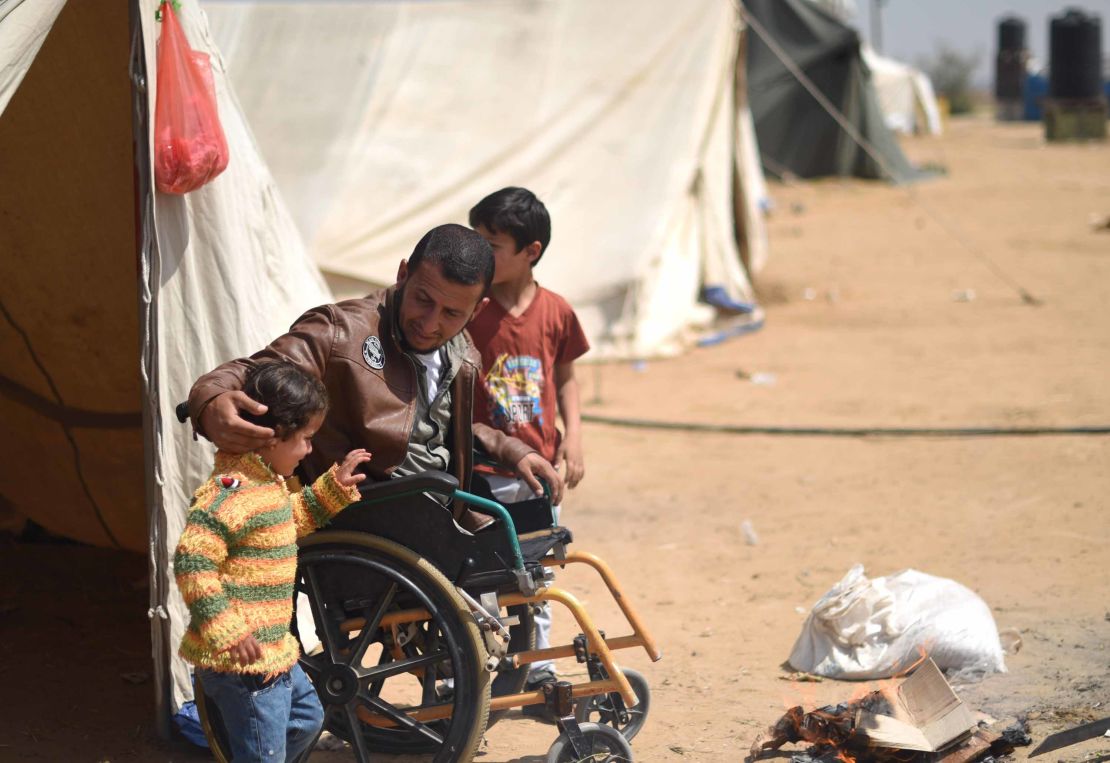 Fadi, who was 28, lost both his legs in 2008, his brother Hani said on Tuesday. "He does not pose a threat to himself, no less others," Hani said. "How could he be targeted? His blood falls squarely on the shoulders of the Israelis." Photographs of Fadi in his wheelchair circulated on social media as news of his death spread.
At the protest encampments that dot Gaza's border with Israel, the numbers of demonstrators dwindled. Mosques and political factions that called on Palestinians to take to the border over the weekend were largely quiet on Tuesday.
Demonstrators also appeared skeptical that protests would continue. Several said they felt abandoned by political parties and protest organizers.
"It's enough death. Those who died, it's enough," said Mahmoud Yasser Mohammed, a demonstrator who stayed at the camps overnight.
"All the youth are just coming down to take selfies. There is no point. We cut the fence and opened the way and everyone was too scared to cross and the Israelis started firing on us," said another demonstrator, Sayed Abu Nada.
While Tuesday's protests in Gaza were more subdued than Monday, hundreds of Palestinians rallied to mark the Nakba in cities across the West Bank.
In Bethlehem, some 240 Palestinians marched toward an Israeli outpost when Israeli military and border police fired tear gas and rubber-coated bullets to disperse the crowd. Some youth threw stones at Israeli troops as clashes continued.
Clashes were also reported in Al Bireh, north of Ramallah.
International reaction
Condemnation poured in from around the world over Israel's use