Editor's Note: Part two of two. Read part one: Border Patrol has failed to count hundreds of migrant deaths on US soil.
One day last May, in the desert southwest of the town of Ajo, Arizona, search and rescue volunteers discovered two long, white bones near a mesquite tree. They had little flesh on them and gnaw marks from some carnivore. But they were clearly human – a thigh bone and a humerus, or upper arm bone.
Ely Ortiz and the members of his rescue crew, Aguilas del Desierto, or Desert Eagles, spread out across the flat, sere desert. They found a pair of New Balance running shoes, a section of spine, a blue polo shirt, a pair of black trousers. In the pockets, Ortiz found a well-creased birthday card and a black wallet with a Honduran ID card for Dennis Martinez Nuñez. Despite the serious expression in his photo, the clean-shaven Martinez looked younger than his age of 30.
Through Facebook, the Desert Eagles reached his family that night. Martinez had set out four months earlier from the gang-ridden Colonia Villa Franca neighborhood of the Honduran capital, Tegucigalpa. A Honduran Air Force veteran, he hoped to find work in the United States so he could send money back to his pregnant wife.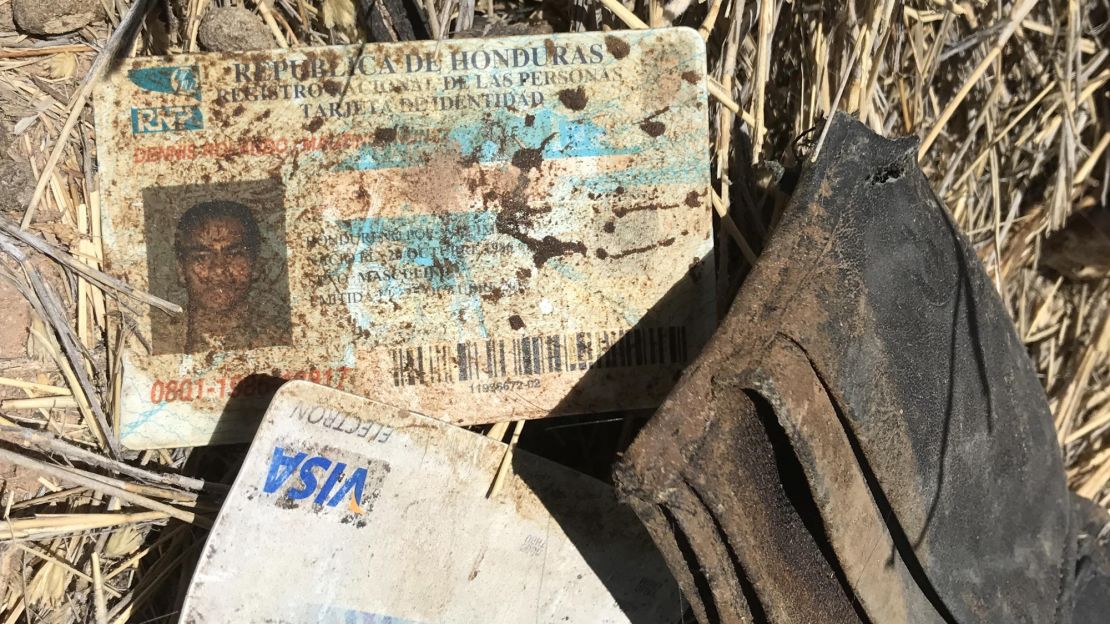 Instead, he became one more of the thousands of migrants who have died trying to cross the US-Mexico border illegally. And had it not been for Ortiz and his crew, Martinez's family might still be wondering if he was dead or alive.
Border crossers die of heat exhaustion and dehydration in the summers. They freeze to death in the winters. They drown in the deceptive currents of the Rio Grande or irrigation canals. Bodies disappear in the vastness of the deserts and mountains, bones scattered by scavengers.
Just under 304,000 people crossing the US-Mexico border illegally were apprehended by the Border Patrol in the fiscal year that ended last September 30. That's the lowest number in 40 years, suggesting a similarly lower rate of illegal crossing. But the Border Patrol reported 294 people who lost their lives on American soil to the hazards on the way – and CNN identified at least 102 more deaths in the border region that the Border Patrol didn't include, along with scores of other likely crossing deaths in which officials couldn't confirm whether the remains were those of undocumented migrants.
As CNN has found, the federal government doesn't keep a complete count of the total known deaths of migrants along the border. The Border Patrol, the only federal agency charged with collecting those figures, has reported to Congress that it reaches out to local authorities for their migrant death numbers. The Border Patrol agents and local officials that CNN spoke to say they do not.
But if the United States does not know how many migrants die in aggregate, it knows even less about who died in particular. There is no centralized, federal system to identify migrant remains, only a patchwork of state, local and volunteer efforts. So, when a would-be crosser doesn't survive, his or her family is often left in limbo.
Erased off the face of the earth
Those dying are mostly young, mostly men, and mostly from Mexico, Honduras, Guatemala or El Salvador. But women and children, too, die along the way. Some are fleeing gang or cartel violence; some are looking for work and a better life. Increasingly among them are those trying to make their way back to family and friends in the United States after being deported.
"This is one of the more silent, invisible human rights catastrophes in the world today," said Robin Reineke, founder of the Colibri Center for Human Rights in Tucson, Arizona.
Reineke has spent 11 years documenting deaths along the border, trying to help families find their loved ones and identify remains. The Colibri Center has more than 2,400 open missing persons reports on vanished border crossers. Other humanitarian groups have about 1,200 more open cases, though Reineke said that confidentiality agreements with the families make it hard to be sure there's no overlap.
Finding answers for those anxious families can be a painstaking task. In the remote regions where migrants lose their lives, many bodies go undiscovered for months or years. Remains that are recovered are often only skeletal or partial. Border crossers may not carry accurate ID, or any at all; some use fake IDs in hopes of being deported to Mexico rather than a more distant country if they are caught. Identifying remains can come down to personal effects found with the body; dental or fingerprint records; or DNA, if a family member is willing to provide a sample of their own for a potential match.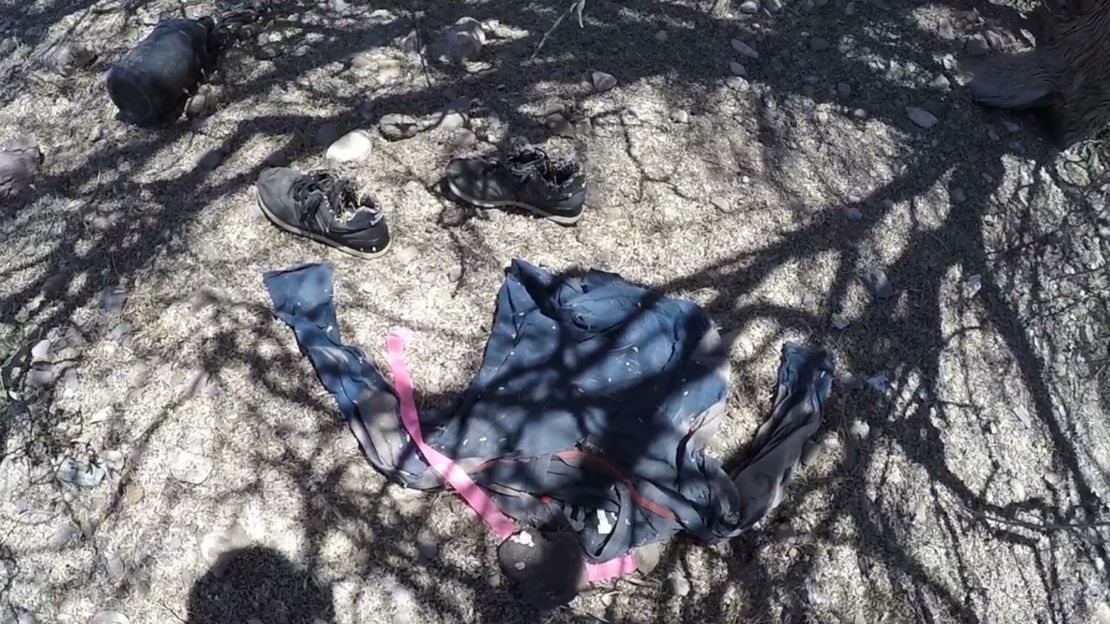 Heidi Janeth Torres-Montellano, a housewife who lives in Torreon, in north-central Mexico, waits in a limbo that is typical of many looking for missing relatives. Ten years ago, after her brother Leobardo crossed the border illegally, her family didn't hear from him for six months, she said. They feared he'd died. Instead, he'd been in Immigration and Customs Enforcement custody, unable to call. Deported, he crossed again and settled in Dallas, where he worked on a road construction crew.
In December 2016, Leobardo, 34, came back to visit her in Torreon. When he headed north again, his cousin Jorge, 28, asked to come along. Leobardo called his sister on December 27 from Sierra Blanca, in western Texas, to say they'd made it across. From there, though, they still had highway Border Patrol checkpoints to avoid.
Since that call, Torres-Montellano said, they've heard nothing.
"We've been trying to see if they're detained anywhere," she said by phone. She added, reluctantly, "We're expecting something bad, because it's been so long and no one has told us anything."
It's not unusual that her brother disappeared in Texas. Of the four border states, it shares the longest border with Mexico and is home to the busiest crossing points for migrants. And though efforts to identify migrants who die there have improved somewhat in the last few years, they remain scattershot, hampered by shoestring budgets and overwhelmed local authorities.
In 2013, a team of forensic anthropologists investigating border deaths found the unidentified remains of more than 50 migrants in a county-run cemetery in the town of Falfurrias. They couldn't say precisely how many, because so many of the remains were jumbled together. They found as many as five sets of remains in a single grave. One body was buried in a milk crate.
"Prior to 2013, in most counties, any remains they found, they buried with no investigation and no DNA sampling," said Kate Spradley, a forensic anthropologist at Texas State University. She now leads that project, Operation Identification, which includes an ongoing survey of border cemeteries. So far, the team, which relies heavily on student volunteers and collaboration with other forensic anthropologists, has uncovered 280 sets of remains.
In Spradley's lab in San Marcos, shelf after shelf holds rows of neatly labeled cardboard file boxes, each containing the remains of one person who died migrating to the United States. Her team takes pictures of migrants' personal effects, washing the clothing first, and puts them on the Department of Justice's missing persons website, which families looking for loved ones can access. Her lab relies on partners such as the Colibri Center, the South Texas Human Rights Center and others to help her lab reach relatives and vice versa.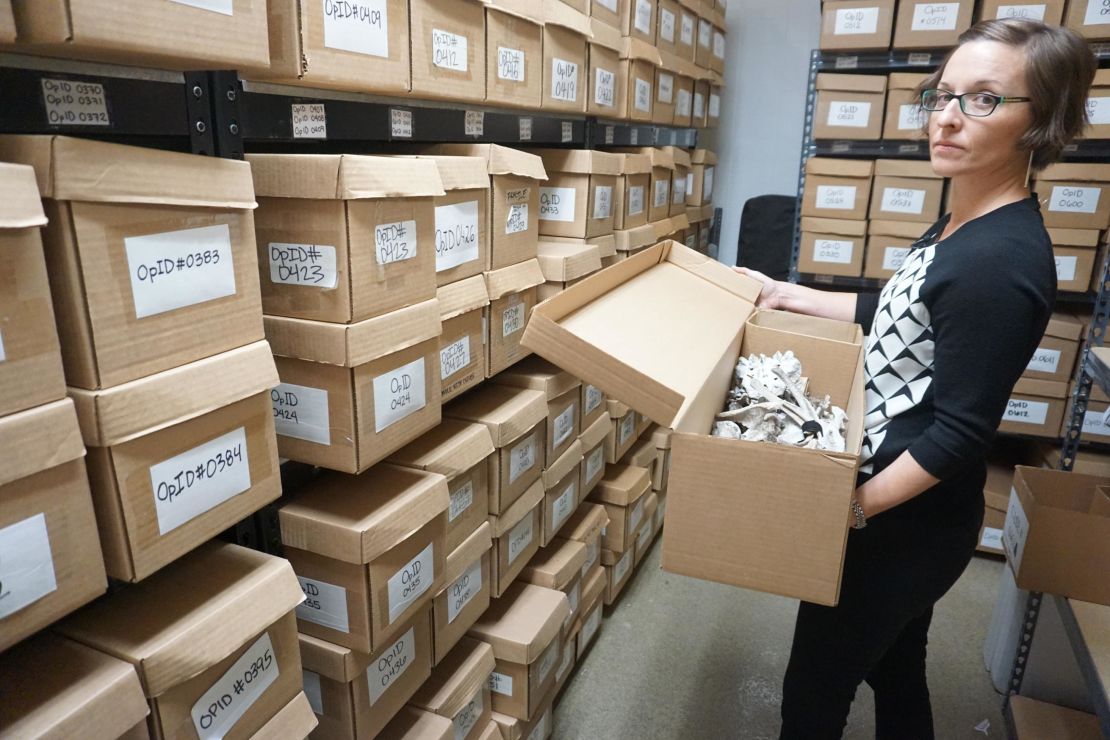 "We usually only talk to families after someone is identified. They have a lot of questions," Spradley said.
But many migrants who die in Texas still go unidentified today. In effect, that "erases them off the face of the earth," she said.
Spradley doesn't blame local officials.
"The federal border policy of prevention through deterrence affects local jurisdictions, but then leaves it to these jurisdictions, which are among the poorest in the country, to clean up the mess," she said.
'What every coroner should be doing'
The Pima County Medical Examiner's Office, in Tucson, Arizona, is cited by many experts as a leader in its identification efforts. When tougher border enforcement in California drove border crossers east into Arizona and migrant deaths there surged in the early 2000s, then-Chief Medical Examiner Bruce Parks pushed his staff to do everything possible to identify migrants. "We treat people like we would want our family members to be treated," he said at the time.
Since 2001, the office has tracked migrant deaths and reached out to law enforcement at the local, tribal, state and federal level across southern Arizona. It has also collaborated with immigrant rights groups to try to identify remains. The office keeps and catalogs personal effects found with the bodies, which also can help ID them.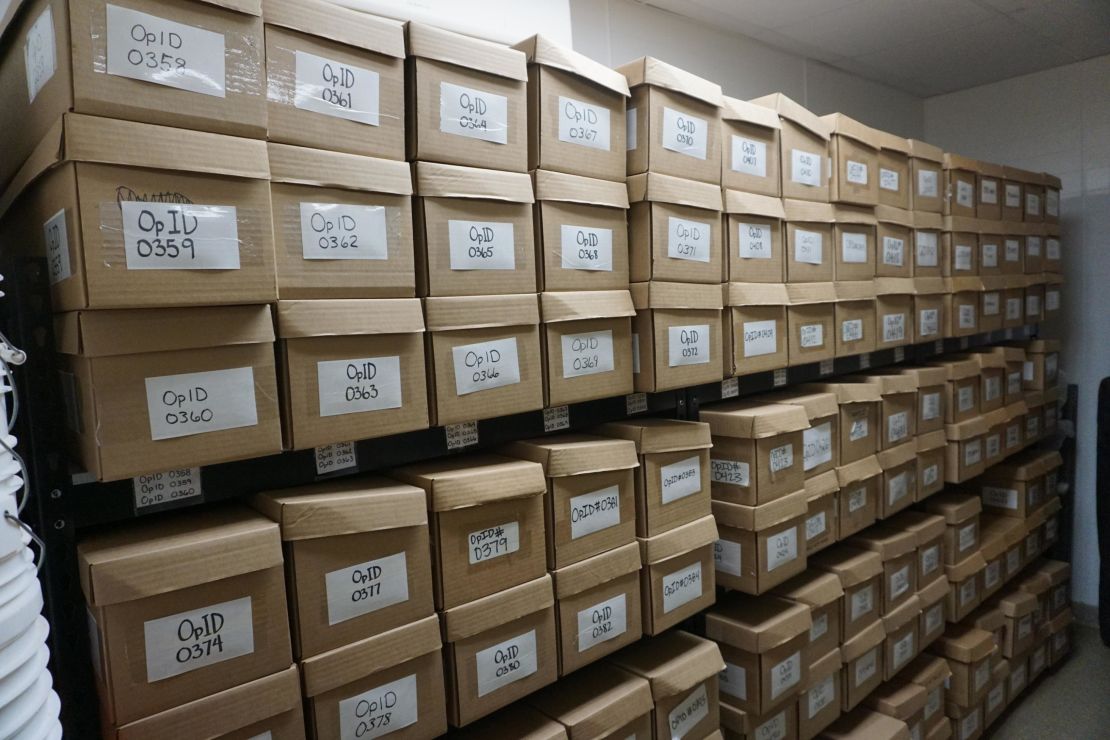 The office "offers a stellar example of what every coroner should be doing," said Julie Black, project coordinator for the UN's Missing Migrants Project, in Berlin, which tracks migration deaths globally.
Gregory Hess, Pima County's current chief medical examiner, said his office relies in its identification efforts on a private DNA lab in Virginia, as well as two federal databases – the Department of Justice's National Missing and Unidentified Persons System (NamUs) and the FBI's Combined DNA Index System (CODIS). His office's careful accounting of bodies has meant that it is also the one that is best capturing how many deaths go undocumented by the Border Patrol.
"There has to be a way for everybody to keep track … (and) some standard definition of what a border crosser is, not just someone who was here illegally and, say, died in town. In our database we actually designate them as undocumented border crossers," Hess said. "Sometimes we use circumstantial information, clothing, tattoos, ID cards … dental records, fingerprints, DNA."
He said his office has entered more than 400 cases in NamUs, more than most jurisdictions across the United States.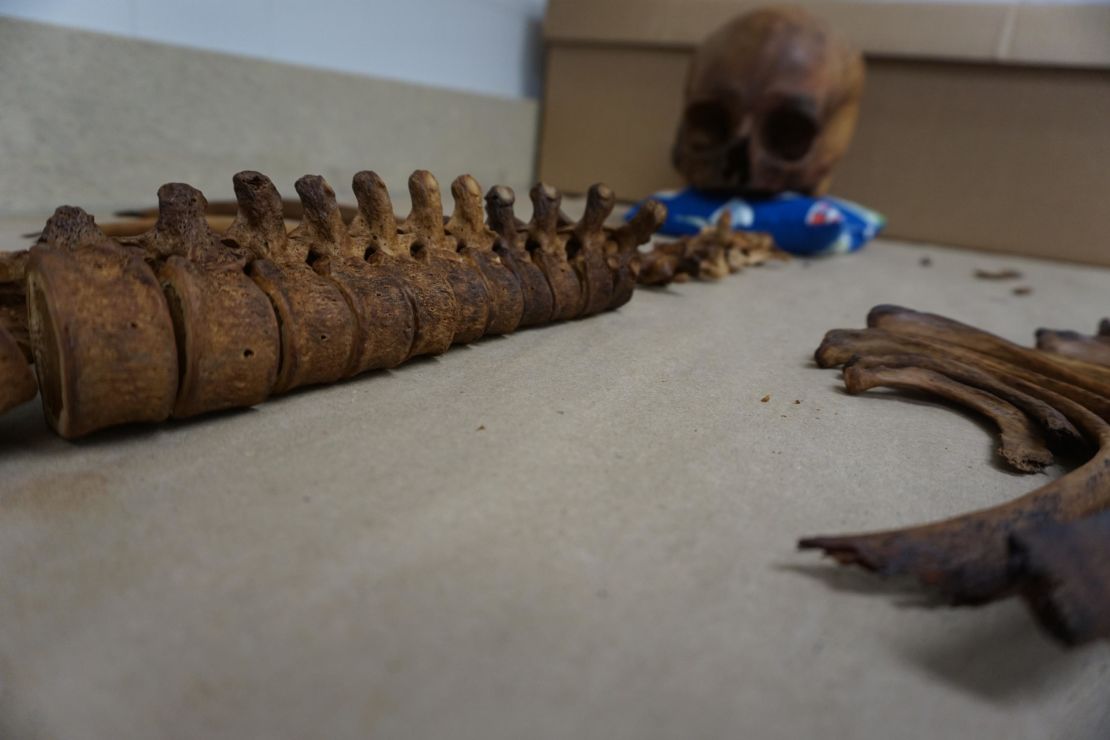 Spradley, at Texas State University, said she had patterned the practices of her lab after the Pima County office's methods. Some governmental jurisdictions in Texas are acting along similar lines to develop more rigorous identification systems, too.
In the Rio Grande Valley, which has reported the most crossing deaths in recent years, much of the work is conducted by Webb County Medical Examiner Corinne Stern. She said her office, which serves 11 border region counties, currently manages to identify about 75% of migrant remains sent to her.
"No one leaves this office without getting DNA, unless we've already identified them through fingerprints or dental records," Stern said. Her office also puts out the word that undocumented people shouldn't be afraid to come forward.
"We're not a law enforcement agency," she said. "It's safe to contact us. It's safe to provide DNA samples."
Stern uploads the DNA info to the FBI's CODIS database. When families seeking someone provide DNA, Stern said theirs is compared only to the missing persons database, not to the separate CODIS database for criminal offenders.
"If a match is made, the family can request that their (own) DNA be pulled out of the system," she said.
Still, broader problems with identifying bodies persist in Texas, and along the rest of the border. Many bodies are never recovered. "There's a lot of country, and a body doesn't take up much space," said Terrell County Sheriff Keith Hughes.
Even when bodies are found, Texas justices of the peace, who in most counties serve as coroners, don't send all unidentified remains to medical examiners for autopsies, because of the cost. Autopsies include steps vital to identifying remains, among them the taking of dental, fingerprint, and DNA records. "Money is an issue for us every year," said David Beebe, a justice in Presidio County.
Even DNA, Beebe noted, can be of limited utility. In one recent case, he dealt with the remains of two men found together. One had a Honduran ID card, and was identified with the help of the Honduran consulate. "The other one, they said if there's no ID, we aren't going to be able to deal with him. At least he's in a beautiful gravesite here," Beebe said. "But I feel bad for his family, because they're never going to know what happened to him."
'We're all human'
Despite the steps by local governments and independent groups lately to identify more remains, the systems remain fragmented. Only law enforcement agencies, medical examiners and certain government-funded bodies can upload DNA to the FBI's CODIS database. The Colibri Center and other nongovernmental groups that try to help families identify missing relatives use a private DNA database in Virginia, Bode Cellmark Forensics.
Those private efforts serve an important function. The families looking for missing migrants often include undocumented members in the United States who feel vulnerable to law enforcement. Particularly in the current political environment, families of those missing often worry that authorities will turn them over for deportation if they provide DNA or other information.
Many find it easier to trust groups not affiliated with the government. Colibri teams regularly travel to collect DNA samples to compare to the Virginia database. In August, for example, they invited families in the New York City area to come in to provide DNA and other information. One or two at a time, families came to a church on the Upper East Side of Manhattan that had offered its space for the event. "We spend time with hundreds of families on the phone, in person, on Facebook Messenger," Colibri's Robin Reineke said.
Pedro Espinoza Fernandez, a cab driver in Puerto Peñasco, a beach town in northern Sonora, Mexico, is one family member who hopes that providing DNA may help him find his brother. Because he lives in Mexico, he either has to provide DNA through Mexico's foreign ministry, or travel to the border himself to provide a sample. His brother Lorenzo stopped by to say goodbye three years ago in July, planning to cross into western Arizona.
"Work here is not so great," Espinoza said. His brother was struggling to provide for his wife and four children. "He'd been invited to cross with some burros who carry marijuana, then he was going to stay there," he said.
He offered a description, just in case: Thin, medium height, with a tattoo on one shoulder of his wife's name, Diana Janeth.
"I hope he's been detained," said Espinoza. He is trying to arrange to send his own DNA to a project in Arizona, which he hopes may give him insight, even a sad one, into his brother's fate. "I hope he's OK, but who knows."
Ultimately, some combination of private and government identification efforts may be key to solving more of these cases. Since 2015, with funding from the Texas legislature, the Texas Forensic Science Commission has been leading a project to bring together the DNA data from migrant rights groups, local law enforcement and others.
"It's a hard process, but we're working on it," said Bruce Budowle, director of the Center for Human Identification at the University of North Texas, which provides free testing of unidentified remains to cash-poor border counties.
Groups working with migrants, however, say the project is at an impasse. The sticking point continues to be over authorities' demands for more information about undocumented families, including addresses – information that nonprofit groups say they are not willing to provide.
In Webb County, for example, medical examiner Corinne Stern won't work with families who reach out through nonprofits rather than through law enforcement agencies. Stern said that's because she follows strict state laws on DNA collection, and the groups will not give up sufficient information on the families seeking lost relatives. "I can't make an ID if I don't know the relationship and identity of the family members" to unidentified remains, she said.
In Arizona, however, the Maricopa County Sheriff's Office is collaborating with Humane Borders, other migrant rights' groups, the county medical examiner, UNT and the Border Patrol to collect DNA and other records from families looking for vanished relatives, said Det. Tony Rodarte. Heidi Torres-Montellano in Torreon, hoping to trace her brother and cousin, recently contacted him to submit a DNA sample. Rodarte is working to set up DNA collection dates on the border for Mexicans like Torres-Montellano and Espinoza, who can't easily enter the United States.
That project, Missing in Arizona, is coordinating with a broader 2015 initiative developed by Border Patrol agents to connect undocumented families seeking a missing person with foreign consulates and other groups. The Missing Migrants Project, as it's called, helped identify the remains of 91 migrants in the last fiscal year who had been considered cold cases by local authorities, said Border Patrol Assistant Chief Gonzalo Ortega, who runs the program.
Missing in Arizona holds regular outreach events. At the most recent Missing in Arizona Day in Phoenix last October, Border Patrol agents, most of them out of uniform to avoid spooking families, found information in their records on 16 people out of 70 missing persons reports filed that day.
Depending on the case, the agency didn't necessarily know where the person was currently, "but we had some information on them," said field communications supervisor Steve Passement. He said agents could, for example, tell a family if the Border Patrol had detained their relative, the circumstances where it had occurred, and when and where that person was deported or turned over to ICE. "We weren't there in an enforcement role, but to give closure to families. We're all human. It's something that's terrible to see. We can imagine, for family members, having that concern."
Other families are benefiting from advances in technology, like a recent leap in identifying missing migrants by the FBI Laboratory's Latent Print Support Unit. In 2017, Bryan Johnson, a program manager there, led a focused search through about 1,500 fingerprint cards from unidentified bodies in the NamUs database – sets of fingerprints that weren't complete or clean enough to be run through the FBI's automated system, or that didn't meet the lab's usual rule that they had to be submitted by law enforcement agencies. In three months, examiners made IDs on 193 cases, including 47 migrants from the Pima County Medical Examiner's Office.
For now, without any centralized system, families depend on these collaborations and new initiatives to help them find answers about their missing loved ones. Without such work, families "end up having this stress for months and years," said Juanita Molina, executive director of Tucson-based nonprofit Humane Borders, which works collaboratively with the Pima County Medical Examiner's office to connect relatives with information.
That is the real meaning of those sets of remains on a shelf or set of bones scattered in the desert, as Molina is all too aware: a particular person who has disappeared into the often unrecorded masses of the border death count, without word to those left