US President Donald Trump suggested Thursday Beijing could be behind North Korea's recent harsh rhetoric against Washington in the past week, which has thrown the June summit in Singapore into doubt.
Speaking in the Oval Office, US President Donald Trump appeared to blame Xi for Pyongyang's change of tone, which included threatening to call off the talks if the US insisted on unilateral denuclearization.
"It could very well be that he's influencing Kim Jong Un," Trump said, adding Kim's apparent change of heart had begun after his recent meeting with Xi in the northern Chinese town of Dalian.
China has mixed feelings about a closer relationship between North Korea and the United States, experts say, and wants any agreement struck between Pyongyang and Washington to ensure Beijing is still the powerbroker in the region.
"They want to make sure that whatever potential relationship could come from the meeting between Trump and Kim doesn't overshadow China's power," Emily Weinstein, researcher at Georgetown's Security Studies Program, told CNN.
But there's no doubt a rising China still wants to see a successful summit in Singapore in June, which could lead to the denuclearization of the Korean Peninsula and peace in the region.
There has been a clear warming in relations between the two fractious allies in recent months, sparked by concerns in Beijing of being left out of the Korean Peninsula peace process and Pyongyang's desire for a firm ally as it steps on the world stage.
Kim made an unannounced visit to the northern Chinese city of Dalian from May 7, where he met with the Chinese President Xi Jinping. During the trip, the North Korean leader declared the two countries were in "a historical new golden era," according to state media KCNA.
It was Kim's second meeting with Xi after a secret meeting in Beijing in late March, his first journey outside the country since he became leader after his father's death in 2011.
But their blossoming relationship doesn't mean North Korea is beholden to its much bigger neighbor, said John Delury, associate professor at Seoul's Yonsei University.
"There's always a temptation to see North Korea as a pawn in China's game but the North Koreans have their own play here and Kim Jong Un's not just going to do Xi Jinping's (bidding)," he said.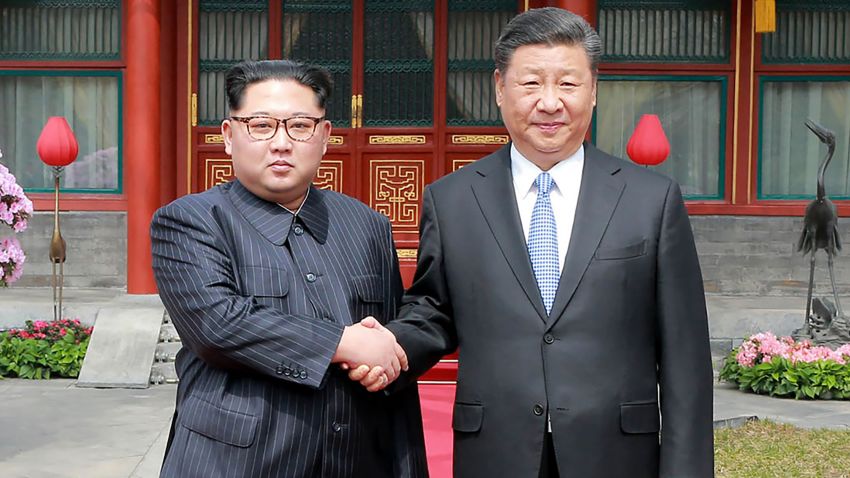 How close are China and North Korea?
Close, but not too close
In its first public statements since North Korea said it was reconsidering the Singapore summit, Beijing called for the United States to meet North Korea "halfway."
"What I would like to emphasize is that the present eased tension on the peninsula is hard-won," Chinese Foreign Minister Wang Yi said during a visit to France, according to China's Foreign Ministry.
China has been supportive of upcoming talks between Trump and Kim, currently planned to take place in Singapore on June 12.
On Thursday, Xi met with a North Korean delegation of senior officials, saying he supported denuclearization of the peninsula as well as warmer relations between Pyongyang and Washington.
Richard McGregor, senior fellow at Sydney's Lowy Institute, told CNN the perfect outcome of the summit for China would be cordial talks, leading eventually to a peace treaty and calmer Korean Peninsula.
But it wants to ensure the United States doesn't replace China as North Korea's ally of choice, nor does it want a reunified Korea, indebted to Washington, sitting just across its border.
"It's not (about) unification, this is about two separate Koreas which begin to coexist in a much more friendly and cooperative fashion," he said.
'Decimated"
Preparations for the Trump Kim summit were still going ahead on Friday despite the confusion over the North Korean statements, Trump said on Thursday.
"They've been negotiating like nothing happened," the US President told reporters in the Oval Office.
Trump attempted to smooth over Kim's concerns about potential regime change by reassuring the young leader that Kim would remain in power even if he abandoned his nuclear weapons, only to then threaten decimation if he didn't.
Trump's suggestion that Beijing may have been to blame for North Korea's recent wavering could have unintended consequences for US China relations, McGregor said.
Chinese Vice Premier Liu He in Washington this week in an attempt to find common ground with the US leader amid ongoing sparring over trade between the two countries.
"Whatever Trump has said about China he's always gone out of his way to praise Xi Jinping, he's always talked about what a terrific guy Xi is and how they have a great relationship and great chemistry," McGregor said.
"So if Trump starts to blame Xi for the potential unraveling of his summit with Kim, that's not good news for US-China relations."
CNN's Kevin Liptak contributed to this article.