When 13 North Korean workers defected en masse from a restaurant in China in April 2016, it was a propaganda boost for South Korea and a huge embarrassment for their homeland.
But the latest explosive twist in the story of 12 North Korean waitresses and their manager plays in Pyongyang's favor.
Heo Gang-il, the manager of the restaurant in the Chinese port city of Ningbo has told CNN, in his only international media interview, that the young women didn't defect – he tricked them into going to South Korea at the bidding of South Korea's spy agency, the National Intelligence Service (NIS).
He says he became an informant for the intelligence agency after becoming disillusioned with Kim Jong Un's regime. He says five of his friends were executed without trial and he feared he could one day face a similar fate.
The South Korean government maintains that the 12 young women defected of their own free will. At the time, the Unification Ministry, which deals with North Korean affairs including defections, took the unusual step of publicizing their decision and said it was the largest group defection since Kim took power in 2011.
It also released a photo of them walking with their bags, their faces blurred or covered with masks and hair.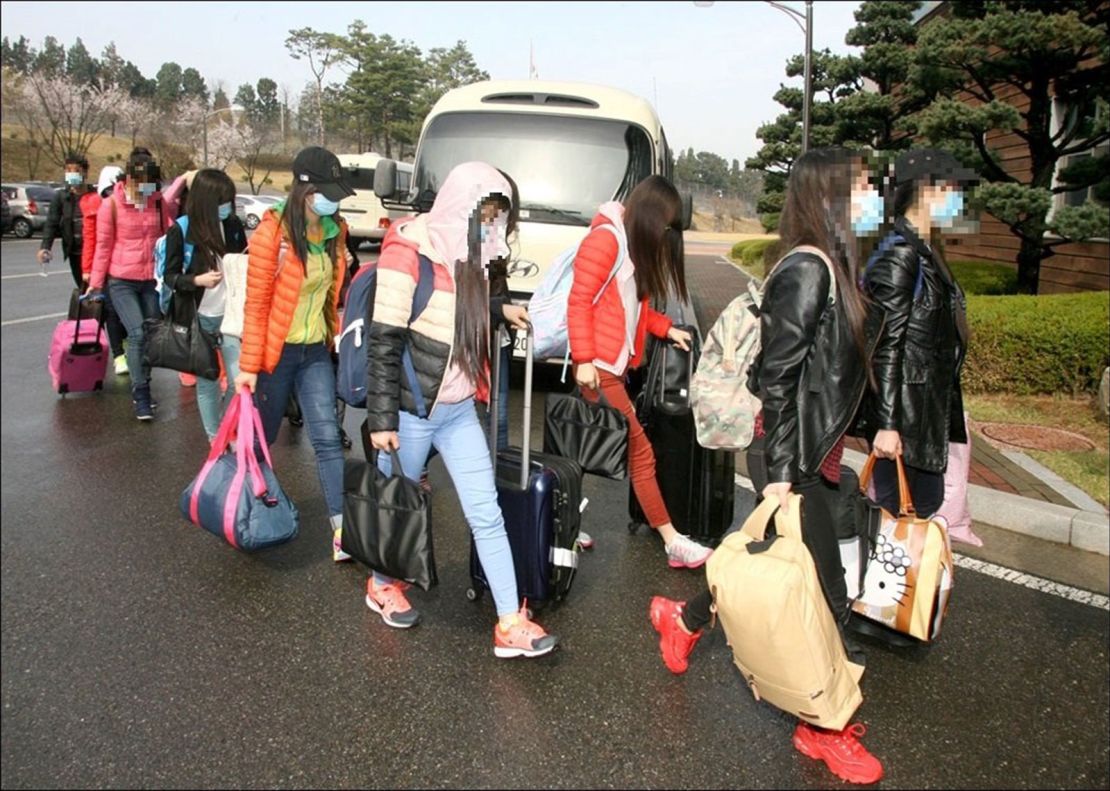 The NIS hasn't responded to CNN's calls about Heo's claims, while the Unification Ministry has said it is looking into the circumstances of the women's arrival in Seoul more closely.
At the time, the North Korean Red Cross called the incident a "group abduction." On Saturday, North Korea reiterated its demand for South Korea to send the 12 women home, saying it would demonstrate Seoul's willingness to improve relations.
"The south Korean authorities should admit the unheard-of atrocity of the Park regime, severely punish those involved in the case, send our women citizens to their families without delay and thus show the will to improve the north-south ties," reported North Korea's state news agency, KCNA, referring to the government of former President Park Geun-hye. Park was removed from office last year and jailed over corruption allegations.
Last week, North Korea canceled high-level talks with the South and threatened to call off a planned summit between Kim and US President Donald Trump. The moves have dampened what had been unexpected, rapid diplomatic rapprochement with North Korea after several years of provocative nuclear and missile tests.
Betrayed
Heo says he first met with an NIS agent in Shanghai in November 2015, who brought a contract for him to sign, a South Korean flag and asked him to make a pledge of allegiance. "I felt proud, we discussed my future missions," he said.
He says he was photographed with the flag – something that would make him a traitor in the eyes of North Korea.
Heo claims one of his ethnic Korean-Chinese customers, who somehow found out about his link to NIS blackmailed him, threatening to tell North Korean authorities he was working with the intelligence agency. Heo decided to defect to South Korea.
"The NIS told me to bring everyone with me, I told them that was impossible. I told them that was extremely risky because if North Korea gets hold of this it was too dangerous. The NIS told me to bring them no matter what."
And, he says, he was clearly threatened by the south.
"Their attitude changed suddenly, telling me if I don't bring the workers with me, they will report me to the North Korean embassy and have me killed," he said.
"They called back and said this is President Park Geun-hye's order, she has a big plan," he told CNN.
In total, the restaurant, which served up North Korean delicacies while staff performed for customers, employed about 20 North Koreans as servers, cooks and entertainers.
It was one of the many restaurants the North Korean government operates around the world that are thought to be staffed by trusted members of the North Korean elite. They act as ambassadors of sorts and earn much needed foreign currency for the regime – which made their defection all the more remarkable.
Heo said most of the money the restaurant made each year went back to the North Korean government. He said he also made extra income for the regime trading goods.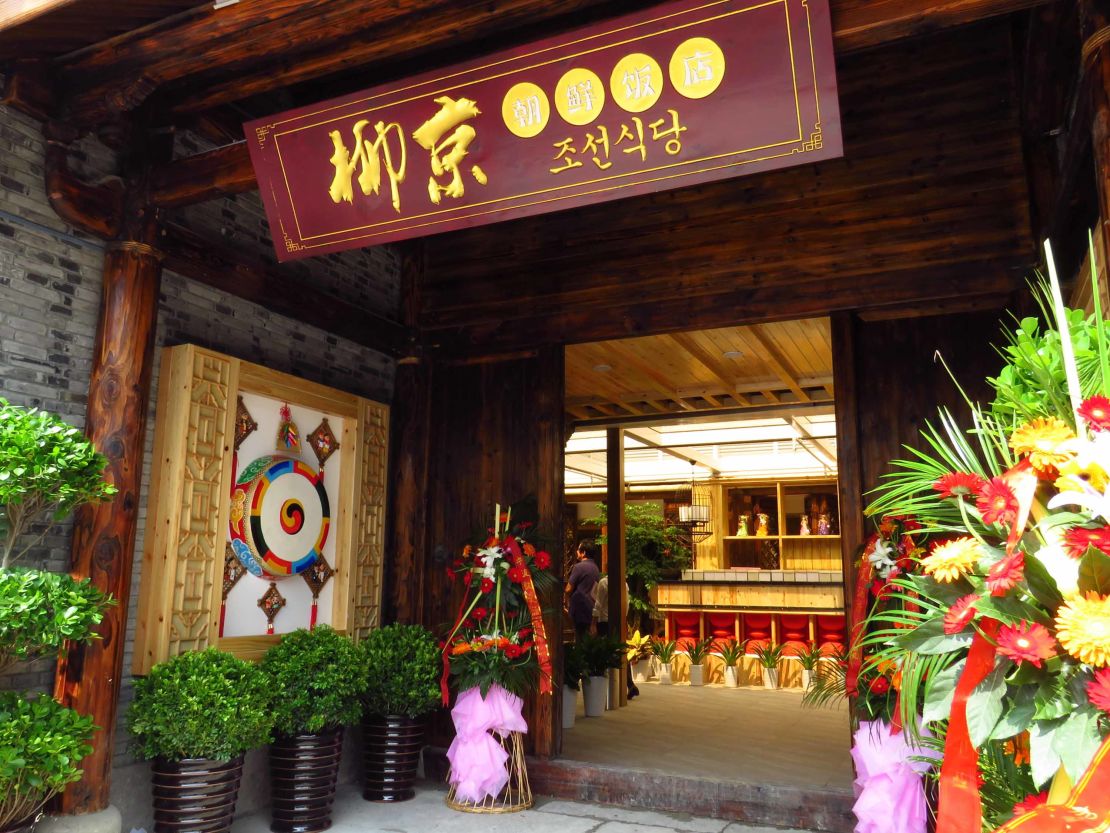 Heo: I was told to lie
Heo says the NIS told him to lie to the waitresses and bring them to South Korea. He told the workers they were relocating to better accommodations.
"I told them to go pack, we need to move, I lied to them, put them in several taxis. I told the drivers to take them to Shanghai airport."
"The NIS told me not to say anything to the workers because if they find out about the plan they could run and that I could be reported and killed."
He'd earlier hinted to two of the workers about the possibility of going to South Korea. Sensing something was up, the pair and three others left of their own accord. Heo thinks they went to another North Korean restaurant in the nearby city of Hangzhou.
The 12 waitresses and Heo flew to Kuala Lumpur, the Malaysian capital, with tickets, he says, were paid for by the NIS.
Until March 2017, North Koreans could stay in Malaysia for up to a month without a visa. This subsequently changed after Kim's half brother was allegedly assassinated with VX nerve agent in February 2017. North Korea denies any role in his murder.
South Korea's Unification Ministry said at the time: "Thirteen defectors voluntarily decided to leave and pushed ahead with the escape without any help from the outside."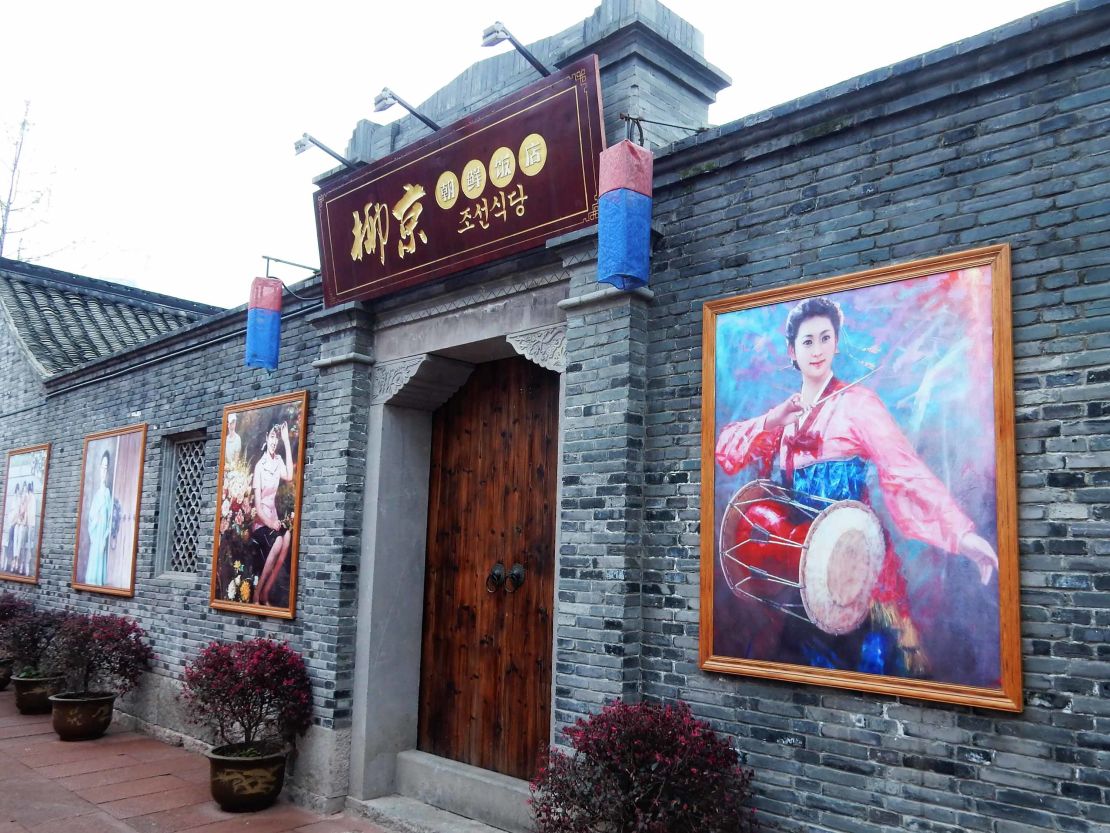 'Something is horribly wrong'
CNN's South Korean affiliate, JTBC, which first interviewed the manager, tracked down three of the waitresses in South Korea. They said Heo had tricked them into leaving. One said that she wanted to return to North Korea. The broadcaster did not reveal their identities and CNN wasn't able to verify them.
"We were put into cars, a few in each car. That's when I saw the South Korean flag and the embassy. When we were going into the South Korean embassy in Malaysia, I thought something is horribly wrong here," one of the women interviewed by JTBC said.
They claim Heo threatened them, saying their families would be killed if they went back so they agreed to keep going.
Heo recalled what appeared to be the same moment in his interview with CNN: "When the girls saw the South Korean flag they started panicking. I told them… we've gone too far already so couldn't go back."
Heo says they were given South Korean passports with false names and they flew to Incheon, South Korea's main international airport. A journey that takes months for most defectors took these North Koreans just two days.
This all happened just days before South Korea's parliamentary election and Heo claims the women were brought to Seoul to boost the prospects of the conservative party of former President Park.
North Korea: South Korea abducted 13 workers
'This is an abduction'
A week after the 12 women arrived in Seoul, a CNN team in Pyongyang interviewed seven women, who claimed they were the waitresses who didn't fly with Heo to Malaysia. CNN wasn't able to independently verify their identity.
"In mid-March our restaurant manager gathered us together and told us that our restaurant would be moved to somewhere in Southeast Asia," said head waitress Choe Hye Yong.
Choe said by the time the manager revealed, only to her, that they would actually be defecting to South Korea, she only had time to "warn" a handful of the waitresses.
"I think about our colleagues being deceived and dragged to South Korea and facing extreme hardship there," said another of the women, Han Yun Hui. "It tears our hearts."
In May 2016, CNN was also granted an interview in North Korea, with the families of three of the waitresses that traveled to Seoul. One mother told CNN: "This is an abduction, a kidnapping." Again, CNN wasn't able to verify their identities.
Today, North Korea appears to be tying the abduction case to the ongoing peace negotiations.
"We can not but remind them of our stand that how they tackle the case of group abduction by the puppet conservatives, an anti-DPRK confrontational farce and hideous crime against humanity, would have great impact on deciding the prospect of settling the humanitarian issue between the north and the south," KCNA said.
It's not clear why Heo has chosen to break his silence now. Despite the risk of being treated as a traitor – a crime punishable by death, he says he wants to go back to North Korea.
He says he feels betrayed and manipulated by the South Korean government and its intelligence agency.
"The only thing we want is a thorough investigation into this. We were truly tricked, we are the victims here, I lost everything because of this."
"I really miss my parents and I'm very sorry for causing harm to people in North Korea."