Indian Prime Minister Narendra Modi wrapped up a whirlwind month of diplomacy with a trip to Russia Monday, where he embraced President Vladimir Putin and hailed the two countries' strong relationship.
"Russia is India's old-time friend. We share long-standing historical ties, and Mr. President is my personal friend and a friend of India," Modi said at the Black Sea resort city of Sochi.
"For the past four years, you and I stood side by side in the bilateral format and on the international stage … I am very glad that it was so."
Modi's trip to Russia comes after he visited China in late April and met with President Xi Jinping, a trip analysts said was aimed at shoring up relations with India's largest trading partner after territorial disputes in the Himalayas and Indian displeasure with China's Belt and Road plan.
In a statement, India's Ministry for External Affairs (MEA) said Putin and Modi agreed the two countries "have an important role to play in contributing to an open and equitable world order."
Modi said on Twitter that his discussions with Putin were "extremely productive."
"Friendship between India and Russia has stood the test of time. Our ties will continue to scale newer heights in the coming years," he added.
Weakened foundations
Ties between Russia and India date back to the Cold War but evolving priorities and alliances have taken a toll.
"The economic dimension of this relationship is relatively weak," said Harsh V. Pant, a professor in International Relations at King's College London.
"They've come under strain as the Russia-China relationship has grown, the Russia-Pakistan relationship has grown, Russia's role in Afghanistan is increasingly in opposition with what India perhaps believes."
Pant added that while outward appearances have continued to suggest strong ties between Moscow and Delhi, "the foundation of this relationship has been getting weaker."
Russia's importance as a trading partner is increasing, amid concerns India could face US action over trade tariffs similar to that taken by Washington against China.
India is also facing potential repercussions from the Trump administration's withdrawal from the Iran nuclear deal, and threats to impose sanctions on countries which continue to trade with the country, where India was beginning to ramp up investment.
US trade with China, explained
Military deals
While India and Russia's trade relationship may have suffered, their strategic ties are booming: In the past five years, 62% of India's total weapons imports were of Russian hardware, according to the Stockholm International Peace Research Institute (SIPRI).
"The tensions between India, on the one side, and Pakistan and China, on the other, are fueling India's growing demand for major weapons, which it remains unable to produce itself," Siemon Wezeman, a SIPRI senior researcher, said in a statement.
According to Russia's Interfax news agency, India is currently in talks to buy five S-400 long-range surface-to-air missile systems, a deal which could potentially be derailed if the US implements sanctions against Russia's arms industry.
Last month, Apurva Chandra, an official with India's Ministry of Defense, toured helicopter and ship plants in Moscow and Kaliningrad, according to state run Sputnik News.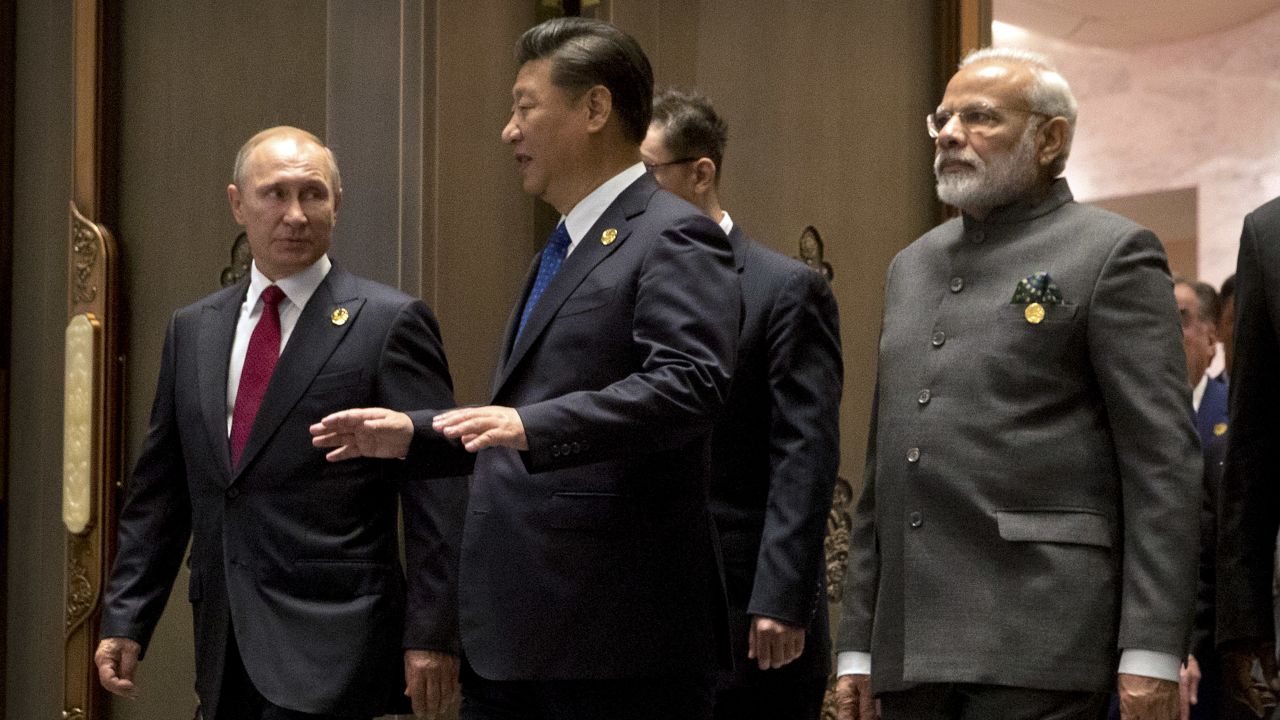 'Multipolar' world
Modi's warm embrace of Putin, literally, comes after an equally successful trip to China.
Writing in the Hindustan Times on the eve of the summit, Chinese Ambassador to India, Luo Zhaohui, described the two countries as being at a "critical stage of economic development and modernization," pointing out that economic and trade cooperation between the two nations has surged in recent years.
Following his meeting with Modi in Wuhan, Xi said a "sound China-India relationship is an important, positive factor for safeguarding world stability, and means a lot to the development and progress of all human beings."
He said the bilateral relationship between Delhi and Beijing was an important element in the "balance of global power," and added both countries have "many similar ideas in international affairs."
Pant said the Trump administration's actions seem "to be reviving the Russia-India-China trilateral framework," which had seemed "relatively useless."
"The Trump administration's almost ad-hoc approach to national affairs is something that has pushed India into having this conversation with the Russians and the Chinese as to how global governance can be structured in this time of destruction emanating from Washington," he added.
In their meeting this week, Putin and Modi "agreed on the importance of building a multipolar world order," according to the MEA statement.