France's public services ground to a halt Tuesday as civil servants across the country went on strike against President Emmanuel Macron's proposed economic reforms.
The action is the third nationwide strike since Macron began his five-year term in May last year, promising to slash public spending and inject new life into the economy.
Fifteen people have been arrested and two shop windows vandalized during protests, police told CNN.
All nine major public-sector unions were taking part in the action, in a rare show of unity not seen in the country for a decade. Around 130 separate strikes were scheduled to take place, Axel Persson from the CGT union's rail workers branch told CNN.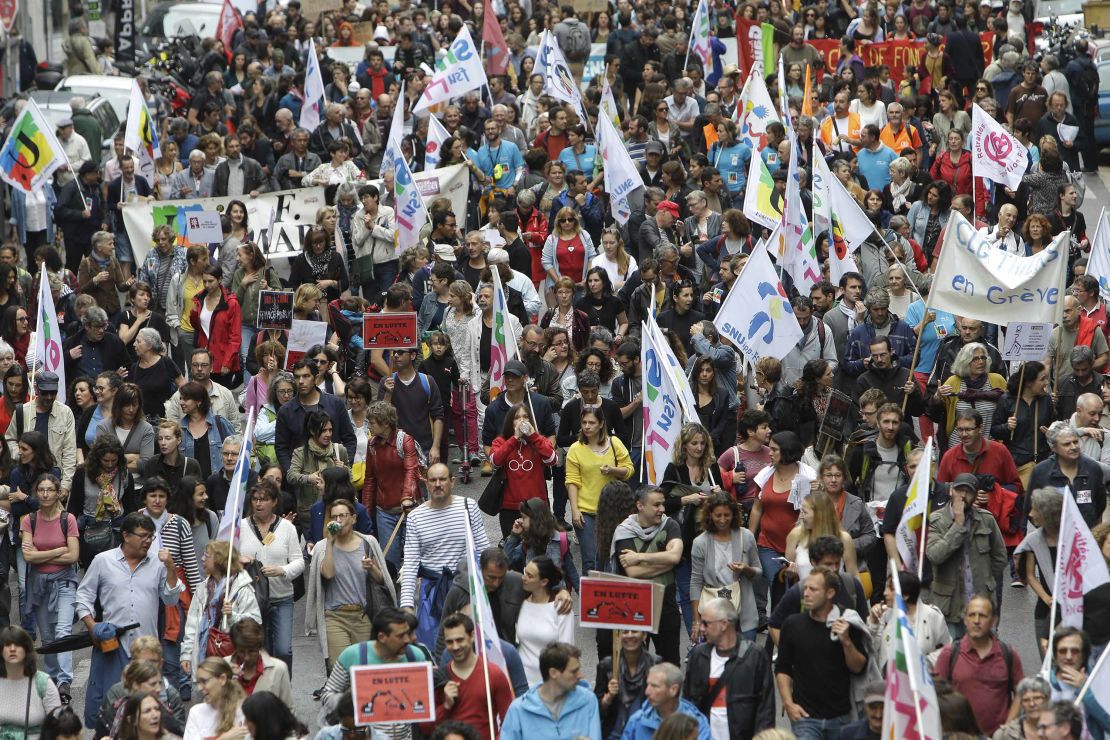 "It's important to strike because Macron is implementing an agenda that aims at destroying all the benefits conquered throughout the past half-century: pensions, protections against unfair dismissal, terms and conditions in both private and public sector," Persson said.
"If he gets his way, we will be back to square one in terms of workers' rights in France."
The strike began as an action for the country's rail workers, but soon broadened to include much of the civil service, including teachers and hospital staff. Air traffic controllers have also joined, grounding dozens of flights.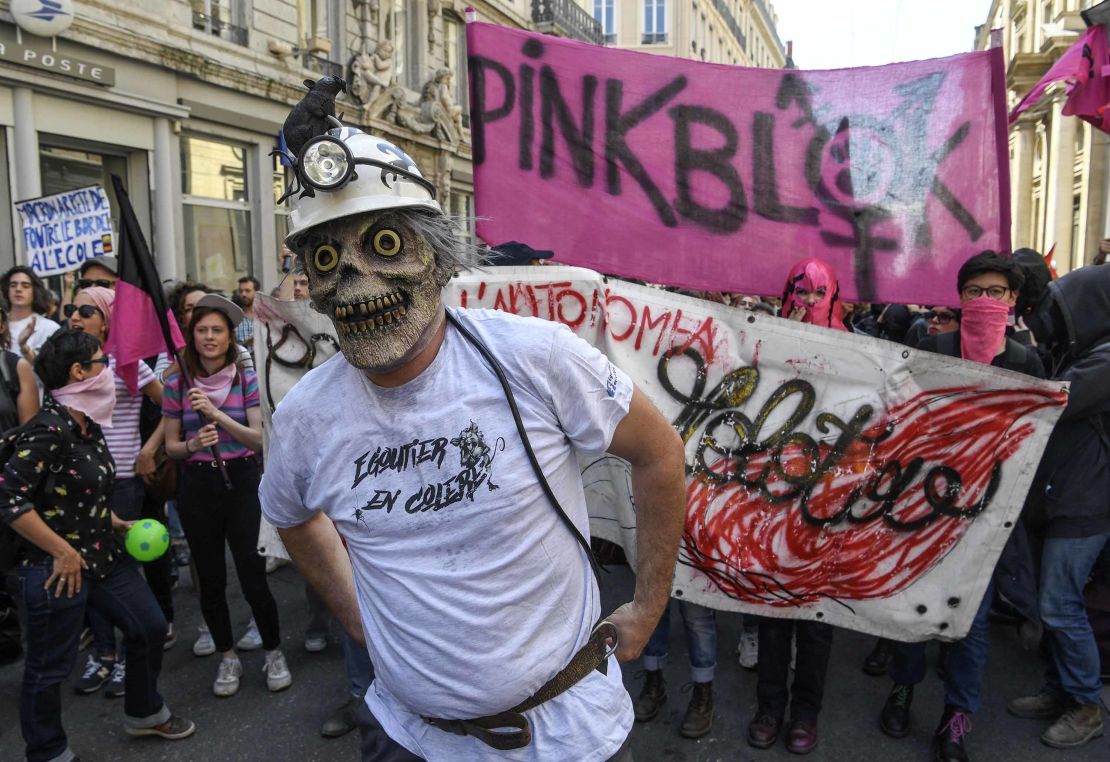 The French aviation authority said it had asked airlines to cut 20% of flights to and from Orly, which serves the capital, Marseille and Lyon.
Among the most contentious of the proposed reforms are 120,000 administrative job cuts and the shift of some permanent roles to a contract basis. There would also be major changes to state-owned rail company SNCF, which has struggled for years with debt.
Rail workers Romain and Christophe, who did not want to give their surnames, traveled from the southern town of Béziers to Paris to take part in the march.
"We don't want the state to close railway lines or to end the special status the rail workers benefit from. That's why we're here today," Romain told CNN at the Place de la République in the capital, as music blared and vendors sold hot dogs, beer and wine to marchers.
Some of Macron's proposals aim to create competition to the country's passenger rail industry, which currently works as a monopoly, and to remove some of the protections in rail workers' contracts, such as the guarantee of a job for life.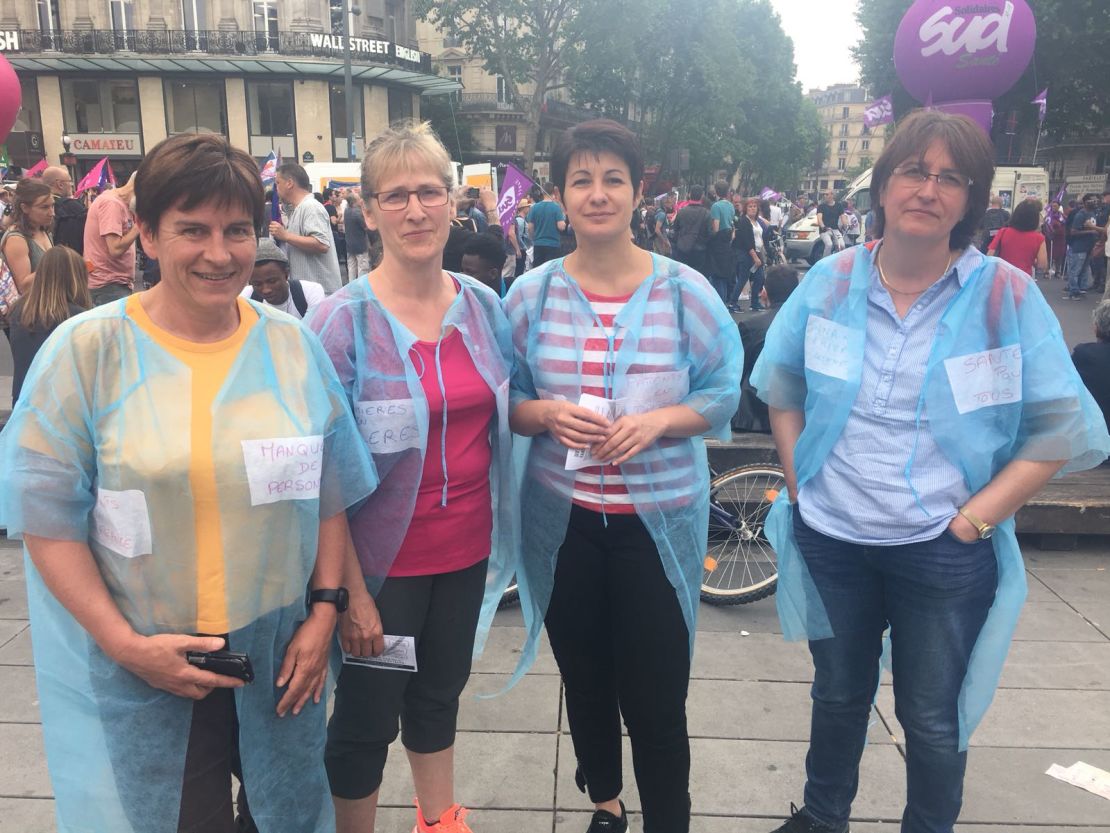 A group of four nurses said they wanted to warn Macron against cutting funding and jobs in the health service.
"We have less people who are able to help and more people who are sick. We need more funding. The government shouldn't touch the hospitals or education – they should be sacred," said one nurse, Martine, who asked that only her first name be used.