Political novice Giuseppe Conte was sworn in as Prime Minister of Italy on Friday after the right-wing League and anti-establishment Five Star Movement reached a coalition agreement the previous night.
Thursday marked the second time in less than two weeks that Conte had been approved for the role. After being appointed by Italian President Sergio Mattarella last Wednesday following his nomination by the League and Five Star, Conte was forced to abandon his attempt to form a government the next day after the president rejected his choice of finance minister.
The two populist, euroskeptic parties secured the most votes in the March 4 election. But voters did not return a majority to any single party, and neither politician would concede the top job to the other.
The appointment of Conte, a law professor with no political experience, came after weeks of political wrangling among the jigsaw of political parties returned by voters in March.
Conte said that he supported center-left political ideals when he joined the Five Star Movement during the election campaign. He was mentioned as a potential public administration minister in the event that the Five Star Movement won a clear majority.
Conte's first nomination was briefly called into question after media reports surfaced accusing him of embellishing parts of his curriculum vitae. Efforts to reach Conte for comment at the time were unsuccessful.
He studied in the United Kingdom and United States, according to his résumé, where he perfected his English so he could teach international law. The Five Star movement rejected accusations that Conte exaggerated his qualifications.
"There's no reference [in his CV] to masters or other university titles, but the simple and accurate description of his work as a scholar and university professor," the movement said in a post on its official blog.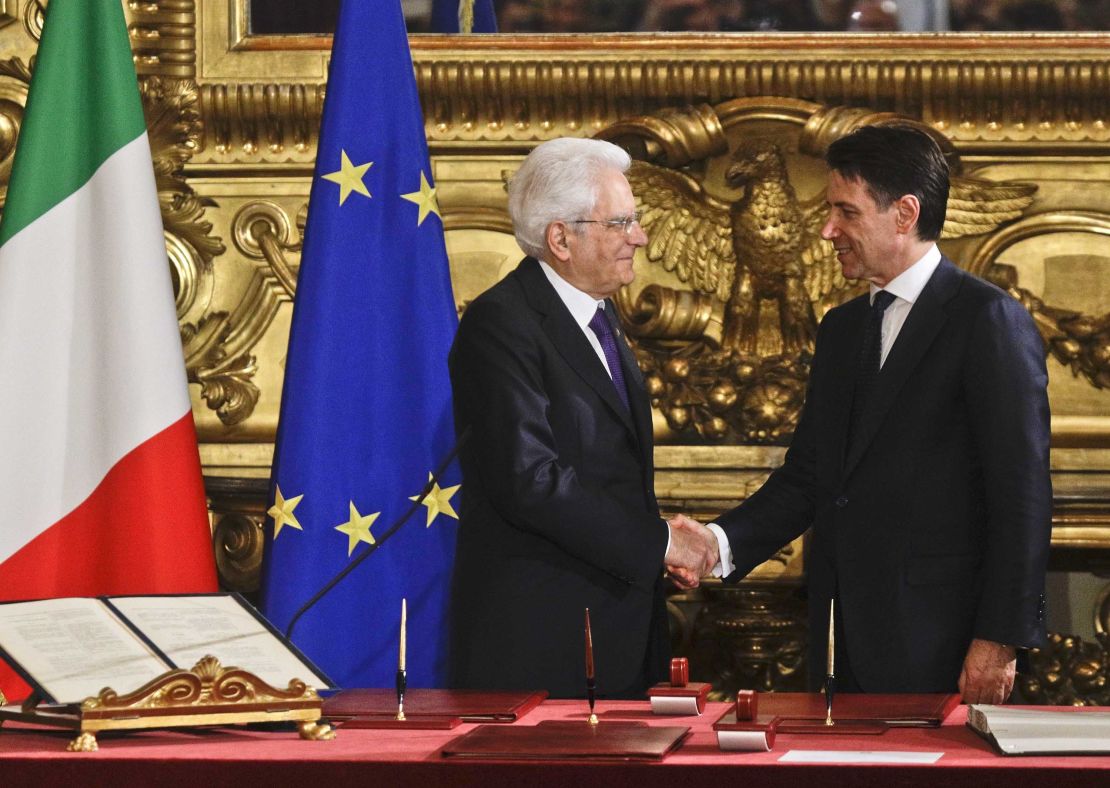 Work experience scrutinized
In one part of his résumé, Conte says he "perfected and updated his studies" at New York University from 2008 to 2012.
An NYU spokeswoman said in a statement that university records did not indicate Conte was a student or ever had an appointment as a faculty member. The school said that even though Conte had no "official status" at NYU, "he was granted permission to conduct research in the NYU law library between 2008 and 2014, and he invited an NYU law professor to serve on the board of an Italian law journal."
Conte also claimed he taught at the University of Malta in the summer of 1997 for the "international course of study entitled: European Contract and Banking Law." The University of Malta told CNN that it "has no record of Giuseppe Conte ever forming part of the resident academic staff."
"However this does not exclude that he may have been involved in lecturing duties during short courses organized in the summer of 1997 by the now defunct Foundation for International Studies (FIS) which was a separate entity that worked in close collaboration with the University of Malta," a spokesman for the university said. And some academics from the Faculty of Law "seem to remember him being one of the lecturers during this short course," the spokesman added.
Conte also said he conducted scientific research in 2000 at the Sorbonne in Paris.
A university spokesman said in a statement to CNN that after internal inquiries at the Sorbonne School of Law, the Sorbonne Doctorate School of Law and the Direction of International Relations, "the University Paris 1 Panthéon-Sorbonne cannot confirm that Mr. Conte has 'studied' at our university that summer."
"Nevertheless, he could have come to visit some colleagues in a laboratory without informing our services," he added.
Conte also said he conducted studies at Yale University and Duquesne University in the US for three months in the fall of 1992 "to further his study of the North American contract law." Yale said it would perform a "thorough check of the records" and would not comment further until the checks were complete.
Duquesne University confirmed Conte was at the university in the early 1990s "as part of an affiliation with the Villa Nazareth program, a cultural institution in Rome founded by Domenico Cardinal Tardini that fostered international student exchanges." The program "enabled students from Rome to attend graduate programs at Duquesne University and undergraduates from Duquesne to attend classes at Villa Nazareth."
Duquesne said Conte "was not enrolled as a student." But he was engaged in legal research and in advancing the work of "our affiliation with Villa Nazareth, working on legal issues related to a charitable trust that funded the program, and helping select the program's participants," the school said.
Apparently, the accusations were not enough to sideline him.
Promises of change
Conte was born in the southern region of Puglia and lives in Florence where he teaches civil law at the University of Florence.
He is separated from his wife with whom he has a 10-year-old son, according to a biography presented by the Five Star Movement provided to the press.
After a meeting Thursday evening with Mattarella behind closed doors, Conte addressed reporters, announcing the list of approved ministers and laying out his vision for the future.
"We will work intensely to realize the political goals of our agreement, and we will work with determination to improve the lives of all Italians," Conte said.
In a speech following his first appointment last week, Conte emphasized the importance of Italy remaining in the European Union and promised that his would be a "government of change."
"I will be the defense attorney for all Italians," he said, echoing populist sentiments often heard by the Five Star Movement politicians during the campaign.
It was Conte's choice of finance minister – Paolo Savona, an economist known for his skeptical views of Europe – that stymied his initial attempt to form a government last week.
Savona will still enter the new cabinet – as Minister for European Affairs – and the crucial role of Finance Minister will be taken by Giovanni Tria, an economics professor not publicly affiliated with any political party.
Those who oppose Conte and the League-Five Star Movement coalition cite a 58-page contract the two leaders signed prior to naming Conte.
In the dossier, they outlined an ambitious spending package but did not provide concrete plans to pay for it. Vincenzo Boccia, the head of Italy's main industrial lobby, expressed concern about the economic stability of the plan at a conference in Rome on Wednesday.
"Debt remains our enemy," he said, according to Reuters.
Nicola Ruotolo contributed to this report.