Story highlights
French Open takes place May 27-June 10
Serena Williams to play in first slam since giving birth
Rafael Nadal bids for 11th Roland Garros title
Springtime in Paris. The River Seine glistens, the Eiffel Tower tickles resplendent skies and the sweet pinging of racquet hitting ball can be heard as the French Open bursts into life like a gently popping Champagne cork.
There are few finer sights in tennis than the world's best lunging and scrambling on the Parisian clay in an attempt to win one of their sport's most prestigious prizes
From May 27 to June 10, greats such as Serena Williams, Rafael Nadal, Novak Djokovic and Maria Sharapova will descend on Roland Garros, a stadium named after the French aviator, for the second grand slam of the year.
La Coupe des Mousquetaires awaits the men's champion, while the women's victor will hold La Coupe Suzanne Lenglen aloft.
Reputations will be enhanced, and bank balances bolstered with both winners pocketing a cool £1.93 million ($2.58m) each.
But who are the favorites and what can we expect from the only grand slam on red dirt? Will Williams return from maternity leave to claim a record-equaling 24th grand slam and can Rafael Nadal win an unprecedented 11th French Open crown?
READ: Who can stop the 'King of Clay' in Paris?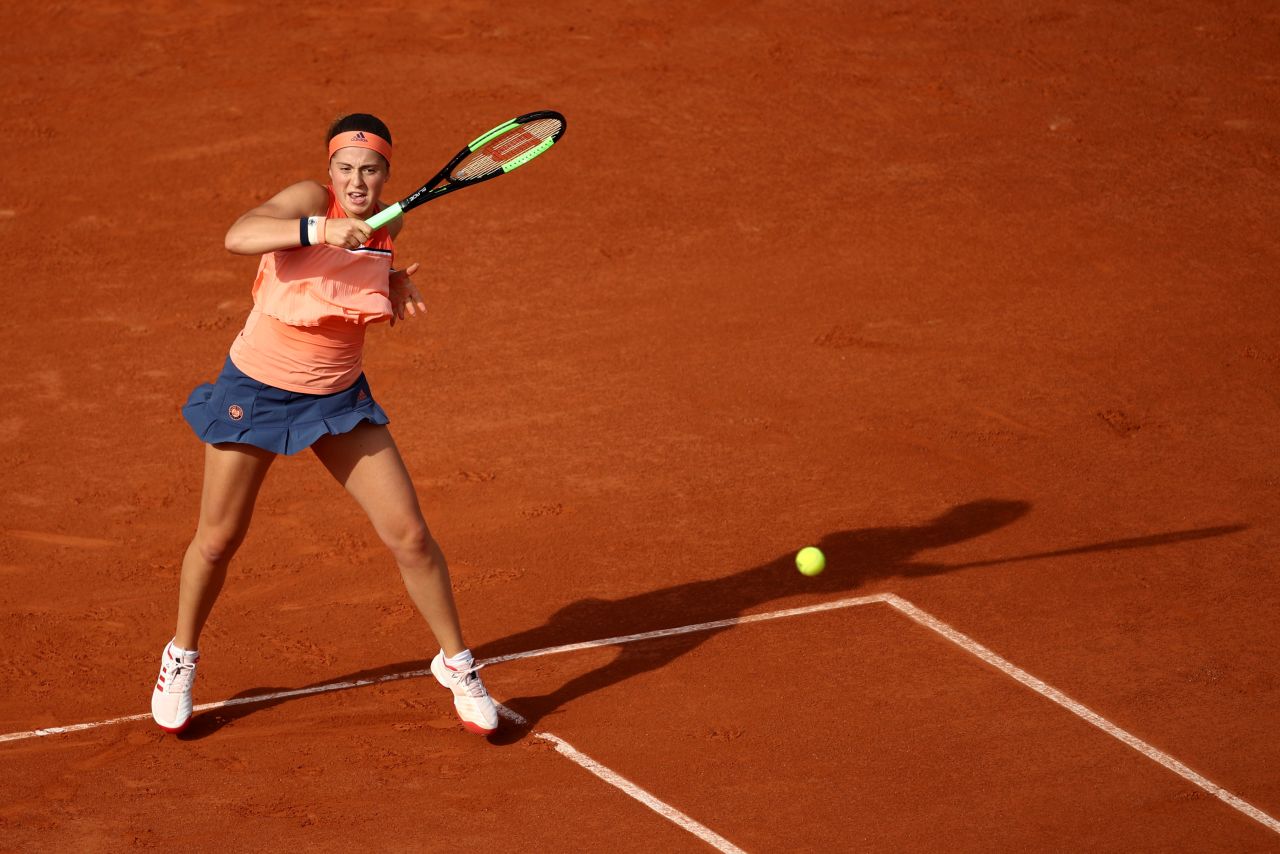 French Open 2018: Best photos from Roland Garros
'Serena can achieve anything'
Serena Williams is the most successful female player of the open era, but with a ranking of 453 in the world, she will not be seeded on her return to grand slam tennis.
Set to play at a major for the first time since giving birth to her daughter in September, three-time French Open champion Williams will face some top-ranked players in the early rounds in Paris.
The Women's Tennis Association (WTA) – the governing body of the women's tour – is considering a rule change which will add protected seedings, as well as protected rankings, for players returning from maternity leave but that won't come into effect until at least next year.
In the meantime, the unseeded 36-year-old will face Czech Kristyna Pliskova, the world No. 70, in the first round and could come up against Sharapova in the fourth round.
Though she has only played in two WTA tournaments since her return – winning two matches and losing two – and has not played competitively on clay since losing in the French Open final in 2016, Williams' coach Patrick Mouratoglou is still confident the American can clinch a fourth French Open title.
"Serena will play the French Open to win it," Mouratoglou told WTAtennis.com this month.
"Can she do it? Serena can achieve anything - after being her coach for six years, I'm even more sure of that statement."
Who do you think will win the French Open? Have your say on our Facebook page.
Who will be Serena's main challengers?
Latvia's Jelena Ostapenko, 20, was the 100-1 outsider who shocked third seed Simona Halep in last year's women's final.
The pressure of retaining her crown could weigh heavily, and she has yet to win a title this year, while two-time finalist Halep will be eager to make amends for last year's surprise defeat.
The world No.1 is the bookmakers' favorite, tops the WTA Insider Clay Court Power Rankings and has a 9-3 win-loss record on the surface in 2018.
Charleston champion Kiki Bertens, world No.4 Elina Svitolina – yet to progress beyond the quarterfinals of a grand slam - and Garbine Muguruza, the 2016 champion, are also leading contenders.
READ: Hungry for the French Open? Top 10 places to eat in Paris
The incredible 'King of Clay'
French Open: Rafael Nadal's Roland Garros evolution
Nadal won a record 10th title at Roland Garros last year – no player in history has won as many grand slam titles at a single tournament – so it is of little surprise that the Spaniard is the red-hot favorite.
His present form, as well as his past successes, justifies his status as the man to beat on the red dirt.
On his way to triumphs in Monte Carlo, Barcelona and Rome on his beloved clay, the 31-year-old recently set the men's record for most consecutive tennis sets won.
At Roland Garros, Nadal has only lost to Robin Soderling (2009) and Novak Djokovic (2015), giving him an incredible 79-2 win-loss record on the Parisian clay.
"He's by far the favorite," six-time grand slam champion Boris Becker told CNN Sport.
"There are a couple of others coming around the block, but I wouldn't even name them because, in my eyes, if Rafa stays healthy, injury free, I don't see anybody taking it but him."
The Spaniard will begin his title defence against Ukraine's Alexandr Dolgopolov.
READ: Why spring is the best time to visit Paris
Nadal's likely rivals
Even if trying to beat Nadal on clay may be akin to climbing Everest in flip-flops, it is still not impossible to beat the greatest clay court player in history.
Alexander Zverev is mentored by his fellow German Becker and has already won two titles this year.
The 6-foot-6-inch 21-year-old managed to take a set off Nadal on clay this year and his aggressive, serve-based game offers a contrast to Nadal's brutal baseline play.
There's also Dominic Thiem, many people's dark horse. He is the Austrian who ended Nadal's 21-match winning streak on clay at the quarterfinals of the Madrid Open – Nadal's first loss on clay since defeat by Thiem at the Italian Open last year.
READ: Could French Open signal rebirth of Novak Djokovic?
Will Djokovic be a threat?
Becker: Djokovic has to 'sacrifice everything'
In the absence of Federer (skipping the tournament for a third year) and Andy Murray (recovering from hip surgery), Djokovic is the only representative of the traditional "Big Four" to offer up a challenge.
After two years of toil the Serb does seem to have found some form, reaching the semifinals of the Italian Open where he lost to Nadal in two sets.
But a second French Open title for the 31-year-old would be a major surprise, especially as the 20th seed has received a tough draw.
The former world No.1 could face ATP Finals champion Grigor Dimitrov in the last 16, while Zverev is a potential semifinal opponent.
The man who spent 223 weeks as world No.1 is now ranked 22 in the world and is a long way from recapturing the form which brought him 12 grand slam titles.
Djokovic, however, told reporters in Rome: "I believe that one match, one tournament can turn things around… Looking back two or three months, this is the best that I've felt on the court, by far."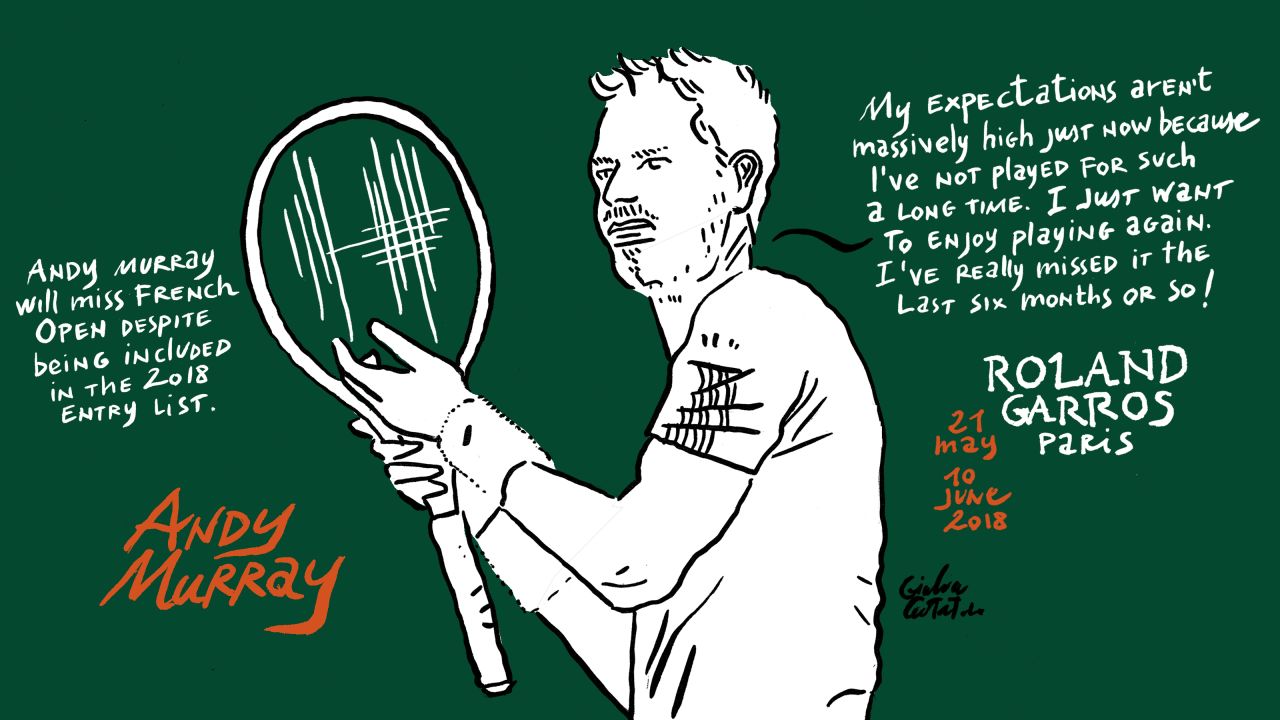 French Open 2018: Sketching at Roland Garros
Curse of the home stars?
France has six players in the top 50 of the men's world rankings and three in the women's top 50, but it seems unlikely that this year will produce a first home men's champion since 1983.
Yannick Noah remains the first, and so far, only Frenchman to win a singles title at Roland Garros.
It can be a difficult place for a home favorite to please his or her compatriots. After all, Henri Leconte was booed when he finished runner-up in 1988.
The 2000 champion Mary Pierce – the only Frenchwoman to win the women's title in the open era – was the last French Roland Garros finalist, in 2005, and no Frenchman has made it to a final since Leconte in 1988.
Jo-Wilfried Tsonga will certainly make no impact after withdrawing because of a left knee injury.
Visit CNN.com/tennis for more news, features and videos
"We haven't had someone really prepared and determined to do something at Roland Garros — to say it is one thing, to actually do it is another," Leconte told AFP this year.
Paris in springtime. Red clay. Roland Garros. The French Open is here.