Story highlights
Kvitova suffered career-threatening hand injury in 2016
Czech made her tennis comeback in May 2017
World No. 8 is one of the favorites for the French Open
As she prepared to make her tennis comeback last year at the French Open, Petra Kvitova was unsure whether she could ever be the player she once was.
Remarkably, the Czech is now one of the favorites at this year's French Open.
"The last 12 months have been great and unreal so I'm enjoying every moment because I couldn't imagine the way I'm playing," she told CNN Sport. "It's great to have this dream."
The two-time Wimbledon champion made an emotional return at Roland Garros in 2017 after a knife-wielding intruder attacked her in her apartment in Prostejov five months earlier, leaving her with horrendous injuries.
READ: Serena, Rafa bidding for history
Czech police disclosed this week they finally had a male suspect in custody, which Kvitova said was "great."
Tendons and nerves in her dominant left hand were damaged in the attack. There were psychological ramifications, too. Her life had been turned upside down.
Kvitova's surgeon had said from the outset that her chances of playing seriously again were "very low," but her mental strength pulled her through, earlier than many had expected, and at last year's French Open she progressed to the second round having barely practiced.
By making it to the tournament in the first place, she had "already won my biggest fight."
Fellow pros rooted for her
A year on and much has changed again for the world No. 8. Her fitness enhanced and belief boosted, the 28-year-old is in fine form. This despite saying her hand will never be 100 percent.
Though regarded as more dangerous on faster surfaces, half of the left-hander's four titles this year have come on clay.
She hopes that the form which has seen her enjoy an 11-match winning streak, bringing her titles on the red dirt in Madrid and Prague, will continue.
The triumph on home turf was particularly "special" and left her in tears during her victory speech to the crowd.
"Overall I feel good on the clay so far and in the past few weeks I'm enjoying time on the practice court, and match court as well," she says.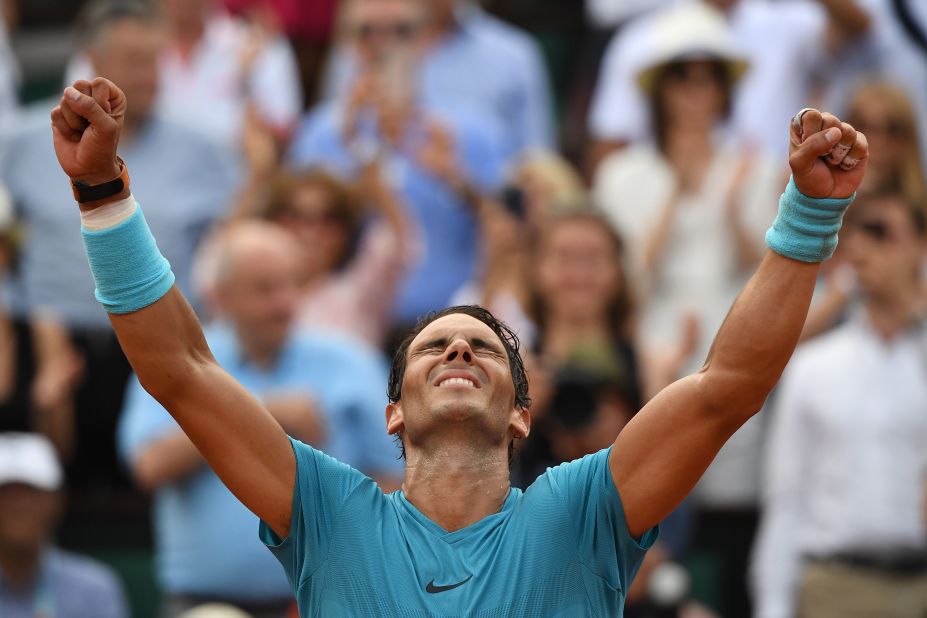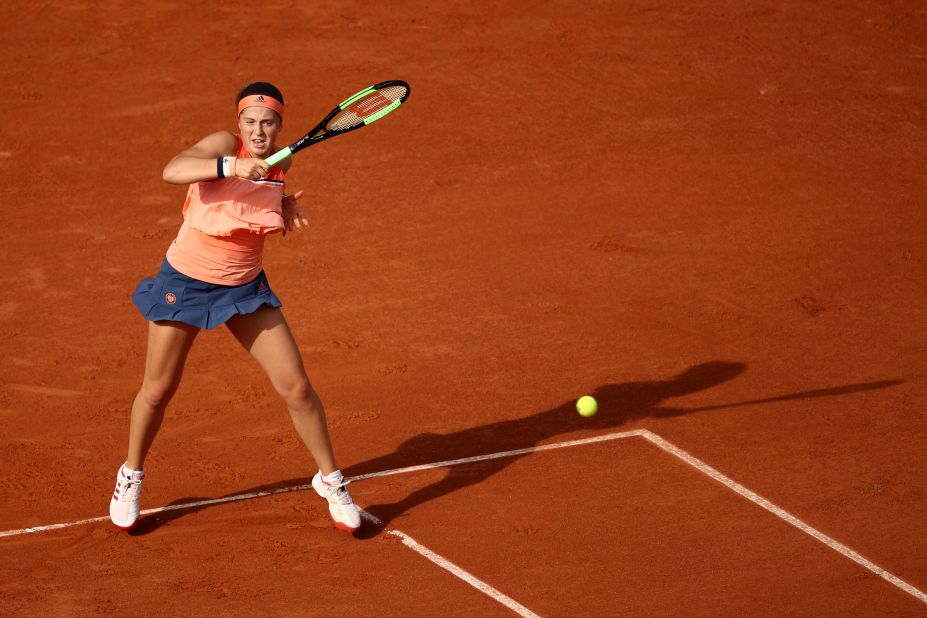 French Open 2018: Best photos from Roland Garros
READ: Who can stop the 'King of Clay' in Paris?
READ: Could French Open signal Novak Djokovic's rebirth?
'Clay has always been a difficult surface for me'
The eighth seed attributes her fine form to a "great" off-season where the 6-foot champion especially worked on improving her fitness so that now, she says, she is fitter than she has ever been.
She outlasted 2016 French Open semifinalist Kiki Bertens in a three-hour final in Madrid and, in doing so, improved to a staggering 24-7 in title matches.
Her winning percentage in finals is better than the likes of Roger Federer, Rafael Nadal, Novak Djokovic and Venus Williams, though she trails Serena Williams.
"I was working pretty hard to be back to where I want to be and practicing," says Kvitova, whose best showing in Paris so far was reaching the semifinals in 2012.
"I improved my movement, it's better on the court. That means I have time for my shots, and I'm reading the game better. It's taken me a lot of practice to get where I am right now.
"I do feel like the best in my movement and my physical part of tennis."
Despite the 11-match winning streak and an earlier 14-match winning streak, the Czech does not believe she is favorite for the Roland Garros title.
"The clay, it's been always the difficult surface to play for me on, especially probably here in the French Open," she told reporters Friday.
"I know I played a semifinal and lost to Maria one year, but overall it's not the great surface for me," she said, referring to Maria Sharapova, who she defeated for her first Wimbledon title in 2011.
"Now I think there is probably bigger favorites of the Roland Garros than me. And just for me to play my first match, we will see how it will go, but of course I will do my best, as always."
Who are your favorites for the French Open? Have your say on our Facebook page.
A perspective changed
Kvitova has said she will never forget the events of 2016. She suffered deep cuts to her left hand after fighting off her assailant, who had held a knife to her throat. She still occasionally has flashbacks, but now she has a new appreciation for life and her sport.
The player who has previously said she sometimes feels it is impossible to handle the pressure she puts on herself is now more at ease as she attempts to win her third grand slam.
Petra Kvitova: I can't feel two of my fingers
Visit CNN.com/sport for more news, features and videos
"No pressure, none at all," she tells CNN.
"It's a much better situation than the last year. I'm enjoying it.
"We'll see what will happen. I do have a different perspective on life, not only on tennis but off the court as well. For sure it changed my person a bit. Something happened in your life and you have to go on and be focusing on what's important for you."