The number of homes swallowed by lava flowing from fissures spawned by Hawaii's Kilauea volcano has jumped to 71, authorities said Tuesday.
About 20 homes burned down in the past two days, Civil Defense Administrator Talmadge Magno told reporters in the Big Island city of Hilo.
Magno said lava also crossed a highway not far from a geothermal energy conversion plant. The road and the plant are closed.
All the injection wells at the plant have been plugged to prevent any leakage of hazardous gases, Emergency Management spokesman Tom Travis said.
Haze drifts thousands of miles to Guam
Danger from the volcano has now reached Guam, the US territory 4,000 miles away.
Volcanic haze from Kilauea, where fallout from a massive eruption keeps threatening residents, has stretched across the Pacific and threatens residents of the Mariana Islands.
"Residents with respiratory health problems should stay indoors and avoid being outdoors when haze is seen," Guam's homeland security office said. "Mariners and pilots should be aware of lower visibilities caused by this haze."
Meanwhile, back on Hawaii's Big Island, Pahoa residents were told Tuesday to be on the lookout for Pele's hair – sharp, thin strands of volcanic glass fibers.
"Avoid touching it or getting it in your eyes," the Hawaii County Civil Defense Agency said. "It can cause injury to eyes and lungs if breathed in."
Pahoa residents reported Pele's hair falling Monday night, CNN affiliate Hawaii News Now reported.
Pele is the Hawaiian goddess of fire.
Leave before lava traps you, authorities warn
Authorities also were scrambling to warn residents about fast-moving lava that threatens to engulf more homes in the Leilani Estates community.
Officials are asking residents to get out now to avoid getting trapped by flaming molten rock, Hawaii County Civil Defense said Monday night.
The lava is bubbling from a particularly violent fissure – or volcanic crack in the Earth's surface – called Fissure 8.
Fissure 8 is now "very active," with two fountains of lava reaching more than 200 feet at times, the US Geological Survey said.
"The impact of this is absolutely devastating," CNN correspondent Scott McLean reported from the scene as hot lava poured into the ocean. "The big story is actually beyond where we can see, in these fissures that continue to bubble up," on some streets that had not seen lava previously.
"So it is like a volcano game of whack-a-mole that people are playing. Just when you think things are calming down in one area, suddenly they bubble up in another area."
Threat of vog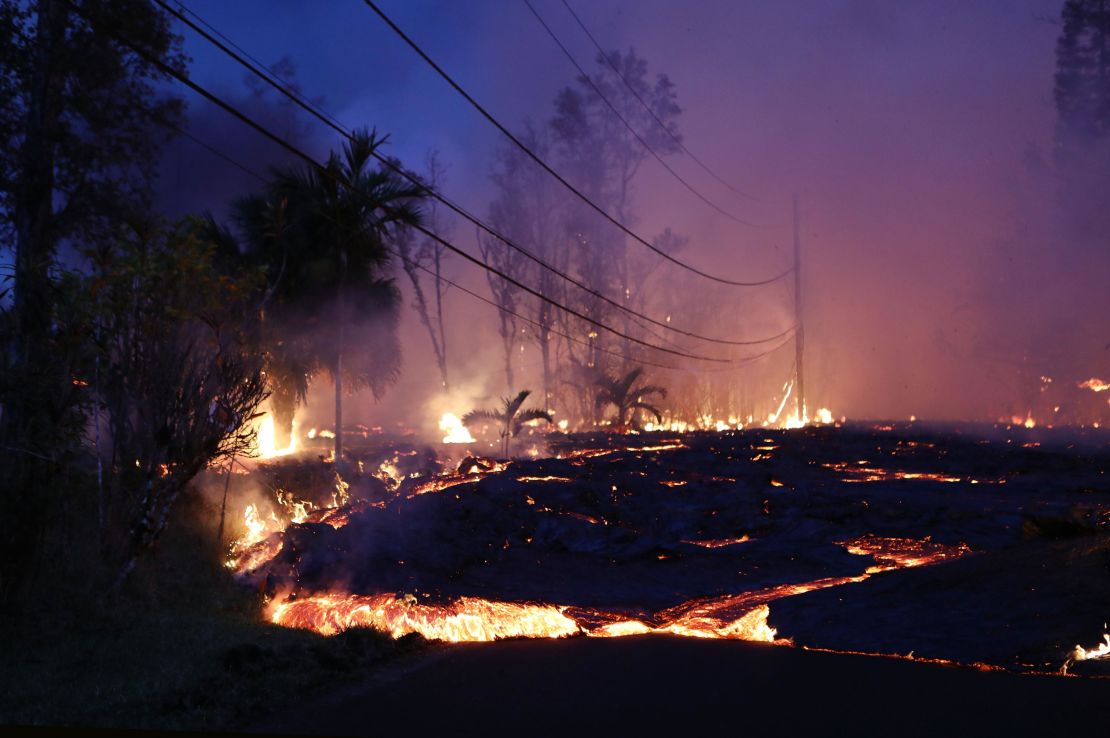 In Hawaii's East Rift Zone, where Leilani Estates and Lanipuna Gardens are located, "additional ground cracking and outbreaks of lava in the area of the active fissures are possible," the USGS said.
Then there's the danger of vog, or volcanic smog. Vog is a haze created when sulfur dioxide gas and other volcanic pollutants mix with moisture and dust.
"Volcanic gas emissions remain very high from the fissure eruptions," the USGS said. "If a forecast shift in wind direction occurs today, widespread vog could occur on the Island of Hawaii," it warned Monday evening.
Ashfall
On top of all that, the USGS said ash was still erupting intermittently from Kilauea's summit.
"Winds have weakened and shifted in direction so that ashfall could occur in communities around the summit area," it said. "Additional explosive events that could produce minor amounts of ashfall downwind are possible at any time. Volcanic gas emissions at the summit remain high."
The National Weather Service said the wind could carry ash to other locations.
"Low-level winds will remain out of the east-southeast through Tuesday, then shift back out of the east Wednesday. These winds will support volcanic emissions and ashfall potentially impacting other locations on the Big Island, such as the Hilo and Kona Districts.
"In addition to this potential over the Big Island, some emissions could reach the smaller islands through the day Tuesday."
And frequent earthquakes keep rattling the island. Since Kilauea's massive eruption May 3, more than 2,000 earthquakes have struck in and around Big Island.
The USGS said a magnitude 4.1 quake was recorded at 5:39 p.m. Monday (11:39 p.m. ET). No tsunami warning was issued.
'My house is gone'
More than 200 people are staying in emergency shelters.
Leilani Estates resident Steve Gebbie said he lost his home to lava Sunday night. He showed a video of his property engulfed by smoldering black lava.
Standing in a driveway filming the devastation, Gebbie choked up looking at his neighborhood's losses: "My house is gone. That was my house right there. Randy's house is gone. Donna's house is gone."
Earlier this month, Gebbie, a carpenter, said he had lived in the community for more than a decade and built his home himself over the past three years.
He had walked around his property May 4, taking a video and saying goodbye in case the eruption prevented him from returning.
"My beautiful house – gorgeous, custom home," he said. "Paid for. No mortgage, which is awesome. … I took a walk around my house, videotaped my house and pretty much said goodbye."
Back then, Gebbie acknowledged that Hawaii's residents had to deal with lava.
"You know that when you come in. I knew that when I moved here," he said. "This was a gamble that everybody takes. Maybe I've lost."
CNN's Miguel Marquez, Sheena Jones, Elwyn Lopez, Joe Sutton, Stephanie Elam and Carma Hassan contributed to this report.