For more than 40 years, Takuya Yokota has longed for news of his sister Megumi, who disappeared from a seaside town in northern Japan in 1977, one of at least a dozen Japanese citizens snatched by North Korean agents.
The need for answers is a message Japanese Prime Minister Shinzo Abe will be taking to Donald Trump on Thursday when the two meet in Washington, days before the US President's talks with North Korean leader Kim Jong Un in Singapore.
Pyongyang has admitted to kidnapping Megumi Yokota, but said she died decades ago. Her family disputes this account and believes she is still alive in North Korea.
Abe has pushed the topic of Japanese abductions with the US President before, both Trump and his Secretary of State Mike Pompeo have previously promised to address the issue.
"Ahead of this historic US-North Korea summit, I will meet President Trump to coordinate in order to advance progress on the nuclear issue, missiles and – most importantly – the abductees issue, I want to ensure the US-North Korea summit will be a success," Abe said Wednesday.
For Yokota, who was nine when Megumi disappeared, Trump's summit with Kim is a chance that can't be missed: "The United States is driving a hard diplomatic negotiation with overwhelming military power," he told CNN. "I believe this is one step forward to the solution."
Yokota, who is the secretary general of Japan's Association of Families of Victims Abducted by North Korea, said he's hopeful the talks will lead to progress.
"North Korea itself is keenly feeling that it cannot have a bright future if it misses this chance," he said.
Tokyo's Foreign Ministry regards the abductions as "a critical issue concerning the sovereignty of Japan and the lives and safety of Japanese citizens," one that precludes any normalization of relations with Pyongyang until it is resolved.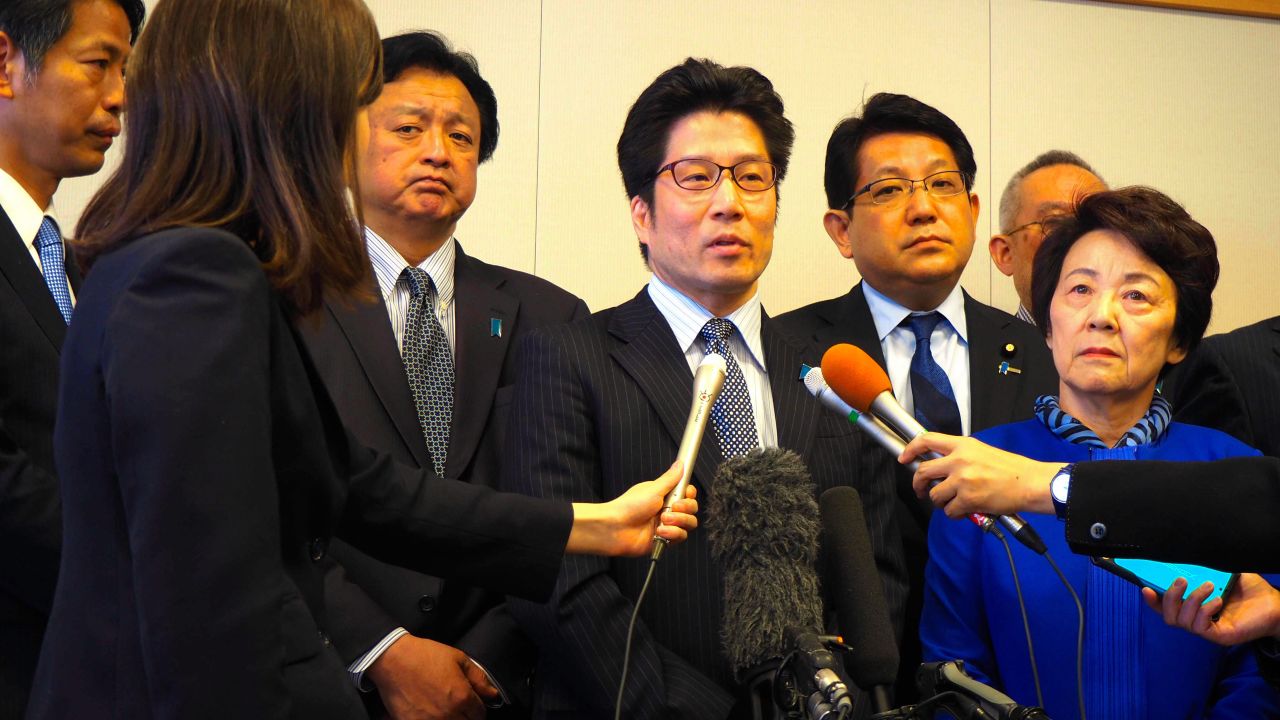 Spate of abductions
According to a 2014 report by the United Nations Human Rights Council, hundreds of South Koreans, Japanese, and other foreign nationals were kidnapped by North Korea following the end of the Korean War in 1953.
In the decade after the war, South Korean fishing vessels were regularly waylaid and their crews seized.
"According to a former official, the youngest and most physically fit among the captured crews were not returned to the (South)," the report said. "They were sent to spy training facilities run by the Workers' Party of Korea."
In one of the most dramatic incidents, two of South Korea's most famous filmmakers, actress Choi Un-hee and director Shin Sang-ok, were abducted in Hong Kong and held in North Korea for years, forced to make movies for then leader Kim Jong Il. The two escaped while visiting a film festival in Vienna in 1986.
While the majority of victims of this state kidnapping program were South Koreans, Japanese citizens were also targeted. Tokyo currently recognizes 17 people as having being abducted by North Korea. In 2002, Kim Jong Il admitted during a visit by then Japanese Prime Minister Junichiro Koizumi that North Korean agents had abducted 13 Japanese nationals, seven women and six men.
According to Koizumi, Kim "offered his apologies, expressing his regret" for his government's past actions. Following Kim's admission, five Japanese nationals were permitted to visit their homes again, none returned to North Korea.
As well as the four abductees Tokyo recognizes that Pyongyang did not admit to kidnapping, relatives of dozens of missing people in Japan allege that they too were taken by agents of North Korea.
Few answers decades after kidnapping
Snatched off a beach
Megumi Yokota was walking home from school in the port city of Niigata in the late afternoon of November 15, 1977 when she was grabbed by North Korean agents.
Not much has been confirmed about her life in North Korea, except that around 1986, when Megumi was in her early twenties, she married Kim Young-nam, who had been abducted from South Korea as a teenager. The pair had a daughter, Kim Eun-gyong.
According to North Korea, Megumi killed herself in 1994, but DNA testing on remains returned to her family by Pyongyang was inconclusive.
In 2014, Megumi's parents traveled to Mongolia to meet their granddaughter Kim Eun-gyong in an event arranged by North Korean and Japanese officials.
While Megumi's husband has confirmed she died in 1994 and the remains handed over belonged to her, the Yokota family believes she is still alive.
"I have heard a lot of information that my sister is alive," Takuya Yokota said. "It is clear that North Korea is hiding my sister as it has provided another person's ashes disguised as hers to the Japanese government in an attempt to end the abduction issue."
Training spies
Though much is still unknown about the abductions, they appear to have been part of North Korea's espionage program.
According to the 2014 UN report, kidnap victims "were used to teach the Japanese language, accent and culture to (North Korean) spies in training; to enable the study of Japanese identification documents in order to better falsify them; and allow (North Korean) agents to pass themselves off as being Japanese, using the identity of the abducted person."
In 1987, a North Korean spy masquerading as a Japanese tourist put a bomb on board Korean Air Lines Flight 858, killing all 115 on board on what she said was the direct order of Kim Jong Il.
Kim Hyon Hui learned Japanese from Yaeko Taguchi, a Japanese woman she says was abducted by North Korea and with whom she lived with for two years.
She attempted to commit suicide with a cyanide pill, but it failed and Kim was put on trial and imprisoned in South Korea. She was later pardoned and has become a critic of the North Korean regime.
Ex-spy recounts Olympic plot to bomb plane
Summit worries
Abe is due to meet with Trump before the US leader sits down with Kim, and will likely be one of the last foreign politicians he speaks to beforehand.
Yokota said he was hopeful Abe would press Trump to bring up the abductions issue, as he has done in the past. Tokyo is also hoping for a separate meeting between Abe and Kim.
"This is an issue that ultimately should be solved between Japan and North Korea," Yokota said. "(But) a meaningful negotiation can only be carried out when strong pressure from the United States works effectively."
However, with the long list of difficult issues already on the table for Trump and Kim, and the talks already have been called off once due to disputes between the two sides, it remains to be seen if Washington will be willing to bring up what many of Tokyo's allies regard as a distinctly Japanese issue.
Jeff Kingston, director of Asian studies at Tokyo's Temple University, said in March that neither Seoul nor Washington regards the abduction issue as a pressing matter in talks with Pyongyang.
"Japan's insistence on this in the Six Party Talks (in the 2000s) was one of the factors that eventually led to a breakdown in those talks," he said. "Many people wondered why the fate of a few dozen Japanese was more important than getting North Korea to give up its nuclear weapons."
For those who are still lacking the closure they believe Pyongyang could give them however, they can think of little else.
"If my sister was not abducted, she could have continued studying, got a job, got married and created a happy family, happy life and fulfilled her possibilities," Yokota said.
"I can never forgive North Korea for taking away the freedom that anyone should be able to enjoy."
Yoko Wakatsuki reported from Tokyo, Japan. James Griffiths reported from Hong Kong.