When 15-year-old Nozipho Mpapane first arrived at the temple as a tiny child, she thought the hundreds of white statues inlaid into the walls were dolls to play with.
"Then they told me it was the Buddha. And I said, 'oh, so this is the supreme being,'" she recalls.
Now, nine years on, she chants Buddhist mantras from memory daily alongside hundreds of other children at the Amitofo Care Center in southern Swaziland.
Ages 3 to 19, the children come to the center as orphans or from poor families; they will leave with an education that includes Kung Fu, Buddhism, and Chinese.
Founded by a Taiwanese Buddhist monk in 2011, the Amitofo center is one of numerous diplomatic and cultural ties that connect Taiwan and the Kingdom of Swaziland, a tiny country wedged between Mozambique and South Africa.
"After Taiwan and Swaziland became friends, it's been very useful for us. Kids in Swaziland can now go to school," says Mpapane in crisp Mandarin.
But the odd-couple relationship, which stretches back 50 years, is fast becoming something of an anomaly in Africa and elsewhere in the world, as countries elect to sever relations with Taiwan and instead forge diplomatic ties with its political rival, China.
Swaziland is the country that China just cannot flip.
Recognizing a 'renegade'
China and Taiwan separated in 1949 following the Communist victory in a civil war that saw the Nationalists flee to the island. The two sides have been governed separately ever since.
For decades, China has been engaged with Taiwan in an off-again-on-again diplomatic battle across the globe. Every country that establishes ties with China, results in a loss for Taiwan. It's an either or choice, or what officials in Beijing call the "one China principle."
With inducements and deals, loans and intense diplomatic pressure Beijing has picked off one African country at a time.
And China is winning.
On May 24, China persuaded Burkina Faso to establish formal ties with China, leaving Swaziland, which is officially known as the Kingdom of eSwatini, as the last remaining Taiwanese holdout across the entire continent.
But questions remain as to how much longer.
"More and more countries are developing mutually beneficial ties with China on the basis of the one China principle. We certainly welcome this and we hope to see that Swaziland will return to the big family of China-African friendship," Hua Chunying, spokesperson for China's Ministry of Foreign Affairs, told CNN.
The last ambassador
If the only Taiwanese ambassador left in Africa feels any of that pressure, he certainly doesn't show it.
"Every night I fall asleep in just one minute. That is how comfortable I am as far as our bilateral relationship is concerned," says Thomas Chen.
Chen is sitting in a reception hall of the embassy of the Republic of China, as Taiwan is officially known, in downtown Mbabane. The name alone would anger officials of the People's Republic of China.
Chen has spent a long career in a diplomatic twilight zone, working for quasi-governmental organizations in the United States like the "Taipei international and cultural office," non-embassies that act as embassies.
"This is the only place I have been called 'His Excellency,'" he says with an impish smile.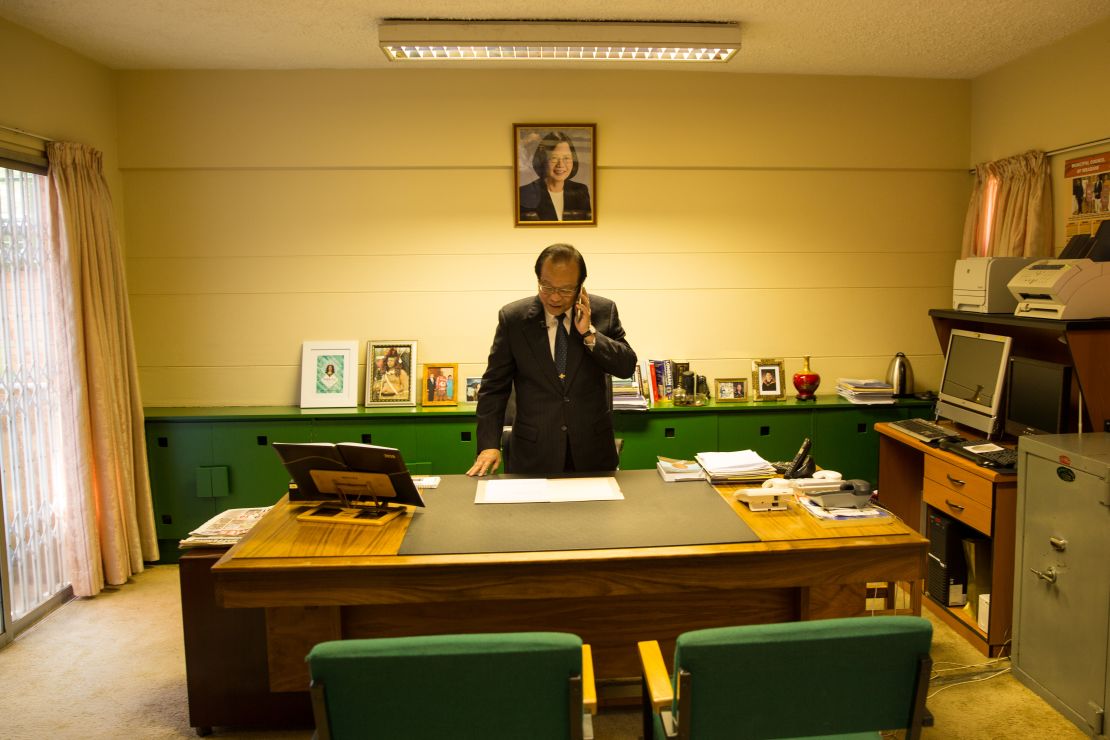 Taiwan takes the relationship very seriously.
In April, President Tsai Ing-wen, the leader of Taiwan, traveled to this tiny kingdom for an official visit. She complains that China is engaged in "dollar-diplomacy" to persuade countries to change allegiance.
But in Swaziland, Taiwan has spread dollars of their own. A brand-new hospital is being constructed on a hill above the embassy, rural electrification is led by Taiwanese interests, and Swazi students regularly get scholarships to study in Taiwan.
What do they get in return?
"Formal recognition is very important. If you want to be a sovereign state internationally, you need it," says Chen.
But how does a country with a population of around 1.4 million withstand the advances of a giant of 1.4 billion people?
Surely, Beijing has deeper pockets than Taipei?
The answer is behind Chen's shoulder as he takes calls in his office at the embassy behind a pine desk. It's a silver framed photo of King Mswati III, the absolute monarch of Swaziland.
"I can request the audience with His Majesty at any time … at his convenience," says Chen.
It's good to be the King
Taiwan's relationship with Swaziland is, largely, with one man.
It's a warm winter day and King Mswati is due to arrive at the opening of a medical storage facility, built and financed by Taiwan.
As with most events, the King arrives in a jet-black Maybach.
In a country where nearly two thirds of the population live below the poverty line, the half-million-dollar vehicle has caused him considerable controversy, so he has banned the local press from filming him inside.
The King steps out of the Maybach to the sound of praise singers.
Right there, on his traditional red Swazi attire, is the instantly recognizable flag of Taiwan.
So far, King Mswati has traveled to Taiwan on 16 official trips. Last week he traveled to the Taiwanese capital of Taipei on his 17th.
And he traveled in style.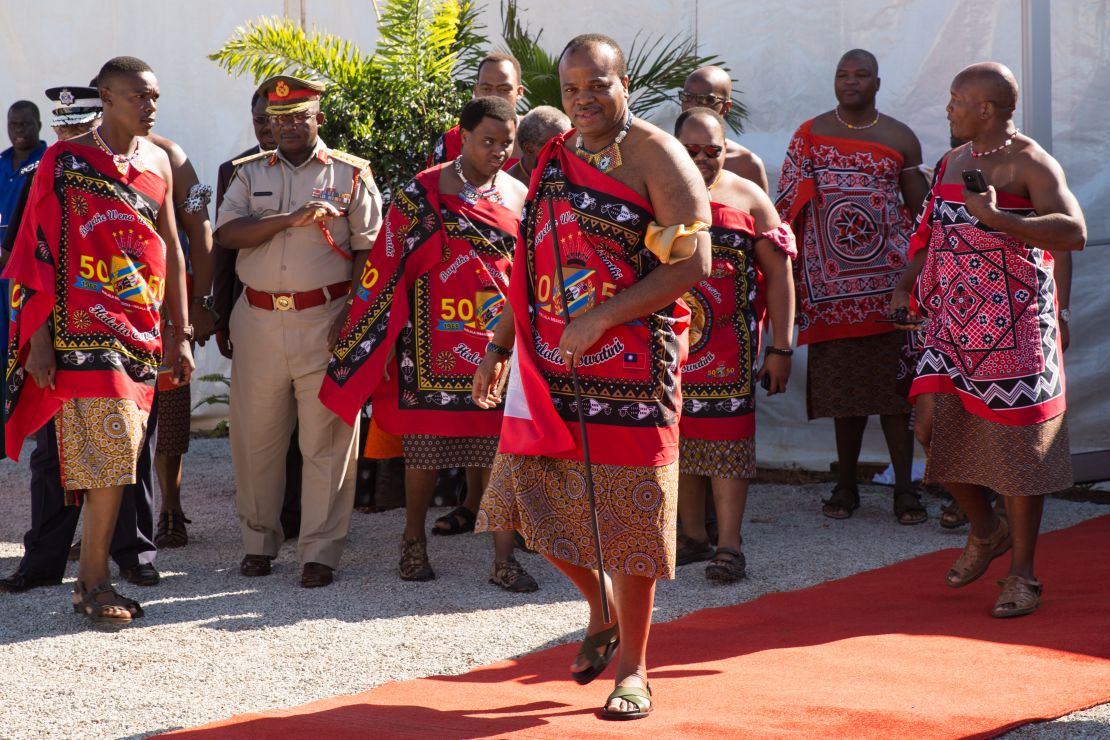 The same Taiwanese company that is building the hospital in Mbabane built the kingdom a new airport.
The King named the airport after himself.
King Mswati III International Airport is in an otherwise rural part of eastern Swaziland about an hour from the capital, the runway is long enough for one of the world's largest personal aircraft.
King Mswati bought the Airbus A340-400 from China Airlines (Taiwan's major carrier) for millions and had it refurbished in Hamburg.
He took the white-and-blue, four-engined jet and an entourage of around 80 people on its inaugural direct flight to Taipei on Thursday.
Real politick
Despite the aid and economic assistance provided by the Taiwanese government, Swaziland's opposition parties allege that the King manipulates the ties for his own benefit.
"I think the relationship between the Taiwan and King Mswati is very problematic. And also, self-serving," says Wandile Dludlu, an opposition leader for the People's United Democratic Movement (PUDEMO).
PUDEMO and other opposition and pro-democracy groups are banned in Swaziland under the Suppression of Terrorism Act.
"This is deep-seated relationship that benefits only the King and the royal family," he says.
In the hills above Mbabane, in townships like Msunduza, there is simmering resentment against the King and his Taiwanese deals. And a frustration at the lack of opportunities here.
But most people are too afraid to criticize the King by name.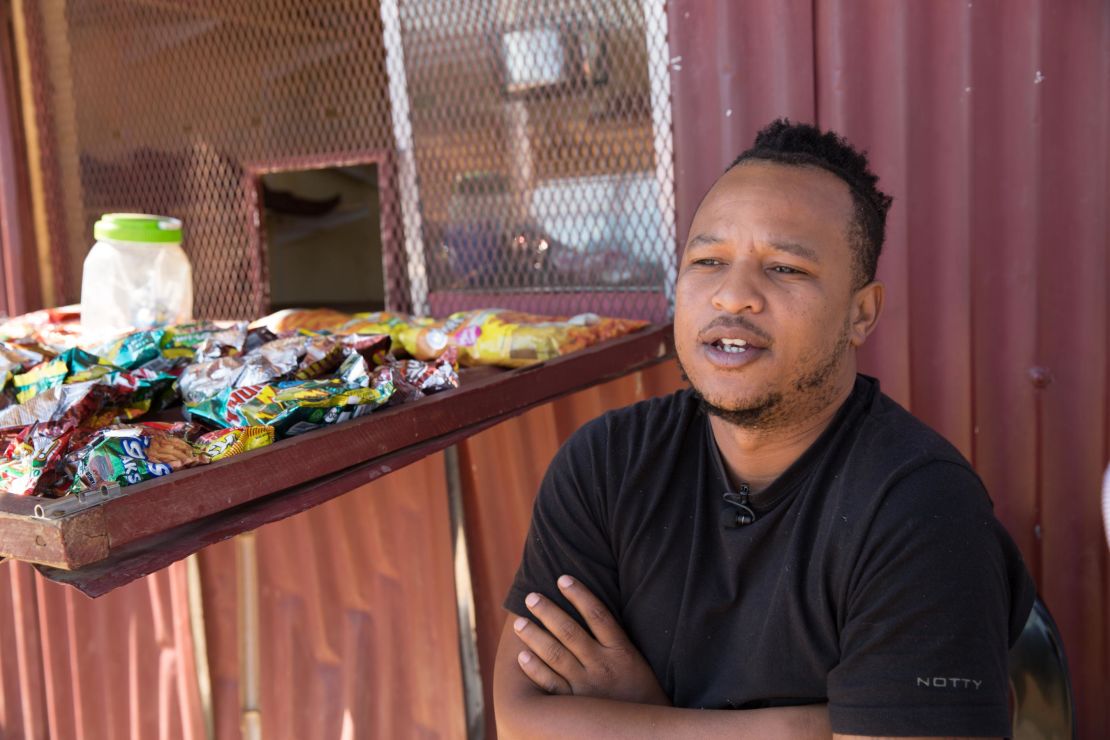 Next to the dirt pitch where some of Swaziland's top soccer players practice, Kevin sits next to a small Spaza shop selling chips and candies. He says he hasn't been able to use his IT degree to get a proper job.
"Swaziland is a beautiful country for people who do not know it. We can't voice ourselves out there. If you can't be heard you are just useless," he says.
If Taiwan, a vibrant democracy for more than 20 years, has any reservations supporting King Mswati, an absolute monarch, it keeps it to itself.
BFFS?
The Taiwanese ambassador may sleep well at night, but he might want to keep one eye open.
The chances of China establishing ties here too, is hardly an outlandish idea.
Swaziland's acting Prime Minister Paul Dlamini, when asked, says he wouldn't reject a phone call from China's Foreign Ministry.
Could the superpower have an opening here too?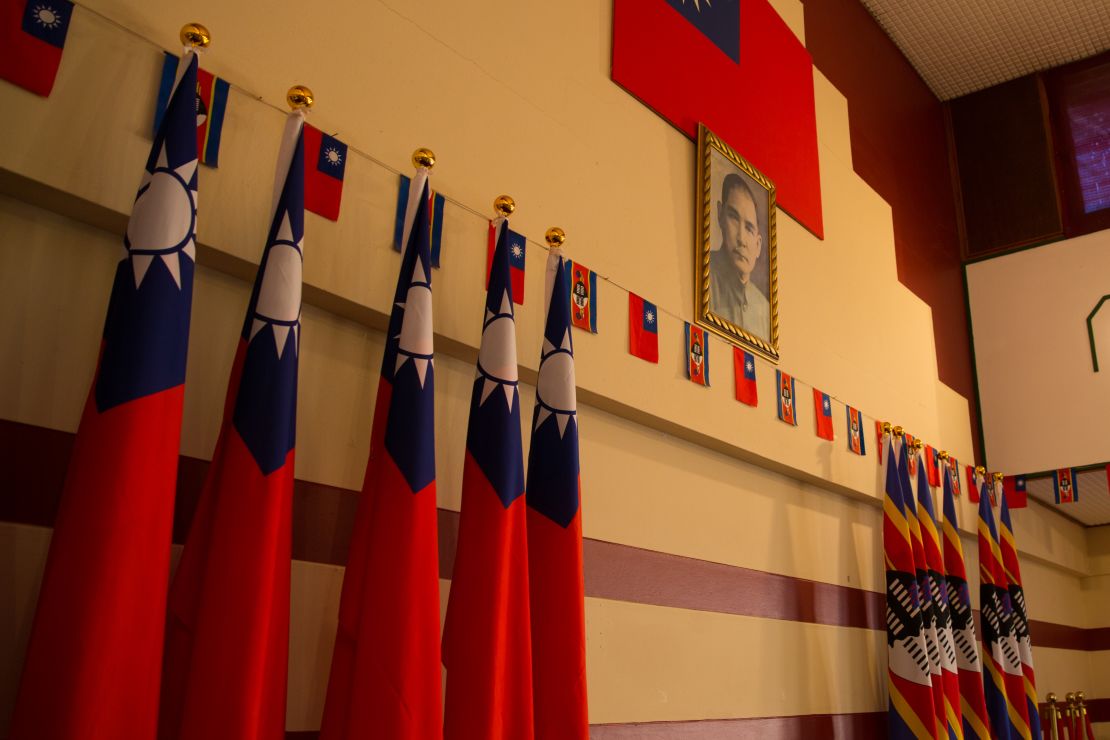 "It is rather difficult to quickly turn against Taiwan, but maybe for development purposes we may consider it," says Dlamini, in his compact office in an old colonial building near the Taiwanese Embassy.
"Development is dynamic and Swaziland doesn't live in isolation."
China recently pledged $60 billion in assistance in Africa. And this is a great game that Beijing wants to win.
But Dlamini quickly clarifies.
"That one, rests with the King," he says.