The faces of the fans on the street were as diverse as those they were cheering on the pitch.
France's victorious 1998 World Cup squad, nicknamed the "Rainbow Team," was composed of players with backgrounds from all corners of the globe.
Their victory against Brazil, which secured the nation's first ever World Cup, is estimated to have drawn at least a million men, women and children – of white, black and Arab heritage – to Paris' Champs-Élysées.
Some accounts estimated as many as 1.5 million French fans lined the famous shopping street to celebrate.
With a squad made up of players with ethnic backgrounds from North Africa, West Africa, the Caribbean, the Pacific islands, Armenia and the Basque country, there was hope this team could help improve the legacy of France's complex history of race relations.
"It was a moment of communion," former France defender Marcel Desailly, who was born in Accra to Ghanaian parents, told CNN.
"The fans, everybody was together. No racism, no discrimination, everybody was happy in France."
Why France's 1998 World Cup win meant so much
READ: 11 moments that shook the World Cup
READ: And the winner of the World Cup is…
Sitting beside Desailly was Robert Pires, his friend and teammate in that World Cup-winning side.
"It was very important to share this trophy with the fans," said Pires, who himself was born to a Portuguese father and Spanish mother.
"But, look, it was full – the Champs-Élysées. Even on the roof of the Arc de Triomphe. Black, white," he said, gesturing to Desailly, then to himself. "It was a good mix, an amazing moment."
Possibly the only people in the entire country who would have shut their doors on the outside celebrations were the supporters of France's far-right Front National.
The party's leader at the time, Jean-Marie Le Pen, protested that the diverse ethnic roots that ran through the squad meant this was not truly a "French" team and this was not a victory for the nation at all.
Le Pen went as far as to say some members of the team were "unworthy" and focused much of his ire on those who appeared not to sing the national anthem.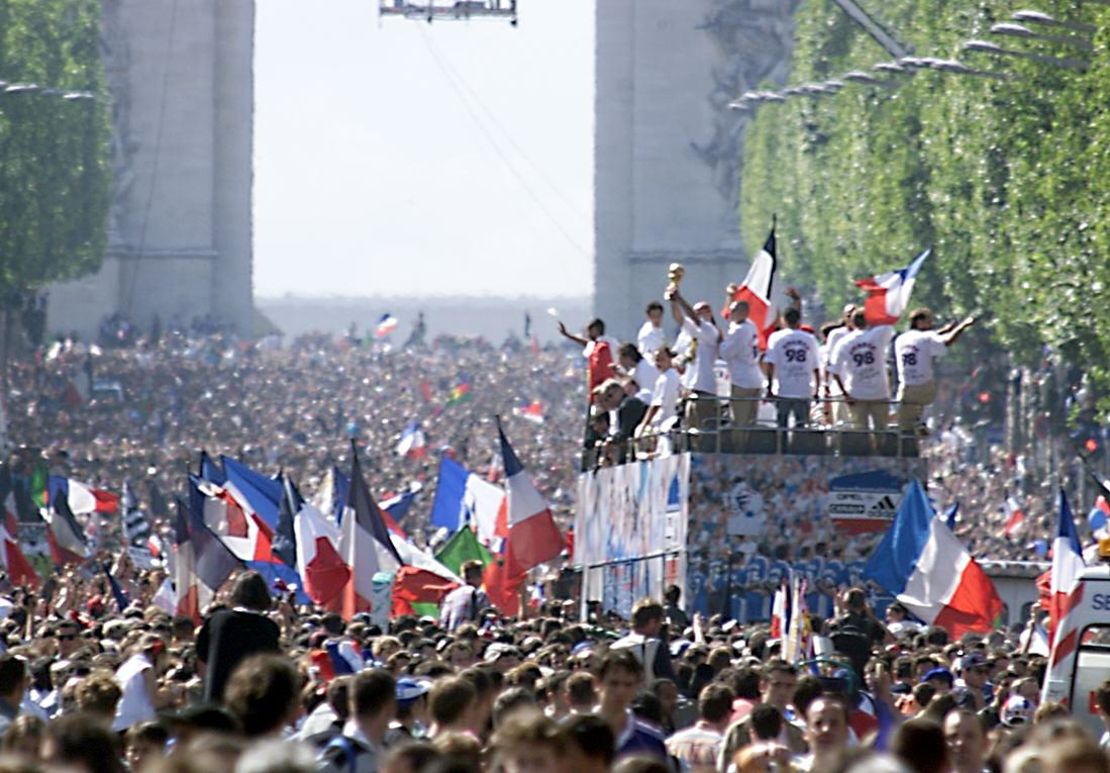 Which defining World Cup moment stands out for you? Have your say on our Facebook page or by tweeting @CNNSport
That France's victory helped unite a nation – if only temporarily – was quite an achievement at a time when Front National was regularly garnering around 15% of the French vote.
Le Pen went on to compete in the presidential election runoff four years later, but in the weeks following the World Cup triumph, Jacques Chirac – then the President – saw his approval soar to 68%, its highest level since he was elected three years earlier.
Both Pires and Desailly said they were aware of the criticism from Le Pen and Front National.
"Honestly, I didn't care about it," Desailly said. "I'm French with an origin in Africa. It was good to have Algerian origin, Guadeloupe (on the team)," he adds, referring to the team's mix.
"At the end of the day, yes, we were all French and we fought for the same flag and this brought some kind of spirit into the country – a positive spirit.
"To be able, as a group of players from all different origins, to win and be an example was great. It's been amazing.
"The politicians have tried to grab this opportunity to maintain the system. With sport they cannot be concerned. Sport is sport – it belongs to the sportspeople."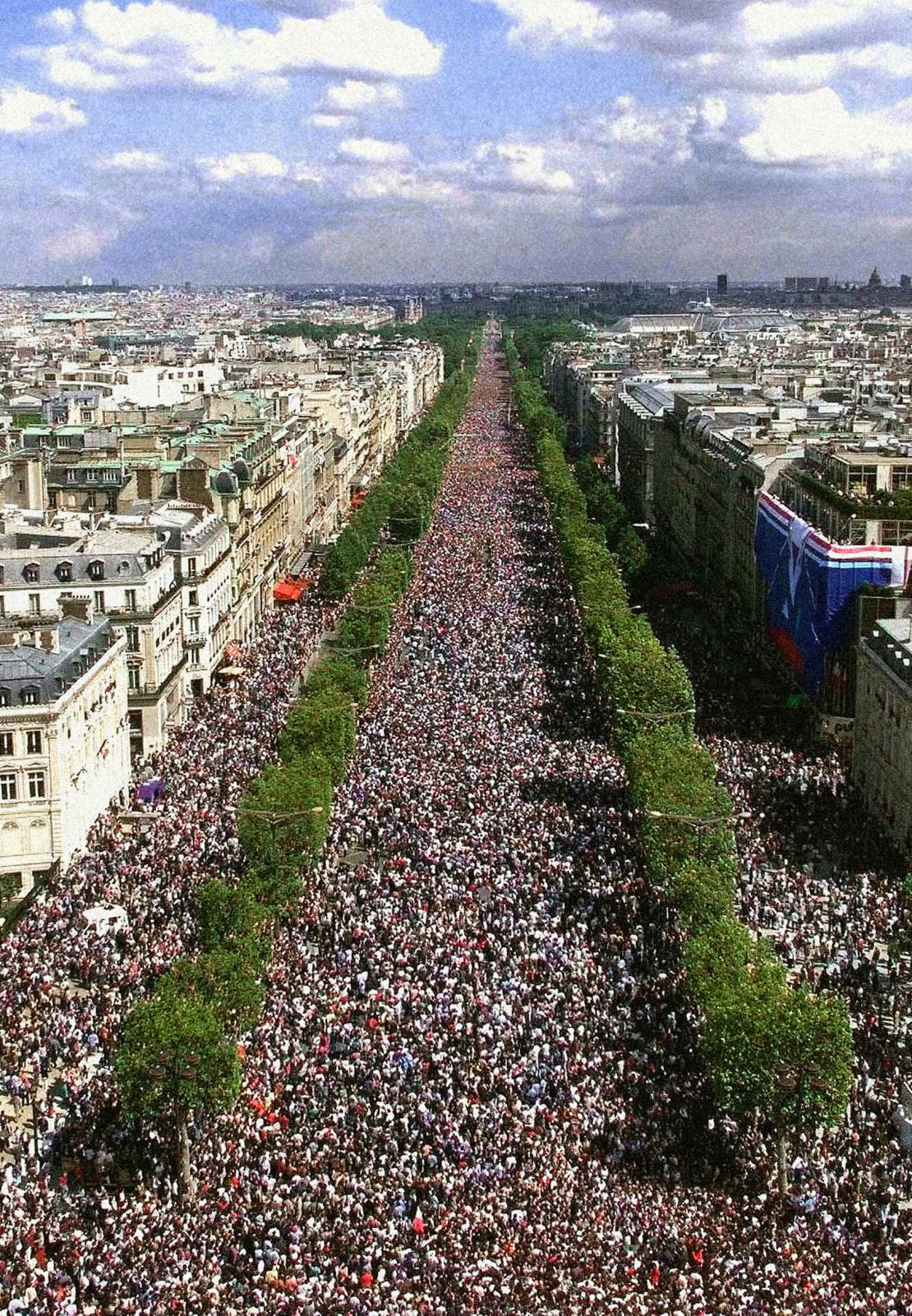 READ: 'Messi is the greatest ever,' says Rashford
READ: Hope Solo does not back North America's 2026 bid
'Zidane President'
The poster boy of the 1998 national team, and scorer of two goals in the final win over Brazil, was Zinedine Zidane.
At the time, the midfielder was established as one of the world's best players and came to symbolize this new, diverse France.
Zidane was born in the tough Marseille suburbs to Algerian parents, who had emigrated to France in the 1950s.
Much of his childhood and early playing days were shaped by spectators and opponents who would mock his heritage, to which Zidane would react angrily.
But as the hordes descended on the Champs-Élysées to celebrate France's victory, Zidane's image was projected onto big screens all down the avenue.
"Zidane for President," the crowd chanted for their new French-Algerian hero.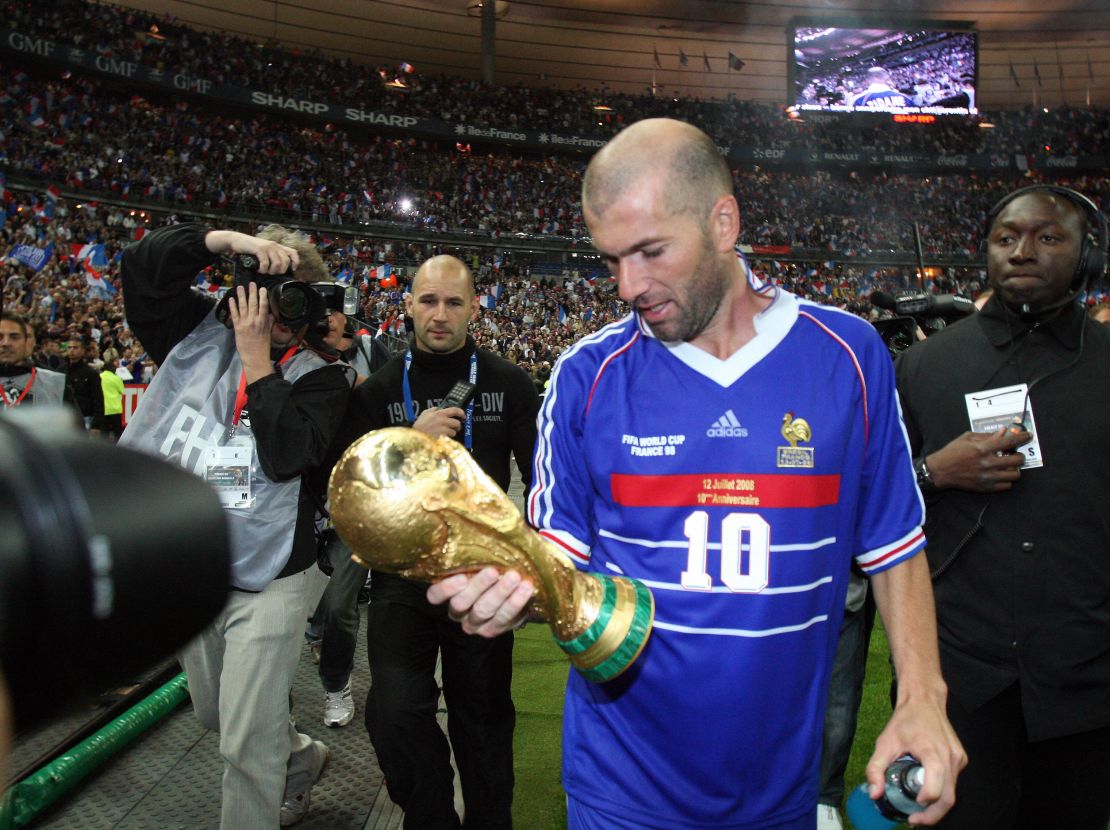 This was truly an historic moment, as the tensions of France and Algeria's colonial history were eased, even if only for an evening.
"It was important," Pires said of that day. "The mix, (it was) cosmopolitan. The people, especially the team, the French national team.
"We said in France 'black, white and brown' – brown was for the Algerian people, because we have a large community from Africa.
"So that's why this moment, for all the people in France, it was an amazing moment for unity."
World Cup One-on-One: Robert Pires and France
Another star of the "Rainbow Team" was Christian Karembeu, one of the players who came under criticism for not singing "La Marseillaise" due to France's colonization of his homeland.
Born in New Caledonia, a French overseas territory 1,200 kilometers off the coast of Australia, Karembeu moved to France as a teenager to pursue his dream of making it as a footballer.
He said the importance of France's victory came from allowing fans, like him and his teammates, to be able to feel close to their ethnic roots while simultaneously feeling pride in being French.
"We know where we come from," Karembeu said proudly. "I come from New Caledonia, a small island, Desailly from Ghana, (Lillian) Thuram from Martinique.
"We know that football can unite and we have done that. We achieved a great goal to unite the French people, to be proud to be French.
"There is no minority anymore and we know that we are cosmopolitan and we feel integrated. We need to be part of the nation. Sports give the essence to everyone to think like that."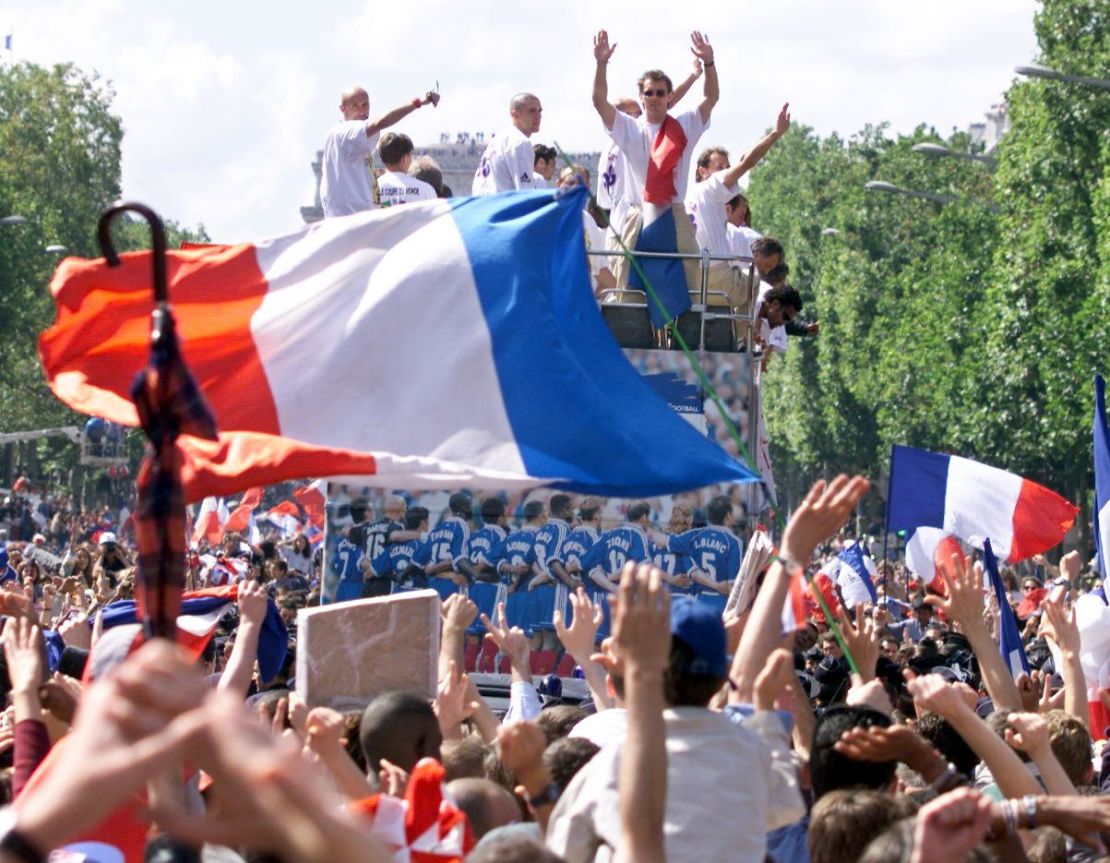 History in the making?
The man leading the current French national team is Didier Deschamps, who captained the World Cup-winning 1998 squad.
He presides over arguably the most talented French squad since the "Rainbow Team," featuring the likes of Paul Pogba, Antoine Griezmann, Kylian Mbappe and Raphael Varane.
Two years ago, Deschamps led France to the European Cup final – a competition he won as captain in 2000 – on home soil, where the team agonizingly lost to Portugal in extra time.
Desailly believes it is time for the current crop of players, which is similarly diverse to his generation, to finally break the shackles of 1998 and make history of their own.
"We will be happy if France make it to victory, to make the French people (happy) and also to kill the idea that we won it '20 years ago,'" he said.
"It's a very good generation, where you have talented players, where the pure talent is just amazing. It just needs a little bit of experience, but it will come and we will probably be happy.
"But Brazil is still stronger than us, Germany is still stronger than us, so let's be patient. Maybe if we play well we can go through."
Pires echoed Desailly's sentiments, recognizing the threat many of the opposing countries will present in Russia, but said he has faith his former captain is the man to lead the current generation to France's second World Cup triumph.
From headbutts to the 'Hand of God': 11 moments that defined the World Cup
With the country again wrestling with complex race relations – Marine Le Pen, like her father before her, reached the presidential election runoff in 2017, winning 33.9% of the vote – there is the hope that a new victory will go some way to help heal the recent tensions.
"I believe in this team, I believe in the manager," Pires said. "Marcel and me, we know perfectly the manager – he's Didier Deschamps. He can make it a success. They have a good team, a great team, a young team.
"This is a very good opportunity for the players to try to win the World Cup. Of course, it's very difficult, because when you play at a World Cup you have teams like Brazil, Germany, Spain – they are the favorites.
"But I believe in France, always."
CNN's Zayn Nabbi contributed to this feature