The search-and-rescue ship stranded in the Mediterranean Sea since Sunday began its roughly 800-mile journey to Spain on Tuesday evening after transferring more than 500 rescued migrants to Italian Coast Guard and naval ships.
According to aid organization SOS Méditerranée, 250 people were transferred to the Italian Navy's Orione and a further 274 to the Coast Guard's Dattilo ship Tuesday. The Aquarius – which had been stranded between Malta and the Italian island of Sicily since Sunday – now has just 106 survivors on board.
The move was part of an Italian Maritime Rescue Coordination Center (MRCC) plan to transfer hundreds of the 630 migrants to two smaller vessels, in a bid to ease pressure on the overcrowded Aquarius.
All three ships will now proceed to Valencia, Spain, after the Spanish government on Monday agreed to take in the migrants who were rescued over the weekend.
SOS originally said 629 people had been rescued, but revised that figure to 630 on Tuesday following a recount during the transfers.
The Aquarius, which was carrying more than 120 unaccompanied minors and six pregnant women, was left stranded in the Mediterranean after Italy's hardline interior minister and leader of the anti-immigration League party refused to allow it to dock on Sunday.
Aid organizations, including Doctors Without Borders (MSF) and SOS Méditerranée, which operate the rescue ship Aquarius, have been critical of the Italian MRCC plan, warning that the "already exhausted" migrants would be forced to spend four more days at sea.
"The better option would be to disembark the rescued people in the nearest port after which they can be transferred to Spain or other safe countries for further care and legal processing," MSF said in a tweet Tuesday.
Aloys Vimard, MSF coordinator on board the Aquarius, said in a statement that the medical situation "remains stable for now, but people are exhausted and stressed and there is a high risk of worsening medical conditions and sanitation if disembarkation is delayed further."
Some of the pregnant women on board have already been transported to Lampedusa, an island in southern Italy, and from there will probably travel to Palermo in Sicily, the Italian Transport Minister's press office said in a statement.
The operation comes as SeaWatch, a German aid organization also conducting rescue missions in the Mediterranean, tweeted on Tuesday afternoon that it was heading toward a shipwreck 20 miles off the coast of Libya.
It said the US Navy had already rescued 41 people from the water, and reported another 12 dead people.
In the early hours of Wednesday morning, an Italian Coast Guard boat carrying 937 migrants docked in Catania, Sicily.
The migrants on board the Italian Coast Guard boat – along with two people who had died – were pulled from the sea off the coast of Libya, Coast Guard spokesman Cosimo Nicastro told CNN.
Supplies sent to desperate boat
Italy on Tuesday morning also sent much-needed supplies to the Aquarius, Jana Ciernioch, spokeswoman from SOS Méditerranée, told CNN.
A number of people are in need of medical treatment, including 21 people who have suffered severe chemical burns after sitting in a mix of salt water and spilled fuel in the bottom of rubber boats for many hours, Vimard said.
The Aquarius now has enough fuel to reach the Spanish city of Valencia, some 800 miles away, according to Ciernioch. Speaking from Berlin, she told CNN that unsettled weather in the Western Mediterranean could be an issue in the coming days.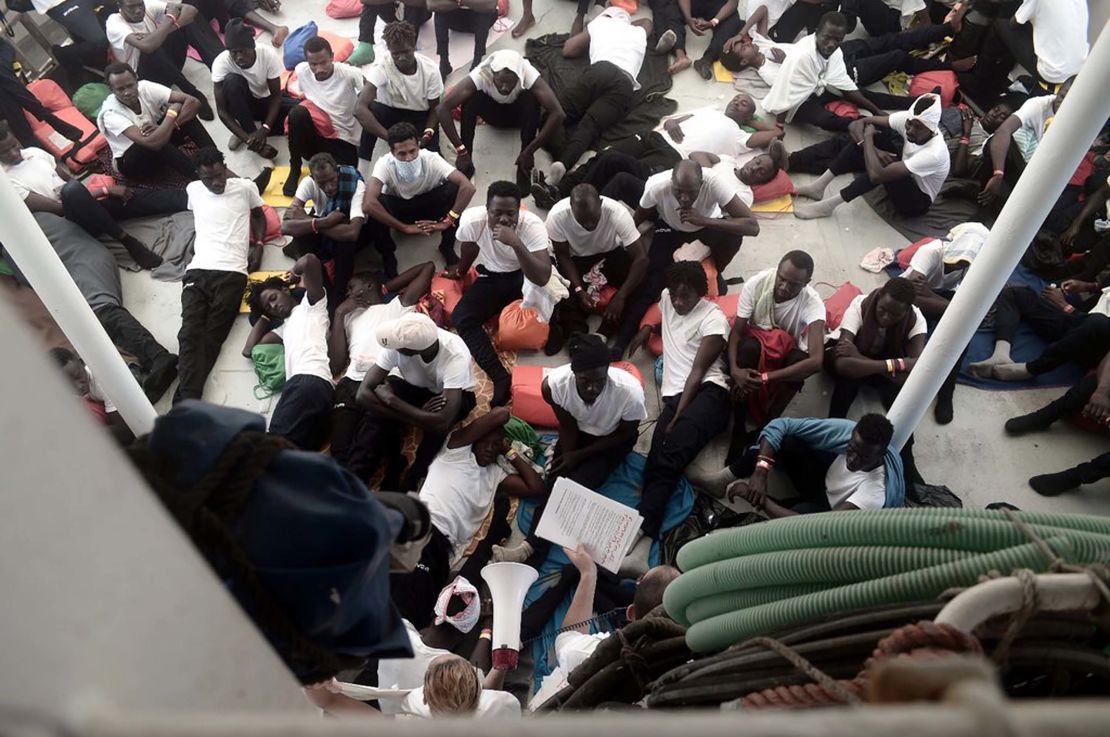 Meanwhile, the director general of the United Nations Migration Agency (IOM), William Lacy Swing, tweeted that while he was glad that Spain had stepped forward to defuse the crisis, "I fear a major tragedy if states start refusing to accept rescued migrants as was threatened."
Victory for Italy, uncertainty for migrants
After Spanish Prime Minister Pedro Sánchez announced Monday that the ship and its passengers would be welcome in Valencia, Italian Interior Minister Matteo Salvini was quick to celebrate on social media.
"VICTORY! 629 migrants on board of Aquarius ship, Spain-bound, our first goal has been reached!" he wrote on Facebook.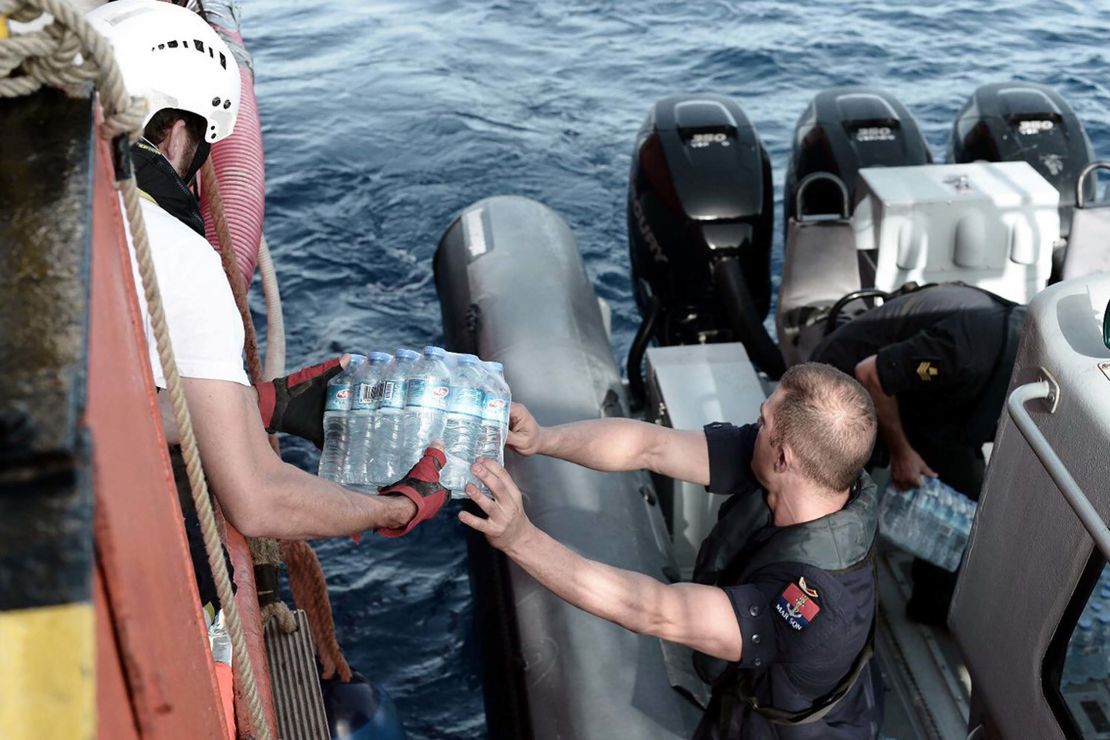 The move comes as the number of migrants arriving on Spanish shores continues to grow. Migrant arrivals to Spain have increased by 50% so far in 2018 compared to last year, while Italy has seen around a 75% decline, according to the International Organization for Migrants (IOM). In the first week of June alone, 561 migrants arrived in Spain by sea.
During the recent federal election campaign that led to Italy's new government – a coalition between the anti-immigrant League and anti-establishment Five Star Movement – Salvini promoted his party with an "Italians first" slogan and pledged to deport half a million migrants.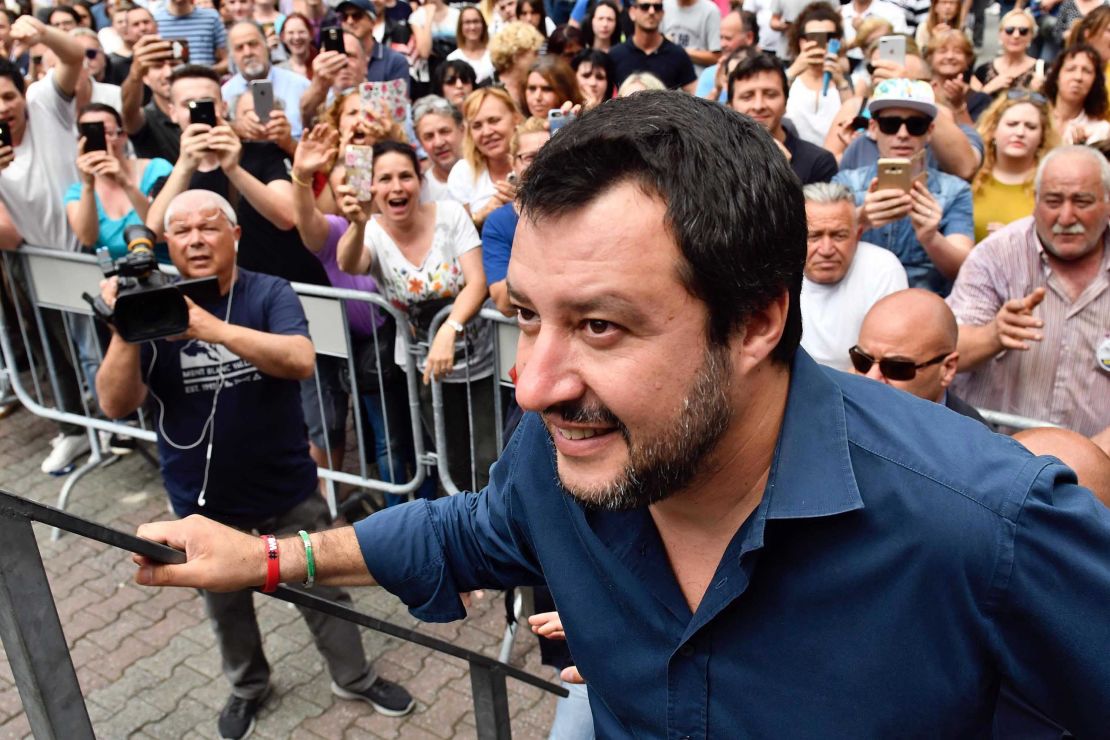 Salvini's rhetoric has softened slightly since he took office, but on a visit to Sicily last week, he declared that Italy "cannot be Europe's refugee camp."
However, he is not without critics, and on Sunday several Italian mayors defied Salvini and suggested they would be prepared to welcome the Aquarius into their port.
Anxious wait for migrants
Meanwhile, the hundreds of migrants stranded at sea face an anxious wait. Annelise Borges, a Euronews and NBC journalist currently on board the Aquarius, told CNN Monday that "everyone is extremely hot and very tired."
Many were also worried that they could be returned to Libya. "The fear is so present, so palpable," Borges said.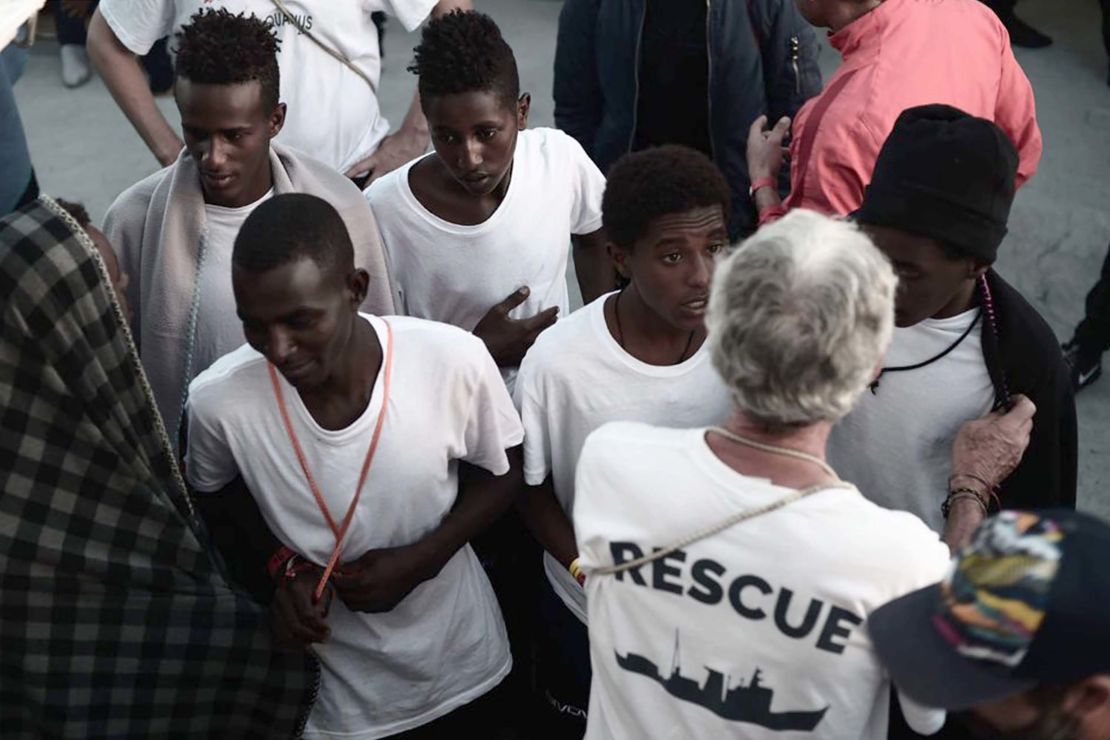 There are no showers or sinks for migrants on the Aquarius, and rescue workers use a disinfectant spray on people's hands before they eat. Supplies of drinking water are unlimited as the ship has its own water-purification system, but the passengers were surviving mostly on energy biscuits, prepackaged warm rice, tea and bread.
Women and children sleep below deck, watched over by a midwife, while the men sleep on the open deck, covered only with tarpaulin.
The Mediterranean remains the world's deadliest migration route, despite sharp falls in the number of people trying to reach Europe by boat. That drop is partly ascribed to a deal struck between Italy and Libya last year, in which the southern European country pledged to bolster Libya's coast guard so it could spot departing migrant boats and house migrants attempting to cross.
As of June 6, there had been an estimated 785 deaths on the route this year, the IOM said, with the majority of the 33,400 migrants and refugees arriving through Greece and Italy.
CNN's Judith Vonberg, Stephanie Halasz, Livia Borghese and Laura Perez Maestro contributed to this report.