Story highlights
Brooks Koepka wins second straight US Open
First player since 1989 to win back-to-back
Beats Tommy Fleetwood by one shot
Fleetwood scores sixth 63 in US Open history
He became the first man to win back-to-back US Open titles for 29 years, but just a few months ago the thought of winning a second major title couldn't have seemed further away for Brooks Koepka.
The 28-year-old Floridian triumphed by one shot over England's Tommy Fleetwood on an absorbing afternoon to back up his breakthrough major victory at Erin Hills 12 months ago, having only recently recovered from a wrist injury that had kept him housebound for long periods.
"I was pretty low. Sitting on that couch eating and gaining 20 pounds isn't exactly fun – there's only so much you can do," Koepka told CNN after his victory at Shinnecock Hills.
US Open past winners
2018 - Brooks Koepka (Shinnecock Hills)
2017 - Brooks Koepka (Erin Hills)
2016 - Dustin Johnson (Oakmont)
2015 - Jordan Spieth (Chambers Bay)
2014 - Martin Kaymer (Pinehurst)
2013 - Justin Rose (Merion)
2012 - Webb Simpson (Olympic Club)
2011 - Rory McIlroy (Congressional)
"It wasn't fun. Guys have had that injury and never been the same. Some guys have ended their careers. To come back after sitting on the sidelines for so long, I was so eager to go out and play after watching Augusta."
Koepka started Sunday in a four-way tie for the lead and carded 68 for one over to edge Fleetwood, who fired only the sixth round of 63 in US Open history.
The American, who missed five months of the season from the wrist injury, finished two clear of world No.1 Dustin Johnson and three ahead of Masters champion Patrick Reed.
"It's definitely more gratifying this year because it was such a tough test," said Koepka, after what was an eventful and high-scoring week in New York.
"It was a true US Open – how people view it. The winning score right on even par and making guys sweat through it all day."
The last of the six previous back-to-back US Open winners was Curtis Strange in 1988 and 1989. Koepka's win snapped a streak of nine first-time major winners out of the previous 10 events and means Americans have won the last five majors.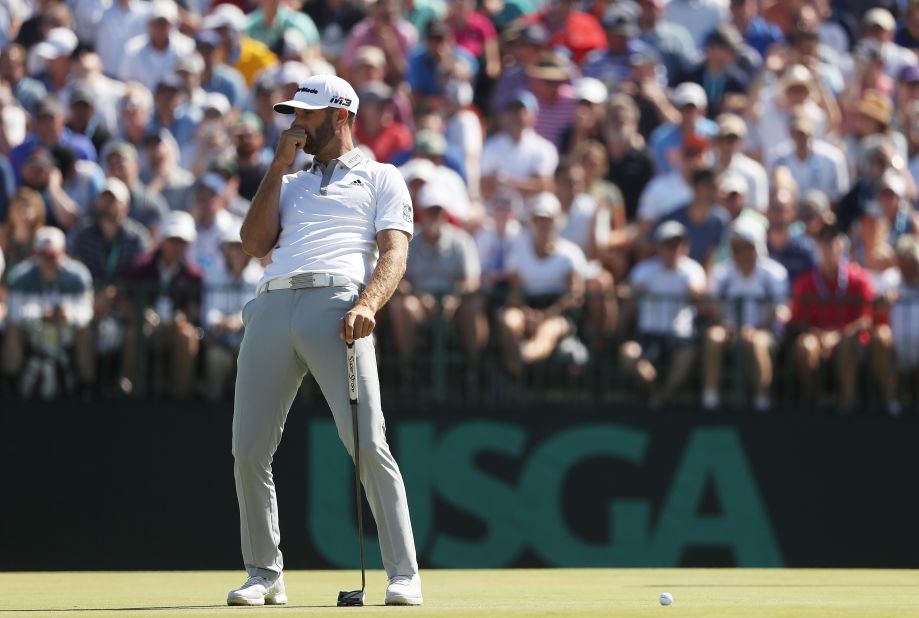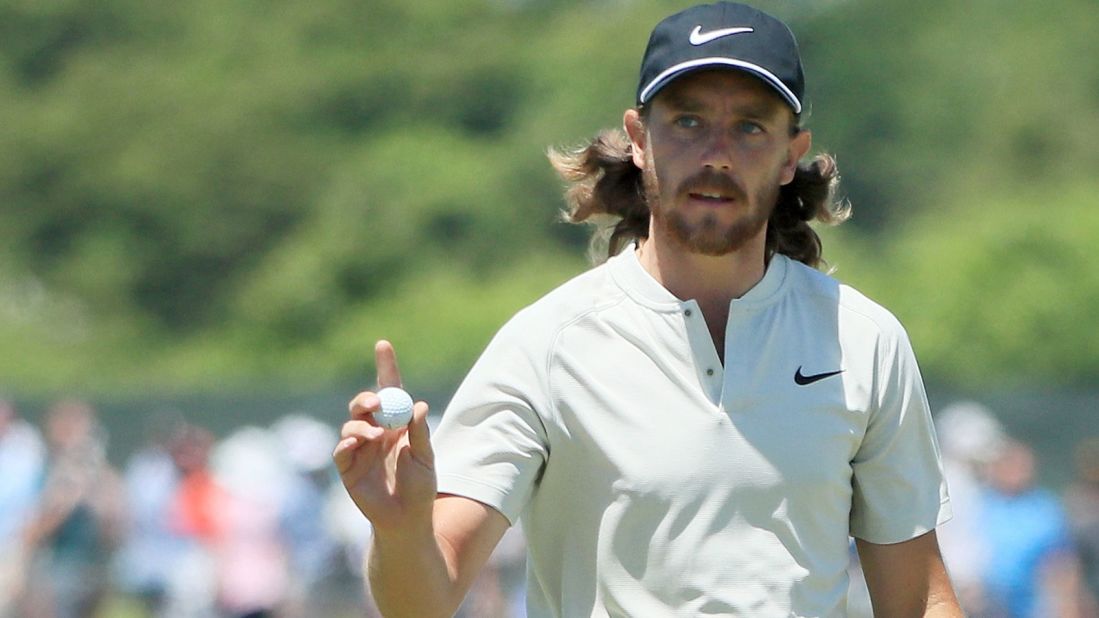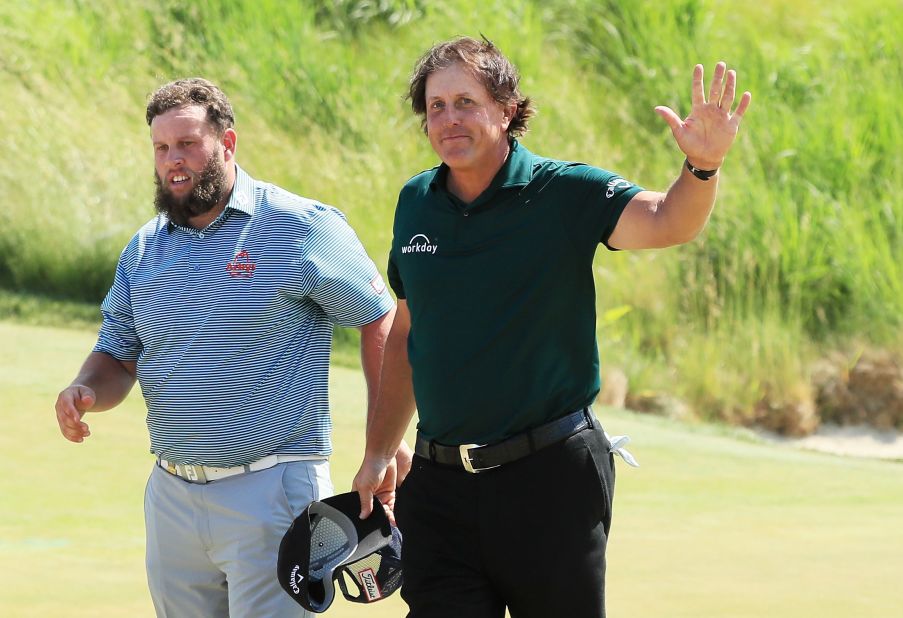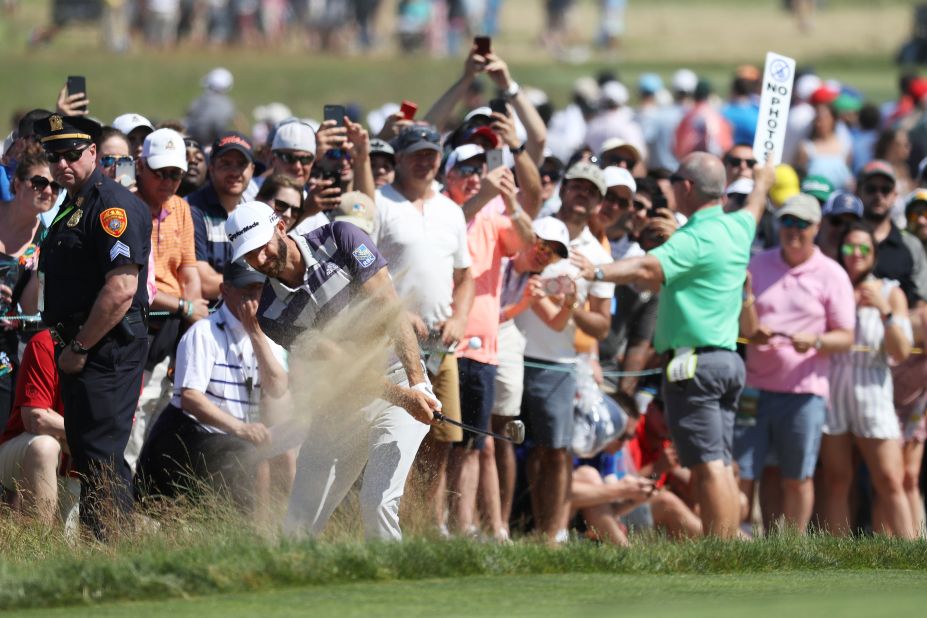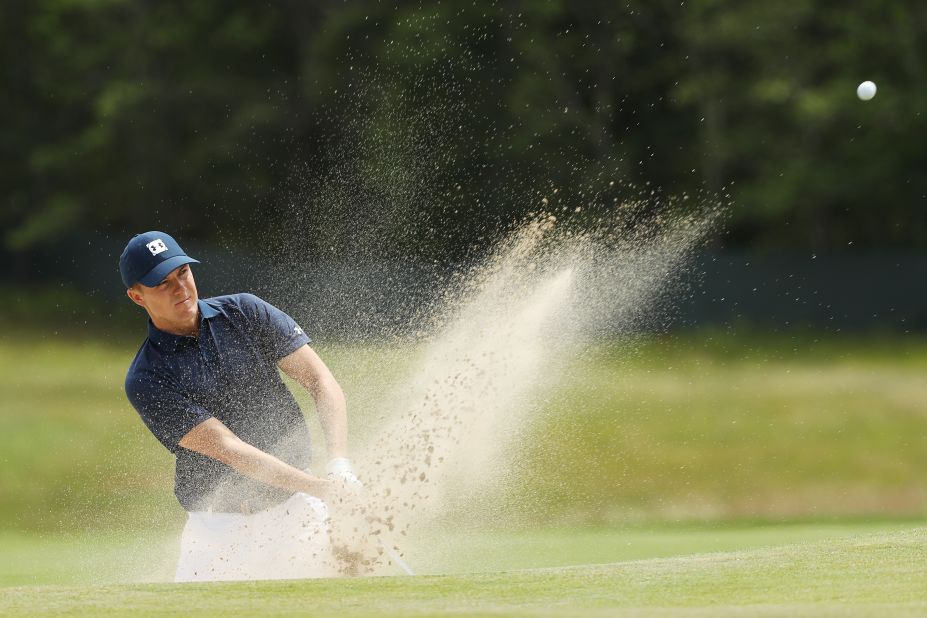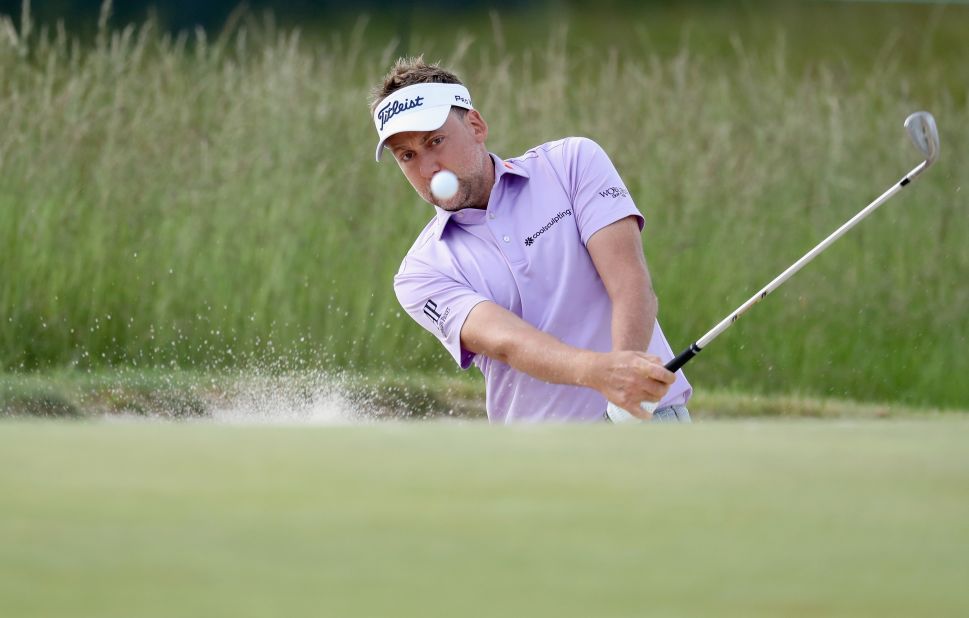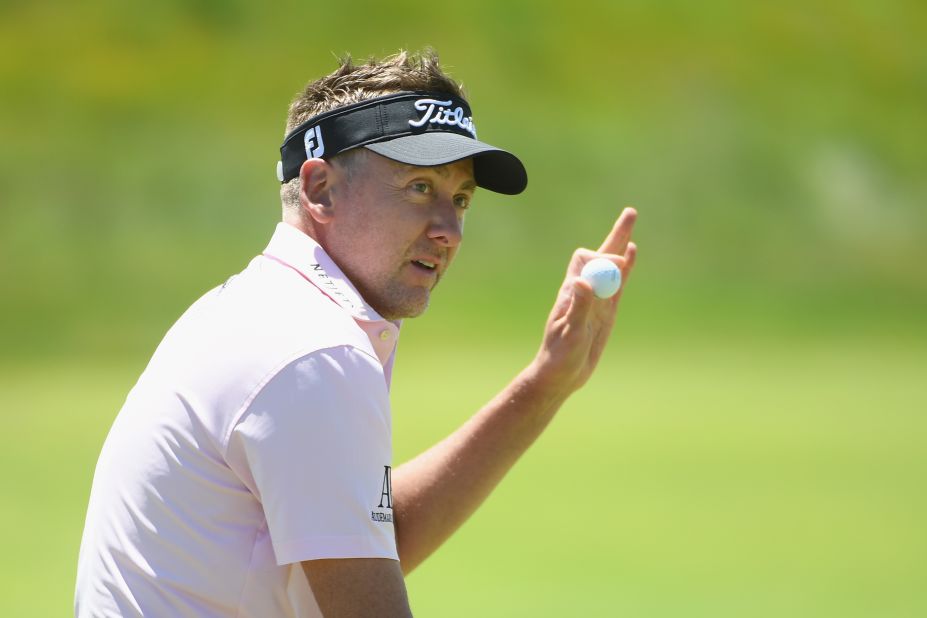 US Open: Best photos from Shinnecock Hills
Kept his head
READ: How a car crash shaped Brooks Koepka's road to maiden US Open glory
The 118th US Open will be remembered for a tumultuous Saturday when conditions and testing pin placements turned the historic Shinnecock Hills layout into a brutally punishing test and led to severe criticism of organizer the USGA. Then there was Phil Mickelson's "putt-gate" controversy when the five-time major champion deliberately hit a moving ball.
READ: Why Phil "the Thrill" will always be box office
But despite the furore, the cream rose to the top Sunday as Koepka kept his head and showed he has the skill and mental mettle to win around a seriously testing course as well as at the wide open, long-hitters paradise that was Erin Hills.
"You've got to be mentally tough [to win the US Open]," said Koepka.
"You've got to be able to let things roll off your back and you've got to have some patience. I think that's right up my alley."
READ: Feisty fans and fiery course spice up legend of Shinnecock Hills
'Very special'
The USGA accepted the situation had got out of hand on Long Island Saturday and watered the course overnight, as well as altering some hole locations to make scoring easier. Mickelson answered Saturday's mad-cap 81 with a 69 but refused to comment further on his antics. His wife Amy reportedly said: "He's a good man who had a bad moment."
Fleetwood, who finished fourth last year, took advantage and narrowly missed a major record-equaling putt for 62 on the last green. He then waited with his wife and baby son for about three hours to discover if his two-over target would be enough for a maiden major title.
"We said last night, 'shoot the greatest score in the US Open and you'll have a chance,'" said Fleetwood, 45 years to the day after Johnny Miller posted the first and only other 63 in the final round of a US Open. "It's something very special to shoot 63 in a US Open."
But Koepka, playing in the penultimate group with close friend Johnson, kept his early momentum going with a crucial putt for a bogey on the 11th to limit his losses. And he hung on during a nerve-jangling back nine – he bogeyed the last for some late drama – as long-time leader Johnson faded.
"We didn't really speak too much," Koepka said.
"He was busy grinding his tail off and I was busy grinding mine. We're extremely close. I love the guy to death. It would have been fun to duel it out with him coming down the end."
Another American Tony Finau, playing in the final group, was the only other player with a chance of usurping Koepka at the end but he couldn't get close enough over the closing holes and finished with a double bogey to end five over.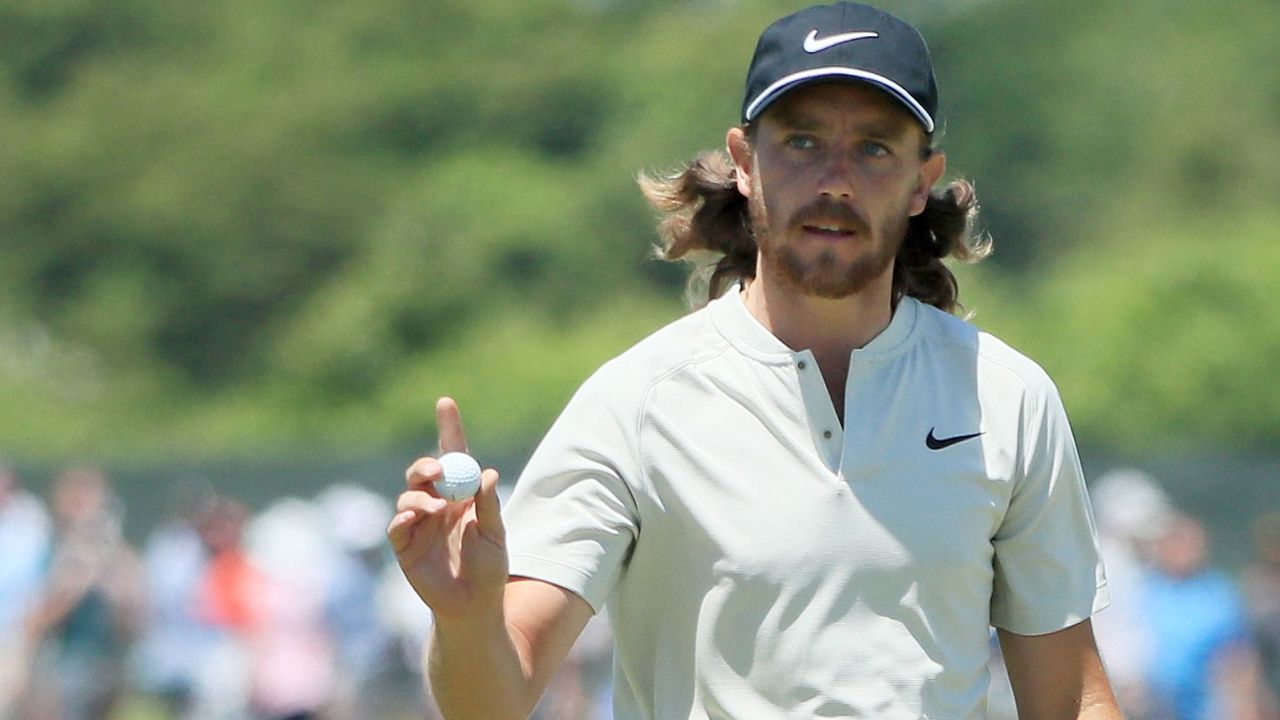 Climbing the ladder
The victory – and first prize of $2.16 million – is another chapter in the remarkable tale of a young multi-sport athlete in the US who moved into golf following a serious car crash and then learned his trade traveling around Europe and beyond on the second-tier Challenge Tour.
Koepka won four times on the Challenge Tour and earned his first European Tour card in 2013. A first win came the following year and a maiden PGA Tour victory followed in 2015. Two years later he was a major champion, and now a two-time winner.
As for the future? Koepka is hungry for more silverware.
Visit CNN.com/golf for more news, features and videos
"There's a lot ahead. I see more major championships," he says.
"I've definitely matured over the last five, six years, going to Europe you figure out how to win. Then you come out here and win your first major and now your second. You're always working to try and climb that ladder. I'm climbing it right now, I just need to keep going."