At a campaign rally in Istanbul, President Recep Tayyip Erdogan plays an animation on a huge screen to thousands of supporters, touting plans for an opera house on Taksim Square.
He paces back and forth on stage, listing his achievements for Turkey: New roads, better hospitals, more public transportation, more airports. At every rally, he hammers home the same message – he has transformed Turkey into a new modern nation.
In almost every speech, 64-year-old Erdogan disparages what he calls "old Turkey," a place where garbage piled up on the streets, public hospitals were overrun, and roads were dimly-lit, single-lane death traps.
That message of transformation has delivered Erdogan and his Justice and Development Party (AKP) 12 electoral victories over the last 16 years, making Erdogan the Turkish Republic's longest-serving leader since it was founded in 1923.
But the President faces his toughest political challenge yet, in snap elections Sunday that Erdogan himself called. Turkish voters go to the polls to elect both a president and a new parliament, and for the first time in more than a decade, they have an array of strong candidates to choose from.
Erdogan's grandiose rallies have become an expected part of any Turkish election, but they appear to have been eclipsed Wednesday, as main opposition candidate Muharrem Ince drew what looked like the largest crowd in the elections period yet.
In the town of Izmir, hundreds of thousands of Ince supporters in a sea of red Turkish flags stretched for kilometers down a promenade on the Aegean coast, as the charismatic former high school physics teacher promised to end the nepotism of the Erdogan government.
"Erdogan is tired, he has no joy and he is arrogant," he said.
"On the one hand you have a tired man, and on the other you have fresh blood."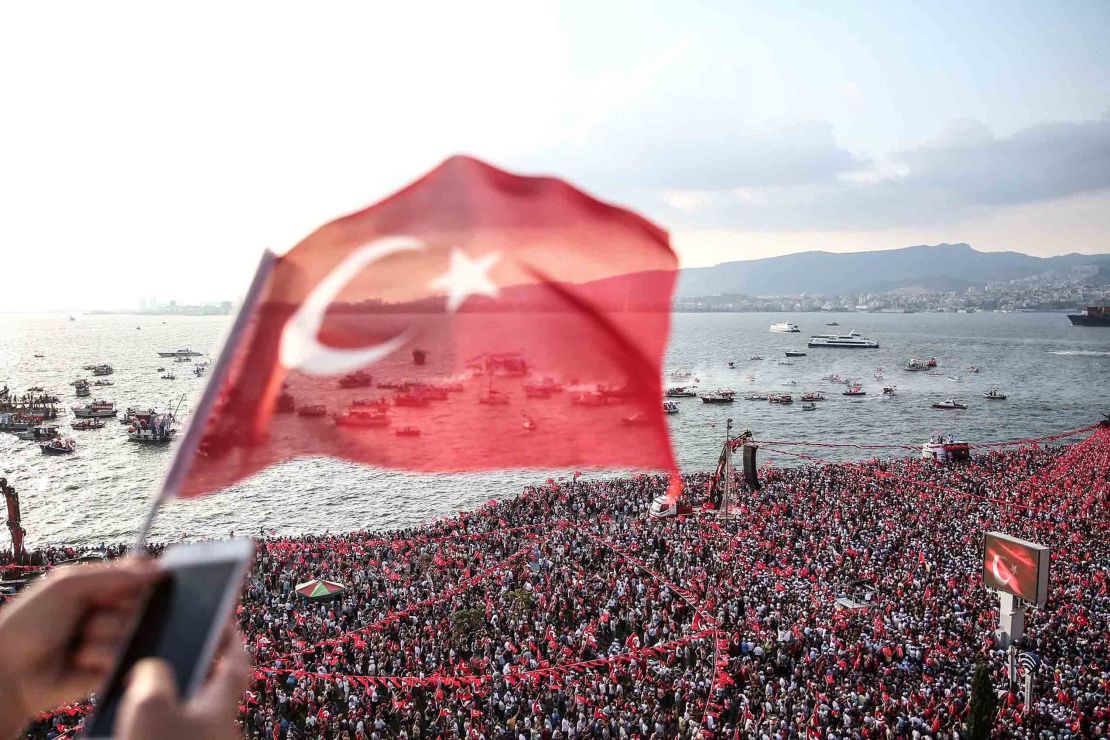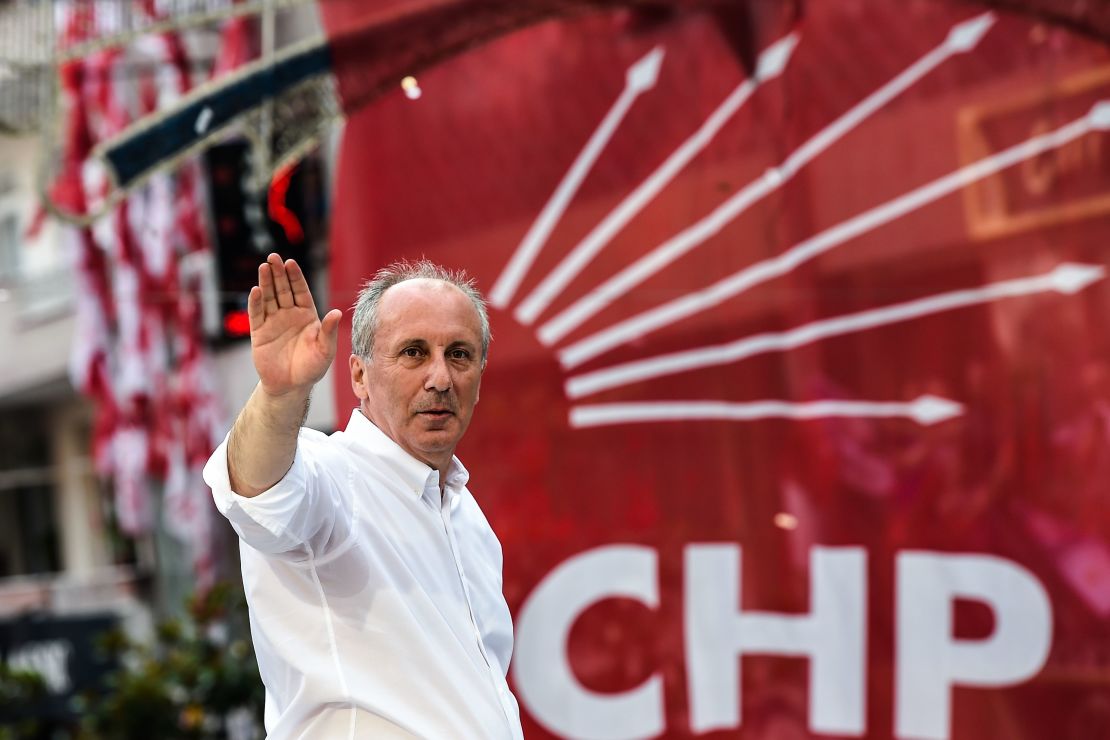 Erdogan has consolidated power at every step of his career. He has crushed anti-government protests, and in 2013 he evaded a corruption investigation into his inner circle. After a failed military coup to remove his government from power in 2016, he eliminated his opponents by firing tens of thousands of government workers, gutting public institutions, jailing critical voices, and clamping down on the media. He narrowly won a referendum last year that will change Turkey's parliamentary system to an executive presidency, giving whoever wins Sunday's vote sweeping new powers.
But Erdogan's mantra of development and growth has lost some of its luster recently as Turkish people feel the pinch of a faltering economy.
MORE: Turkey's currency crash puts economy at heart of election
The lira has lost some 20% of its value since the year began, inflation is at 12% and interest rates are around a painful 18%. Some voters are tiring of what they see as Erdogan's power-grabbing.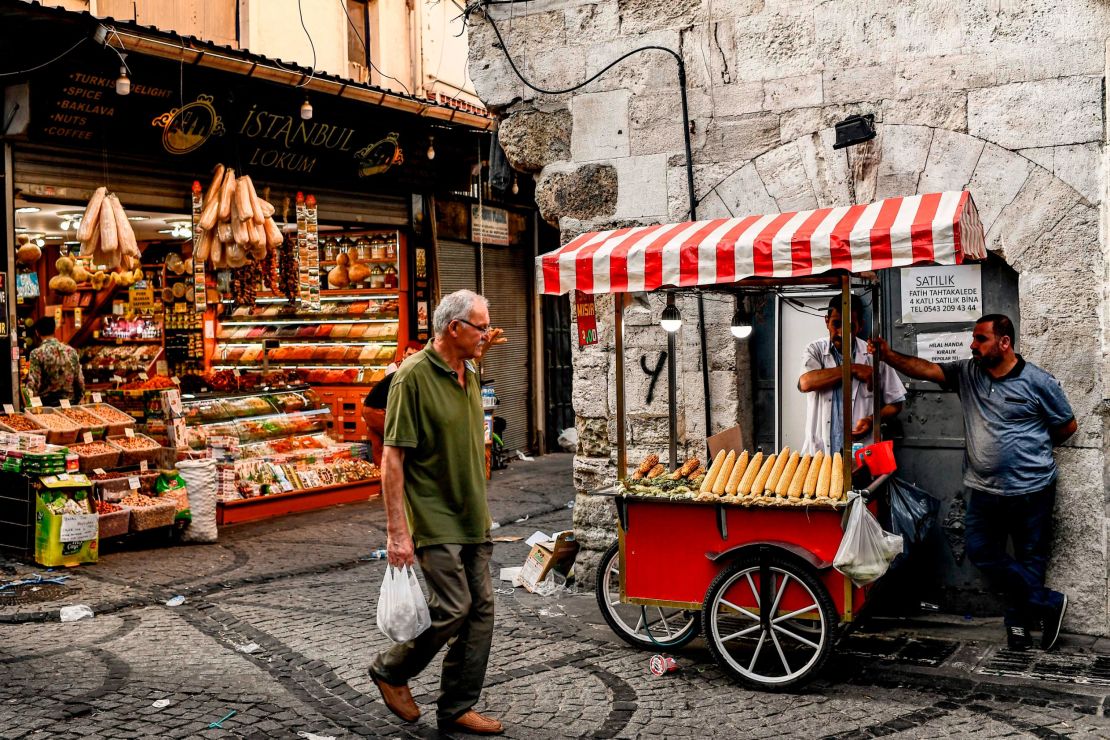 "It's a situation where Erdogan can't blame anyone else. It's not like the government is run by someone else so he can turn around and say 'elect me so I can improve the economy.' That's his weak spot and he knows it," said Asli Aydintasbas, a Senior Fellow at the European Council on Foreign Relations.
But at the Istanbul rally, diehard Erdogan supporter Gulbahar Turan is sure Erdogan's AKP can continue to deliver. She says foreign intervention – not government mismanagement – is what's driving the economic woes.
"These are games by foreign powers, but they should know even a dead Erdogan would get votes," Turan said.
Erdogan's biggest threat
Polls in Turkey are typically partisan and unreliable, but Erdogan appears to be in front. Some polls suggest he will fail to win 50% of the vote, and that will mean a run-off round on July 8. This could be a particularly dangerous position for Erdogan to find himself in, as most opposition parties have vowed to galvanize their supporters to whoever challenges the incumbent leader.
Opposition candidates and parties are trying to steal support from Erdogan on all fronts. Conservative nationalist Meral Aksener threatens him from the center right, while Temel Karamollaoglu from the Islamist Felicity Party could also drive pious conservatives away from the AKP.
But Erdogan's biggest threat is the formidable Ince, who has galvanized the center-left around the CHP.
In the past, the CHP fielded fairly drab candidates. This election is the first in which the party has chosen someone charismatic, Aydintasbas said.
"We are already seeing the results in the sense that this is a race between Muharrem Ince and Erdogan. And that's never happened before. Erdogan had it too easy and he basically ran against himself," Aydintasbas said.
Ince is a not an obscure name in Turkey; the 54-year-old has served as a member of parliament for the last 16 years. He has managed to broaden his party's appeal beyond its usual base of secular upper-middle-class voters to include pious Muslims and Kurds.
"Former leaders of the party were bureaucrats or statesmen," said Behlul Ozkan, a political scientist from Marmara University. "Ince, with his rural family roots, his truck driver father and headscarf-wearing mother and sister is different from his predecessors."
During the holy month of Ramadan, when Ince made appearances with his sister who wears a headscarf, he made clear he would continue to guarantee women's right to wear the Islamic headdress in public spaces, including universities.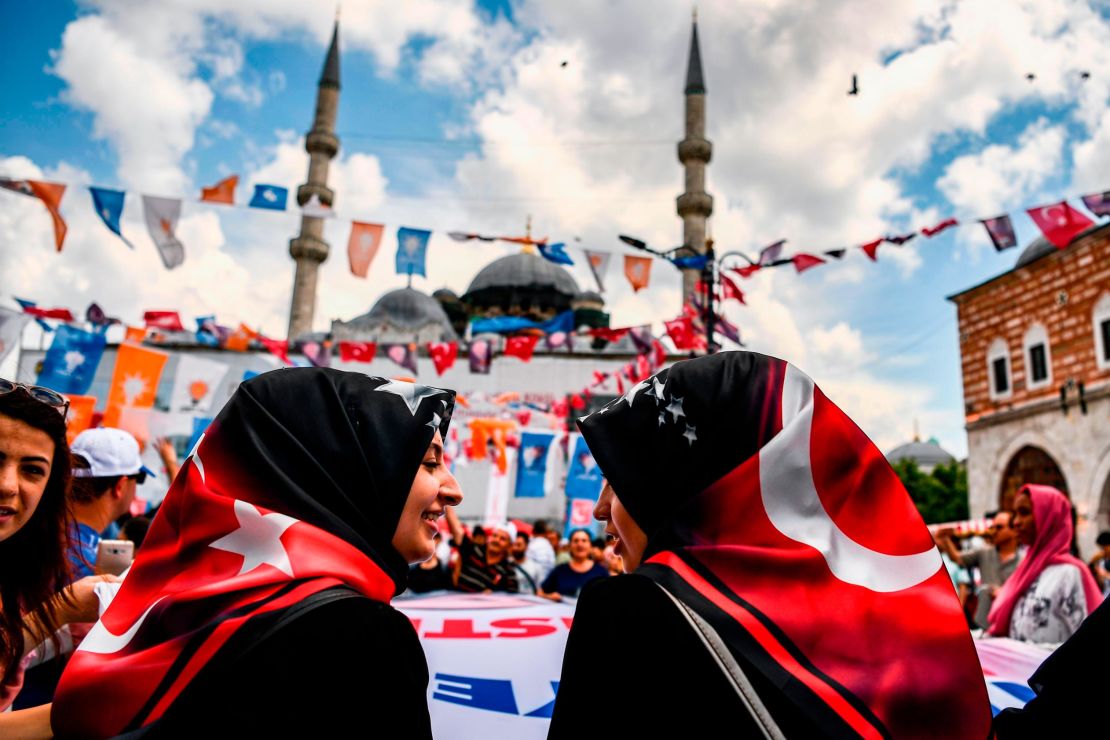 The Islamic headscarf was prohibited in public life in the aftermath of a soft coup in 1997. Women who wore it were barred from going to university, practicing medicine and law, and serving as members of parliament, until Erdogan started lifting those restrictions in 2013.
Ince has been reaching out to the Kurds, Turkey's largest ethnic minority, whose vote is usually split between Erdogan's AKP and the pro-Kurdish leftist Peoples' Democracy Party (HDP).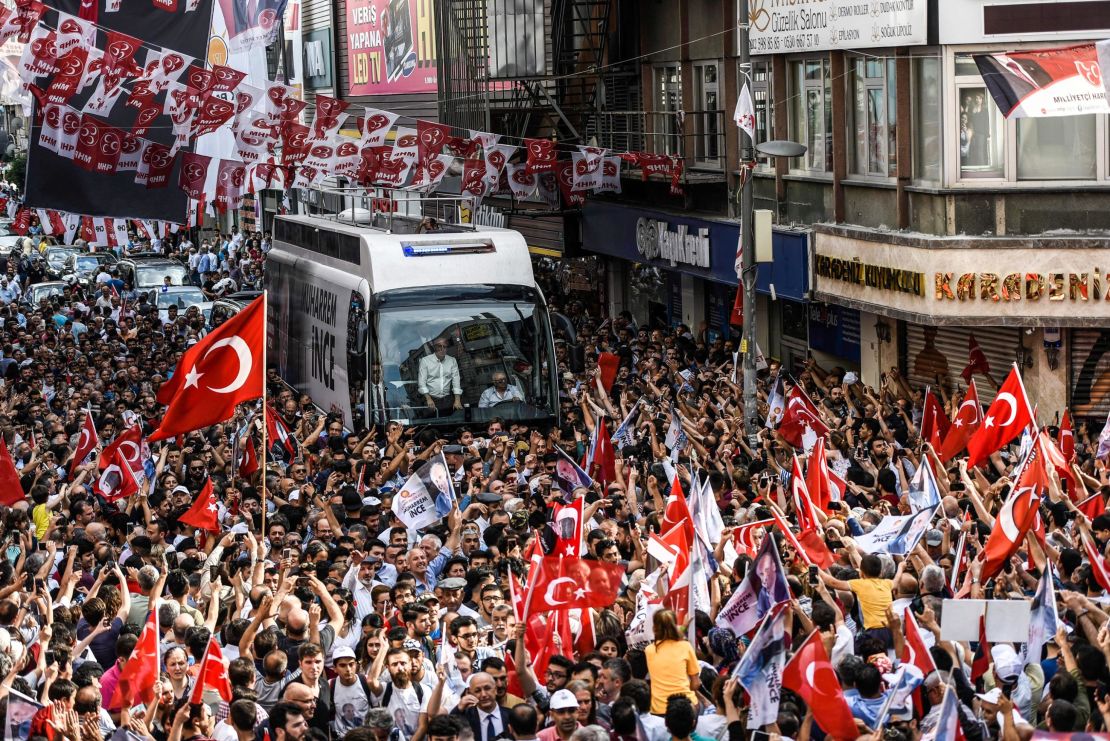 At the start of the campaign, Ince won favor with Kurdish voters by visiting HDP candidate Selahattin Demirtas, who is in jail pending the outcome of a court case in which the government accuses him of terrorism, allegations that his party says are politically motivated. He has been running his campaign from inside prison mainly over a Twitter account run by his advisers.
In a rare occurrence for a CHP politician, the turnout at an Ince rally in the predominantly Kurdish city of Diyarbakir was high.
The Kurdish vote is pivotal in the outcome of the parliamentary election. If the HDP crosses a 10% threshold, it will win seats and could deprive the AKP of its parliamentary majority. If it fails to get into parliament, the AKP will sweep up those seats.
'People are sick and tired': Ince
Erodgan and the AKP now dominate the airwaves in Turkey, so Ince, locked out from the mainstream media, has been trying to reach his base and beyond through a breakneck campaign schedule. And he has been hitting Erdogan where he's most vulnerable – the economy.
"Erdogan, people are cooking stones instead of food. People are cooking their worries instead of food. Look at the prices of potatoes, of onions. There is no bread!" Ince shouted out over the crowd at a recent campaign rally in the southern city of Antalya.
"Come, let's have a debate. Let's talk about the struggle of getting by, of paying the rent, of sending the kids to school."
In an interview with CNN's Christiane Amanpour, Ince said it was time for change.
"I believe in the power of the street. I believe in our people's wish for change. People are sick and tired. Turkey is sick and tired. Institutions have been taken over. Turkey's democracy has been destroyed. A single man rules over Turkey. Turkey has to find a way out of this," he said.
He is reaching out to Turkey's youth as well. A group of students hanging out at an Istanbul cafe say they don't know much about the old Turkey Erdogan talks about – to them the old Turkey was the one of several years ago, when there were greater civil liberties. They refuse to give their names, lamenting the loss of freedom of speech.
"I don't want to give you my name because I need to think about my future," said a 22-year-old physiology student. "That is a worry I just don't want to have anymore."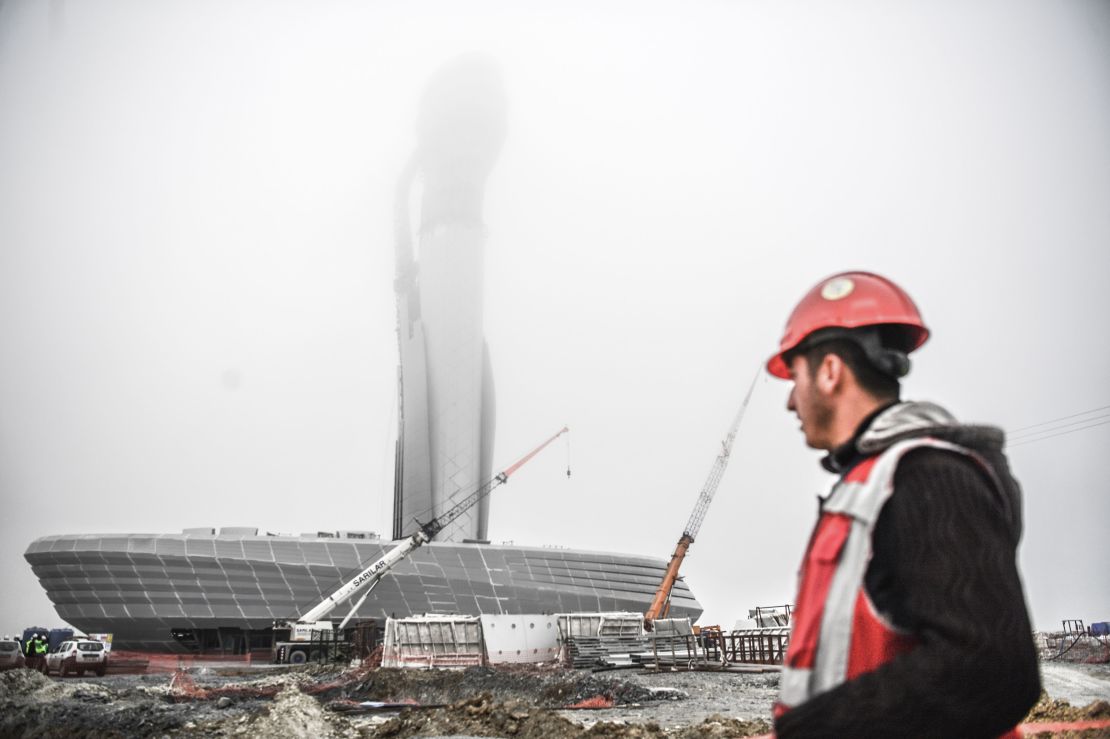 Another student said that providing services and development should be expected from a government, not something for Erdogan to brag about. "Roads, roads, roads. I don't want to talk about that. I want to talk about more," he said.
But development is a message that has worked for Erdogan for 16 years. Back at his rally in Istanbul, as his opera house presentation draws to a close, he asks, "How do you like that?" to the crowd, which roars back with approval.
He calls out to the control room again for his next presentation, new building plans for an island development and then another for a park.
CNN's Isil Sariyuce contributed to this report.