Almost 350 migrants are stranded on two boats in the Mediterranean, including a Danish cargo ship, as a standoff between nearby European countries deepened on Sunday.
The boats include German rescue ship, Lifeline, which picked up 234 people and 17 crew members off the coast of Libya on Thursday; and a cargo ship operated by Danish transportation company Maersk, which picked up another 113 migrants off the coast of Libya on Friday morning.
Both boats have been barred from docking at nearby Italy and Malta, as the countries urged other European nations to take in the stranded migrants.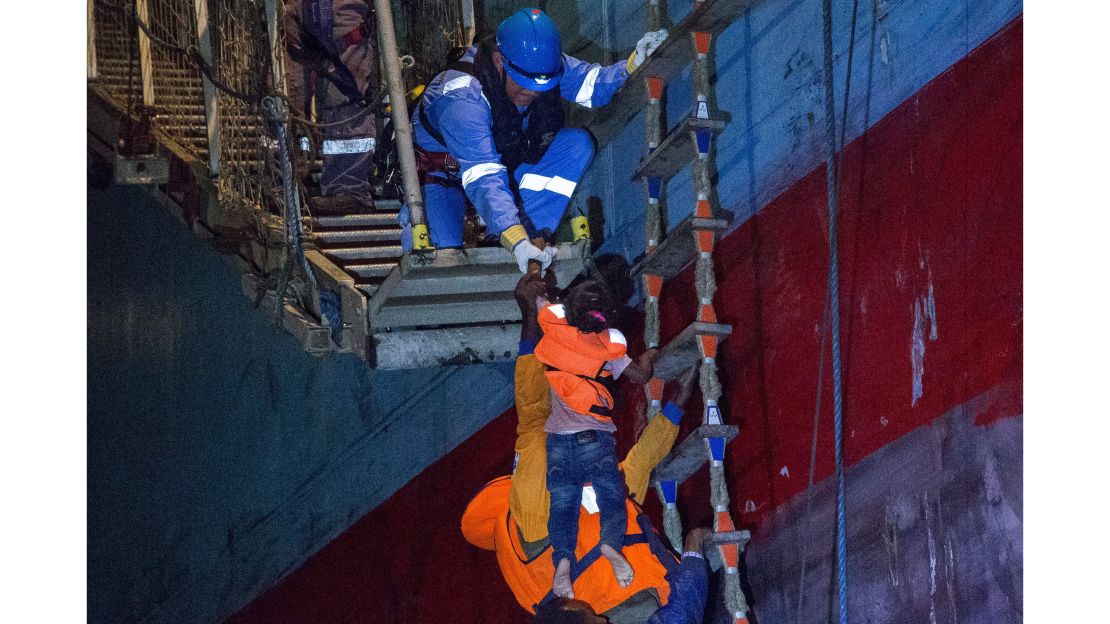 The standoff comes weeks after Italy and Malta refused to accept another rescue ship, the Aquarius, which was carrying over 600 migrants. After two days drifting in the Mediterranean the migrants were accepted by Spain, exposing the tough new policies of Italy's hardline interior minister and leader of the anti-immigration League party, Matteo Salvini.
'Dear Salvini, we have no meat on board, just humans'
Salvini doesn't appear to be backing down on his tough stance anytime soon. Last week he warned the Dutch-flagged ship operated by the German nongovernmental organization Lifeline, currently stranded in the Mediterranean with over 200 migrants on board, not to dock in Italian ports.
"You (Lifeline) did a show of strength by contravening the indications of the Italian and Libyan coast guard. Now, you'll carry this human load to the Netherlands," Salvini said in a Facebook live video from his office.
On Sunday, Lifeline responded to Salvini in a Twitter post, saying: "Dear @matteosalvinimi, we have no meat on board, but humans. We cordially invite you to convince yourself that it is people we have saved from drowning. Come here, you are welcome!"
Maersk answers Italy's call for help
Similarly, Italy has also refused to allow the Maersk cargo ship, which is carrying over 100 migrants and is located south of Sicily, to dock in its ports. That's despite the Italian Maritime Rescue Coordination Center calling Maersk on Thursday night and asking for it to rescue the migrants, a Maersk spokesman told CNN.
The cargo ship had been traveling between Libya and Malta at the time, the spokesman said, adding that "it is now denied a port of entry and the company is awaiting further instruction from authorities."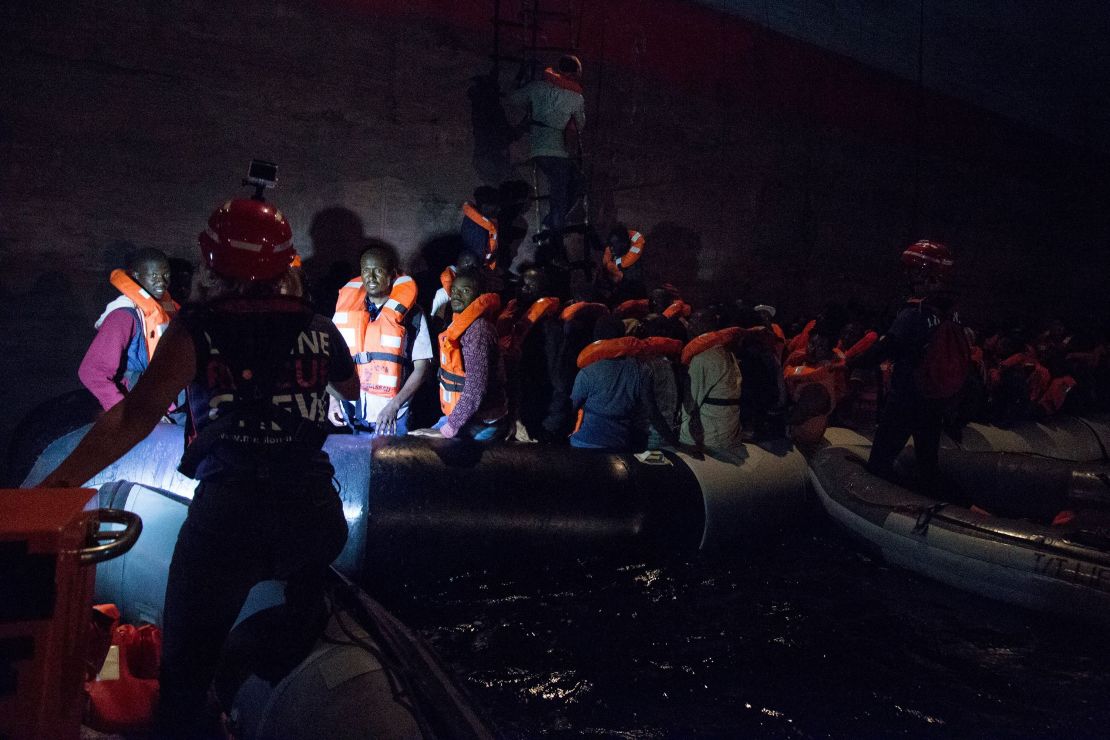 The ship is roughly three sea miles from the port of Pozzallo in Sicily, Italian Coast Guard press officer Commander Cosimo Nicastro told CNN. He added that of the 113 migrants rescued, five have since been brought to shore for medical reasons, including an eight-months pregnant woman and her partner, and a young girl that needed medical assistance with her mother and sister.
Lifeline ship near the coast of Malta
Axel Steier, a spokesman for Lifeline, told CNN Saturday that the ship was around 40 miles south of the Maltese coast.
However Malta has refused to allow the ship to dock, with Prime Miniser Joseph Muscat saying in a government statement that the rescue had taken place in the Libyan rescue zone and that it had been coordinated by the Italian authorities, and later by the Libyan authorities.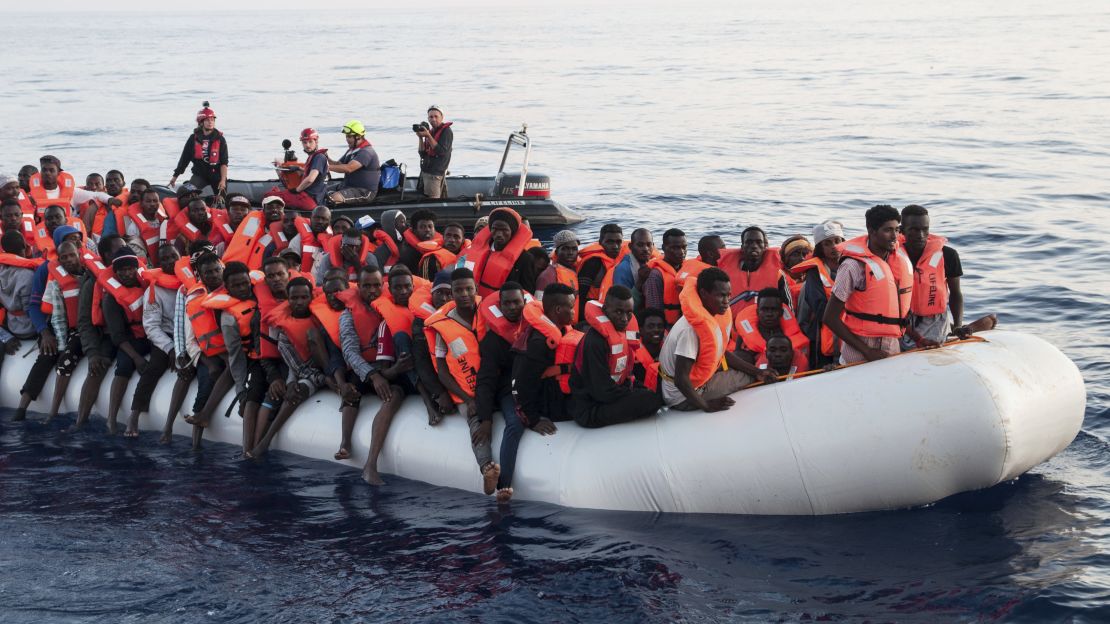 Given these circumstances, Malta is under no obligation to take in the ship, he said, even though the vessel is in the Maltese rescue zone.
That said, Malta has twice given food and drink supplies to the stranded ship, the Malta Ambassador to Italy, Vanessa Frazier, told CNN.
Blame game continues
Meanwhile, the fiery exchange between Italy and Malta continued over the weekend, with Italian transportation minister Danilo Toninelli calling the Maltese decision not to allow the Lifeline to dock "inhumane" and "absurd" on his Facebook page on Saturday.
Malta's Minister for Home Affairs and National Security, Michael Farrugia, responded with tweets asking Toninelli to get his facts right and accusing Lifeline of breaking "international rules."
Immigration continues to be a controversial issue for EU member states. During the recent federal election campaign that led to Italy's new government – a coalition between the anti-immigrant League and anti-establishment Five Star Movement – Salvini promoted his party with an "Italians first" slogan and pledged to deport half a million migrants.
At an informal EU summit on immigration in Brussels on Sunday, German Chancellor Angela Merkel appeared keen to manage expectations that European leaders could reach a broad agreement on migration, telling journalists that countries will need to work on bilateral and trilateral deals with one another instead of waiting for all 28 EU member countries to come to an agreement.
Desperate migrants on a deadly route
The Mediterranean remains the world's deadliest migration route, despite sharp falls in the number of people trying to reach Europe by boat. That drop is partly ascribed to a deal struck between Italy and Libya last year, in which the southern European country pledged to bolster Libya's coast guard so it could spot departing migrant boats and house migrants attempting to cross.
As of June 6, there had been an estimated 785 deaths on the route this year, the International Organization for Migration (IOM) said, with the majority of the 33,400 migrants and refugees arriving through Greece and Italy.
CNN's Nadine Schmidt and Atika Shubert reported from Berlin, Valentina DiDonato and Livia Borghese reported from Rome. Lonzo Cook contributed to this report.