Chiang Rai, Thailand
CNN
—
Senior Thai government officials warned Wednesday that time is running out to rescue teenage boys and their soccer coach, believed trapped in a flooded cave complex in northern Thailand for days, and that the search to find other entry points into the cave system has taken on a new urgency.
"We will try to find other ways apart from underwater rescue because the clock is ticking," Thai Interior Minister Anupong Paochinda said. "The boys (have) been in there for over 72 hours."
Rescue teams are working on access to the Tham Luang Nang Non caves from other locations above and have used new maps from the Thai Department of Mineral Resources to narrow the search area.
Heavy rains have halted helicopter sorties to find possible alternative entrances into the caves, and there has been no drone activity either.
But the interior minister said he was confident that the missing boys and their coach were likely alive, as they have food, and, as athletes, are physically strong. He added they had visited the caves before, giving them an advantage.
Photos emerge
Photos of the missing boys have emerged as the efforts ramp up to locate them.
The photos, from the Facebook page of the soccer team's 25-year-old coach, show the older man standing with the smiling teen and preteen boys.
The 12 boys range in age from 11 to 16, according to a list of names collected from families waiting at the cave entrance and distributed by officials. The group is suspected to have disappeared from that area Saturday.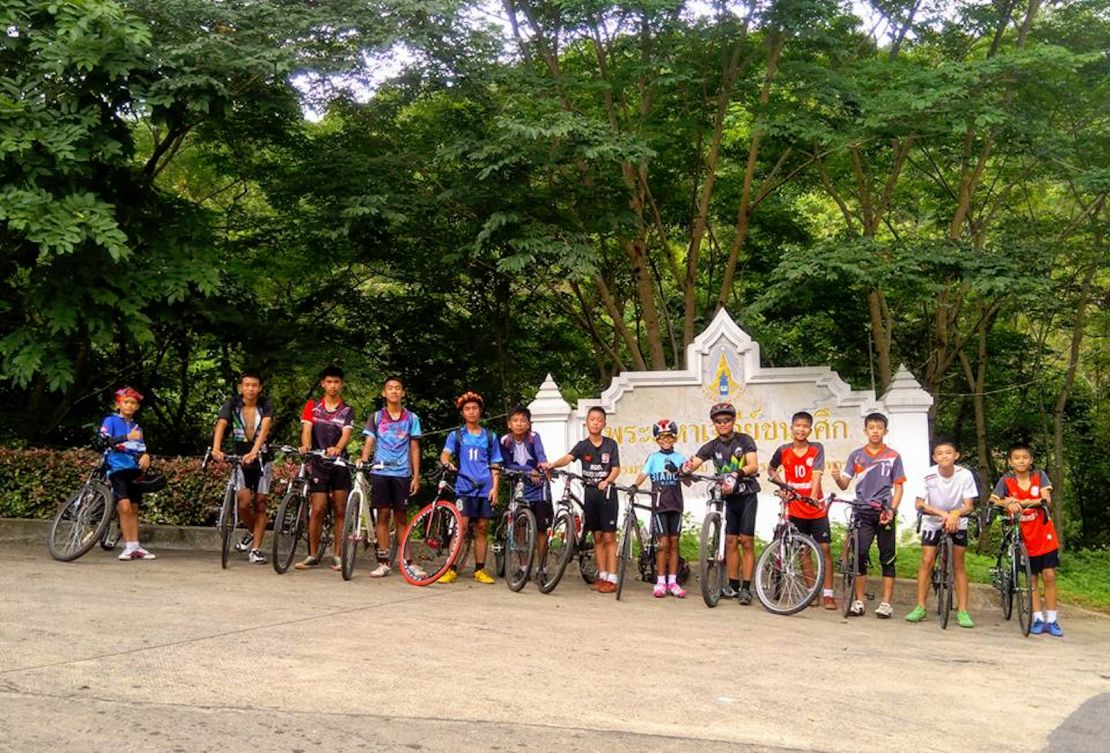 No new evidence of the boys' location or condition has been found, other than bags and shoes discovered earlier this week, army Maj. Gen. Chalongchai Chaiyakum told journalists Wednesday.
A joint force of about 1,000 army, navy, local administrative workers and volunteers are at the site, he said. The US government is sending experts to assist in the rescue effort, according to the army official. They were expected to land in northern Thailand on Wednesday in hopes of starting work Thursday, he said.
Chiang Rai Gov. Narongsak Osotthanakorn had earlier told families that teams are "working around the clock" to find the boys and their coach, and that rescuers are focusing on draining water to allow access to the flooded cave complex.
Thailand resumes search for missing soccer team
The interior minister said that officials are continuing to bring supplies to the site, including first aid kits.
Missing since Saturday
The group is from the city of Chiang Rai, near the caves where the boys are suspected of being trapped.
They have been missing since at least early Saturday afternoon when a park officer spotted bicycles parked idly by the entrance to the cave complex despite it being off-limits.
Those bikes have been gathered and grouped together as the boys' families await news.
The boys and their coach are believed to have crawled into the large series of caves through a narrow, 15-meter-long (50-foot) channel. A sign at the entrance to the cave – a popular tourist attraction – warns of danger during the rainy season, which is just getting underway.
Thai King Maha Vajiralongkorn expressed his concerns over the missing group. In a statement from the Thai palace, the King said he "wished the rescue team early success" and conveyed his moral support.
Anxious wait
Relatives started gathering at the cave entrance Saturday evening, and now around 60 people sit in a makeshift tent camp set up by the local government as they anxiously await updates from officials.
Drawing on traditional Thai rituals for strength, they've offered flowers and food to the spirits in the hopes they will guide their children out of the caves to safety.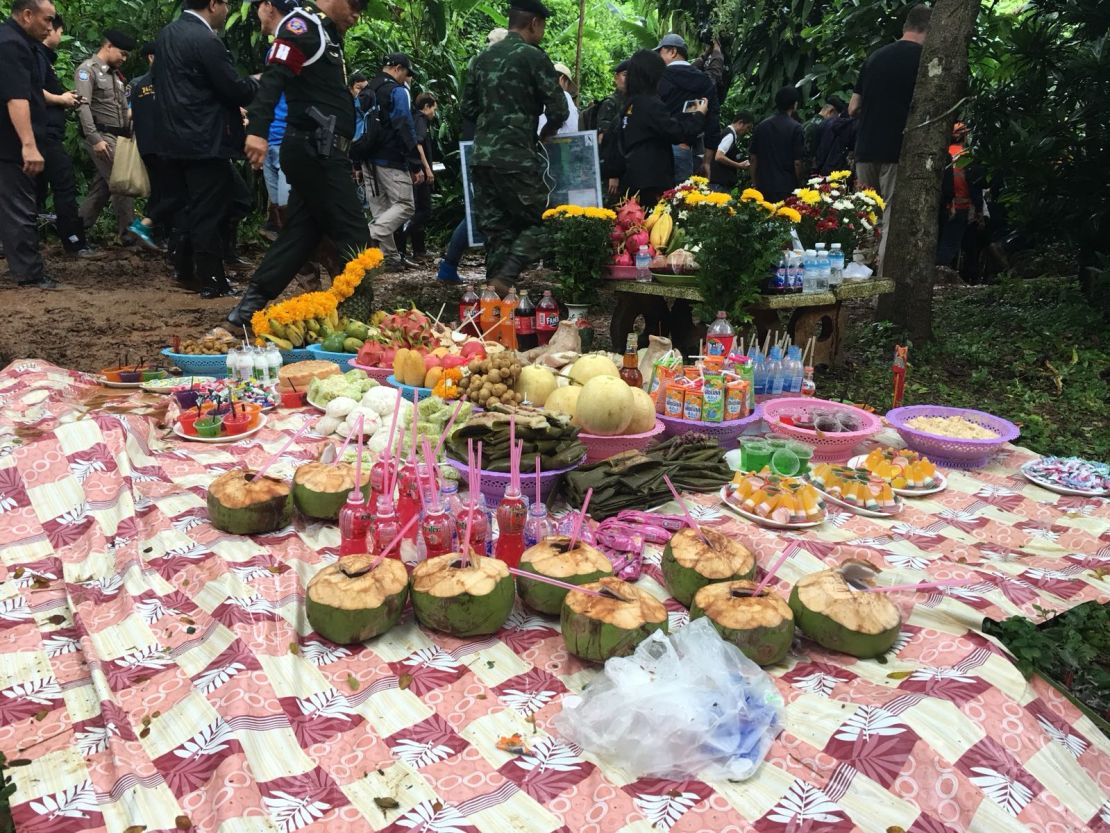 "Come to mama … come to daddy," some of them cry.
One mother, whose nickname is Nan, has barely moved from her chair since arriving five days ago, occasionally slipping into a fitful half-sleep.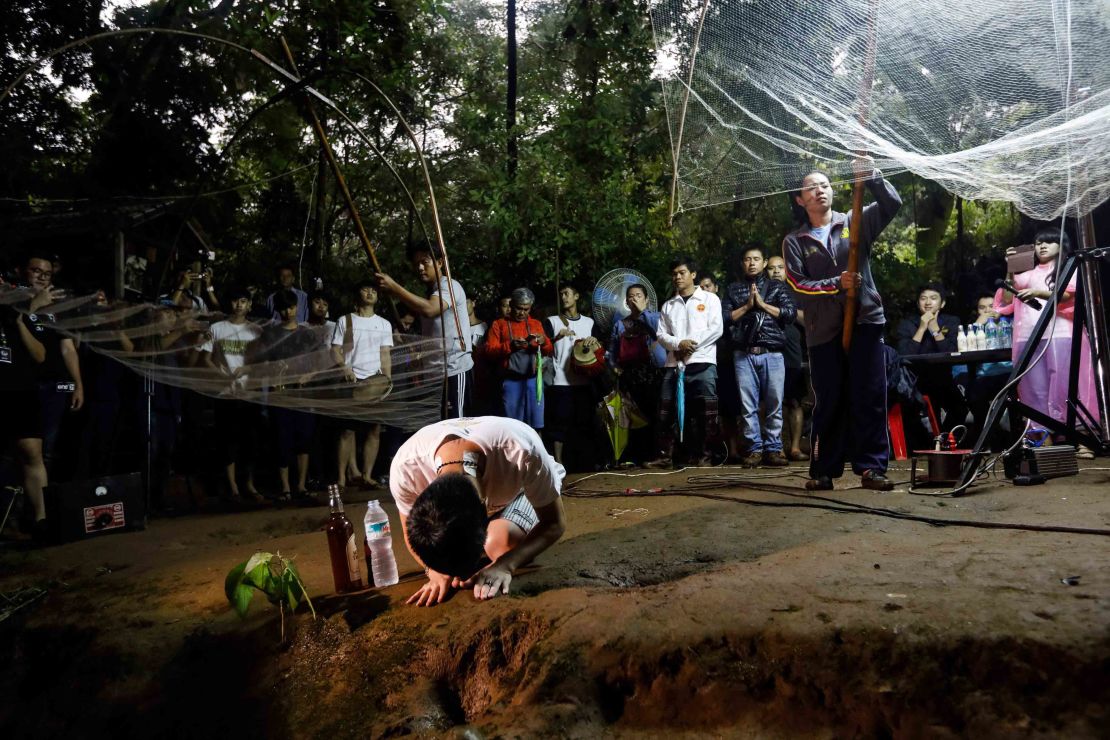 Another, who goes by the nickname So, is from a hill tribe and barely speaks Thai, hampering her efforts to understand what has happened to her son. Her brother said she has barely uttered a word for days.
The website of the Mae Sai Prasitsart school, which half of the boys attend, had a message for the missing students and their families: "Cheer up. … Be Safe."
Constant rain
Heavy rains initially flooded the cave complex and have not let up – a steady drizzle that occasionally erupts into stronger bursts. The rainfall is hampering attempts to pump water out of the cave system, making it even more difficult for the dive teams of Royal Thai Navy SEALs, police and professional divers as they search for the boys and coach.
A post on the SEALs' Facebook page said that pumps working overnight weren't powerful enough to reduce the water level and that heavy rain had caused further flooding, forcing rescuers to move back. The water level had risen about 6 inches per hour, the post said.
Almost 50 pumps have been brought to the cave complex, from both the Royal Irrigation Department and the Bangkok Metropolitan Administration.
At the main entrance of the cave, more pumps and hoses have been trucked in to speed up the drainage process, and rescuers are now also able to pump 24 hours a day without pause.
Kamolchai Kotcha, an official with Thailand's national parks authority, said that on Tuesday "we spotted a hole and we (dropped) a pack of food into it. But there is no response from that spot."
Still hope remains strong.
Sudsakorn Sutham, the father of one of the missing boys, Prachak, said he is certain the authorities will bring the boys home.
"I feel (the situation) is getting better and better. I am confident that my son will come back. There's so much help here."
He said he believes his son's athleticism will help him survive in the caves. "I'm so confident, 1 million percent. Because my son is strong. … He is an athlete. He is a footballer."
Families can also take heart from news that others have survived for days after getting stuck in the caves.
For now, though, those waiting for news can do little but hope.
CNN's Kocha Olarn reported from Chiang Rai, and Euan McKirdy wrote from Hong Kong.