Story highlights
"World-first" autonomous bus operating on streets of small Swiss town
"Trapizio" is the only self-driving bus to be integrated with other public transport
Should you find yourself walking through the quiet cobbled streets of Neuhausen Rheinfall, you might just stumble across the future of public transportation.
That's because this year the small Swiss town has embraced an all-electric self-driving bus that's the first of its kind anywhere in the world.
While other manufacturers have introduced autonomous buses elsewhere to various degrees of success – from the Mercedes Future Bus to a Las Vegas shuttle that crashed on its first day – never before has one been fully integrated into a regular timetable.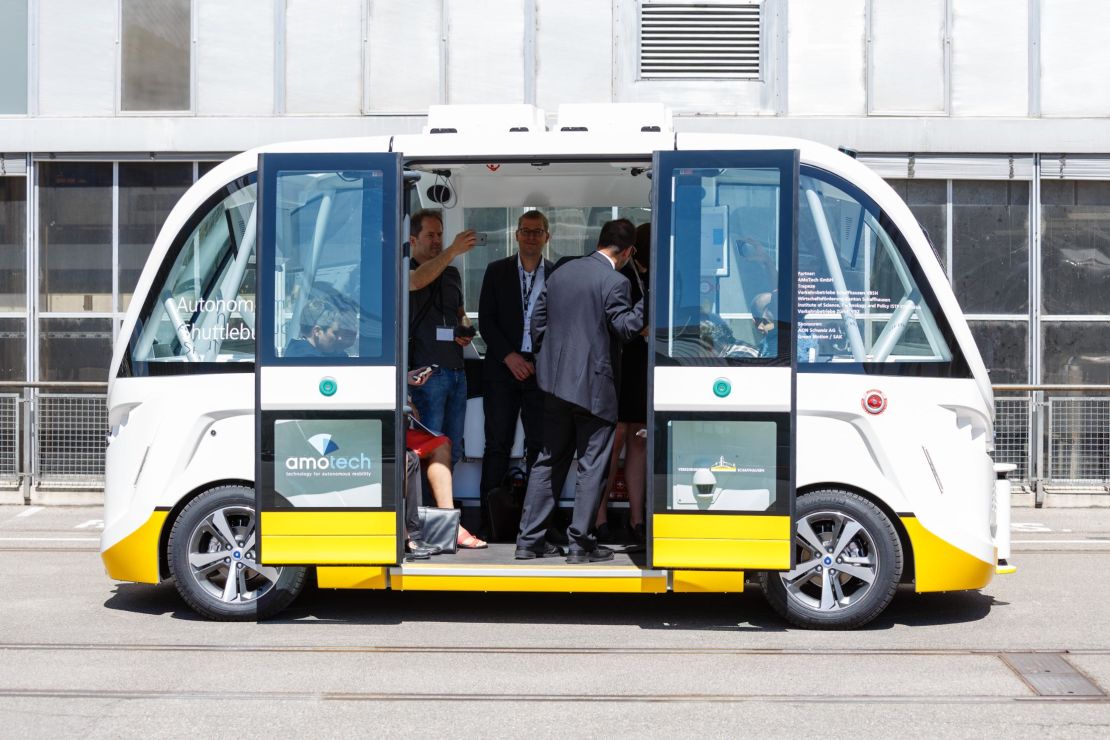 Open to the general public since March 2018, passengers can now travel to the nearby Rhine Falls, the largest waterfall in Europe visited by an estimated 1.5 million tourists a year, without a driver in sight.
"It's an all-autonomous bus and it's fully embedded into our public transport system here in Schaffhausen," Trapeze CEO Peter Schneck told CNN Supercharged. "It allows us to drive without a driver."
READ: Battery-powered boat smashes world record
WATCH: Test drive 'the race car of the future'
Response time
Negotiating the roads alongside regular traffic, the "Trapizio" also has no need for pedals or a steering wheel, instead relying on a number of advanced sensors to identify potential hazards.
Should the bus approach an unexpected obstacle or unwitting pedestrian during its pre-programmed route, its response time is quicker than that of a human being.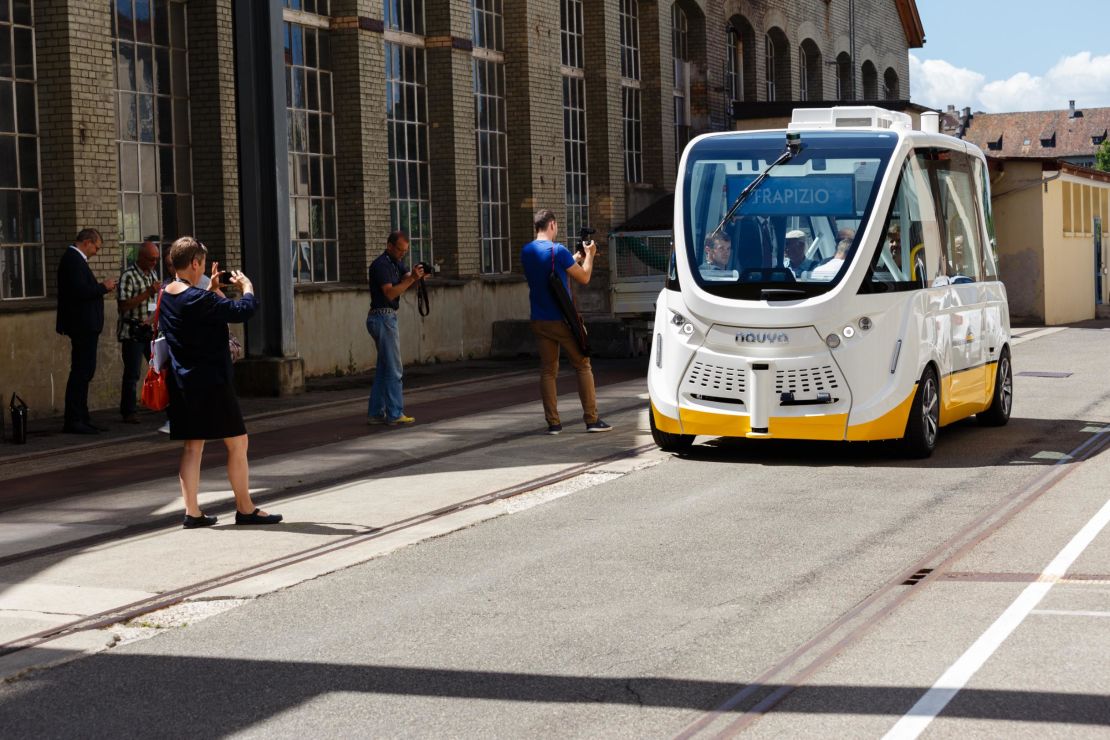 Its top speeds aren't yet something to write home about – limited for the time being to 25 kph – but the Trapizio does boast some pretty impressive charging times.
Able to operate throughout the day on a single battery, the bus is typically charged overnight in a process that takes between three to four hours.
It certainly looks the part, but is it safe?
"Absolutely," enthuses Schneck, who says he's tested that claim himself on numerous occasions. "It will stop immediately, faster than a car."
READ: Tesla testing 'Mad Max' autopilot mode
Would you ride a self-driving bus? Have your say on CNN Sport's Facebook page
'Strengthening public transport'
For now, a supervisor stands by and can take control of the bus when required with a "gamepad," but the hope is that in time outside assistance won't be necessary as the technology becomes more widely accepted.
"This marks the kick-off of our journey towards Stage 5 of autonomous mobility, when ultimately no person will be needed for attendance on board anymore," said Schneck.
Not that he believes this innovative design will lead to all buses becoming driverless any time soon.
"Our intention is to strengthen public transport," Schneck explains. "One of the reasons why people are using their individual car is because there are some fractures in mobility.
"So when you want to go to your final destination, typically you have to walk from home to the bus stop.
"If it's raining, you might still use your car, and once you're in the car you go ahead. But if someone picks you up at home for the first mile, then brings you to the hub for a bus or tram, then you can continue your journey to your final destination."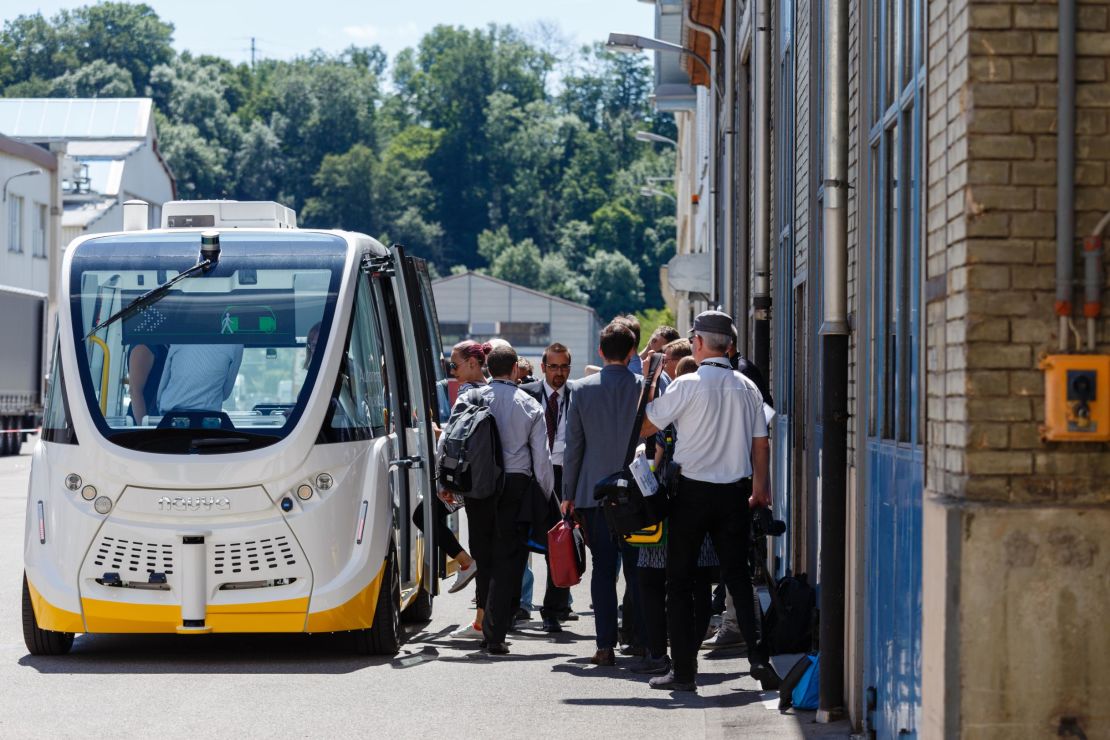 One potential benefit of directly linking autonomous mobility with traditional public transport services is the capability to explore new routes.
"[We] consider autonomous vehicles to be more than just a test object," said Bruno Schwager, director of the public transport authority of Schaffhausen.
"In the future, self-driving vehicles are expected to allow routes that to date have never been covered or were unprofitable to now be operated at reasonable cost. This benefits all public transport activities.
READ: Saudi Arabia to host 'motorsport of the future'