Migration could be a "make or break" issue for the European Union, German Chancellor Angela Merkel said in an impassioned speech Thursday ahead of a critical EU summit.
She pressed the German Parliament to back a tough but humane asylum and migration policy for the European Union, warning that if Germany fails to support that, migration issues could define Europe's destiny.
The crunch point comes at a time when Europe is already dealing with a lingering debt crisis, a rise in European populism, an escalating trade war with the United States, questions over Washington's commitment to NATO and faltering negotiations for Brexit.
EU leaders are meeting in Brussels on Thursday and Friday for a European Council summit that was supposed to focus on Brexit. Instead, with little progress on that front and high-profile disagreements over the fate of migrants rescued at sea, migration has come to the fore.
In a striking appeal to her own parliament for European solidarity, Merkel unpicked some of the most contentious problems pitting members of the European Union against each other.
"Those who come to Europe cannot choose which EU country they want to seek asylum in," she said. "Secondly, we cannot leave those countries where asylum seekers arrive to deal with (the problem) alone.
"If we do not get an agreement with the 28 EU member states, we will then need to consider a coalition of the willing on migrant policy. We need to find better solutions."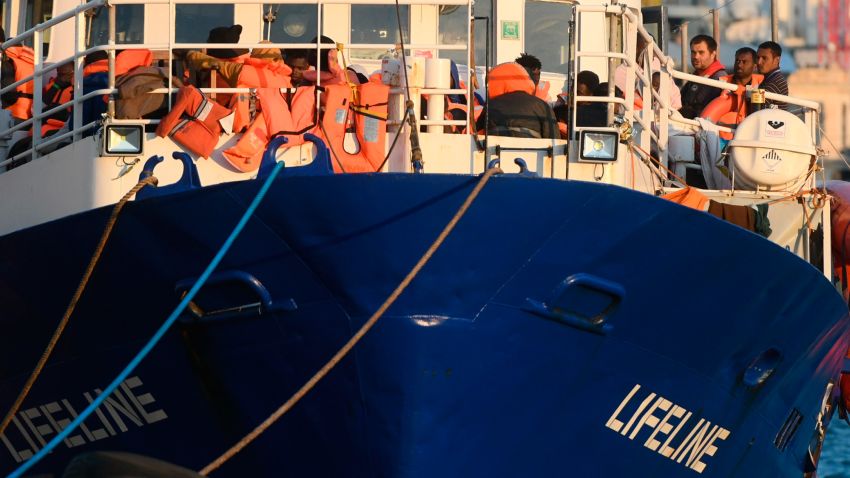 German chancellor under pressure over migration
Macron urges European solution
French President Emmanuel Macron echoed Merkel's message of cooperation as he arrived for the summit in Brussels.
"This subject is now not new," he said. "This has been a live issue in Europe since 2015. There is one alternative that I want to propose today: Do you want a national solution or a European solution which is cooperative?"
Meanwhile, European Council President Donald Tusk urged EU leaders to focus on the bloc's external border, including a proposal for so-called "regional disembarkation platforms" outside Europe to help stop the flow of migrants attempting perilous sea crossings.
Europe's cooperation with third parties had already helped to reduce the migration flow by 96% since 2015, Tusk said.
"The alternative to this solution would be a chaotically advancing closure of borders, also within the EU, as well as growing conflicts among EU member states," he said.
"Some may think I am too tough in my proposals on migration. But trust me, if we don't agree on them, then you will see some really tough proposals from some really tough guys."
One of those taking a hardline approach to migrants entering Europe is Hungary's Prime Minister Viktor Orban. "The invasion should be stopped. And to stop the invasion means to have strong border control, and we have that," he said as he arrived in Brussels.
Orban, who also opposes the quota system to redistribute migrants across EU countries, said the bloc must deliver "what the people really request" on migration in order to restore European democracy.
Hungary's Parliament passed a law last week that criminalizes helping undocumented immigrants, including asylum seekers.
Merkel: A new way
Speaking earlier in Berlin, Merkel advised against states acting unilaterally on migration, insisting that Europe needs to remain true to its multilateral values. It's an approach that can be seen as the polar opposite of US President Donald Trump's "America First" message.
"My maxim is: Not unilateral, not without consent, but with the consent of partner states," said Merkel. "Which is precisely what we have been discussing in the last few weeks. And what I will be talking about when I return. It will not be perfect. But it is the beginning of a new way."
She argued that Germany's so-called open door migration policy in 2015 – when more than 1 million migrants entered Germany – was an exceptional event and a decision that Germany did not make on its own.
"Our decision to open doors to refugees in 2015 was not unilateral. We acted to help Austria and Hungary," she said.
Merkel also pointed out that the number of asylum seekers coming to Europe had fallen dramatically and that it was now time for Europe to return to the migration policy it had before 2015.
Germany would push to strengthen Europe's external borders as well as seek agreements with African nations "similar to the agreement made with Turkey" on the return of rejected asylum seekers, she said.
Merkel conceded that her Interior Minister Horst Seehofer was right to push for a plan that reduces irregular migration and that high-profile criminal cases involving asylum seekers showed the need for tougher deportations.
"We are not yet where we want to be," she said.
Seehofer – whose disagreements with Merkel over migration briefly threatened to bring down her government earlier this month – was not present for the speech. A German Interior Ministry spokeswoman told CNN he had "other appointments to take care of."
By making this speech before, rather than after, the summit Merkel may hope to have taken the wind from the sails of her hardline critics such as Seehofer.
Tusk: 'Time is short'
In an invitation letter sent to EU leaders ahead of the summit, Tusk said a failure to ensure full control of Europe's external borders risked strengthening the hand of newly emerging populist political movements.
"More and more people are starting to believe that only strong-handed authority, anti-European and anti-liberal in spirit, with a tendency towards overt authoritarianism, is capable of stopping the wave of illegal migration," he said.
"If people believe them, that only they can offer an effective solution to the migration crisis, they will also believe anything else they say. The stakes are very high. And time is short."
Tusk also sounded a warning over Trump in the wake of the G7 summit in Canada, where deep divisions between the United States and its allies in Europe were laid bare, and ahead of a key NATO summit next month.
"Despite our tireless efforts to keep the unity of the West, transatlantic relations are under immense pressure due to the policies of President Trump," said Tusk.
"Unfortunately, the divisions go beyond trade. I will share with you my political assessment of where things stand. It is my belief that, while hoping for the best, we must be ready to prepare our Union for worst-case scenarios."
CNN's Sebastian Shukla and Lorenzo D'Agostino contributed to this report.