Sometimes winning isn't everything.
Just ask football fans from England and Belgium, many of whom would rather their team loses Thursday night's Group G encounter.
Both countries have already guaranteed qualification for the World Cup's round of 16, courtesy of victories against group stage rivals Panama and Tunisia.
What's at stake is which team takes top spot – a position that would traditionally ensure an easier path through the latter reaches of the tournament.
Except this time around, with many of the big teams underperforming, and one half of the draw stacked with dangerous opposition, it's actually the reverse that's true.
While the winner will potentially have to face the likes of Brazil and France en route to the final, the losing team could make it all the way to Luzhniki Stadium on July 15 having only overcome Sweden and Denmark in the quarterfinals and last four.
READ: Germany crashes out of World Cup group stages
Theresa May's surprise World Cup gift
Belgium manager Roberto Martinez certainly seemed tempted by the proposition in his pre-match press conference, openly admitting victory against England wasn't his chief concern.
"We have qualified and that was the priority," said Martinez. "Now we need to look at our individual players. We want to perform well but the priority is not to win. That is the reality, we have put ourselves in this situation, we wanted to qualify and we have done that."
Martinez, who has already said he will rest all-time top scorer Romelu Lukaku, added: "I think tomorrow's a celebration.
"Two teams can celebrate being qualified for the knockout phase."
England boss Gareth Southgate was more pragmatic, though his words could later be seen as naïve should a beaten Belgium breeze through to the final.
"We have no idea who, when or where we will play," said Southgate, stressing the dangers of plotting a path through a tournament that has already thrown up no shortage of major shocks. "We're just pleased we're in the next round."
After all, any projections would be rendered immediately and embarrassingly irrelevant, should the two sides fail to overcome their last 16 opponents: either Japan or Colombia.
"We've not won a knockout game since 2006," shrugged Southgate. "So, why we are starting to plot which would be a better venue for our semifinal is beyond me really."
'Winning mentality'
According to sports data company Gracenote, Southgate's men have a 24% chance of reaching the last four should they emerge as group winners, but a 35% chance should they finish second.
But the other side of the argument is that the value of instilling a "winning mentality" and generating "momentum" cannot be underestimated.
"We're building a team that everyone back home can see are passionate to play for England, that want to win every time they go out and are improving every time," stressed Southgate.
"We want to win. That would mean we top the group and then we can move forward. I go back to the fact we're trying to develop a winning mentality and I can't imagine a situation where I talk to the players about anything else. It just wouldn't be authentic for what we've been trying to build for the last two years."
The potential route to the World Cup final for England & Belgium
Group H winners
Last 16 - Japan
Quarterfinals - Brazil/Mexico
Semifinals - France/Argentina/Portugal/Uruguay
Group H runners-up
Last 16 - Colombia
Quarterfinals - Sweden/Switzerland
Semifinals - Spain/Russia/Croatia/Denmark
While it is indeed hard to envisage a manager instructing his team to lose, it's not without precedent.
The winners of an infamous 1998 Tiger Cup group stage contest between Thailand and Indonesia would have to face relative powerhouse Vietnam in the next round while the losers would face the apparently weaker Singapore. As a result, both teams tried to throw the match.
With the score level at 2-2 and time running out, Indonesia's Mursyid Effendi turned and deliberately kicked the ball into his own net to ensure defeat.
Both teams were fined $40,000 by governing body FIFA for "violating the spirit of the game." Effendi was banned from international football for life.
Should England and Belgium play to win or lose? Have your say on CNN Sport's Facebook page or on Twitter using the hashtag #CNNWorldCu
And there's further warning signs for Belgium and England, should they be plotting any foul play in the pursuit of eventual glory. Both Thailand and Indonesia lost their semifinals anyway.
Singapore, the underdog, went on to lift the trophy.
Fair play?
While both sides are unlikely to be so brazen, one outcome that could occur at the Kaliningrad Stadium Thursday is a draw.
And given both sides are level on points, goal difference and goals scored, top spot would be then decided by fair play.
In such a scenario, whichever team accumulates the most cards over the course of the group stage would finish second. So could we see a foul in the dying stages end up determining the destiny of these footballing nations?
1-on-1 with Geoff Hurst: 'It changes your life'
Players deliberately getting booked isn't all that unusual, according to former referee Mark Halsey, who officiated in the Premier League for 14 years and was in charge for numerous high-profile international fixtures.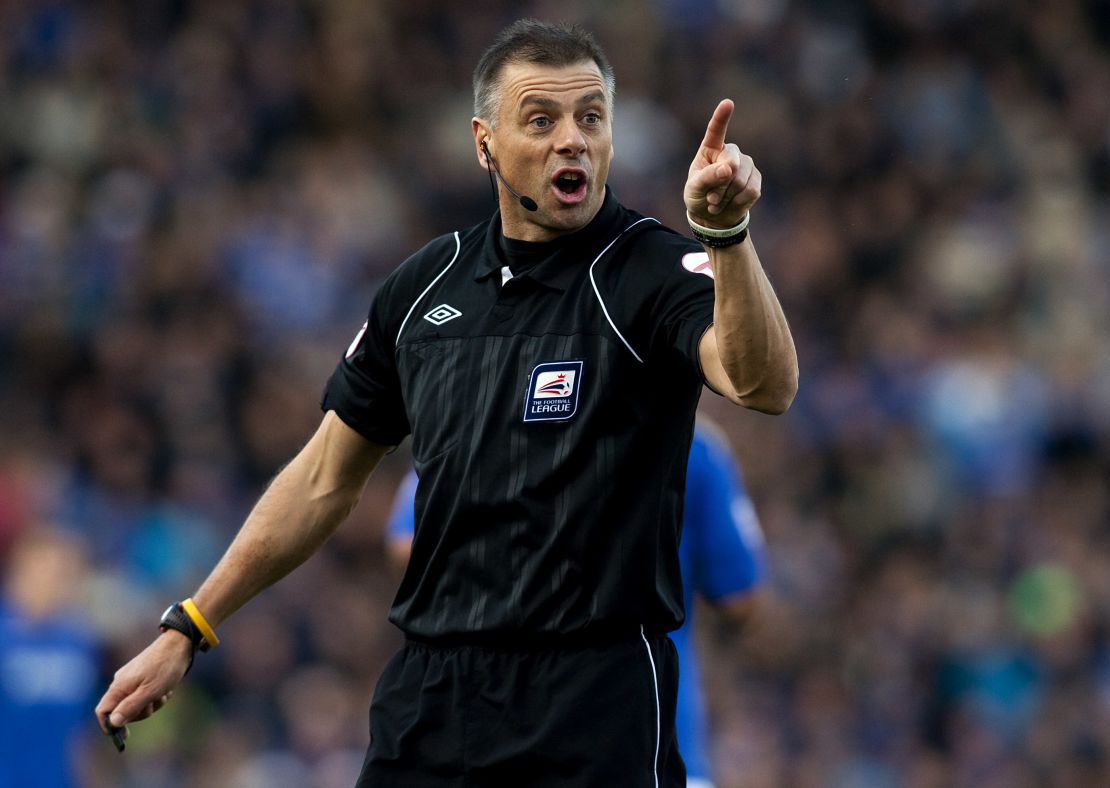 Halsey recalls a Premier League game from 2011 when a player approached him quite literally asking for a yellow card.
"He's just said 'listen, look, we've got a game Tuesday. If I don't get cautioned now and get one Tuesday, I'll miss the big derby on the Saturday," Halsey told CNN.
"So he just asked me if I could show a yellow. And I did actually.
"I said to him, 'Alright, we've got 10 minutes to go, when I give a free-kick against you' – and I knew I would because he's that sort of player – 'just leather the ball 50 yards away and I can caution you for dissent.'
Visit CNN.com/sport for more news and features
"If you've got big games coming up and you're on four yellow cards, one more means you get suspended. I just said to him, 'Don't do nothing stupid.'
"He came up to me at the end of the game and said, 'Thanks for that Mark.'"