As the largest backer of the campaign for the UK to leave the European Union, Arron Banks rejoiced in being called one of the "Bad Boys of Brexit." Now the UK's National Crime Agency is investigating his financial support for the campaign and his contacts with Russian officials, according to three sources familiar with the probe.
The agency recently received an extensive archive of Banks' emails and other documents, the sources say, which include descriptions of meetings with Russian diplomats and possible business opportunities in Russia.
At least some of those emails have already been leaked to media organizations in the UK and the US. Banks, who provided loans and donations totalling about $12 million to Leave.EU, the Brexit campaign group he co-founded, has complained to the police that they were stolen.
A spokesperson for the National Crime Agency told CNN it never confirms or denies the existence of investigations. The UK's Serious Fraud Office also declined to comment on whether it had opened an investigation. The Sunday Times of London first revealed the National Crime Agency's involvement last weekend.
In a text to CNN on Monday, Banks's spokesman Andy Wigmore said the NCA had not contacted either of them. "And they are unlikely to, firstly because both UK and US authorities were fully briefed and know the truth – there is no evidence of any wrongdoing or collusion because it didn't happen so even they know there is nothing to investigate," Wigmore said.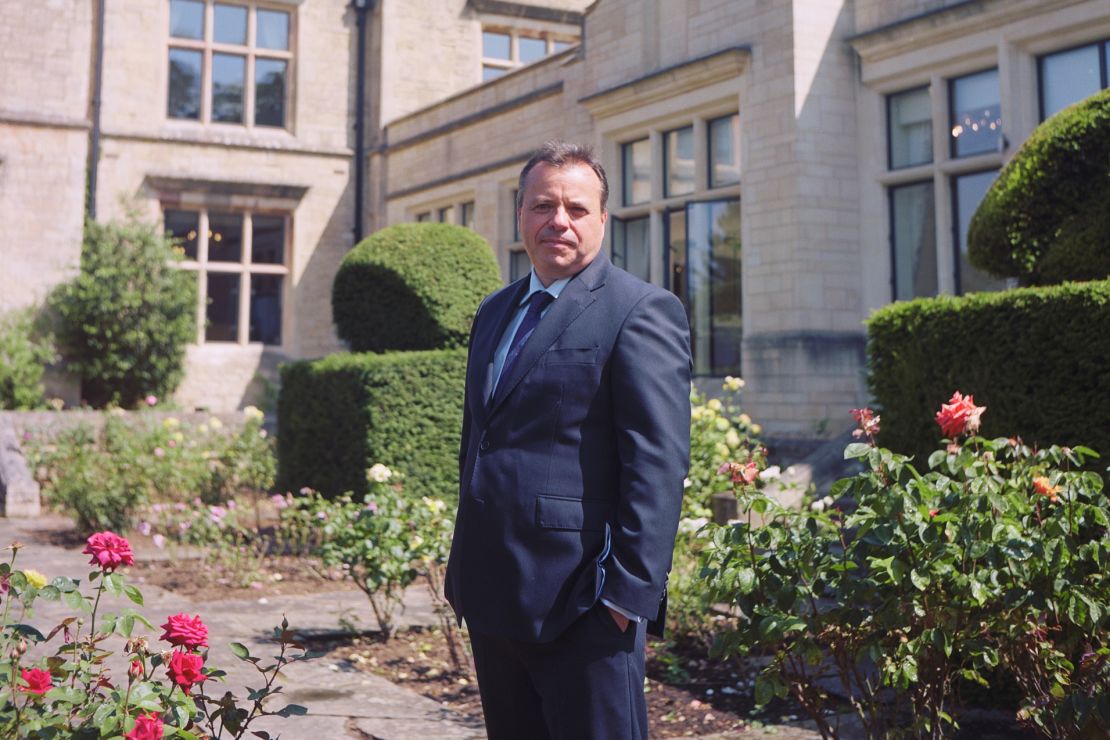 Banks' financial support for Leave.EU in the runup to the 2016 vote made him the biggest individual donor in British political history. The group won the endorsement of the leader of the UK Independence Party, Nigel Farage, one of the leading pro-Brexit campaigners. According to the latest accounts of Leave.EU, Banks' loan has not been paid back.
His emails were passed to the National Crime Agency by a third party. Sources have told CNN the documents have also been shared with the UK's domestic intelligence service MI5 and, in the US, with Democratic members of the House Intelligence Committee. The committee has been investigating allegations of collusion between people associated with the Trump campaign and Russia, as well as Russian interference in the 2016 US presidential election campaign.
Some of the emails, which CNN obtained, discuss meetings between Banks, Wigmore and diplomats at the Russian embassy in London, including with the ambassador Alexander Yakovenko in 2015 and 2016.
The cache of emails reveal that, before the EU referendum in June 2016, Banks was offered the chance to invest in several Russian businesses, including the consolidation of Russian gold mines and a sale of shares in the country's largest diamond mine company, Alrosa.
In one email sent to the Russian mining magnate Siman Povarenkin in November 2015, Banks said he was "very bullish on gold so keen to have a look." He copied a wealthy business partner and fellow Brexit supporter, Jim Mellon, on the correspondence.
Russian 'Gold Play'
Two months later, Banks wrote to an adviser with experience of Russian business deals, Nick van den Brul. Banks asked whether there was "any chance Andrew Umbers [another adviser] and myself can see you about the Russian Gold Play. I intend to pop in and see the [Russian] ambassador as well."
The following month Van den Brul wrote to Wigmore, saying: "You may have seen that Alrosa, the Russian diamond monopoly, may have been touted as one of the companies which could be privatised. In my view there won't be full privatisation but it could open up some opportunities for Arron through 'partial' privatisation."
Efforts by CNN to reach Van den Brul were unsuccessful.
In April 2016, the correspondence shows Banks was offered an introduction by a business acquaintance to an "adventurous" Russian gold miner seeking capital for a prospecting business in the west African state of Guinea.
Banks has said repeatedly that he never invested in any of the schemes on offer. Wigmore told CNN they had received advice not to invest in any of the proposals. "No deal and no business with any Russian," he told CNN.
But a fund linked to Jim Mellon did buy into the Alrosa offering. Based in the Isle of Man, a tax haven in the Irish Sea between the UK and Ireland, Mellon has long experience of investing in Russia. He held a minority stake in Charlemagne Capital, which successfully bid for shares in Alrosa when the Russian government sold part of the company in July 2016 for some $800 million.
A report in September 2016 by a fund run by Charlemagne noted that "placements of this type often provide a profitable entry point, and diamond producer Alrosa has performed well."
Alrosa's stock price rose sharply in the three months after Charlemagne had purchased millions of shares in the company. Other investment banks and hedge funds had also bought into Alrosa.
A representative for Mellon refused to comment on the record, but CNN has been told that at the time Mellon was not involved with Charlemagne's investment committee and had no knowledge of the acquisition.
Meetings with US officials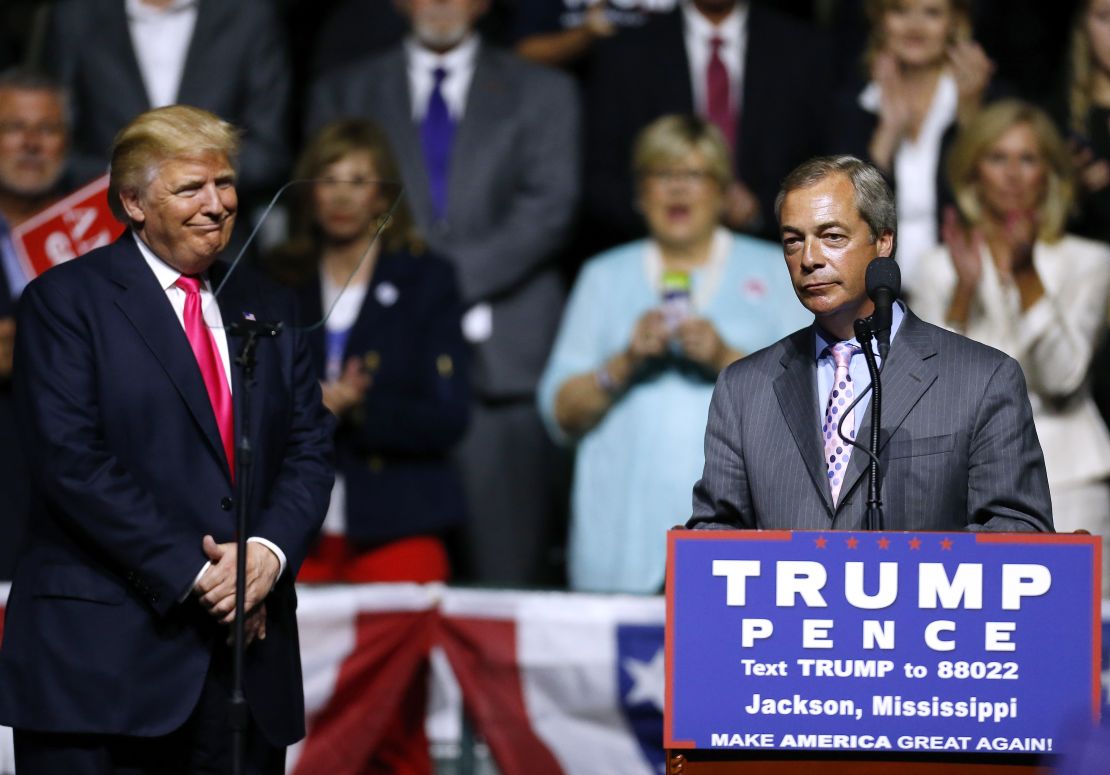 In August 2016, fresh from his victory in the EU referendum two months earlier, Farage appeared with Donald Trump at a campaign rally in Jackson, Mississippi, at the invitation of Mississippi Governor Phil Bryant.
Later that year, the Atlantic Council think tank published a report on Russia's influence in Europe, entitled "The Kremlin's Trojan Horses." Widely cited in the media, the introduction to the report claimed that Farage was "unabashedly pro-Russian."
In response, Wigmore made contact with the US embassy in London to set up a meeting between Farage and a senior US official. The goal was to demonstrate that allegations of collusion with Russia were untrue and "to make sure we did not embarrass Gov Phil Bryant and President-elect Trump," Wigmore told CNN.
Wigmore says he was transparent about contacts with Russian officials and had handed over "all correspondence and contacts we had" to US officials. "I met with them on over six occasions," he told CNN.
'Let them investigate'
Leave.EU is already subject to an investigation by Britain's Electoral Commission and has been fined £70,000 (approx $92,000 at current rates) for spending beyond the UK's strict campaign spending limits ahead of the 2016 EU referendum – a decision it is appealing.
The commission has also opened an investigation into whether Banks and another group he backed – Better for the Country – "breached campaign finance rules in relation to donations at the 2016 EU referendum." Better for the Country made donations of £2.36 million to pro-Brexit groups (equivalent to around $3.3 million at the time).
Some opposition lawmakers in the UK want a broader investigation. Stephen Kinnock, a Labour MP who campaigned for the UK to remain in the EU, told CNN: "We need a full-spectrum probe, probably involving MI5 and MI6 given the international dimensions of this." MI6 is Britain's foreign intelligence service.
Kinnock wrote to London's Metropolitan Police, urging it to open an investigation into the source of Banks' campaign funds and potential Russian interference in the referendum. The Metropolitan Police responded, saying it had "not received any referral from the Electoral Commission regarding Leave.EU and impermissible foreign donations."
Banks remains defiant. Asked about the possibility of an investigation by the National Crime Agency, he told UK media: "Let them investigate. All of this just makes me look like an international man of mystery."