Amesbury, United Kingdom
CNN
—
UK Home Secretary Sajid Javid called Thursday for Russia to provide explanations after it was confirmed that two people were exposed to the same Soviet-era nerve agent that nearly killed a former Russian double agent and his daughter earlier this year.
The UK government blames Russia for the poisoning of Sergei Skripal and his daughter Yulia in March, a claim Moscow denies.
Now a couple identified in British media as Charlie Rowley, 45, and Dawn Sturgess, 44, are in critical condition in Salisbury District Hospital – the same hospital where the Skripals were treated – after falling ill Saturday in the nearby town of Amesbury.
"It is now time that the Russian state comes forward and explains exactly what has gone on so that the most appropriate course of action can be taken," Javid told Parliament after chairing a meeting of Britain's emergency committee.
"It is completely unacceptable for our people to be either deliberate or accidental targets. Or for our streets, our parks or our towns to be dumping grounds for poison."
Javid told lawmakers that all the sites that were decontaminated after the Skripal poisoning are safe and there is "no significant risk" to the public.
After additional tests, authorities now suspect the pair were exposed to Novichok after "handling a contaminated item," London's Metropolitan Police said in a statement Thursday. "Detectives are working as quickly and as diligently as possible to identify the source of the contamination," the statement read.
Six sites have been cordoned off by police in Amesbury and Salisbury, both in the southern English county of Wiltshire, as they investigate the latest poisoning. Anyone who visited those sites is advised to wash their clothes and any items they had with them, Javid said.
Police have expanded their investigation of one of those sites – low-income housing in the center of Salisbury – to include part of the nearby street and inside the building. Dawn Sturgess is understood to have links to John Baker House, which CNN saw residents leaving under instruction from police. The social housing is located about half a mile from a restaurant where the Skripals dined before falling ill.
Speaking at a multi-agency news conference in Amesbury on Thursday, Wiltshire Police Chief Constable Kier Pritchard said that while there remains the possibility that the two incidents might be linked, there is as yet no immediate evidence to suggest the victims were targeted or linked to the Skripals.
UK Prime Minister Theresa May has been updated on the situation, her office told CNN.
"My thoughts are with the people of Wiltshire … to see two more people exposed to the Novichok in the UK is obviously deeply disturbing, and the police, I know, will be leaving no stone unturned in this investigation," May said in Berlin, speaking alongside German Chancellor Angela Merkel.
What happened?
Rowley and Sturgess, both British nationals, live in Amesbury, a town of fewer than 10,000 people about 8 miles from Salisbury, where the Skripals were found slumped on a city center bench in March. Both spent weeks in the hospital before they were discharged.
Paramedics were called to an address on Muggleton Road, Amesbury, at 10:15 a.m. Saturday, after a woman, later identified as Sturgess, collapsed, according to Neil Basu, the assistant commissioner for counter terrorism with London's Metropolitan Police.
They were called back later the same day when the man had also fallen ill.
The couple made a round trip to Salisbury from nearby Amesbury on Friday, according to family and friends who spoke to British media.
Doctors initially thought they'd been exposed to a batch of contaminated cocaine or heroin. However, concerns over their symptoms prompted medical officials to look at Novichok and test results Wednesday confirmed their exposure to the agent.
Residents told CNN they were very concerned by the news, coming only weeks after the poisoning of the Skripals and subsequent cleanup by the authorities.
"It is quite scary and very worrying as well. To know it is still about," said Paula Bull, a mother of six. "This is no place for my kids to grow up, it's really worrying. I'm going to be more cautious."
Another Salisbury resident, who gave her name only as Susan, said she was "really angry" with the authorities for not living up to their promise to clean up the area after the Skripal case.
"The only place I ever saw getting cleared was the bench where Sergei Skripal was found," she said. "We don't need this sort of thing, it's very quiet lovely beautiful area, and to have chemicals like that around – you just can't have it. There are too many elderly and too many children."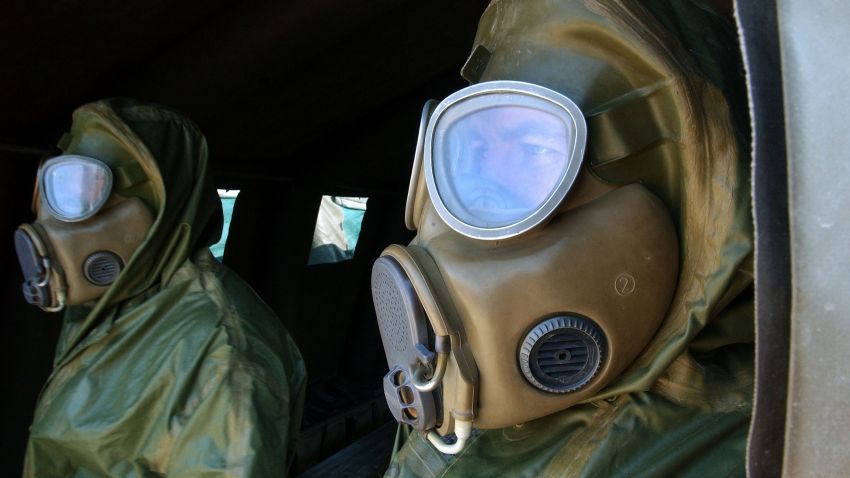 What are nerve agents like Novichok and how do they kill?
Is there a connection to the Skripal case?
Basu said police were looking into whether the two incidents were linked. Britain has not accused Russia of deliberately targeting the latest victims, who have been described as ordinary local residents with no ties to Russia.
The March incident in Salisbury sparked a diplomatic dispute between the UK and Russia after British investigators and the Organisation for the Prohibition of Chemical Weapons (OPCW) blamed Moscow for the attack.
Russia has denied the allegations, but that did not stop more than 20 other countries from expelling Russian diplomats in a show of support for the UK.
Kremlin spokesman Dmitry Peskov said Thursday that Britain had provided no proof of Russian involvement in the attack on the Skripals. "You know that from the very beginning of the Salisbury case, Russia categorically denied and continues to deny the possibility of any involvement," he said.
Russian Foreign Ministry spokeswoman Maria Zakharova said the UK government should "stop playing games with poisonous chemical substances."
She also accused the British government of "creating obstacles" to investigating the poisoning of the Skripals earlier this year. Russia has repeatedly insisted, to no avail, that UK authorities should allow it jointly to probe the incident.
"I'm sure that for everything May's government has done, this government and its immediate representatives will have to apologize one day," Zakharova said.
Hours earlier, the Russian Embassy in the Netherlands tweeted that Britain was "dumb" if it believed Russia was behind the latest poisoning.
The Russian government has put forward multiple theories as to who may have been behind the Skripal attack.
Addressing lawmakers, Javid said: "We can anticipate further disinformation from the Kremlin, as we saw following the attack in Salisbury. And as we did before, we will be consulting with our international partners and allies following these latest developments."
What are authorities doing?
The priority for investigators, said Basu, is to establish how Rowley and Sturgess came into contact with Novichok.
Police have cordoned off a number of sites the two are thought to have visited before they fell ill.
Wiltshire Police Deputy Chief Constable Paul Mills listed five: Amesbury Baptist Church; a Boots pharmacy in Amesbury; Queen Elizabeth Gardens in Salisbury; the John Baker House in Salisbury, a supported living facility; and the property on Muggleton Road.
Authorities did not say when the victims visited each location, but church secretary Ray Collins told CNN he believed the couple attended a family fun day at the church on Saturday, though he did not know who the pair were.
The fun day began at 2 p.m., according to the church's Facebook event, so it's possible that only Rowley went.
Risk to the general public remains low, Debbie Stark, south west deputy director of Public Health England, said during Thursday's press conference.
What is Novichok?
Nerve agents kill by affecting the nervous system in various ways.
Novichok, which works by causing a slowing of the heart and restriction of the airways, is one of the world's rarest nerve agents. Very few people outside of Russia have experience with it.
It was first developed in secret by the Soviet Union during the Cold War in the 1980s, as a means of countering US chemical weapons defenses but was revealed to the world by former Soviet scientist and whistleblower Vil Mirzayanov.
Mirzayanov told CNN that Novichok is up to 10 times as potent as VX, the weapon used to kill Kim Jong Un's half brother, Kim Jong Nam, in 2017.
"A lethal dose … and the person will die immediately. If [the dosage] is less, [the person] will go through very tortuous scenes. They will start convulsions, and stop breathing and then lose vision, and there are other problems – vomiting, everything. It's a terrible scene," Mirzayanov told CNN.
CNN's Lindsay Isaac, Sebastian Shukla, Hilary McGann, Nick Paton Walsh and Mary Ilyushina contributed to this report.