A day after one of its most prominent political prisoners left the country, a Chinese court has sentenced a longtime pro-democracy activist to 13 years in prison.
Qin Yongmin was found guilty of "subversion of state power," according to a short statement from the Intermediate People's Court in Wuhan, a city in central China's Hubei province.
His sentencing came as a shock to many in the Chinese dissident community still celebrating the release Tuesday of Liu Xia, the poet and widow of Nobel Peace Prize laureate Liu Xiaobo, who had been under house arrest for almost eight years.
Liu Xia landed in Berlin, Germany late Tuesday night China time, where she was greeted by friends and supporters who have spent years campaigning for her release.
Qin's "heavy sentence" on the heels of Liu's release is a "reminder that Xi Jinping's brutal crackdown on human rights continues," Chinese Human Rights Defenders (CHRD) said in a statement.
"Qin's conviction and 13-year sentence is in reprisal for his long-standing work as a human rights defender."
Widow of Liu Xiaobo leaves China
Longtime activist
Co-founder of the China Democracy Party (CDP), the 64-year-old Qin has spent much of the past four decades in prison, according to NGO Front Line Defenders. He was first jailed for his activism in 1981, serving eight years in prison, and subsequently in 1993 to two years "reeducation through labor" for calling for the release of political prisoners jailed in the wake of the 1989 Tiananmen Square crackdown.
In 1998, during a brief period of relative openness in China as Beijing sought accession to the World Trade Organization and normalized relations with the US, Qin and several others attempted to openly register the CDP as a rival political organization to the ruling Communist Party.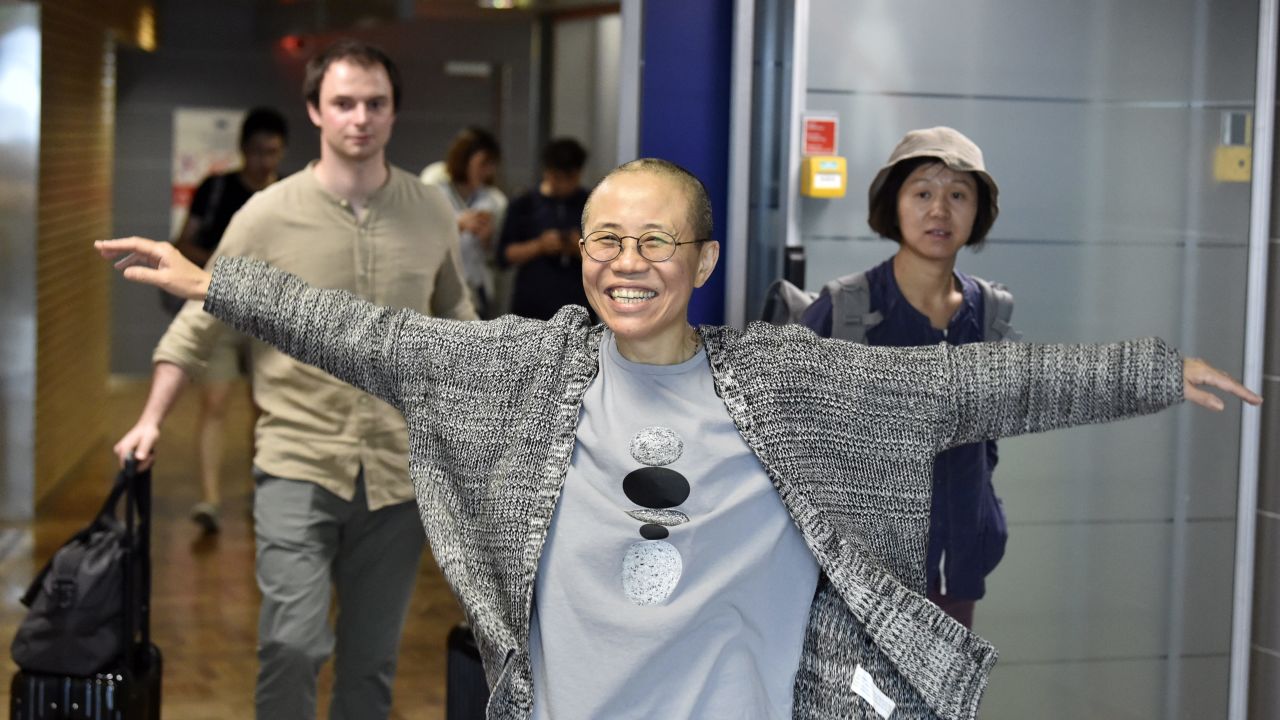 He was sentenced to twelve years in prison, one of a raft of members swept up in a concerted crackdown on the CDP which also saw widespread censorship of the group's materials and websites.
Following his release in 2010, he was kept under tight surveillance but continued his activism, launching China Human Rights Watch, which monitored freedoms in the country.
Qin disappeared in early 2015, according to CHRD, and was formally arrested several months later. The group said he was denied access to a lawyer until late last year, shortly before his trial was scheduled for December. However the trial didn't go ahead.
Just days earlier on Christmas Day 2017, activist Wu Gan was sentenced to eight years in prison, prompting international criticism.
Qin returned to court in May, and was this week sentenced to 13 years in prison. He will be 77 by the time he is due to be released.
Patrick Poon, China researcher at Amnesty International, said on Twitter that it was a "shock" to see Qin's heavy sentence so soon after Liu Xia's release.
"It reminds us that we shouldn't forget the less famous activists who face harsh sentence and harassment," he said.
Dozens of lawyers, human rights activists and labor organizers have been arrested as part of an ongoing crackdown launched by President Xi Jinping since he came to power in 2012.