Story highlights
Croatia to play France in World Cup final
Country of four million competing in its first final
Final to be played July 15, 16:00 BST
On the morning after the night before, eyes learning to refocus again after giddily celebrating Croatia reaching a first World Cup final, Anita Sambol jumped into her car and made the 60 kilometer journey to Zagreb.
She needed a passport. Urgently. She, like her country's footballers, was on her way to Moscow for the World Cup final, to be a witness to a momentous moment in her country's history.
"It's been really crazy, crazy, crazy here during the World Cup," she says, speaking to CNN Sport from her Croatian home. "Wednesday it all went on a completely other level. It was just pure happiness, pure celebrations."
It was on floodlit Wednesday night in the Russian capital, of course, that Croatia's footballers dug into their infinite reserves of energy to crush English dreams in a gripping World Cup semifinal.
By beating England's youthful side 2-1 in extra-time, Croatia had emphatically answered those who doubted its staying power following consecutive 120-minute matches and penalties in the last 16 and quarterfinals.
Its victorious team sang on the team bus, chanted outside its hotel, while in Zagreb thousands gathered in the capital's center, filling the sky with plumes of red smoke. The following day, Croatia's government all wore the country's national football shirts to its weekly meeting.
"This is the first time it's happened to us ever. Not a lot of people had high expectations for this World Cup, some weren't even sure we'd get through the group stages because the group was not easy," adds Sambol.
"There have been parties in every single place in Croatia, either watching together in city squares or in pubs and after the match ended the way it ended there were fireworks, firecrackers, cars driving around honking all the time, traffic stopped. It was amazing."
A country of four million – one-13th the size of England's – had overcome demographic and economic odds to reach football's pinnacle.
Should Croatia beat France in Moscow Sunday, not only would it be a sensational win over a footballing heavyweight but this Balkan country would become the smallest to win football's biggest prize since Uruguay in 1950.
READ: France beats Belgium to reach final
READ: Croatia beats England to reach first World Cup final
A footballing country, a superstar midfield
What is the secret to Croatia's success at this World Cup? First, it should be noted that it is not just in football that the country excels, suggesting there's something in the country's makeup, in its character, in its attitude towards sports.
Croatia's men are the reigning water polo champions and at the 2017 handball world championships its men came fourth, while at the 2016 Rio Olympics Croatia was 17th in the medals table, finishing ahead of the likes of Canada (population 36 million), Argentina (population 43 million) and South Africa (population 56 million).
But for all the country's success in handball, volleyball and water polo, Croatia is a footballing country, much like Brazil, England, Argentina and France. The prospect of breeding brilliant footballers increases when that country is in love with the beautiful game.
Teams do not reach world finals without gifted players and, in Luka Modric, Croatia has a midfielder widely regarded as the best in the world in his position.
The 32-year-old's intelligence has stood out in Russia and yet, despite being a superior talent to many of those around him, the captain is also willing to suffer for his team. No player has covered as much ground in Russia as Modric's 63km (22.7km when not in possession). He has also scored twice in the tournament.
Outplayed in the first half by England, it was 5ft 5in Modric - his passing, his harrying, his unwillingness to yield – which dragged Croatia to victory.
Alongside Modric in midfield is Ivan Rakitic, a player who has covered just 0.2km less than Real Madrid star and spends most of his weeks in Barcelona colors, supplying the great Lionel Messi. Two world class midfielders is a boon to any team.
There are others, too: Juventus' Mario Mandzukic, Inter Milan's Ivan Perisic and Liverpool's Dejan Lovren who, according to the player himself, proved himself to be one of the best defenders in the world with his performance against England.
"Croats are just naturally talented," Igor Stimac, a former Croatia coach and member of the Croatian team which reached the World Cup semifinals 20 years ago, once said.
Luka Ivancic, chief executive officer of Croatian top division football club HNK Rijeka, told CNN Sport: "I think it's the talent of the players, the motivation and the hard work, that's something special. And there's something in the character for sure."
READ: Lovren - A child refugee… now preparing for a World Cup final
READ: The World Cup sexism that won't go away
From refugees to World Cup glory
For all its talent, Croatia is a team of inner steel, coming from behind in four matches in Russia and becoming only the second team to win two penalty shootouts at a single tournament.
Modric himself bounced back from missing an extra-time penalty against Denmark, which likely would have sealed the contest, to score in the subsequent knee-knocking penalty shootout. Only those with gravel in their guts could have held firm in the ultimate test of nerve having only minutes earlier failed to score from 12 yards.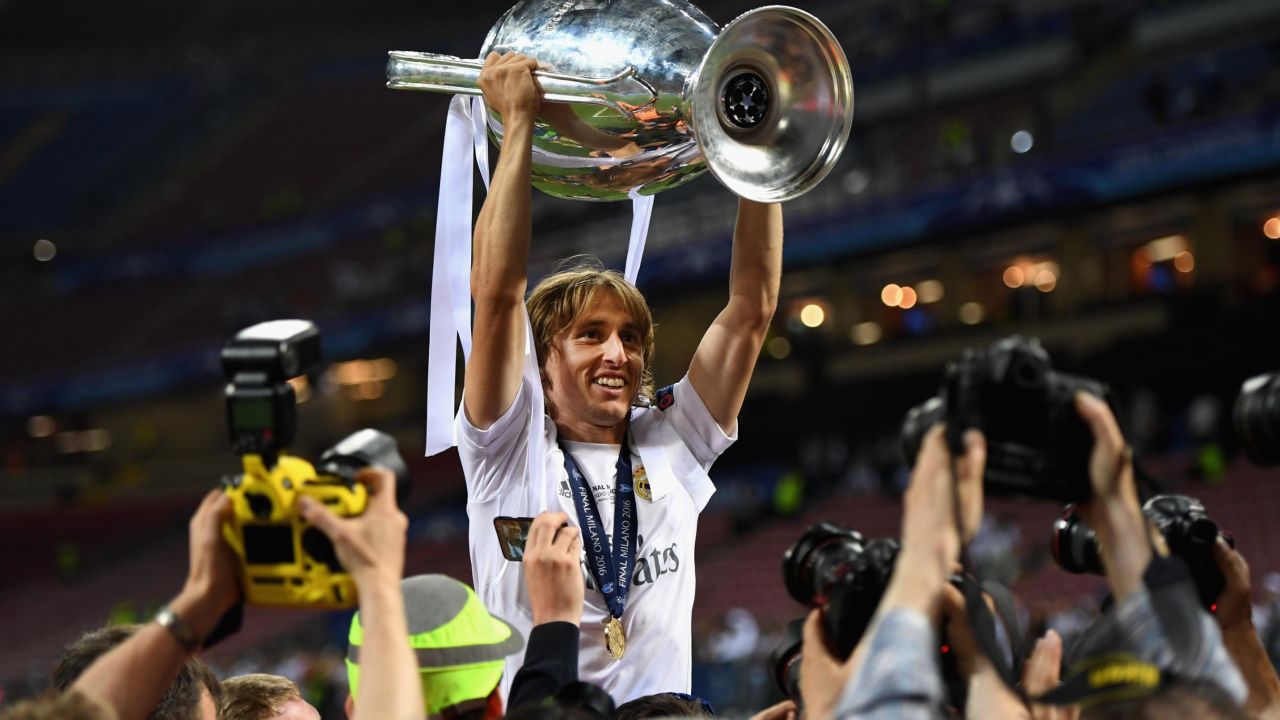 In playing three extra-time matches, Croatia has effectively played 90 minutes more football at this tournament than finalists France.
Before the semifinal, manager Alatko Dalic admitted brutal last-16 and quarterfinal matches had impacted his side, but it was England, whose players were supposed to be fresher, more athletic, which wilted in the semifinal.
Croatia gained independence in 1991, during a conflict which lasted until 1995, and its players' characters have been formed by the bloody Balkan war.
Modric's father joined the Croatian army, his grandfather was shot by Croatian Serb rebels and his house was burned down.
The family fled to Zadar, on the Adriatic coast, but still thousands of grenades rained down, bullets flew through the air.
"The war made me stronger," Modric once said. "We are not easy people to break. And there is a determination to show that. To show that we can succeed."
Vedran Corluka was born in Bosnia, but fled for Croatia in 1992. Lovren was also a child refugee after fleeing Bosnia, while Rakotic, the son of Croatian parents who left their homeland during the war, grew up in Switzerland idolizing Robert Prosinecki, a former Croatia midfielder.
In childhood, these players overcame tougher challenges than any which could be presented to them on a football pitch.
READ: Croatia reacts to reaching World Cup final
Trials, testimonies, tribulations
Regardless of the team's talent and character, Croatia's fans did not expect much from a side, ranked 20th in the world, which had finished second in its qualifying group, behind Iceland. Croatia's World Cup group stage draw at Russia 2018 also was also no pushover with Iceland, Argentina and Nigeria in it section.
And it was only in October 2017 that the country sacked its then coach Ante Cacic after a series of poor results.
Scandals have also rocked Croatian football.
Damir Vrbanovic, a former Dinamo Zagreb executive and current executive of the Croatian Football Association, was sentenced to three years in prison in June on football-related charges.
Also involved in that trial was Zdravko Mamic, the former Dinamo executive considered the most influential figure in Croatian football. He was sentenced to six-and-a-half years in jail after being found guilty of siphoning millions of euros in transfer fees while at Dinamo.
The transfers of Modric and Lovren from Dinamo to Tottenham and Lyon respectively were the most notable. The players appeared as witnesses and Modric has been charged with perjury while Lovren is being investigated. CNN contacted the Croatia team media representative to obtain comment from Modric and Lovren, but has yet to receive a reply.
"How will they find the strength when they know what the state has done to me?" Mamic, who fled to Bosnia on the eve of the verdict, told reporters of Modric and Lovren. The pair, nevertheless, played on with distinction.
Croatian fans protested over corruption allegations at European Championships two year ago, throwing more than a dozen flares onto the pitch with its team 2-1 up against the Czech Republic before throwing punches at each other.
In 2015, at Split's Poljud Stadium, a swastika was painted on the pitch before a Euro 2016 qualifier against Italy.
"It's not forgotten, for sure," said Sambol of the Mamic scandal. "But when we play this well and we're in a World Cup final no-one can talk about anything else at the moment."
Football as the national identity
Croatia is a country famous for its tourism and football. It joined the European Union in July 2013 while in the midst of a six-year recession. Though in its fourth of recovery, youth unemployment, according to the World Bank, remains high (33%) while emigration and an aging population poses problems, too.
Much like England, football is giving Croatia something that is missing from its politics – hope.
Football has always been used to help forge the identity of this young country.
Its first president, Franjo Tudman, once said: "Football victories shape a nation's identity as much as wars do."
Current president Kolinda Grabar-Kitarovic has been seen cheering the football team on in Russia, with many regarding it as the start of the campaign for next year's presidential elections.
Zagreb resident Edward Alexander told Copa 90: "The national identity is hugely unifying. I'm not sure it creates a false image, it's a positive image. It's the side of Croatia that is good.
"The success of the national team does make a difference. You could say that it masks problems, on the other hand you could say it's a welcome escape."
Success breeds success
Only two of Croatia's squad members play in its domestic league, with others scattered around Europe. Six players are in Italy, four in Spain, three in Germany, and one each in England, France, Russia, Ukraine and Turkey among others.
Playing abroad has given players experience, but when bigger European club capture Croatia's best talent it also gives young hopefuls the chance to play first-team football in Croatia earlier than perhaps they would were they hopeful English or Spanish footballers having to breakthrough in the lucrative English Premier League or Liga, with teams stacked with the world's best purchased at almost any cost.
Sunday's world champions will pocked $38 million in prize money, with the runners-up receiving $28m.
Both Ivancic and Sambol hope the millions earned from this remarkable cup run will help domestic football in Croatia flourish further.
"The problem in Croatia is we have a problem with money because we are a small country," said Ivancic.
"We need more money from TV rights, but in Croatia that's something that's not existing anymore. We cannot compete at that level for sure. I think the money will come from a foreign country but not Croatia because our market is too small."
Sambol said: "If we win, even if we don't win, I hope this will help with the situation in Croatian football as well, that the reward will go into the right hands and not a few people, which has been the case.
"That we will work on youth football, perhaps get our national stadium to look good and build a completely new one. I hope it will have the most impact on the state of football here in Croatia."
After the glory of Wednesday, Croatian fans must now reassemble for a party of a generation and dream about what could be, that Sunday's showdown with France is not the end of the fairytale.