Indian police arrested 30 people after a man was lynched by a huge mob incensed by rumors of child kidnapping spread on WhatsApp.
In the latest in a spate of mob killings linked to the Facebook-owned messaging app, Mohammed Azam was attacked, along with three friends in Bidar, in the southern state of Karnataka Friday. His friends were severely injured and are in stable condition in hospital.
According to H. R. Mahadev, Bidar district deputy commissioner, the men were driving in the area when they stopped at the roadside to hand out chocolates to schoolgirls.
One of the children screamed, alarming locals who – inspired by rumors spread on social media about child kidnapping gangs – confronted the men and accused them of attempting to abduct the children.
"Why were they handing out chocolates to schoolgirls, we don't know," Mahadev said. "Whether or not they had bad intention, we don't know that yet. We are still investigating."
The men fled, but were attacked by a mob of around 2,000 people a few miles ahead after messages were sent about them on WhatsApp. The vehicle they were traveling in skidded off the road, after which the mob dragged them out of the car and beat them.
Thirty people have been arrested in connection with the case, 28 for being involved in the violence, and two for spreading false rumors, including the admin of a local WhatsApp group.
G. Parameshwara, deputy chief minister of Karnataka, said he condemned the "mob lynching" and urged police to "take swift action against perpetrators."
"I urge people not to pay heed to rumors and take the law into your hands. Report suspicious activity to the police," he said.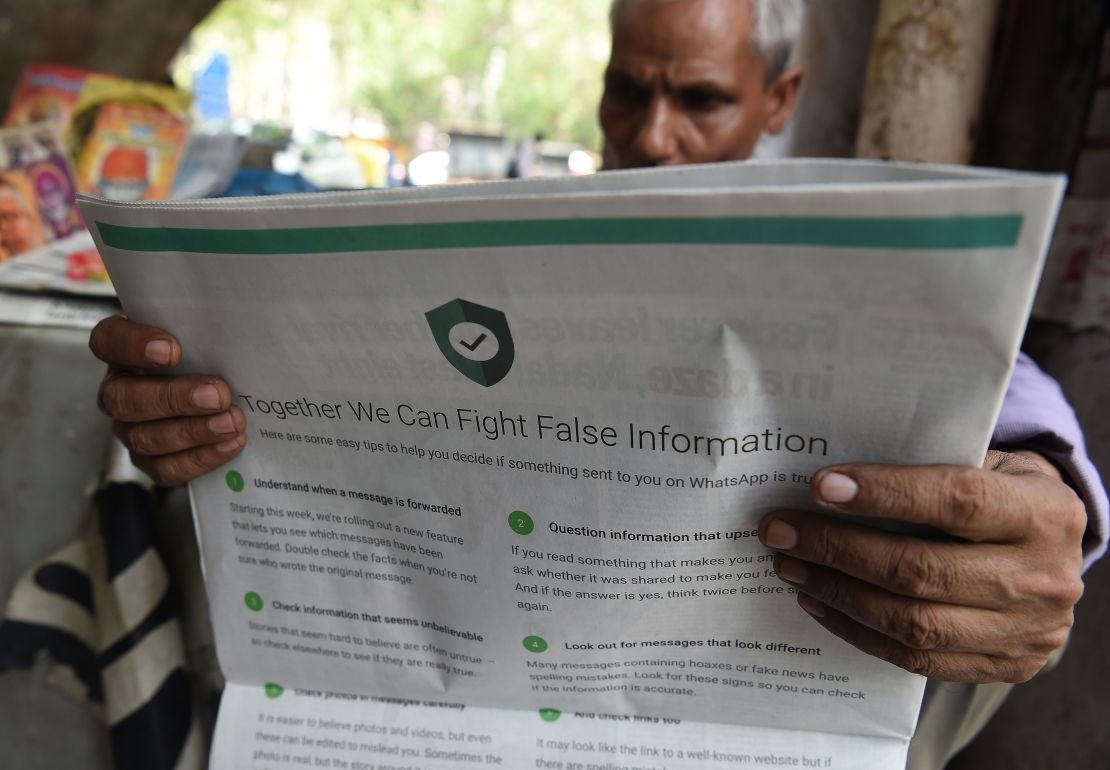 Nationwide problem
Last week, WhatsApp took out full-page ads in leading English and Hindi newspapers, giving readers 10 tips to spot messages that might be fake.
"Fake news often goes viral" one of the adverts read. "Just because a message is shared many times does not make it true."
The company told CNN it would translate the ads to run in local newspapers in nine Indian states, many of which speak different languages.
WhatsApp's anti-fake news campaign came in the wake of a mob in Maharashtra lynching five people on July 1 after messages spread on the app claimed they were child abductors.
The men, poor agricultural workers from a nearby district, were attacked by a group of about 40 people after they arrived by bus. They were surrounded by a crowd of almost 3,000 people.
WhatsApp messages warning residents of possible kidnappers had been circulating in the area for 10 to 15 days.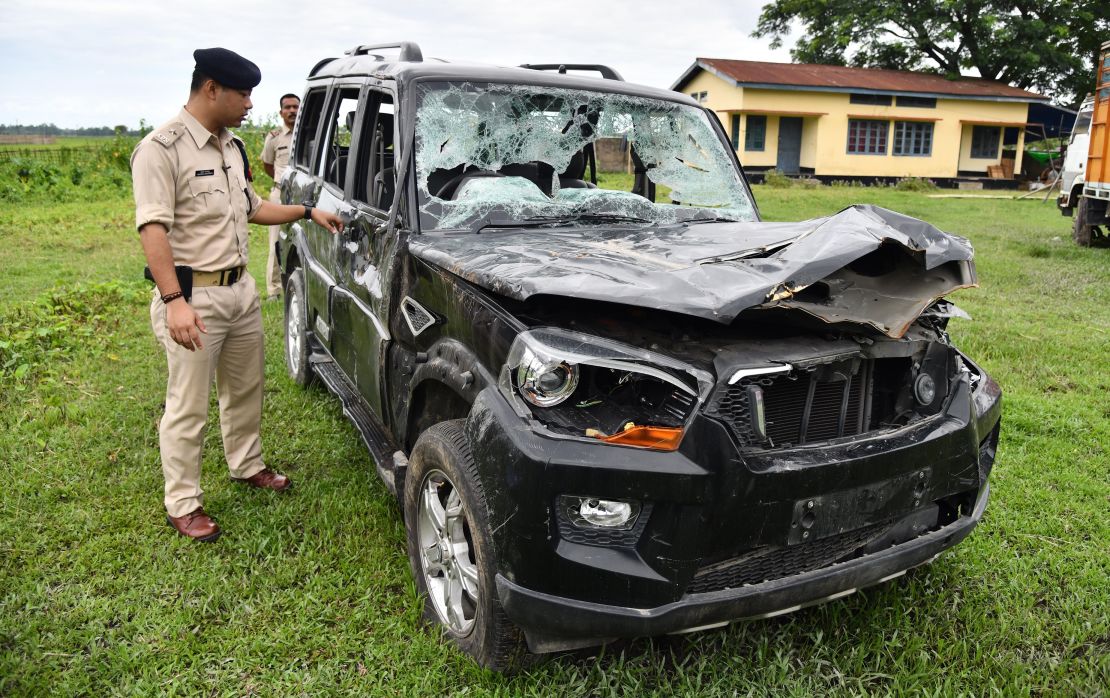 On June 8, two men traveling in a SUV were lynched by a mob in the northeastern state of Assam after rumors that a child was being held in the car spread through the local village on social media sites Facebook and WhatsApp. The car was stopped by locals and the men were pulled out and beaten to death.
In May, a transgender woman was killed and three others seriously injured in the city of Hyderabad when they were attacked by a mob of angry locals acting on WhatsApp rumors that the women were child traffickers.
The messages, which went viral in the region, claimed that transgender women were behind a plot to kidnap young children.
A day before the transgender attack, a man with mental health problems was beaten up in Pahadishareef, also in southern Hyderabad, over WhatsApp rumors that he was a member of a kidnap gang.
In a statement after the July 1 attack, the Indian technology ministry said "the abuse of a platform like WhatsApp for repeated circulation of such provocative content (is) a matter of deep concern."
WhatsApp said it was "horrified by these terrible acts of violence" and announced plans to keep users safe and prevent misuse of the service, including a potential warning against forwarding messages.
Child kidnapping
While the social media panic has led to the death of innocent people, the fear of child kidnapping is not unfounded.
According to India's Ministry of Home Affairs, there was an increase of 30% in kidnapping and child abduction cases from 2015 to 2016, with the total number of cases rising from around 42,000 to over 54,700.
In the latest Trafficking in Persons report from the US State Department, the authors warned that in India "victim protection remained inadequate and inconsistent, and the government sometimes penalized victims through arrests for crimes committed as a result of being subjected to human trafficking."
"Experts estimate millions of women and children are victims of sex trafficking in India," the report said. Children are also kidnapped and forced to work in mines or on farms.
The report did praise some efforts taken by the Indian government to tackle the issue, including the establishment of help desks in 33 major railway stations to "provide immediate support to unaccompanied children, who may be missing, abandoned, or runaways and who may be vulnerable to exploitation."
CNN's Manveena Suri, Rishi Iyengar, Swati Gupta and Bard Wilkinson contributed reporting.