"To the people of the United States, please help us. We are desperate parents."
A group of adult detainees at an immigration detention center have signed an open letter appealing to the American people to help them be reunited with their children after being separated at the border.
In the letter dated July 15, the 54 detainees at the Port Isabel Service Detention Center in Los Fresnos, Texas, write in Spanish that their children don't recognize their voices anymore, and feel "abandoned" and "without love."
The parents say they are not criminals and came to the United Sates in order to save their lives and those of their children.
How bad is it in the countries these families are fleeing? This bad
"We were not prepared for the nightmare that we faced here. The United States government kidnapped our children with tricks and didn't give us the opportunity to say goodbye," they write.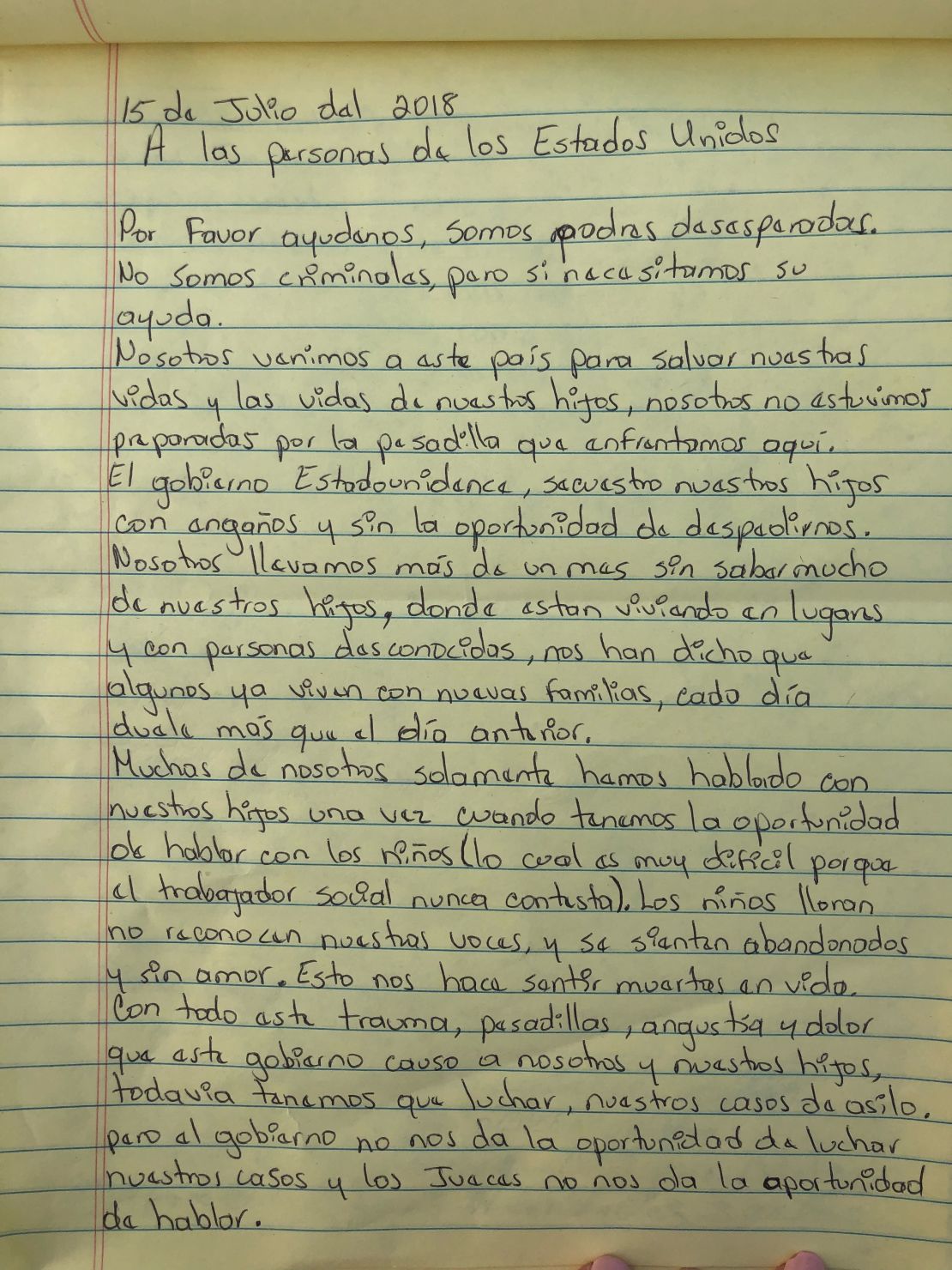 The parents say they have heard little about their children in the more than a month that they've been separated. Their kids, they say, are living amidst strangers and they have been told that some are living with new families.
"Each day is more painful that the last. Many of us have only had the chance to speak to our children once (this is very difficult because the social workers never answer). The children cry, they don't recognize our voices and they feel abandoned and unloved. This makes us feel like we are dead.
"With all this trauma; the nightmares, anxiety and pain that this government has caused us and our children, we still have to fight for our asylum cases," the letter continues.
Read: In heartbreaking letters, mothers recount exactly how their kids were taken
Children 'traumatized'
Immigration attorney Jodi Goodwin is concerned about the trauma of separation as well as reunification for children taken from their parents.
Goodwin witnessed a terrified 5-year-old being made to go through a metal detector at Port Isabel and said the scene "absolutely broke my heart."
The little boy, in a group of 9 children, let out a petrified cry when he was placed in line to go through the detector.
"The little boy was so traumatized and in such shock," Goodwin remembers. The boy had to be helped through the machine. "His legs were board stiff while the man picked him up."
The reunions, she says, are also heartbreaking to watch. The youngest children stand stoic, she remembers, they don't run to their moms. They don't show any emotion.
"It's very sad," Goodwin says. "It takes them one or two minutes for them to reach over to their mothers."
More than 2,500 children still separated
According to a court filing Friday, there are about 2,551 children 5 and older in government custody who could be eligible to be reunited with their parents by a court-imposed July 26 deadline.
The reunions of those children with their parents will occur in six to eight designated Immigration and Customs Enforcement facilities, according to the filing. And officials will use a new, streamlined vetting process to facilitate reunions by the deadline, the filing says.
In court papers Sunday, the Justice Department tried to provide "clarification of some points of potential confusion about how the reunification plan works" for the group of children aged 5-17.
The plan makes clear that officials will not reunify a child without first making determinations confirming parentage and assessing the parents' fitness to receive children and the children's safety. Health and Human Services (HHS) previously indicated that US District Court Judge Dana Sabraw's order had them do otherwise, resulting in a swift reprimand from the San Diego-based judge on Friday.
The judge will convene another hearing Monday at 12:30 p.m. ET.
Children aged 5 and under
Meantime, joint statements from the HHS, Justice Department and Homeland Security said that they had "completed" the reunification of 57 children aged under five with their parents as of early Thursday morning, but 46 were ineligible under "court-approved criteria."
That included 11 parents who had criminal records – either charges or convictions – seven who were not the parent but could have been a different relative, one who had a false birth certificate, another accused of child abuse, another who wanted to live in a home with an adult who has a criminal history, 12 who were already deported, 11 who are currently in state or federal criminal custody, one who cannot be found and one with a contagious disease.
The court-ordered reunifications follow a lawsuit filed by the American Civil Liberties Union against the Trump administration over separated migrant families.
US President Donald Trump on June 20 signed an executive order reversing a "zero tolerance" policy that saw thousands of children separated from parents who entered the criminal justice system after crossing the border illegally.
Cutting asylum numbers
But the administration continues to pursue aggressive measures to cut the number of asylum seekers gaining entry to the US.
Under new guidance given last week to the officers who interview asylum seekers at the US borders and evaluate refugee applications, claims based on fear of gang and domestic violence will be immediately rejected.
In addition, the guidance tells officers they should consider whether an immigrant crossed the border illegally and weigh that against their claim, potentially rejecting even legitimate fears of persecution if the immigrant crossed illegally.
Most immigrants at the border today are Central Americans, coming from countries that are hotbeds of gang violence. Last month, more than 40,000 immigrants either tried to cross the border illegally or get through a legal crossing without paperwork, many of whom may have been seeking asylum.
CNN's Tal Kopan and Catherine E. Shoichet contributed to this report