The assailant in the Toronto shooting rampage, which left two dead and injured 13, has been identified as Faisal Hussain, who lived in the city.
Monica Hudon of Ontario's Special Investigations Unit said authorities spoke with the family of Hussain, 29, who died during the incident.
The two people killed were just 10 and 18 years old, police said.
The two killed – an unidentified 10-year-old girl and Reese Fallon, 18, of Toronto – were among 15 people shot Sunday night in the city's popular Greektown neighborhood, police Chief Mark Saunders said. The youngest injured person is 17, the eldest 59.
Now, as the wounded recover from their injuries, investigators are trying to understand what prompted the shootings.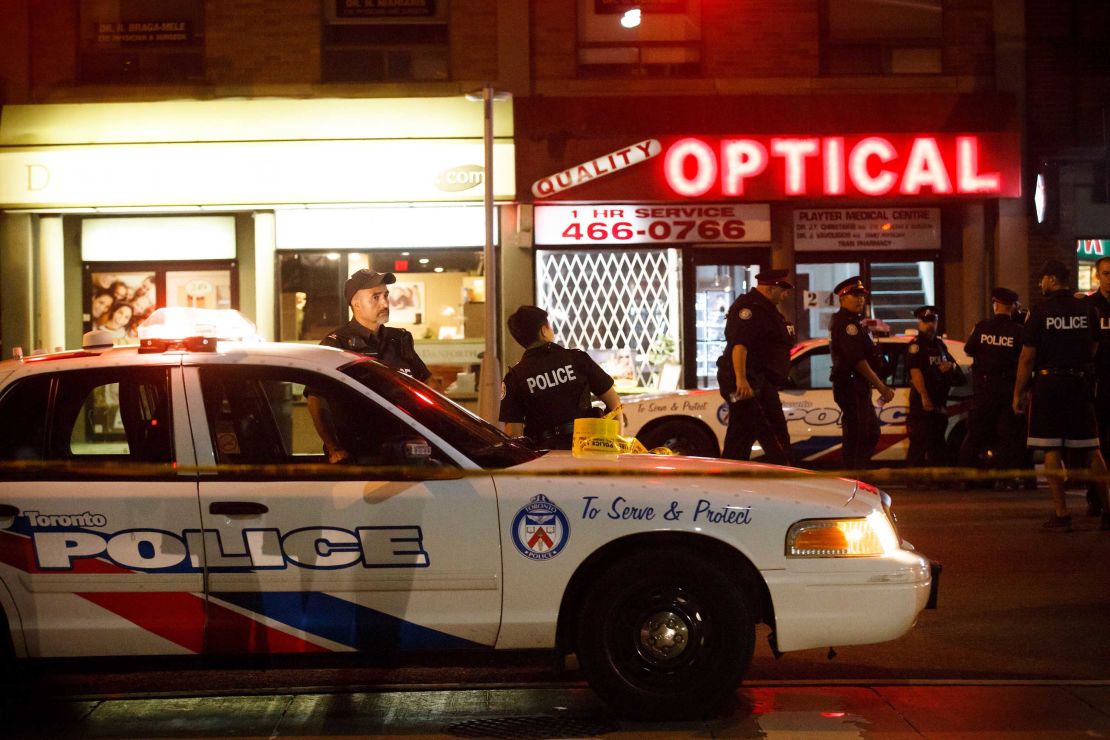 Saunders said police are investigating "every possible motive, including terrorism." Police said Monday evening they were executing a search warrant at an apartment.
Authorities would not say whether Hussain was killed by police or by a self-inflicted gunshot wound. A postmortem examination is set for Tuesday.
'I saw the carnage as I ran down the street'
The melee started shortly after 10 p.m. ET in Greektown. Resident Andrew Van Eek told CNN partner CBC that he heard gunfire and looked out his window.
"There was a lot of commotion in the street," he said. "I saw somebody come just down the sidewalk and shoot into Demetres restaurant."
Van Eek described the suspect as a white male, wearing black clothing.
Another witness told CNN partner CTV he heard about 20 shots and the sound of a weapon being reloaded repeatedly.
"And then I saw the carnage as I ran down the street here to kind of follow the gunfire," the man told CTV. "I saw at least four people shot."
Witness Jody Steinhauer was dining with her family at a Greek restaurant called Christina's when she heard what she thought was the sound of firecrackers. Then she was told to run to the back of the restaurant.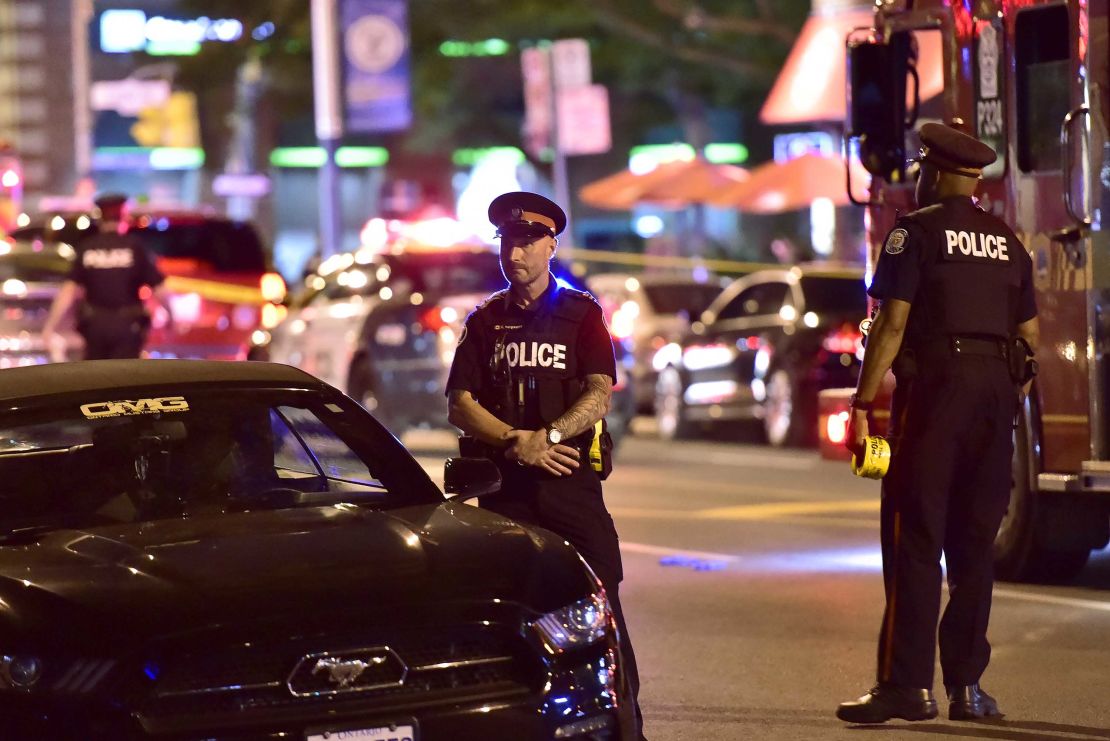 "We started to hear people scream out front," Steinhauer told CBC.
The crime scene stretched over a distance, the police chief said.
Witnesses were taken by buses to multiple offices to speak with investigators. Police asked witnesses or anyone with information to contact authorities.
City grapples with gun violence
Mayor John Tory said he was "outraged that someone has unleashed such a terrible attack on our city and people innocently enjoying a Sunday evening."
"We have a gun problem in that guns are readily available to too many people," Tory said. "The police are doing their best, but they're operating under extraordinarily difficult circumstances to deal with these guns. And we'll see what they conclude from this case, but it's evidence of a gun problem, clearly."
On Friday, the city rolled out a program to put 200 more officers on the streets of at-risk neighborhoods between 7 p.m. and 3 a.m. to combat gang violence, according to CTV. It was not immediately clear whether Greektown was included in that program.
Earlier this month, CTV reported that by July 8, there had been more than 200 shootings in Toronto and 26 fatalities. It said that during the same time period last year, there were 188 shootings resulting in 17 deaths.
It said the extra staffing was intended to last for eight weeks, after which police would "reevaluate their needs."
In total, CAN $15 million ($11.4 million USD) had been set aside for efforts at curbing gun violence in Toronto, with some money going to community programs aimed at stopping young people from joining gangs, CTV quoted Tory as saying.
Neighborhood known for its Greek population
Some expressed shock that Greektown was the site of the shooting rampage.
"It's the street where families come. They were all out tonight walking, having their dinner … it's just unbelievable in this neighborhood," one witness said.
The Greektown Business Improvement Association says the area – also known informally as "The Danforth" for its Danforth Avenue location – is North America's largest Greek neighborhood.
Its website says visitors will "experience a neighborhood alive with interesting restaurants, boutiques, shops, markets, cafes, and a host of wonderful experiences."
According to the 2016 Census, Greek was the second most commonly spoken language at home – behind English – in the Toronto-Danforth city ward that contains Greektown. Six percent of the ward's immigrant population is Greek-born.
Canadian Prime Minister Justin Trudeau offered his condolences to all those affected by the catastrophe in Greektown.
"My thoughts are with everyone affected by the terrible tragedy on the Danforth last night in Toronto, and may the injured make a full recovery," Trudeau tweeted.
"The people of Toronto are strong, resilient and brave - and we'll be there to support you through this difficult time."
CNN's Amanda Watts, Hollie Silverman, AnneClaire Stapleton and Susannah Cullinane contributed to this report.