Germany midfielder Mesut Ozil has effectively closed the door on international football, citing criticism from the media and the German football federation president that struck him as racist.
In a statement posted on Twitter, Ozil, a German of Turkish descent, said that he "will no longer be playing for Germany… whilst I have this feeling of racism and disrespect."
Ozil says he received criticism from German media after meeting Turkish President Racep Tayyip Erdogan in May in London, alongside his Germany teammate, Manchester City's Ilkay Gundogan, who is also of Turkish descent, and Turkey's Cenk Tosun, who plays for Premier League club Everton.
Extended term
Erdogan was reelected President last month following a high-stakes election campaign. The victory came after a two-year state of emergency that purged tens of thousands of his political opponents.
He has been widely denounced by human rights groups and governments, including Germany's, for his handling of dissent in Turkey.
"It's regrettable that Mesut Özil felt that he had not been sufficiently protected as a target of racist slogans against his person, as was the case with Jerome Boateng," said the German Football Federation, referring to Bayern Munich's German international.
"But it was important that Mesut Özil, like Ilkay Gündogan before him, gives answers to this photo, regardless of the tournament's sporting outcome in Russia. In the DFB, we win and lose together, all as a team."
Ozil said that the meeting with the Turkish president was apolitical, that they had talked about football, and that he would be "disrespecting his ancestors' roots" if he had refused to meet Erdogan while he was in London. Erdogan reportedly used the images of him meeting the footballers in his reelection campaign.
At the time, DFB president Reinhard Grindel criticized the photo op, saying that the sport and his national association "defend values which are not sufficiently respected by Mr Erdogan," according to the DFB website.
"That's why it's not good that our international players let themselves be manipulated for his electoral campaign. In doing that, our players have certainly not helped the DFB's work on integration."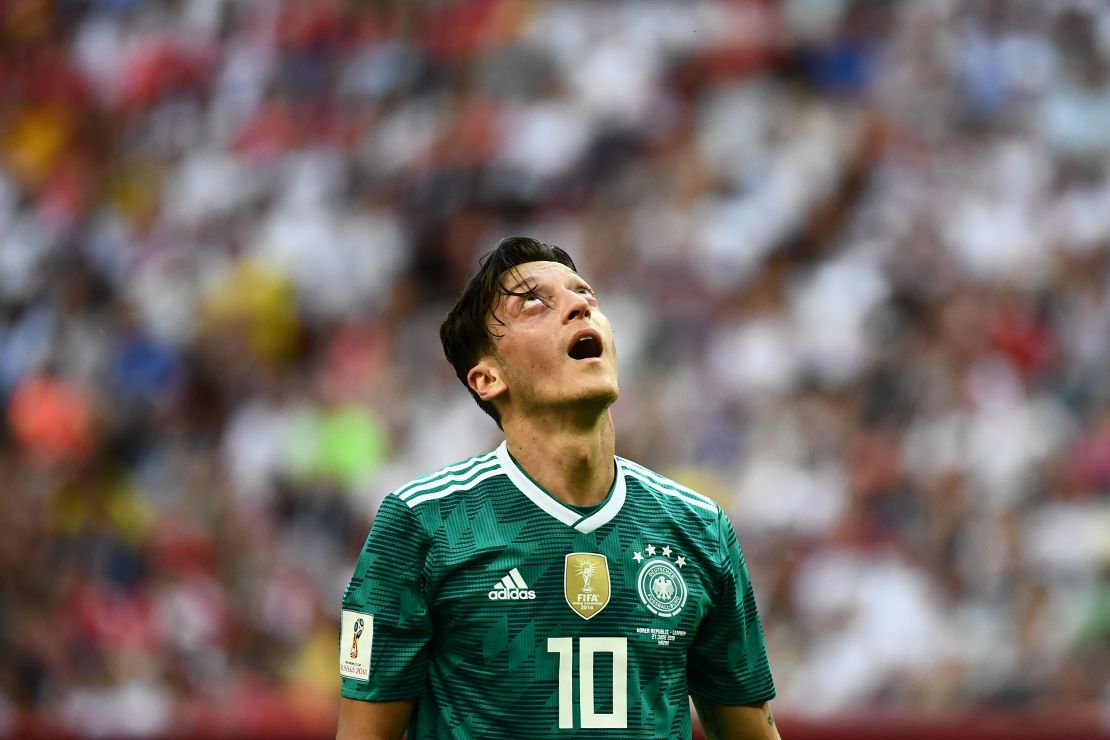 In the statement released Sunday, Ozil said that a section of the German media had "repeatedly" blamed his dual heritage and "a simple picture" – posing with Erdogan – "for a bad World Cup on behalf of an entire squad."
Germany endured a disappointing defense of its 2014 trophy in Russia, ultimately failing to make it out of the group stage of the tournament.
Ozil, named German Player of the Year on five occasions, created more chances per 90 minutes (5.5) than any other player at the tournament, according to Opta.
Made to feel unwelcome
Ozil, who plays for Arsenal in the English Premier League and has had stints with Spanish giant Real Madrid and FC Schalke 04 in the German top division, says that the criticism makes him feel less than wholly accepted in the national squad.
"The treatment I have received from the DFB (German football federation) and many others makes me no longer want to wear the German national team shirt," he said.
"In the eyes of … Grindel and his supporters, I am German when we win, but I am an immigrant when we lose."
Despite being born in the country, and winning the World Cup in 2014, the player went on to say he feels he is "still not accepted into society" and "treated as 'different.'
"Is it because it is Turkey?" asked Ozil. "Is it because I'm a Muslim?"
Reaction
Less than 24 hours after making his statement, Ozil was the victim of a scathing verbal attack by a leading figure at one of Germany's biggest clubs.
"I'm glad it is over. He's been playing s**t for years," Bayern Munich president Uli Hoeness told national tabloid Bild.
"He last won a tackle before the 2014 World Cup. And now he hides himself and his c*** performance behind this photo."
Hoeness, who made 35 appearances for West Germany during his playing career, went on to reveal that Bayern had aimed to exploit the Arsenal attacking midfielder during recent fixtures between the two sides, calling him "the weak point."
"You have to reduce it to what it is: sport. And from a sporting point of view, Ozil has had no place in the national team for years," Hoeness added.
The only Germany teammate to offer anything in the way of public support at the time of writing was central defender Boateng, who simply posted "It was a pleasure Abi" — Turkish for "brother."
Ozil did receive backing from German Justice Minister Katarina Barley, who tweeted: "It is an alarm sign when a great German footballer like Mesut Ozil feels unwanted in his country because of his racism and not represented by the DFB."
Meanwhile several players from other nations expressed their support, with former Manchester United defender Rio Ferdinand tweeting "massive respect" and Ozil's Arsenal teammate Hector Bellerin calling it "surreal" that a player of such ilk could be treated in the way the German international alleges.
Ozil's explosive statement was applauded by Turkish ministers on Monday, with one senior figure calling it a "goal against the virus of fascism."
"I congratulate Mesut Ozil who by leaving the national team has scored the most beautiful goal against the virus of fascism," tweeted Turkish Justice Minister Abdulhamit Gul.
"We sincerely support the honorable stance that our brother Mesut Ozil has taken," tweeted sports minister Mehmet Kasapoglu, posting a picture of the player alongside Erdogan.
Ibrahim Kalin, an adviser and spokesperson for the Turkish president, said Ozil had given a "perfectly reasonable explanation" for meeting Erdogan, going on to call it a "pity for those who claim to be tolerant and multiculturalist" that he had felt compelled to make the statement in the first place.
According to German football journalist Rapha Honigstein, the "real loser" in all of this is the Germany national team.
"[Ozil] was the poster boy of integration," Honigstein told CNN World Sport. "He was the face of a different Germany with different surnames that came through this decade and won the World Cup. "And he is the highest profile of very divisive times and a real shift in sentiment in Germany."
Debate over nationality, ethnicity
Ozil's decision comes on the heels of a debate surrounding nationality versus ethnicity on the football pitch, with South African comedian Trevor Noah joking that the World Cup, which France lifted on July 15, was won by "Africa," given the number of players of African descent who played at the tournament for the French national team.
"Yes. Yes. Africa won the World Cup! Africa won the World Cup!" Noah joked on the July 17 episode of the show. "I get it. I get it. They have to say it's the French team, but look at those guys – you don't get that tan by hanging out in the south of France," Noah said.
France's ambassador to the US, Gerard Araud, rebuked the comedian in a letter which emphasized that "the rich and various backgrounds of these players is a reflection of France's diversity," and likened the South African comedian's appraisal of race to the "argument of the white supremacist."
Noah said that he was celebrating the players' Africanness, not detracting from their Frenchness.
Ozil is currently on preseason tour with Arsenal, where the English team will take on French champion Paris St Germain and Spanish side Atletico Madrid in the International Champions Cup in Singapore.