Islamabad, Pakistan
CNN
—
Former cricket star Imran Khan has claimed victory in Pakistan's disputed elections, which have been marred by violence and claims of vote-rigging.
The official results from Wednesday's vote – only the second democratic transition in Pakistan's 71-year history – have not yet been announced. But leaders of almost every political party except Khan's have alleged ballot-rigging, with some claiming that monitors did not receive final counts or were asked to leave polling stations before tallying was finished.
In a speech on Wednesday afternoon, Khan promised a new method of governance, placing a heavy emphasis on fighting corruption and building Pakistan's economy.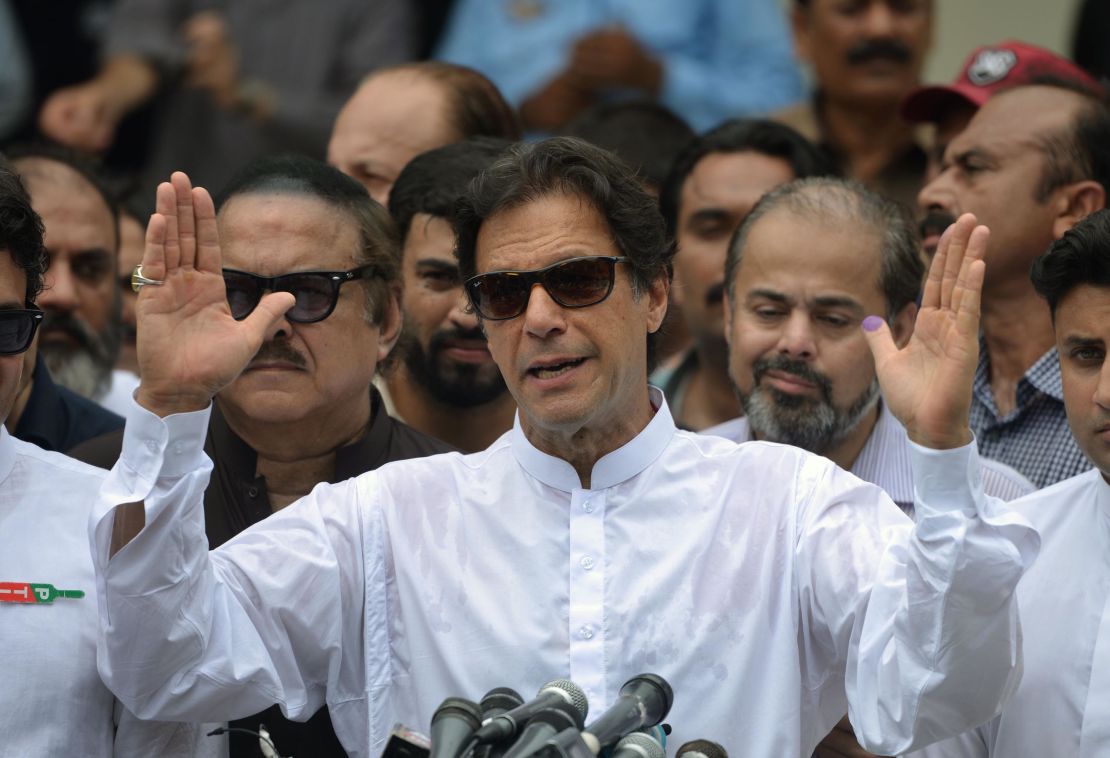 "I thank God that we were successful and we were given a mandate … This election has been a historical election," he said.
As of Thursday evening, it was still unclear whether Khan's center-right Pakistan Tehreek-e-Insaf (PTI) would secure enough seats in the National Assembly to win an outright majority.
In the latest count by the Election Commission of Pakistan (ECP), Khan's party had won 119 seats out of a potential 272 seats, with 219 having been declared so far. As of 7:30 p.m. local time (10.30 a.m. ET), 82% of the vote had been counted.
Ahead of any official announcement, the 65-year-old's supporters were already celebrating in the streets of Lahore and Islamabad, dancing and waving flags bearing his image.
In his speech to the nation, Khan said corruption was "eating away this country like a cancer" and called for closer ties with China and India.
Khan said although the Indian media had presented him as a "Bollywood villain," he wanted the two neighboring countries to have a good relationship.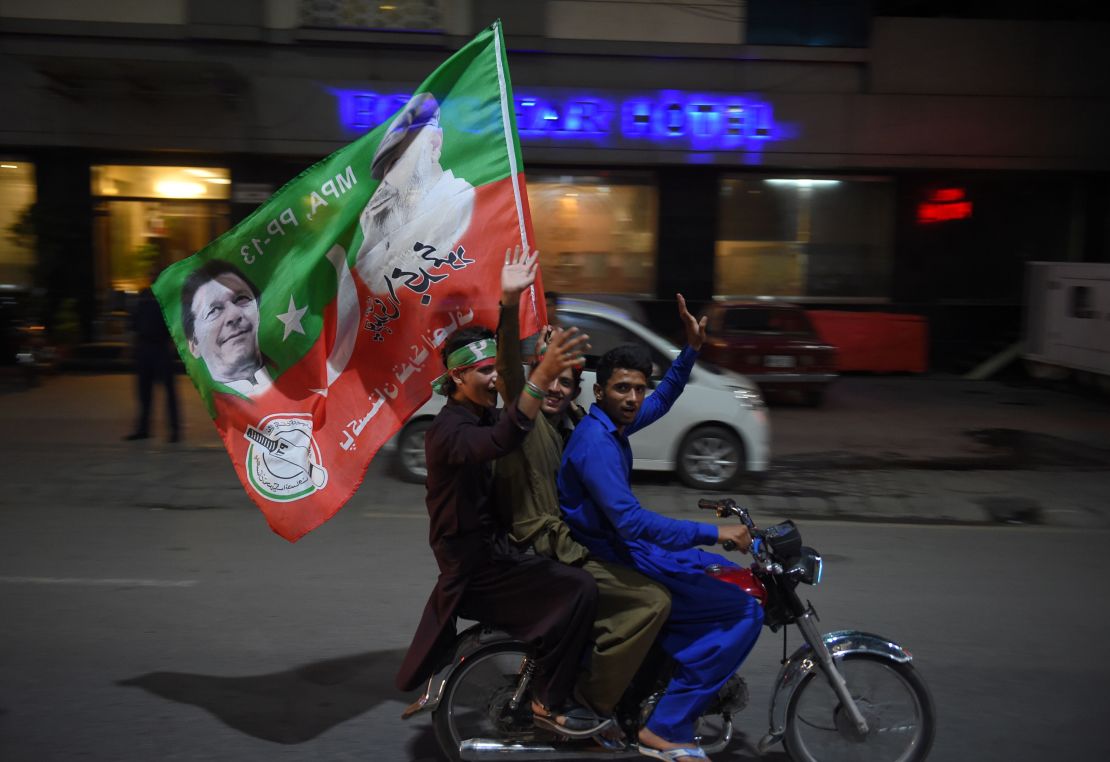 A victory by Khan – who has presented himself as a "change" candidate bent on building a "new Pakistan" – would be historic, signaling a break from the two parties which have dominated national politics for decades.
Shahbaz Sharif, leader of the incumbent Pakistan Muslim League-N (PML-N) and brother of jailed former prime minister Nawaz Sharif, said on Twitter there had been "massive rigging" in Khan's favor amid widespread allegations of military interference in the general elections.
"We will use all political and legal options for (redress) of these glaring excesses," he added.
The leader of the Pakistan People's Party (PPP), Bilawal Bhutto Zardari, son of the late leader Benazir Bhutto, also took to Twitter to say he would reject the results over concerns of ballot-rigging, saying it was "inexcusable (and) outrageous."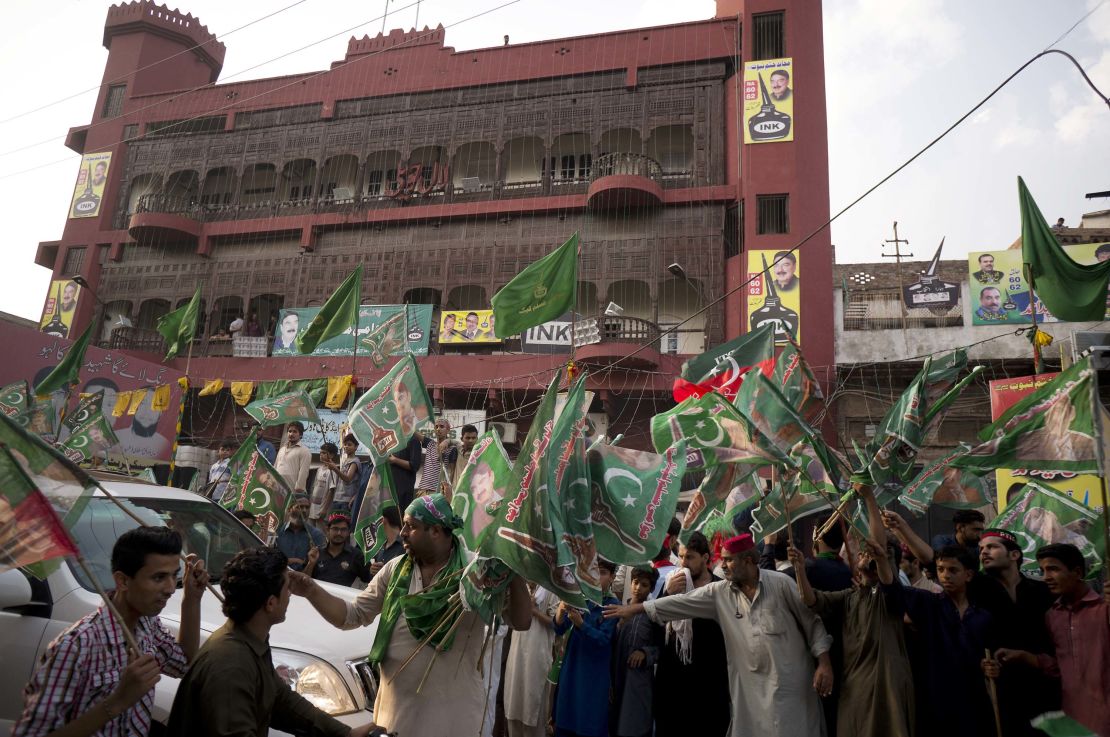 Sharif and Zardari also raised questions over why the official results had been delayed.
Election Commission of Pakistan (ECP) Secretary Babar Yaqoob rejected the claims, saying in a statement that polling agents whose parties were not performing well were leaving the stations without taking the forms.
Political tensions 'at fever pitch'
Claims of election rigging are commonplace in Pakistan. In 2014 thousands of Khan's supporters marched on the capital Islamabad to demand Nawaz Sharif's resignation amid claims of vote-rigging during previous year's general elections.
"What's different, and potentially explosive, this time around is that political tensions between the PTI and PML-N are at a fever pitch," said Kugelman, South Asia expert at the US-based Wilson Center. "The PML-N is not in the mood to be a graceful loser, and it may well resort to street protests."
Wednesday's vote was overshadowed by hundreds of political arrests, a massive crackdown on the media and increasing tensions over allegations that the powerful military covertly backed Khan.
Nawaz Sharif was ousted from office last year over corruption-related charges, which led to his imprisonment earlier this month.
Khan was instrumental in the campaign against Sharif, who claims it was conducted in tandem with the army and that military intelligence officers pressured his candidates to switch allegiance to the PTI.
Khan has repeatedly denied accusations he is supported by the military and condemned the harassment of election candidates.
The Human Rights Commission of Pakistan expressed called the election "the dirtiest" in the country's history.
Violence overshadows polls
Wednesday's poll was also blighted by the electoral participation of militant groups and terrorist attacks.
A bomb attack outside a polling station in the city of Quetta, capital of the restive province of Balochistan, killed at least 31 people and injured dozens more as Pakistanis voted in the fiercely contested general election.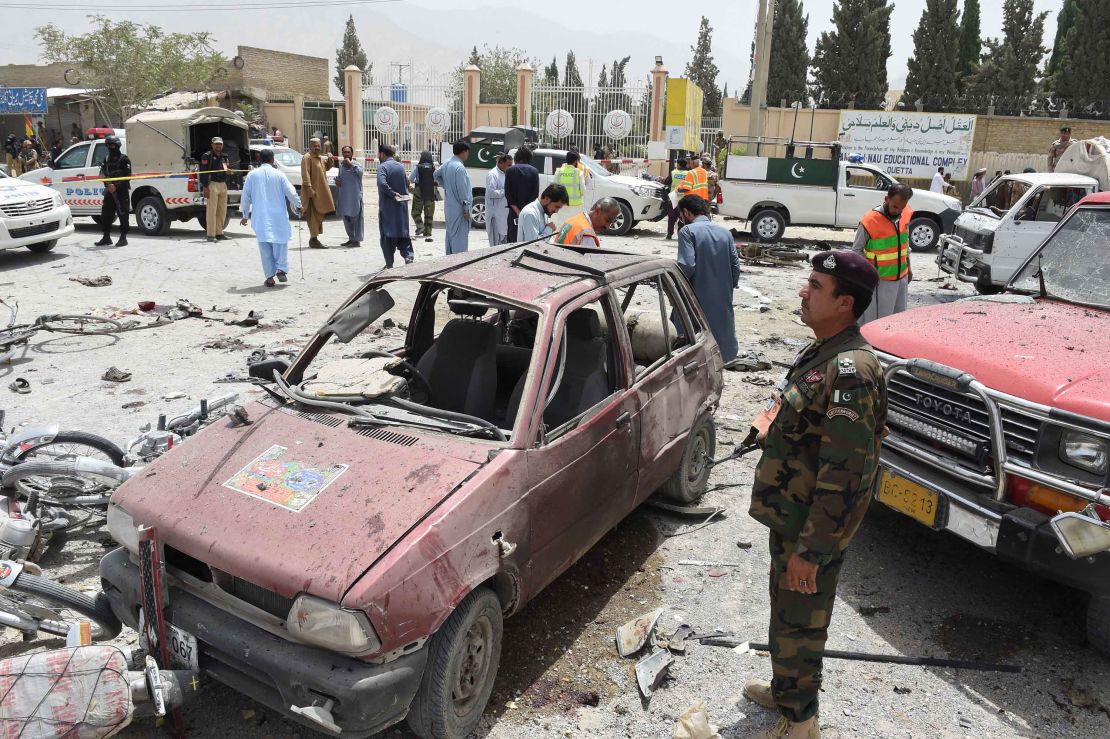 ISIS claimed responsibility for the attack, but CNN could not verify this assertion.
The bombing was the latest in a series of deadly attacks that have plagued the campaign. A suicide bombing in the same province earlier this month killed 150 people at a political rally and led to suggestions the election should be delayed.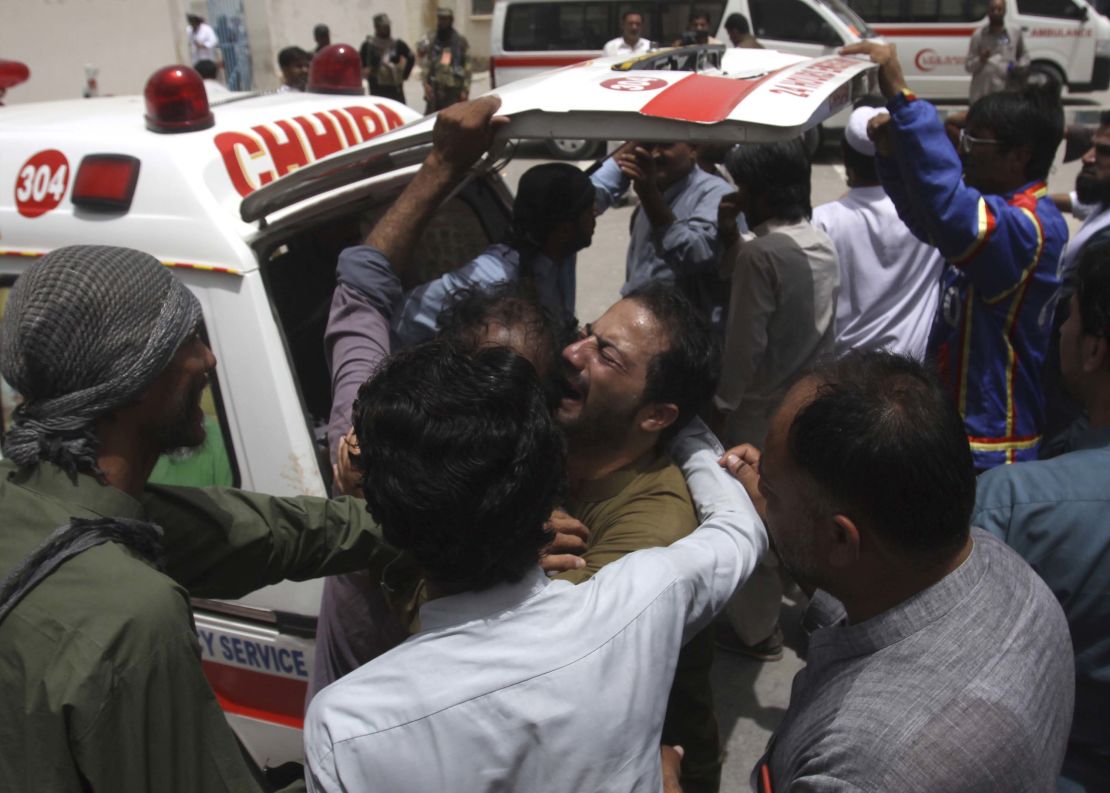 Army officials said that more than 370,000 troops had been deployed to ensure a "fair and free" election, with police estimating the total security force at 800,000 personnel – backed up by flying surveillance drones in some areas.
Drawing support away
Campaigning on a populist, anti-graft ticket, Khan pledged an end to decades of what he calls the Sharif and Bhutto families' corruption and misrule.
Banking on his huge popularity as a sports celebrity and the PTI's success as a regional party, his anti-graft mantra struck a chord with young and middle-class Pakistanis.
"A Khan victory will herald a new era – many Pakistanis who are sick of the same two parties have put a lot of hope in him for a (new) Pakistan," said Madiha Afzal, a Brookings Institute fellow. "We'll have to wait and see if one will, in fact, materialize."
As election results came in it appeared Khan had loosened the PML-N's grip on its stronghold in Punjab, Pakistan's most populous and richest province.