British and Ecuadorian authorities have held discussions over the future of Julian Assange, the Ecuadorian president said on Friday, fueling speculation that the WikiLeaks founder may soon be stripped of the country's diplomatic protection in London.
Speaking in Madrid, President Lenín Moreno suggested Ecuador was seeking guarantees that whatever Assange's eventual fate, he would not face the death penalty.
Assange took refuge in the Ecuadorian Embassy in London in 2012 when he was facing allegations of sexual assault in Sweden. The case was eventually dropped but Assange has always feared being extradited to the US, and in the past his lawyers have claimed he could face execution there.
Moreno said the previous Ecuadorian government granted Assange asylum because it agreed his life was in danger. "The death penalty does not exist in Ecuador, and we knew that possibility existed… The only thing we want is a guarantee that his life will not be in danger," Moreno said.
In a statement Friday, Moreno's communication's office stressed the President "hasn't ordered, at any moment, the removal of Julian Assange from the Ecuadorian embassy in London."
Ecuador's government has no desire that Assange remain "in asylum his whole life" and urged "a solution to a problem we inherited," the statement said.
Assange's lawyers claim that, for the past eight years, US officials have maintained a secret grand jury investigation into WikiLeaks, which published a trove of secret US diplomatic cables in 2010.
In 2011, arguing against a Swedish extradition request, Assange's lawyers said he feared execution in the US, although they did not give any legal basis for the claim.
Moreno, who was in London earlier this week for a disability summit, confirmed talks had taken place with British authorities over Assange's fate.
"We are continually speaking with the British government, with the ambassador, their representative in Ecuador. The only person I have never spoken to is Mr. Assange," Moreno said.
Moreno made it clear that he did not support Assange's work. "I have never agreed with what Mr. Assange does. I have never supported the interception of private emails to be able to obtain information, regardless of how valuable it may be, to bring to light certain undesirable actions carried out by governments on people."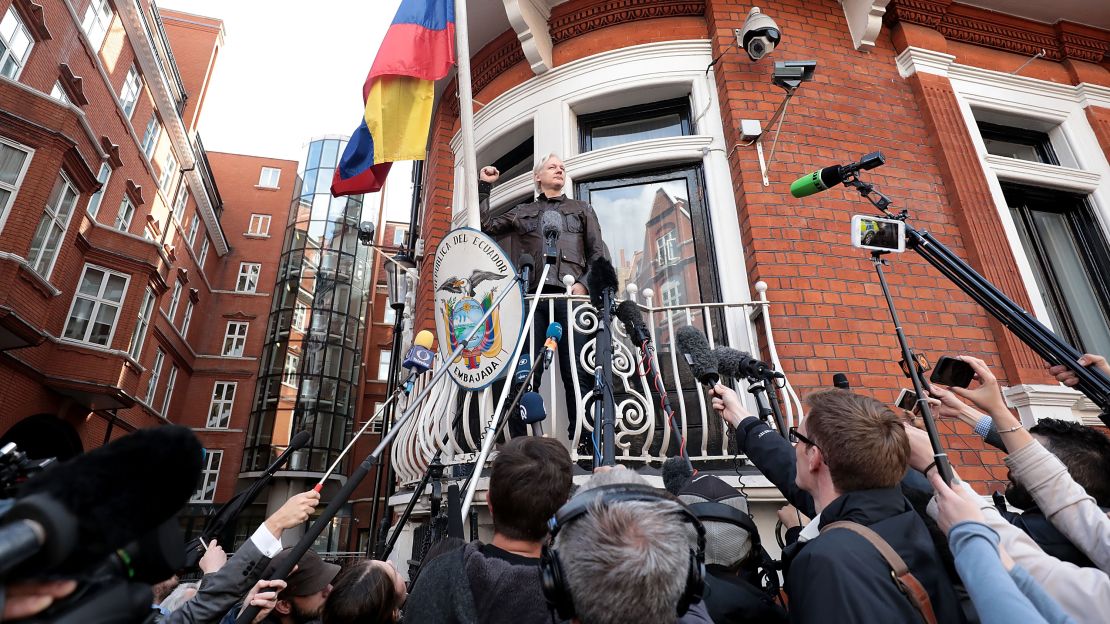 The government of British Prime Minister Theresa May played down any suggestion of an imminent change in Assange's status. A Downing Street spokesperson told CNN that discussions were "ongoing" but that a time frame for Assange's departure from the embassy had not been discussed. Discussions had not taken place during Moreno's recent visit to the UK, the spokesperson said
Swedish investigators dropped their case against Assange last year but he chose to remain at the embassy as British authorities could still detain him for violating bail conditions.
US Attorney General Jeff Sessions said last April that the Department of Justice was preparing charges against Assange, and that his arrest was a "priority."
Under the terms of an extradition treaty between the US and the UK, US authorities could request Assange's detention in London. British authorities have refused to say whether the US has submitted a formal extradition request.
Moreno has been under pressure from the US to expel Assange, sources told CNN earlier this year.
In March, Ecuador cut his internet access, accusing him of failing to commit to an agreement not to release messages interfering with other nations' affairs.
His communications had previously been cut in October 2016 after a dump of WikiLeaks documents that Ecuador said targeted the 2016 US presidential election campaign.
In a television interview in January, Moreno described Assange's stay as an "inherited problem" and "more than a nuisance."
Clarification: The quote from President Moreno regarding the possible removal of Julian Assange has been updated. The translation of a portion of the statement was misinterpreted in an earlier version of this article.
CNN's Claudia Rebaza and Eliza Mackintosh contributed to this report.