Zimbabweans thronged to the polls Monday in what many hope will be something the country has never seen: a free and fair election, without the interference of former leader Robert Mugabe.
The nation's electoral commission said about 70% of registered voters cast their ballot.
The landmark vote has been touted as the first time the African nation held an election without the former strongman in almost four decades, but although Mugabe is not on the ballot, his influence continues to be felt.
The now-disgraced 94-year-old could not resist stepping back into the political arena on the eve of the vote. In his first major political statement since being ousted from office last November, Mugabe said he would not vote for his former party Zanu-PF or current President Emmerson Mnangagwa.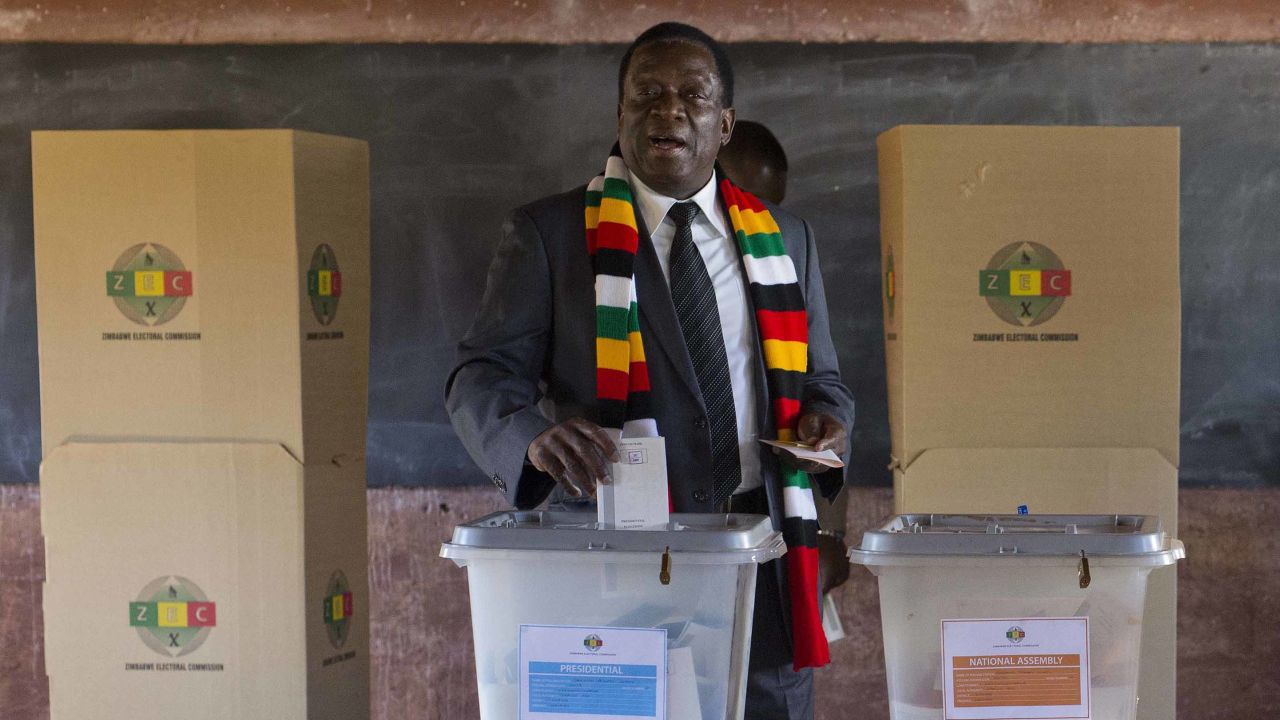 "I can't vote for Zanu-PF. I can't vote for the people who have brought me into this state," Mugabe said during a news conference in the garden of his home in Harare on Sunday.
"I must say clearly I cannot vote for those who have tormented me. I can't," the ailing former revolutionary added. "I will make my case among the other 22 (out of the 23 candidates)."
On Monday afternoon, Mugabe cast his ballot in Highfield, a suburb of Harare.
It is unclear whether or how Mugabe's intervention on Sunday influenced voters. He was forced to resign late last year after nearly four decades in power, following a crisis sparked by his decision to fire Mnangagwa, his then vice-president.
Now, Mnangagwa is President and head of Mugabe's former party, Zanu-PF.
At stake in the landmark presidential election is a chance for Zimbabwe to finally shed its reputation as a pariah state and move to a democracy free from international sanctions.
The country, which suffered crippling hyperinflation under Mugabe, desperately needs the International Monetary Fund to start giving it loans again. It also needs the United States, European Union and others to lift sanctions.
But those restrictions will remain in place until a free and fair election takes place. Anything less, and in international eyes at least, it may as well be Mugabe still in power.
"The elections, if free and fair, provide an opportunity to establish a strong opposition presence in Parliament for the first time since 1987 or to even topple Zanu-PF," said Heike Schmidt, associate professor in modern African history at the University of Reading in England.
"What one can say so far is that pre-election violence and intimidation appears to be less than on previous such occasions and that President Mnangagwa appears utterly confident in his election victory."
'Far from being free'
Whatever Mugabe might have been up to in his months of exile, the target of his return to the political spotlight was clear.
Mugabe accused 75-year-old Mnangagwa, his party and the army of creating an environment for Zimbabweans that is "far from being free."
"I have during that time, during all this time, cried for return – our return to constitutionality, our return to legality, our return to freedom for our people and environment in which our people will be free – they have not been free," Mugabe said. "Since that day when tanks rolled through and across the country when there was a takeover by the army."
Mugabe added he wanted the benefits his family was given to be "honored" by those in power and denounced attacks against his family, especially his wife.
"I don't accept the denunciations and vilifications that are going on of my wife every day in the papers for nothing," he said. "Perhaps through her they think by attacking her they are attacking me. Leave, leave, leave my wife alone!"
Mnangagwa used Mugabe's intervention to attack his main rival, 40-year-old Nelson Chamisa of Zimbabwe's Movement for Democratic Change, or MDC, claiming the former leader had "forged a deal" with the MDC.
"Now that it is clear to all that Chamisa has forged a deal with Mugabe, we can no longer believe that his intentions are to transform Zimbabwe and rebuild our nation," Mnangagwa, who served Mugabe for decades, said in a brief recorded statement on Sunday.
"The choice is clear: You either vote for Mugabe under the guise of Chamisa, or you vote for a new Zimbabwe under my leadership and the Zanu-PF. Real change is coming. We should all be part of it."
Chamisa called Mnangagwa's response "panicky" during a news conference later on Sunday in which he assailed the country's election commission for its role in the elections, saying it was biased in favor of Mnangagwa.
Chamisa took over the leadership of the MDC after the death of its founder and longtime anti-Mugabe activist Morgan Tsvangirai, who died from cancer in February.
He is hoping to target younger voters with promises of electoral reform, tax cuts and jobs. "People are connecting with young leadership," Chamisa told Agence-France Presse.
There have been few public appearances by Mugabe and his wife, Grace, nicknamed "Gucci Grace" because of her love of luxury, since their fall from power. They have been spending time in Singapore, where he receives medical treatment, and their plush 25-room residence in Harare.
Results of Monday's general election are expected by August 4. The country's constitution requires the Zimbabwe Electoral Commission to release results within five days of the polls closing.
CNN's Columbus S. Mavhunga, Mahatir Pasha, Sheena McKenzie and Brent Swails contributed to this report.